Nothing says summer like luscious, juicy peaches. Use them in endless ways to brighten and cool the hot summer days, and satisfy your every craving. You will be spoiled for choice with these easy Yummy Peach Recipes to choose from, shared by some of the best food bloggers around! 
Wander into any farmer's market at this time of the year, and you'll be struck by the sweet aroma of fresh succulent peaches. These 31 Yummy Peach Recipes are easy to make, and just in time to help you celebrate August's National Peach Month.
Peaches originated in China where they have been cultivated since the early days of Chinese culture. They made their way west across Europe, and were brought by Spanish missionaries to St. Simons and Cumberland islands along Georgia's coast in the 1500's. While Georgia is known as the Peach State, today more than half of the peaches are actually grown in California. Regardless of where the peaches are grown, this is a special time of the year to enjoy nature's harvest!
If you like fresh Georgia peaches, you'll absolutely love this No-Egg Creamy Georgia Peach Ice Cream. Filled with chunks of delicious Georgia peaches, this ice cream is easy to make, doesn't require any cooking, and is awesome to taste. In addition, it's velvety smooth without the telltale icy texture that plagues a lot of homemade ice creams.
One of my favorite things about summer is that my husband cooks something on the grill (including chicken) several times a week. But this week, the stars aligned. One of my favorite foods and one of my favorite pastimes (that is, watching my husband grill) came together in a spectacular way and produced this outrageously delicious Grilled Chicken with Peach Glaze.
Peaches and Cream French Toast – a fluffy French toast with a perfectly crisp edge and a natural sweetness from super juicy end of summer peaches – this is brunch ready!
Juicy, ripe peaches and rich, salty prosciutto provide a balanced flavor which is wonderful with the creamy burrata and sweet, tart balsamic! I've tried balsamic grilled peaches in various combinations. I love that this one hits all the flavor notes and brings them to a harmonious whole.
Peach Bourbon Arnold Palmer is a delightful twist on a classic refreshment. Take an Arnold Palmer, add bourbon and peach liqueur, and top with fresh juicy peaches for a perfect summer cocktail.
Grilled Peach and Arugula Pizza tastes just as amazing as it looks! Fresh peaches are grilled, then placed on top of a grilled pizza base and topped with arugula, goat cheese, and drizzled with Balsamic Glaze making it the perfect light summer meal!
Homemade fresh Peach and Blackberry Crumble is the very essence of summery goodness! Fresh, luscious peaches combined with juicy plump blackberries and topped with a sweet crispy crumble crust is out of this world good!
This Peach Strawberry Salsa is super fresh, sweet yet savory and tastes great with chips and salsa. It also makes a great topping for tacos, salads and grilled meats! 
Two Ingredient Peach Sorbet Recipe: this delicious and easy to make peach sorbet is healthy, creamy and the perfect quick dessert to make any day. No machine needed! Delish! 
This Frozen Peach Champagne Cocktail takes just 5 minutes to prep and is the hit of every party! The fresh flavor of juicy ripe peaches combined with champagne creates the perfect slushy summer drink!
Easy Dessert with Peaches, Cream and Mascarpone is fast and easy. It is also very aromatic: a real pleasure for the palate of everyone who loves the combination of peaches and cream.
A healthy dinner is ready with only 5 minutes of preparation! This One Skillet Peach Glazed Chicken is a fast, fresh, and family-friendly meal to take advantage of summer's produce.
I love margaritas, especially this pretty perfect peach margarita recipe. Oh my, does it taste so yummy! It is slightly sweet and perfectly balanced.
Filled with summer's juiciest, sweetest fresh peaches and made with a flaky, buttery double-crust dusted with sanding sugar, Southern Peach Pie is as beautiful as it is delicious and wonderful. Serve it à la mode with a big scoop of vanilla ice cream!
These Fresh Peach Muffins are light, fruity, and just a little sweet. They are the perfect summer breakfast treat.
Roasted strawberries, sweet peaches, and delicious mozzarella cheese are sprinkled with mint, toasted pine nuts, and balsamic glaze. Roasted Strawberries and Peach Caprese Salad is fresh, light and perfect for summer.
No Bake Peach Cheesecake Bites with digestive biscuit crust are delicious sweet treats!
This lemonade recipe is really perfect to enjoy fresh peaches in summer. If you have fresh peaches handy then give a twist to the old-fashioned homemade lemonade with perfect lemonade recipe. It is naturally sweetened and a healthy drink that will help you to enjoy warm days without guilt.
This interesting salad of grilled peach, ricotta and fennel is something of a surprise. It's a wonderful combination of gently charred peaches, softened with fresh ricotta and balanced by crisp fresh cucumber and fennel.
These Mini Pavlova Cakes with Strawberries, Peaches, and Cream are the ideal light, sweet, refreshing summer desserts to serve at your summer picnics, showers, and parties that call for a bit of bubbly!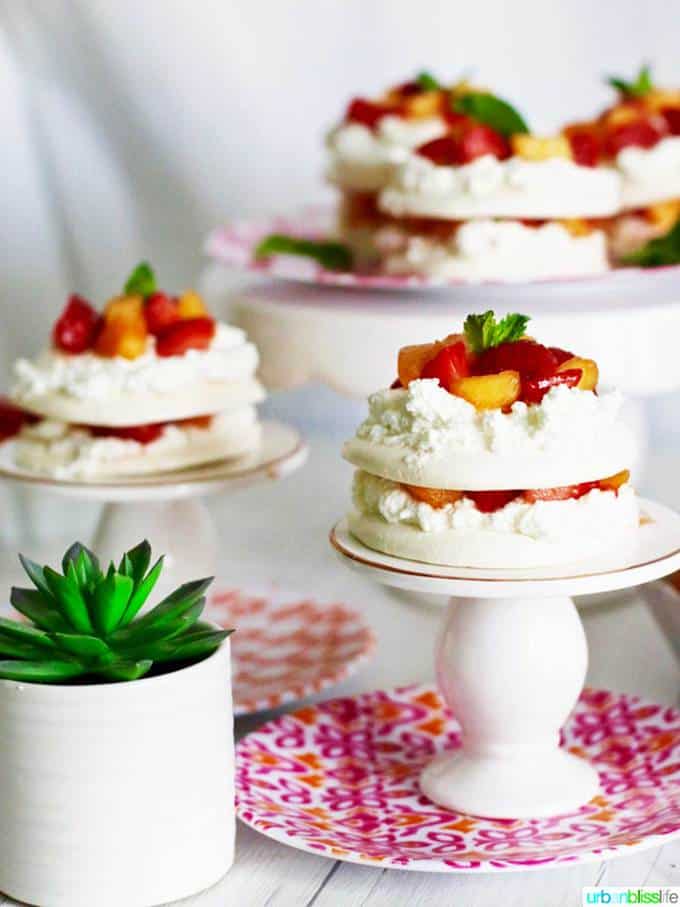 With all of the yummy ingredients, you have a moist, tender, crunchy and sticky all in one bread. Why not drizzle it with some thick cream too and you've got a dessert with everything!
Peach Milkshakes – fresh juicy peaches and vanilla frozen yogurt. Creamy frozen yogurt and sweet succulent peaches. Are you drooling yet!
Fresh peaches and pecans combine for a deliciously southern Peach Pecan Upside Down Cake.
There's nothing better than enjoying a refreshing summer peach mojito poolside or at the beach. Heck, anywhere you can enjoy a tasty beverage made with fresh peaches, mint and rum, that's the place to be!
Grilled Pork Chops with Peaches and Walnuts – The easiest and most amazing pork chops ever…ready in 20 minutes! It doesn't get better than that. Just peachy!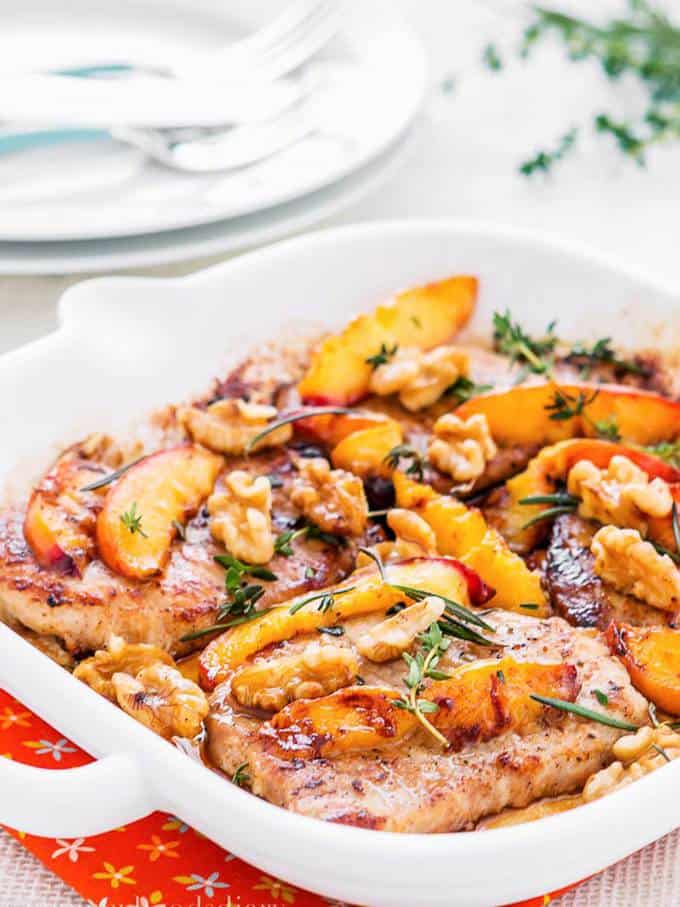 26. Fresh Peach Tart: Cooking on the Front Burner
This peach tart recipe is bursting with fresh peaches, a creamy filling on a delicate puffed pastry!
A quick & easy recipe for fresh peach salsa using simple ingredients like red onion, tomato, cilantro, lime, jalapeno, and pantry spices. Use this fresh fruit salsa as a garnish for pork, chicken, or fish, as a dip with your favorite chips, or even as a sweet and spicy condiment alongside your favorite foods.
These Peaches and Cream Pastries are a beautiful treat with the perfect balance of tart and sweet flavor. 
Grilled Peach Jam! Fresh, local, organic peaches grilled to perfection and preserved with a little bourbon for extra flavor. The perfect thing for a fall breakfast!
Gluten-free Summer Grilled Peach Salad recipe with beet greens, red currants, goat cheese, pecans and grilled scallions, topped with maple balsamic dressing.
Peaches & Cream Galettes! Sweet sugared peaches baked on a bed of cheesecake filling, nestled snug in a rustic, flaky pastry crust.  
Are you drooling yet? Isn't this an amazing array of yummy recipes using summer's fresh peaches?
Leave me a comment and let me know which one of these recipes is your favorite or which one you plan to try first. Even better, leave me a link to your favorite peach recipe!