Several weeks ago, I made Madeleines using David Lebovitz's recipe. While they were really good, I decided to again make the Madeleines using Julia Child's recipe from The Way to Cook. This cookbook, which I've had for a long time, is one of my favorites.
Everything I've ever tried from The Way to Cook has turned out incredibly well. The Madeleines are no exception.
The ingredients included eggs, sugar, flour, unsalted butter, lemon zest, lemon juice, vanilla extract and salt.
As a first step, I melted the butter over medium heat. I continued heating the butter to a boil over medium heat until it browned lightly. I then put the pan into an ice water bath until it was cool, but still liquid.
While the butter was cooling, I lightly whisked two large eggs in a 2-cup measure, and then poured ¼ cup of the eggs into a bowl.
I added the sugar and the flour to the egg, and beat it until everything was thoroughly blended.
Even though the mixture was thoroughly blended, it appeared dry and crumbly. I let it rest for 10 minutes before moving to the next step.
For the next step, I added the remaining eggs, salt, lemon zest, lemon juice, vanilla extract and melted butter to the crumbly mixture.
I beat the mixture on high for about a minute until everything was well combined. At this point, the thickness of the batter was somewhere between that of cookie dough and cake batter.
I sprayed the cups of my new Madeleine pan with non-stick baking spray.
I used a 1½-inch disher (aka, ice cream scoop) to partition out the batter for the Madeleines. This equated to a generous Tablespoon of batter.
Into a 375° F oven the Madeleines went for about 14 minutes. When they came out, I thought that they were a bit too browned, so reduced the temperature to 350° F for the remainder of the batter. I thought they turned out better at 350° F. So did the Master Taste Tester!
After the pan was removed from the oven, I dumped the Madeleines out onto a wire rack to cool completely.
Once cooled, the Madeleines were ready to be eaten. I sprinkled confectioners sugar on several of them, and left the rest au naturel.
Either way, the Madeleines were outstanding. The hint of lemon from the zest and the juice really put them over the top! From now on, it's Julia Child's recipe that I'll use. Yum!
If you like these, check out my Lemon Madeleines, they're Susan's favorites.
I hope you liked this recipe for Madeleines as much as I do. If so, please consider rating it and leaving a comment. Also, if you'd like to receive notifications of new posts by email, ever your email address in the Subscribe box.
Thank you so much for visiting Pudge Factor. I hope you'll come back!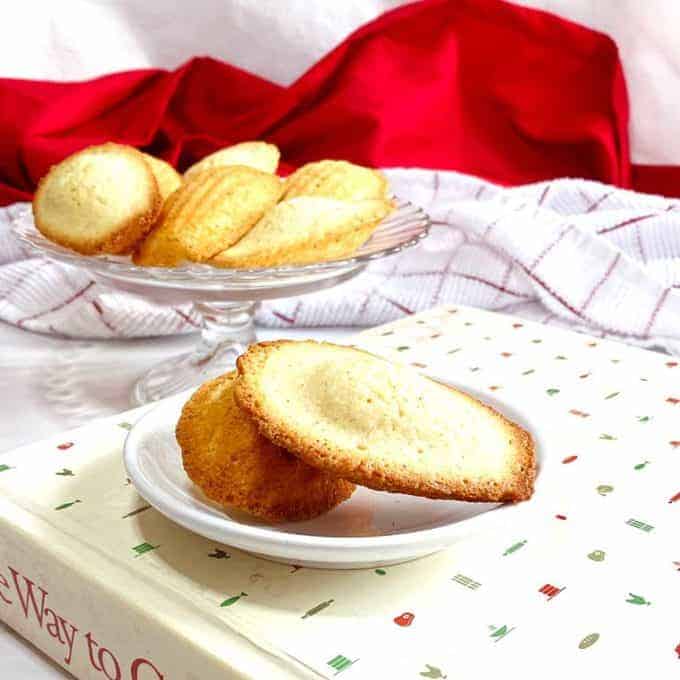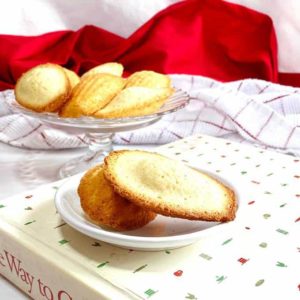 Julia Child's Madeleines
Julia Child's Madeleines are the ultimate in simplicity and taste. With just a hint of lemon, they are sure to become a family favorite.
Print
Pin
Ingredients
2

large eggs, lightly whisked in a 2-cup measure, divided

⅔

cup

(4.75 ounces, 135 grams) granulated sugar

1

cup

(5 ounces, 142 grams) all-purpose flour

4 ½

ounces

(1 stick, plus 1 Tablespoon, 128 grams) unsalted butter

Zest of ½ lemon

(about ½ teaspoon)

½

teaspoon

fresh lemon juice

½

teaspoon

vanilla extract

Pinch

of salt

Confectioners sugar

for sprinkling (optional)
Instructions
Preheat oven to 350° F. Spray Madeleiine pan with non-stick baking spray. Set aside.

Measure ¼ cup of the eggs into a bowl, reserving the rest for a later addition. Add the flour and sugar; beat on high until a thick paste forms. Let rest for 10 minutes. (See Tip 1)

Meanwhile, melt the butter in a saucepan over medium heat; bring to a boil, and let the butter brown lightly, about 10 minutes. Place the pan in a ice water bath until the butter is cool, but still liquid.

Add the remaining egg, lemon zest, lemon juice, vanilla extract, salt and butter to the batter. Beat until thoroughly blended., about 1 minute.

Place a generous tablespoon of batter into each of the Madeleine cups. (See Tip 2)

Bake at 350° F for 14 to 15 minutes, or until cakes are lightly browned around the edges, humped in the middle and slightly shrunk from the cups. Unmold onto a wire rack to cool completely.

When cool, turn the shell side up and dust with confectioners sugar if desired. Yield: 1 ½ dozen.
Chula's Expert Tips
When beating the egg, sugar and flour, you may notice that the mixture is quite crumbly at first. Keep beating and it will turn into a thick paste.
I used a 1 ¾-inch ice cream scoop to fill each of the Madeleine cavities. It was the perfect amount.

The Madeleines will keep in the refrigerator for a day or two in an airtight container. Also, they freeze extremely well.
Nutrition
Calories:
112
kcal
|
Carbohydrates:
12
g
|
Protein:
1
g
|
Fat:
6
g
|
Saturated Fat:
3
g
|
Cholesterol:
33
mg
|
Sodium:
7
mg
|
Potassium:
14
mg
|
Sugar:
7
g
|
Vitamin A:
205
IU
|
Vitamin C:
0.1
mg
|
Calcium:
5
mg
|
Iron:
0.4
mg
Tried this recipe?
Please leave a comment below and/or give this recipe a rating. On Instagram? Take a picture and tag @pudgefactor or #pudgefactor.