Last night at dinner, the Master Taste Tester commented on how long it's been since I made Pâté.  I agreed and decided to make Julia Child's Pâté de Campagne or Country Pâté from The Way to Cook.
This brings me to the sausage.  In the past, when I've made this Pâté, I've used ground pork and adjusted the seasonings accordingly.  This time, I decided to use the pork sausage meat as called for in the recipe, and to make it à la Julia Child, especially since I've been wanting to try this recipe for some time.
The ingredients include fresh pork shoulder butt, salt allspice, thyme, ground bay leaf, paprika, sage and freshly ground pepper.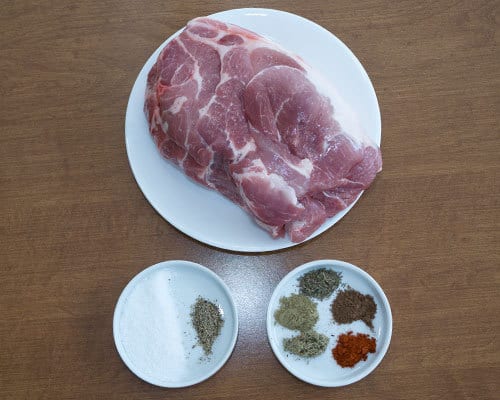 The first step involved grinding the pork.  Julia advises against using a food processor for this, so I used my meat grinder attachment to the Kitchen Aid stand mixer.  I cut the pork into 1-inch strips, and put it through the course disk of the meat grinder.  Then I re-ground the pork by putting it through the smaller disk.
Since the stand mixer was already out, I transferred the ground pork to the bowl, and added the salt, herbs, spices and pepper.  I processed the sausage using the paddle attachment.
I used half of the sausage in the Pâté (stay tuned!), and made the rest into a roll covered with waxed paper.  Tonight, the Master Taste Tester is using some if it in Toad in the Hole.  Yum!
Pork Sausage Meat (from Julia Child's

The Way to Cook

)

2¾ pounds fresh pork shoulder butt ( you want approximately 2 parts lean to 1 part fat, which the butt should give – the process of grinding results in about ¼ pound of waste)
1 Tablespoon Kosher salt
¾ teaspoon mixed ground herbs and spices*
¼ teaspoon freshly ground pepper

Trim gristly bits, etc., from the pork and cut the meat into strips 1-inch across.  Put first through the coarse screen of the meat grinder, then through the fine screen.  Beat with paddle attachment in stand mixer, adding the salt, herbs, spices and pepper.  Sautê a spoonful to cook through completely and taste very carefully.  Correct seasonings.  Cover and refrigerate for a day to allow the flavorings to penetrate the pork.  Yield:  2½ pounds.

*For the mixed ground herbs and spices, combine the following in a small bowl:

¼ teaspoon allspice
¼ teaspoon dried thyme
¼ teaspoon ground bay leaf
¼ teaspoon paprika
¼ teaspoon dried sage