The combination of the Instant Pot, and dried Black Beans is a match made in heaven! With the Instant Pot, you can cook the unsoaked dried beans in 30 minutes. Instant Pot Smashed Black Beans are creamy, spicy, and oh so easy to make. On top of that, they're absolutely delicious. 
Making the Instant Pot Smashed Black Beans:
I used the following ingredients for these awesome black beans: Dried black beans, fresh jalapeño pepper, garlic, onion, dried cumin, salt, freshly ground black pepper, chicken broth, and water.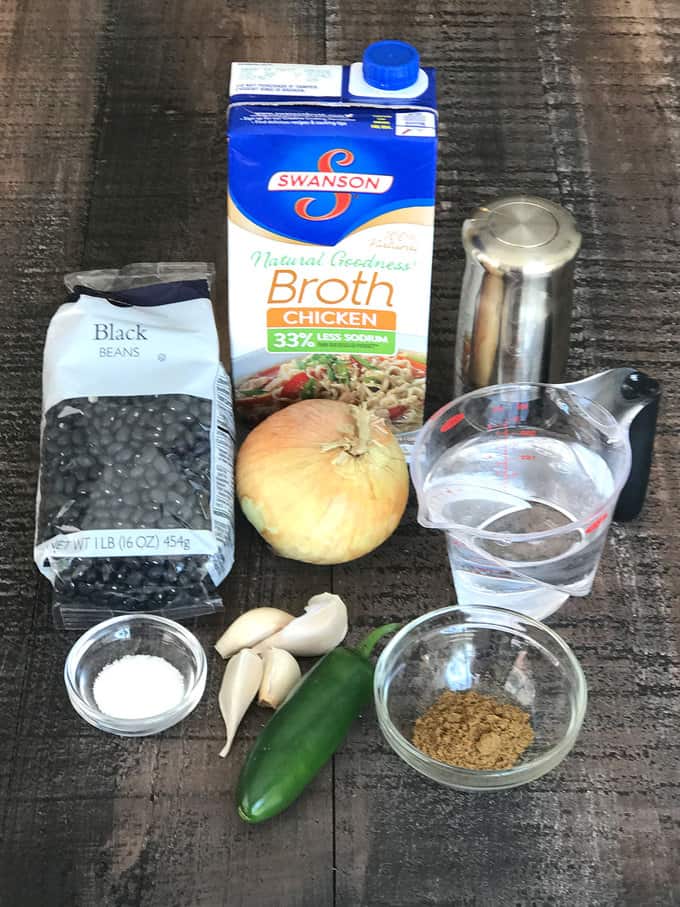 Did I mention how easy these black beans are to make? Well they are. First, I had minimal preparation. I started by rinsing and draining the black beans. Then, I peeled and quartered the onion. Next, I removed the spine and seeds from the jalapeño pepper, and chopped it. Finally, I peeled and minced the garlic.
I added all of the prepared ingredients to the pan of the Instant Pot. After giving the ingredients a stir, I put the lid on, and made sure that the steam valve was shut. Next, I selected the Bean/Chili function, and walked away! This function was pre-programmed to normal pressure cooking for 30 minutes.
After the 30 minutes, I let the Instant Pot depressurize naturally. This took about 15 minutes. I removed the top, and could see that the beans were perfectly cooked!
I knew from experience that initially, there was too much liquid in the black beans. Therefore, I removed about a cup of liquid with a soup ladle. I did, however, reserve the liquid because I also knew from experience that I would have to add it back to the beans as they thickened.
I used my immersion blender to perfectly smash the beans.
What can I say? I ended up with amazingly delicious Smashed Black Beans. I think that they're incredible plain, with melted cheese on top, in quesadillas, with enchiladas, or scooped up with tortilla chips. Yum!
Instant Pot Smashed Black Beans
Ingredients
2 cups (16 ounces) dried black beans, rinsed, drained, and picked over
1 medium onion, peeled and cut into quarters
1 jalapeño pepper, spine and seeds removed, and chopped
4 cloves garlic, minced
1-1/2 teaspoon Kosher salt
1 teaspoon dried cumin
1/2 teaspoon freshly ground black pepper
4 cups low sodium chicken broth
1 cup water
Instructions
Combine all ingredients in Instant Pot. Cover, making sure that the steam vent is closed. Select Bean/Chili. This setting is for 30 minutes on normal pressure.
At end of cooking cycle, allow Instant Pot to depressurize normally. Remove lid. Stir to combine ingredients.
Remove about 1 cup of liquid; set aside.
Process beans with immersion blender, until smooth. If necessary add reserved liquid to desired consistency.
Season to taste.
Yield: 6 servings.
7.6.7
249
https://pudgefactor.com/instant-pot-smashed-black-beans/