The sausage roll is classic British fare, that is as versatile as it is easy to make. It can be served hot or cold in a canapé size as an appetizer, or in a larger roll for lunch, a snack or an entrée.
In addition, the unbaked sausage rolls can be frozen for later use. Also, the cooked sausage rolls can be refrigerated, and reheated at a later time.
The key to a good sausage roll is good sausage! British sausage tends to be different from American sausage in several ways. British sausage often has a breadcrumb (a.k.a rusk) filler while its American counterpart doesn't. Also, British sausage tends to have a finer grind and consistency than American sausage. Both the Master Taste Tester and I personally prefer British sausage to American sausage. Over time, we've experimented with trying to replicate British sausage, and think that we finally have a winner that's super easy to make!
Ingredients for Sausage Rolls:
I used the following ingredients: Puff pastry sheets, ground pork, hot bulk American sausage, breadcrumbs, Kosher salt, fresh sage, water, and egg (for the egg wash).
Making the Sausage:
I added the ground pork, bulk American sausage, breadcrumbs, salt, fresh chopped sage, and water to the bowl of my food processor fitted with a steel blade. I didn't add any pepper because the bulk sausage that I used had plenty to flavor the entire batch. Had I used a regular sausage, I would have added pepper along with the other ingredients.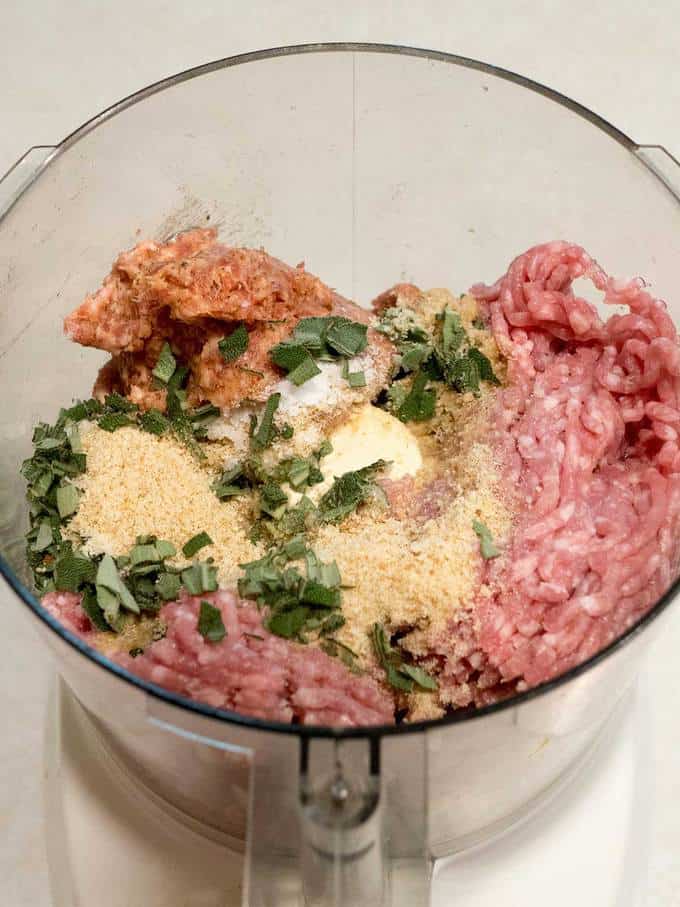 I processed the sausage mixture for about 20 seconds. Then, I took a small piece, microwaved it for about 20 seconds and tasted it to see if additional seasonings were needed. The Master Taste Tester said that it was perfect! Next, I continued processing the mixture for another 30 seconds until it reached the proper consistency. See how finely ground it is – almost like a pâté, which is how we like it. That's it – British sausage with the food processor doing all the work!
Making the Easy Peasy British Sausage Rolls:
With the sausage made, I turned my attention to making the sausage rolls. I rolled out a thawed puff pastry sheet on a piece of floured wax paper to approximately 14 x 9-inches. Next, I cut the puff pastry in half, length-wise.
I placed a roll of sausage down the center of each piece of puff pastry. Then, I brought the sides of the puff pastry together to enclose the sausage. I pinched the puff pastry together to ensure that it was completely sealed.
Because I was making the sausage rolls for dinner, I cut each log into four pieces. Then, to allow the steam to escape during baking, I cut two slits in each roll.
I placed the sausage rolls on a rimmed baking sheet lined with non-stick aluminum foil. Finally, I brushed each one with egg wash made by combining an egg with 1 tablespoon of water.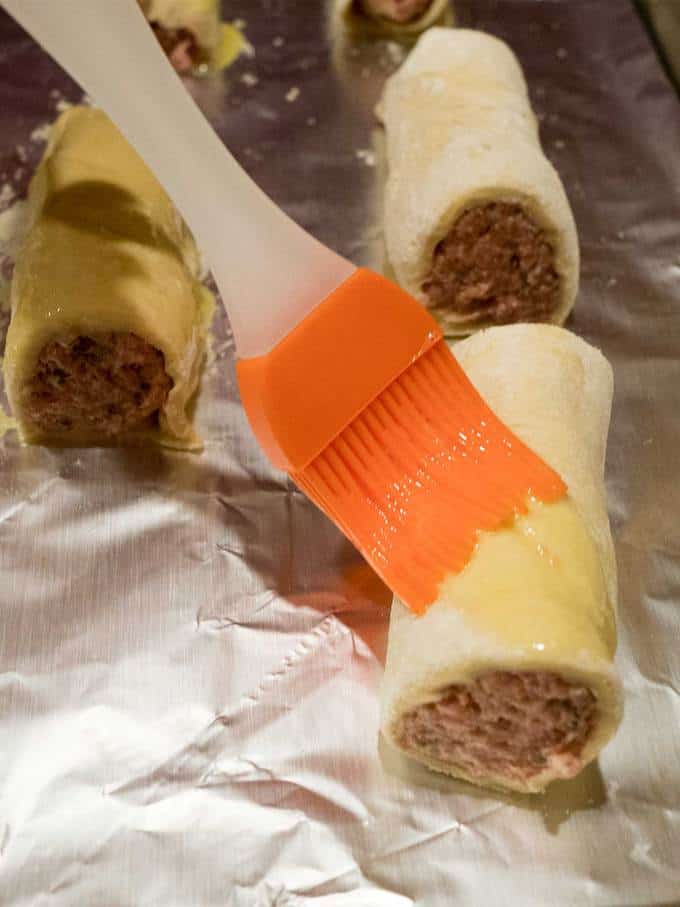 I baked the sausage rolls in a preheated 425° F oven for 20 minutes. The puff pastry had risen nicely and was a golden brown. The sausage was fully cooked. I let the sausage rolls cool for about 10 minutes before serving them.
I served the Easy Peasy British Sausage Rolls with steamed fresh Brussel sprouts and Anytime Potatoes and Onions. They were absolutely delicious. Yum!
Easy Peasy British Sausage Rolls
Ingredients
1 sheet puff pastry, thawed
1 pound (16 ounces, 454 grams) ground pork
1/2 pound (8 ounces, 227 grams) hot bulk sausage*
1/2 cup (2.65 ounces, 75 grams) dry breadcrumbs
1/3 cup (2.65 ounces, 75 grams) water
1-1/2 teaspoons (0.35 ounces, 10 grams) Kosher salt
2 Tablespoons (0.25 ounces, 7 grams) fresh sage, chopped
Egg wash - 1 egg mixed with 1 Tablespoon water

*Note: If using regular sausage, add 1/2 to 1 teaspoon freshly ground black pepper.
Instructions
Sausage: Add ground pork, bulk sausage, breadcrumbs, water, salt, and sage to bowl of food processor fitted with steel blade. Process 20 seconds. Cook small amount in microwave for 20 seconds; taste for seasonings. Correct seasonings if necessary. Process for additional 30 seconds, or until desired consistency is reached. Cover and refrigerate. Yield: About 28 ounces sausage.
Sausage Rolls: Preheat oven to 425° F.
Roll puff pastry sheet to approximately 14 x 5-inches on a lightly floured surface. Cut in half lengthwise. Place a roll of 8 ounces of sausage down the center. Bring sides together, and pinch to seal. Make sure that roll is thoroughly sealed.
Cut each roll to desired size (I cut each roll into four pieces). Cut two slits in each piece. Place on rimmed baking sheet lined with non-stick aluminum foil.
Brush with egg wash. Bake at 425° F for 20 minutes, or until golden brown and sausage is completely cooked. Cool 10 minutes before serving. Yield: 4 servings.
7.6.7
170
https://pudgefactor.com/easy-peasy-british-sausage-rolls/