Chocolate Chip and Pecan Cookie Brittle is a quick and easy recipe that takes the familiar chocolate chip cookie to a new level. This addictive treat combines the goodness of chocolate chips with the irresistible crunch of pecans to produce a delectably crispy cookie brittle.
This cookie brittle, sometimes referred to as cookie bark, is perfect for parties, holiday gatherings, or anytime when you want a simple recipe that will leave everyone craving for more.
Jump to:
Why You'll Love This Recipe
Easy to make: This Chocolate Chip and Pecan Cookie Brittle recipe requires minimal prep work and just a few simple steps, making it perfect for even the most novice bakers.
Minimal cleanup: The brittle dough is mixed in one pot with no electric beaters required, making cleanup a breeze.
Perfectly balanced flavors: The sweetness of the chocolate chips pairs wonderfully with the rich, nutty flavor of pecans, creating a harmonious blend that's hard to resist.
Great for gifting: Packaged in a decorative tin or cellophane bag, this cookie brittle makes a thoughtful and delicious homemade gift for holidays, birthdays, or special events.
Ingredients: Here's What You'll Need
In addition to being quick and easy, this recipe only requires a handful of ingredients that you probably already have on hand.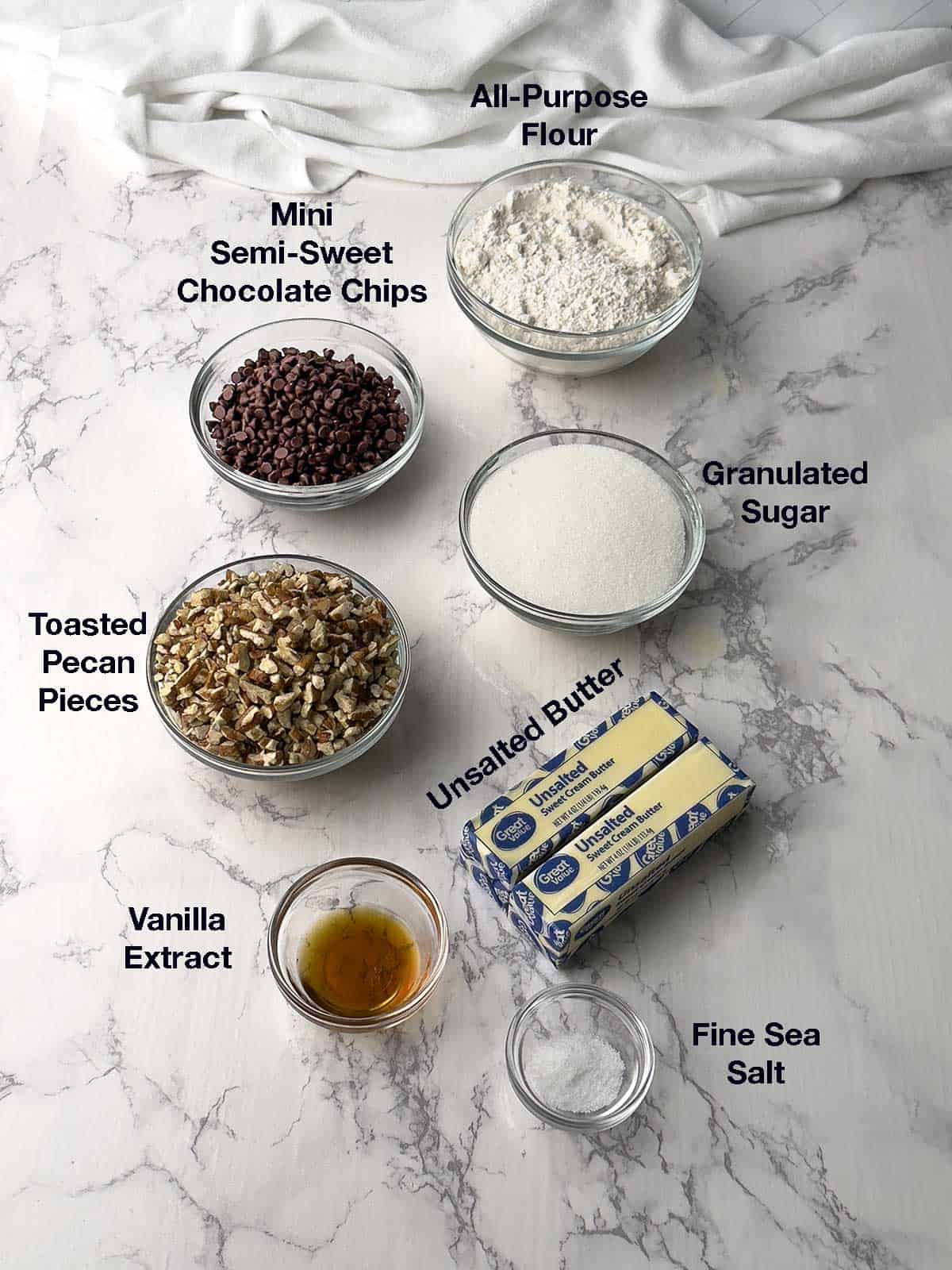 Unsalted butter: In some ways, this cookie brittle is like a rich butter cookie, with unsalted butter providing both a depth of flavor and liquid for holding the other ingredients together.
Granulated sugar: As you probably know, a typical chocolate chip cookie recipe uses a combination of granulated sugar and brown sugar. However, brown sugar introduces moisture to cookie dough. This recipe uses only granulated sugar which contributes to the delectable crunch of the brittle.
All-purpose flour: I used all-purpose flour in this recipe.
Mini-chocolate chips: Because of the nature of the cookie brittle, I used semi-sweet mini-chocolate chips. I wanted the chocolate chips to complement the flavor, not overpower it.
Toasted pecan pieces: I'm a huge fan of pecans and include them in many of my cookie recipes. I always toast the pecans to significantly enhance their flavor. The cookie brittle was no exception.
The rest of the ingredients: To enhance the cookie brittle flavor, I added some fine sea salt and vanilla extract.
Simple Steps for an Amazing Treat
With just a few simple steps, you can make this addictive treat.
Start by melting the butter in a saucepan over medium heat. I like to cube the butter to make it melt faster, but that's a personal preference.
Once the butter has melted, allow it to cool slightly for about 15 minutes.
Once the butter has cooled, add the sugar and vanilla extract. Whisk the ingredients together until well combined and somewhat thickened.
Next, add the salt and flour, and stir the ingredients together until well combined. The mixture will be thick.
Finally, add the mini chocolate chips and toasted pecans. Stir everything together until the ingredients are fully combined.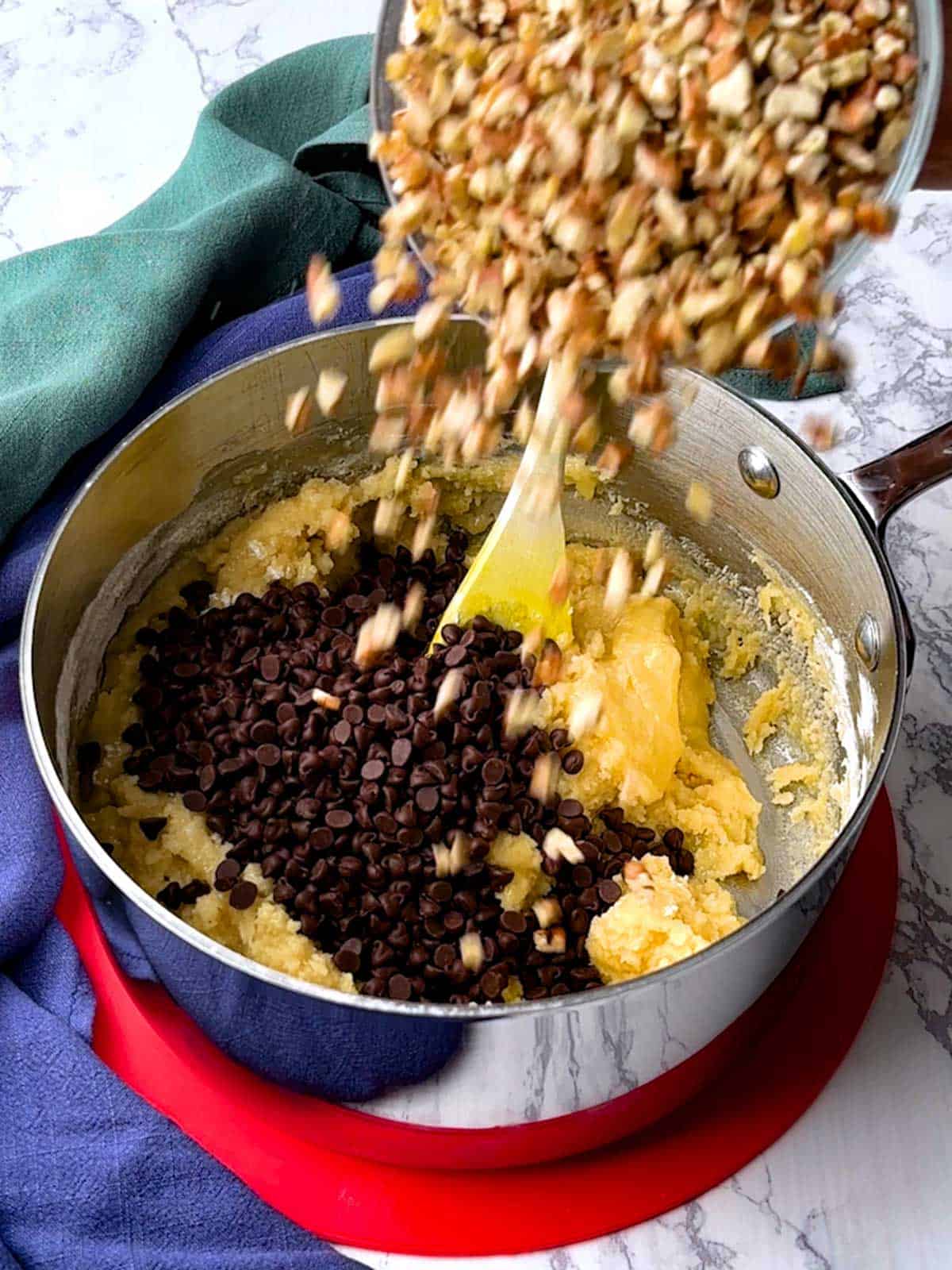 Transfer the brittle dough to an ungreased large-rimmed half-baking sheet, roughly 12 x 17 inches. The mixture will look crumbly.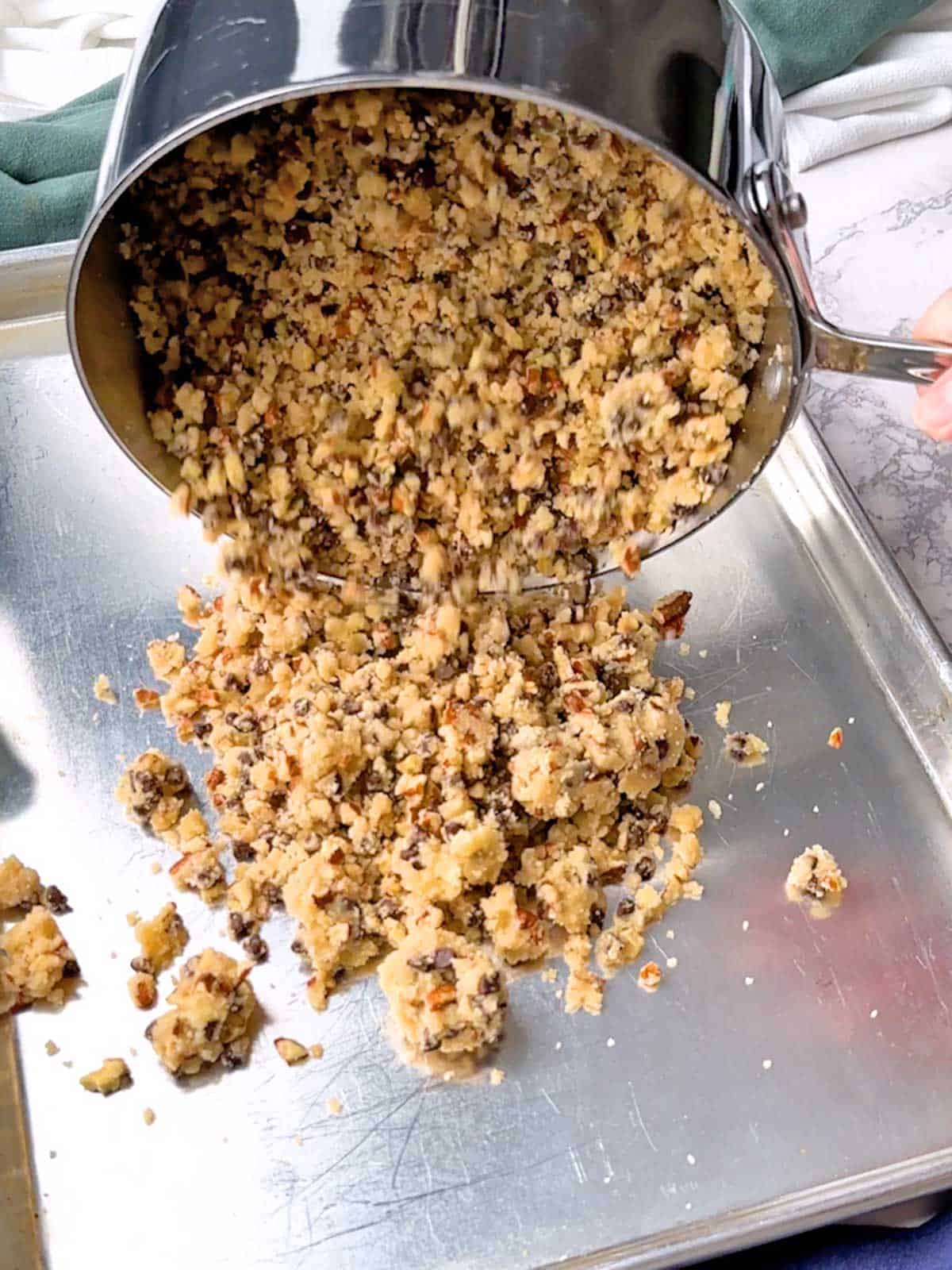 Spread the brittle dough into an even layer on the baking sheet. It's important to pack the dough down to ensure that it sticks together. I like to use a metal measuring cup for this, but you could use whatever you feel would work.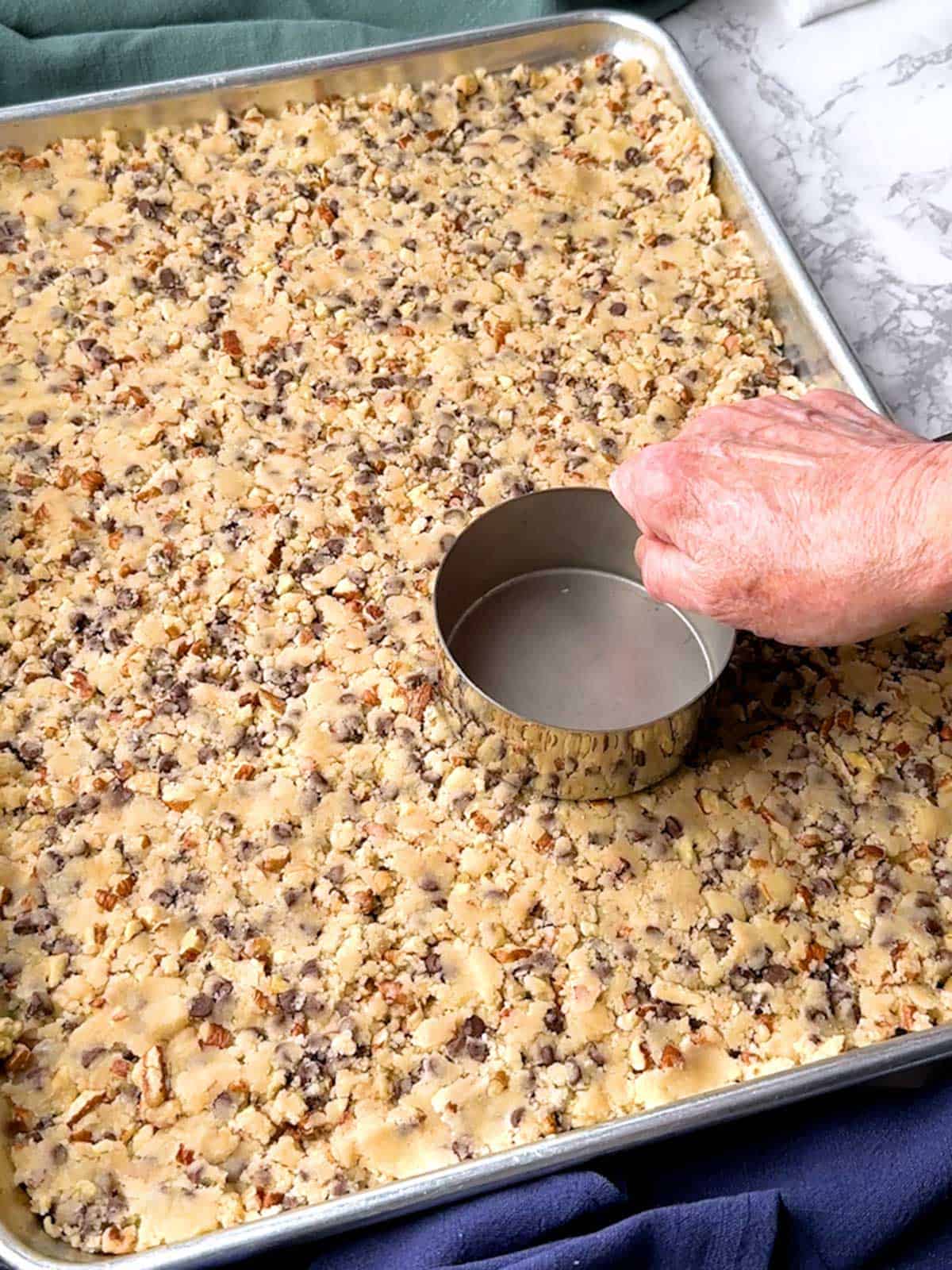 Bake the Chocolate Chip and Pecan Cookie Brittle in a preheated 350°F oven for 24 to 25 minutes or until golden brown all over.
Remove the cookie brittle from the oven and allow it to cool completely.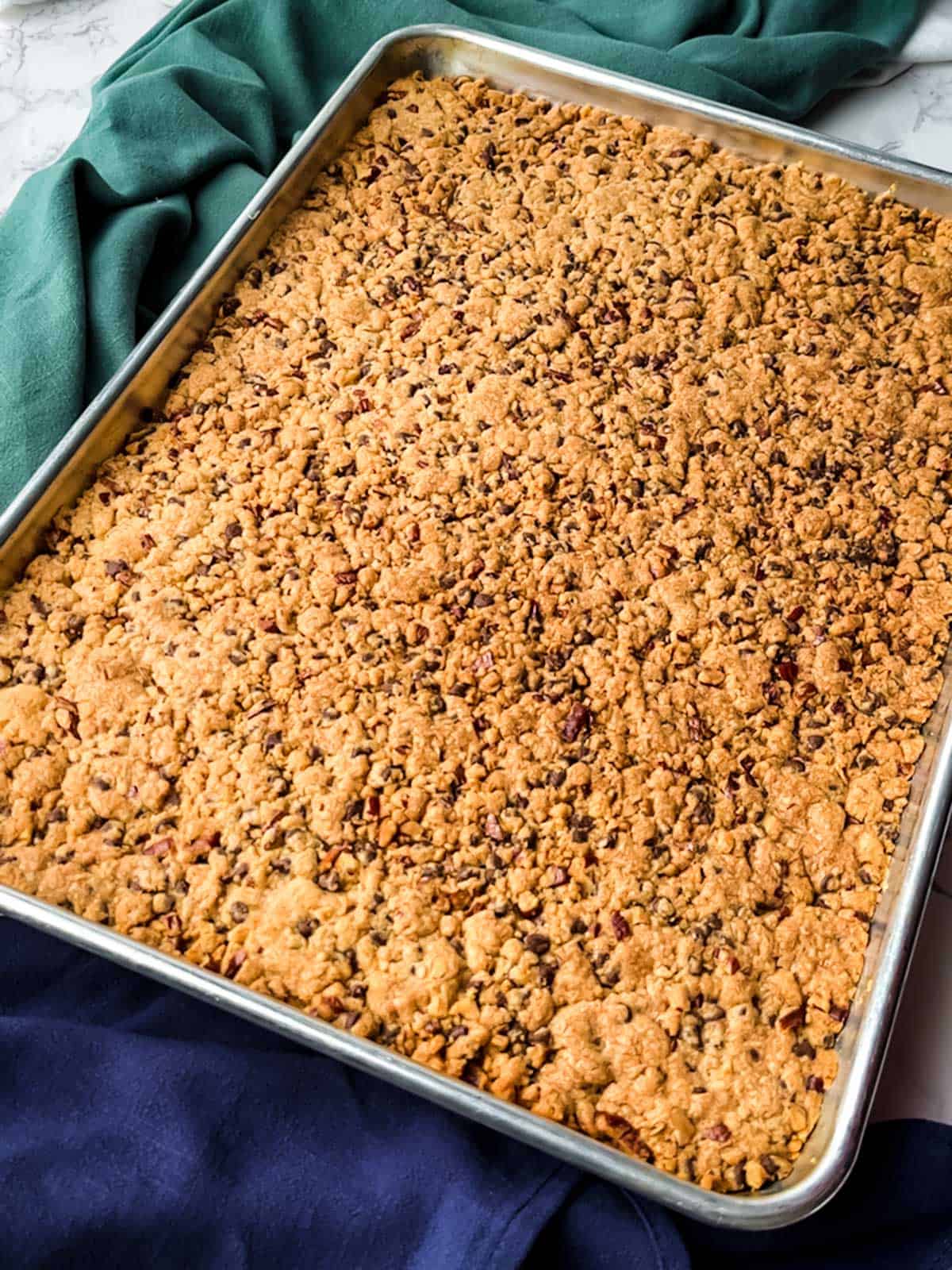 Once the cookie bark is completely cool, break it into bite-sized pieces and either enjoy or store it in an airtight container for later enjoyment.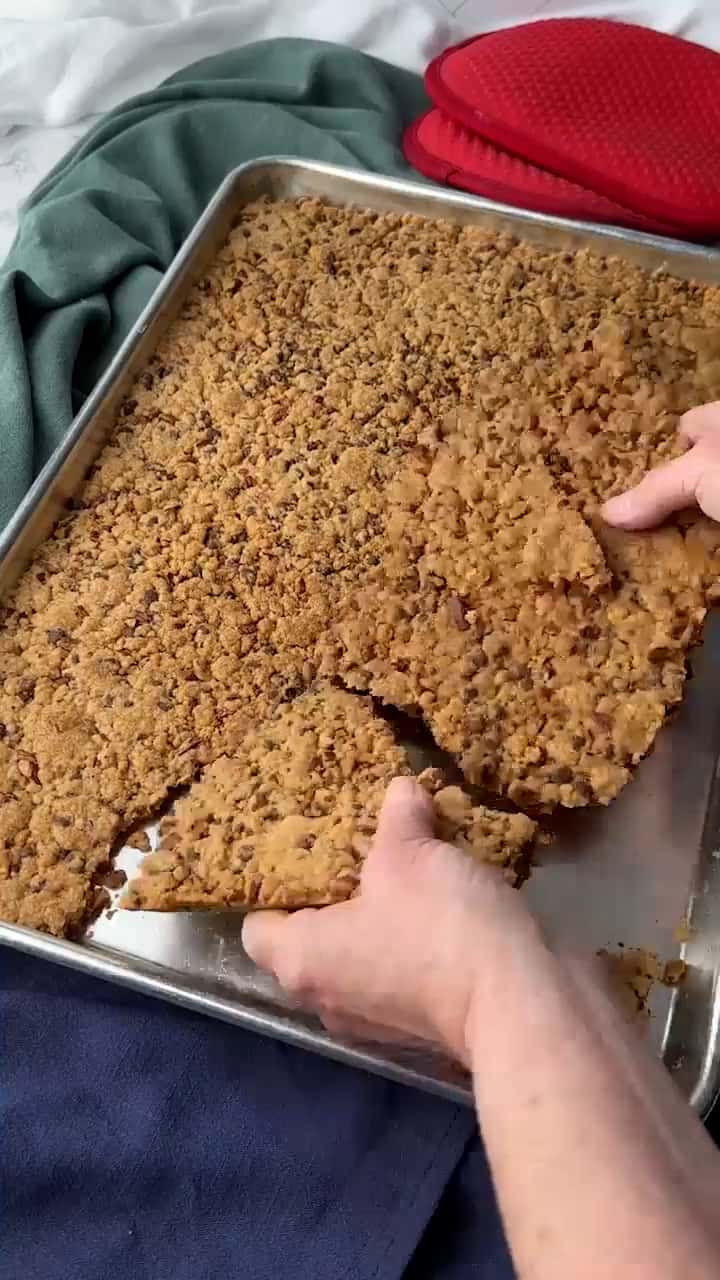 The Chocolate Chip and Pecan Cookie Brittle was excellent. Every bite was buttery crisp with the irresistible combination of chocolate and crunchy toasted pecans. Yum!
Recipe Frequently Asked Questions
Can the butter be melted in the microwave instead of on the stovetop?
You can melt the butter either in the microwave or on the stovetop. I melted it on the stovetop because I wanted to use the same pan to mix all of the ingredients. However, you could melt the butter in a large bowl in the microwave to achieve the same thing.
Why isn't the rimmed baking sheet lined with parchment paper or a silicone liner?
Because of the quantity of butter in the recipe, the cookie brittle will not stick to an ungreased baking sheet. Therefore it is unnecessary to line the baking sheet with either parchment paper or a silicone liner.
Can regular chocolate chips be substituted for the mini-chocolate chips in this recipe?
You can substitute regular chocolate chips for the mini-chocolate chips in this recipe. However, the cookie brittle tends to be thin, so I think the mini-chocolate chips work better.
Is there a good substitute for the pecans in this recipe?
The cookie brittle is equally good with walnuts or almonds.
How long will the cookie bark last?
The cookie bark should last about a week if stored in an airtight container.
Recipe Tips and Tricks
Once the flour has been added, it's best to mix the dough until it is incorporated. The more the dough is mixed, the greater the likelihood of gluten formation, which will tend to make the brittle tough.
I always toast pecans before adding them to a recipe. The reason is that toasting greatly enhances the flavor of the pecans. I spread the pecans on a single layer on a baking sheet and cook them at 350°F for 8 to 10 minutes. I watch carefully to ensure that the pecans don't overcook.
I learned a long time ago that the best way to ensure consistent results from my baking recipes was to weigh the ingredients, especially the flour. That's why in writing the recipes, I consistently include the weights. My rule of thumb is that one cup of flour weighs 5 ounces.
I highly recommend getting a kitchen scale if you don't already have one. You don't have to spend a lot of money on the scale. In fact, my kitchen scale costs less than $10.
While on the subject of kitchen scales, you might be interested to know that there are at least two basic types: (1) scales that weigh the nearest ⅛ of an ounce and scales that weigh to the nearest hundredth of an ounce. I greatly prefer the latter.
Other Chocolate Chip Cookie Recipes
Chocolate chip cookie recipes are favorites among a lot of cooks, including me. Here are some of my favorites:
I hope you enjoyed the recipe for Chocolate Chip and Pecan Cookie Brittle as much as I did. If you did, please rate it and leave a comment. If you want to stay updated on new posts by email, enter your email address in the Subscribe box.
Thank you so much for visiting Pudge Factor. I hope you'll come back!
Recipe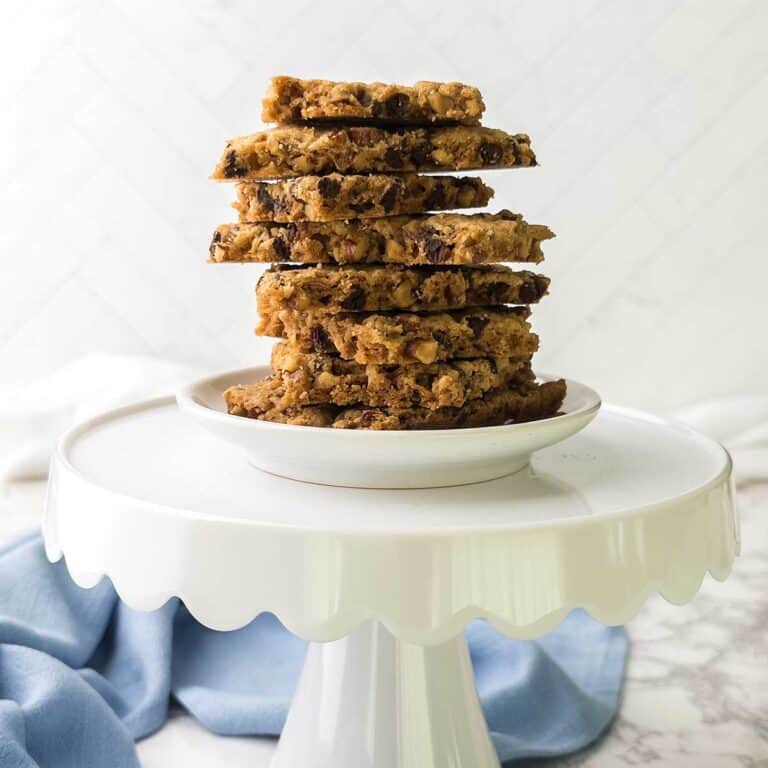 Chocolate Chip and Pecan Cookie Brittle
Chocolate chip and pecan cookie brittle is buttery, crisp, and packed with rich flavors; it's the perfect treat to satisfy your cravings.
Ingredients
1

cup

(8 ounces, 2 sticks) unsalted butter, melted and cooled

1

cup

(7 ounces) granulated sugar

2

teaspoons

vanilla extract

1

teaspoon

fine sea salt

1 ¾

cups

plus 2 Tablespoons (9 ounces) all-purpose flour

1

cup

(6 ounces) toasted pecan pieces (See Tip 1)

1

cup

(6 ounces) mini semi-sweet chocolate chips
Instructions
Preheat oven to 350°F. Have an ungreased half-sheet pan (roughly 12 x 17 inches) ready for the cookie brittle.

Add sugar and vanilla extract to melted and cooled butter. Whisk together until the mixture thickens. Add salt and flour. Stir with a wooden spoon or spatula just until combined.

Add the mini chocolate chips and toasted pecan pieces; stir to combine. Pour onto an ungreased rimmed baking sheet. Press into a thin, even layer. (See Tip 2)

Bake in preheated 350°F oven for 24 to 25 minutes or until a light golden brown all over. Remove from oven and cool completely. Break into bite-sized pieces. Store in an airtight container for up to a week.
Notes
To toast the pecans, spread in a single layer on a baking sheet. Bake in a preheated 350°F oven for 8 to 10 minutes. Watch carefully to ensure that the pecans do not burn.
Be sure to compact the brittle dough when pressing it into a thin layer to ensure that the cookie brittle stays together when cooked.
Nutrition
Calories:
381
kcal
Carbohydrates:
36
g
Protein:
4
g
Fat:
25
g
Saturated Fat:
13
g
Polyunsaturated Fat:
2
g
Monounsaturated Fat:
9
g
Trans Fat:
1
g
Cholesterol:
36
mg
Sodium:
170
mg
Potassium:
150
mg
Fiber:
3
g
Sugar:
21
g
Vitamin A:
418
IU
Vitamin C:
0.1
mg
Calcium:
22
mg
Iron:
2
mg