With only four ingredients, Classic English Lemon Curd is smooth and silky with a tangy and tart flavor that overwhelms your senses. It's perfect for topping biscuits (a.k.a. cookies), scones, yogurt, ice cream, cheesecake, cupcakes, and so much more! In addition, it's luscious on its own. What's even better is that it only takes 10 minutes to make!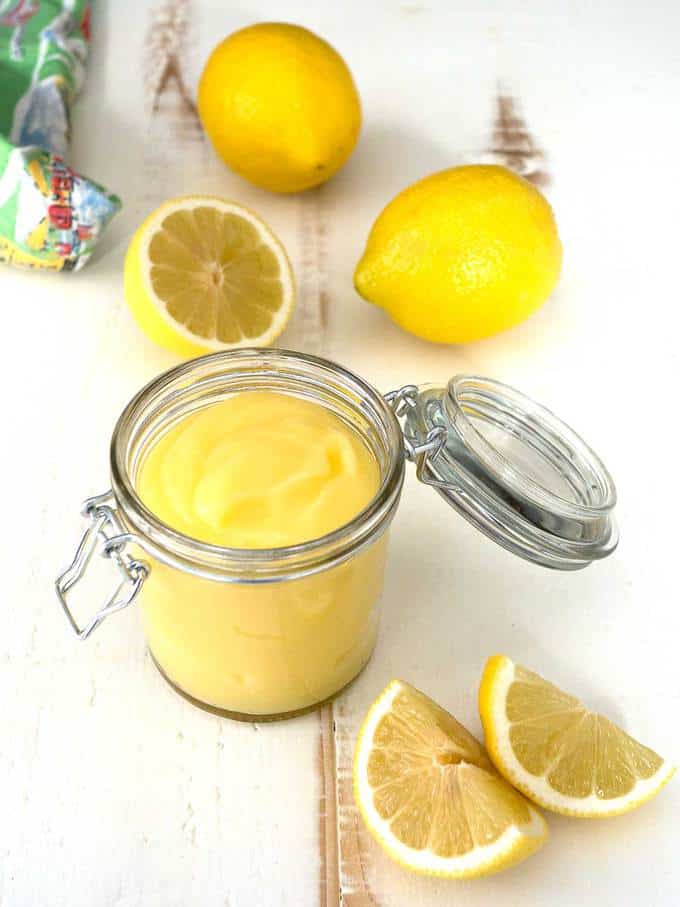 Making the Classic English Lemon Curd:
I used the following four ingredients: Eggs, granulated sugar, lemons (for both lemon zest and lemon juice), and unsalted butter.
First, I whisked the eggs, sugar, and lemon zest together in an enameled saucepan. Then, I whisked in the lemon juice. Next, I added the butter that I had cut into small pieces.
I placed the saucepan over medium heat, and whisked the mixture constantly until it thickened. This took about six minutes. I continued whisking the mixture for several more minutes until it started to bubble, before removing the pan from the heat.
Next, I poured the lemon curd into a wire mesh strainer set over a measuring cup. Then, I used a rubber spatula to help push the lemon curd through the strainer.
Sometimes, you'll see lemon curd recipes that omit the straining step. In my opinion, this is a huge mistake. The reason is that a small amount of the egg whites inevitably "scrambles".
I pressed a piece of plastic wrap onto the lemon curd and put it in the refrigerator to cool completely.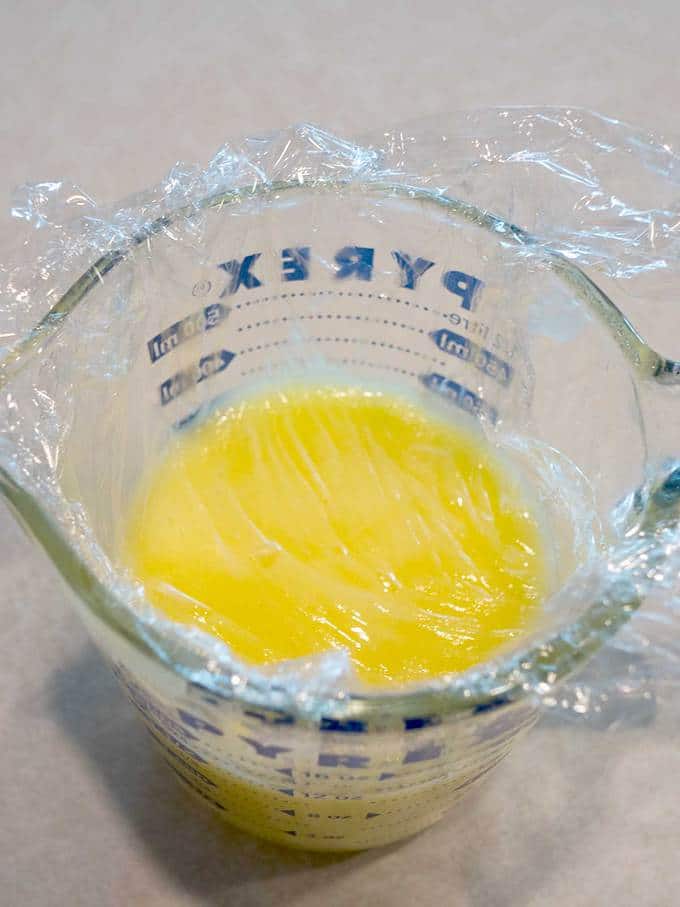 I ended up with about 1-1/3 cups of velvety smooth and amazingly tasty Classic English Lemon Curd. The Master Taste totally approved of it as he  spread it on his English biscuits. Yum!
Classic English Lemon Curd
Ingredients
3 large eggs, room temperature
1/2 cup (3.5 ounces) granulated sugar
2 teaspoons lemon zest
1/2 cup fresh lemon juice (2-1/2 to 3 lemons depending on size)
6 Tablespoons unsalted butter, cut into small pieces
Instructions
Whisk together eggs, sugar, and lemon zest in a non-reactive saucepan (stainless steel, enameled, glass). Add lemon juice; whisk to combine. Add butter pieces.
Place pan over medium heat. Whisk mixture constantly, until thickened, about 6 minutes. Continue whisking constantly for several more minutes, until bubbly.
Remove from heat. Pour lemon curd into wire mesh strainer set over a bowl. Stir with rubber spatula or spoon to force lemon curd through strainer. Discard any bits left behind in strainer.
Press piece of plastic wrap on top of lemon curd; refrigerate at least one hour to cool completely.
Yield: 1-1/3 to 1-1/2 cups.
7.6.7
281
https://pudgefactor.com/classic-english-lemon-curd/