Lemon Posset is an easy-to-make classic English dessert for any occasion dating back to the Middle Ages. The modern version is chilled, with a velvety smooth texture that magically congeals with only three ingredients – cream, sugar, and lemon. Unlike Lady Macbeth, who drugged King Duncan's guards with poisoned posset, you can WOW your guests with this simple, elegant dessert that takes minutes to make.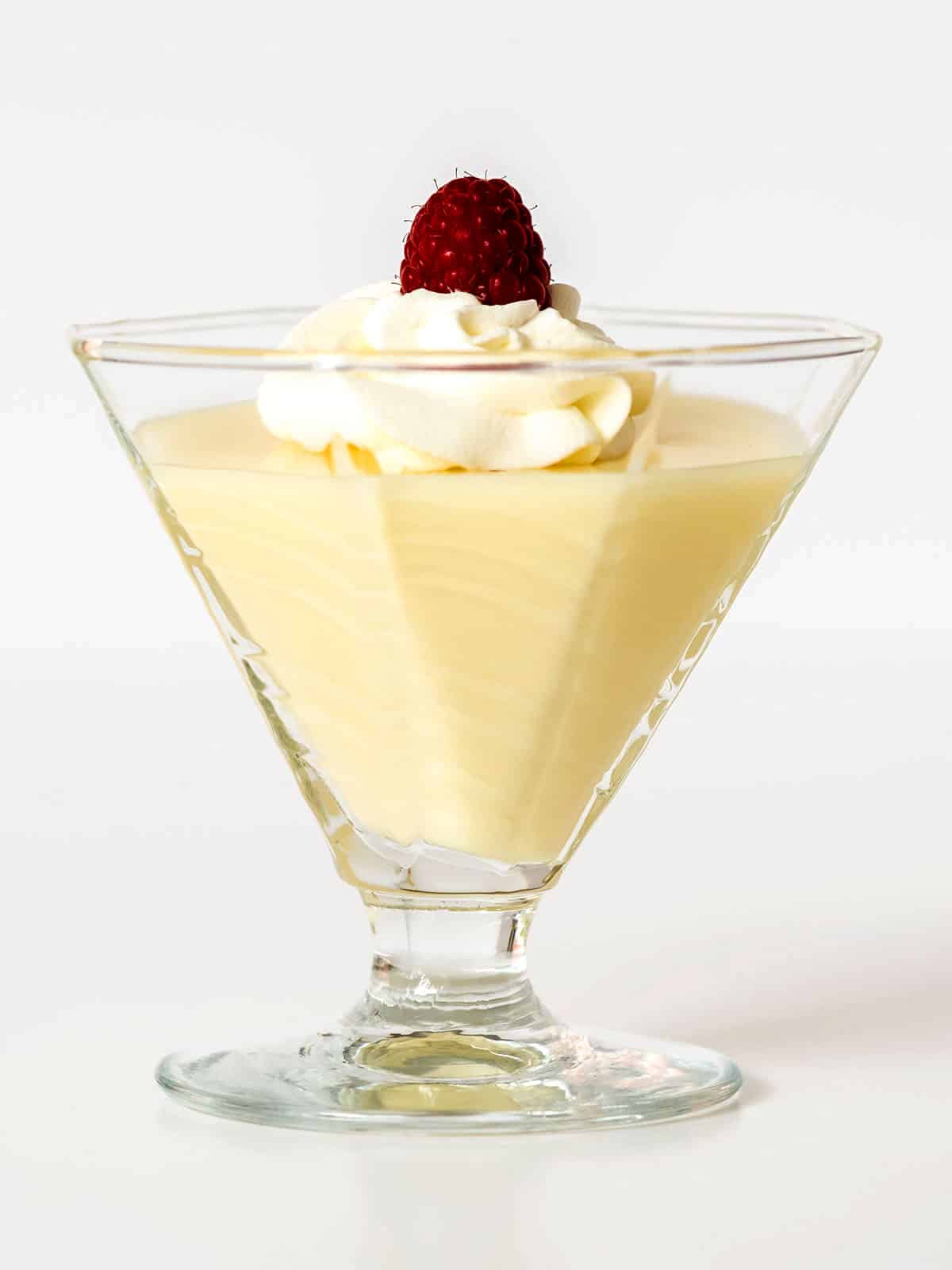 Jump to:
Why You Should Make This Dessert Recipe
There are several reasons you should make this classic dessert.
Ease of Preparation: Lemon Posset is surprisingly easy to make, requiring only a few common ingredients and simple cooking techniques.
Versatility: Lemon Posset is a perfect dessert for any occasion – a casual family dinner, a special celebration, or a formal gathering. Its elegant presentation will impress your guests, while its simplicity suits any meal.
Light and Refreshing: With the hot summer months approaching, Lemon Posset offers a light and refreshing end to any meal, making it an ideal choice for those who prefer a less heavy dessert.
Make-Ahead Dessert: Lemon Posset needs time to set, making it a perfect dessert to prepare in advance. It's an excellent choice for when you want to plan your meals ahead of time or when you're hosting a dinner and want to focus on your guests rather than cooking.
Ingredients – Here's What You'll Need
With only three basic ingredients, this English dessert is the ultimate in simplicity.
Heavy Cream: Heavy cream provides richness and velvety texture to the Lemon Posset.
Granulated Sugar: Granulated sugar adds the perfect amount of sweetness to this timeless dessert.
Lemons for Juice and Zest: Lemon juice serves a dual role. First, it adds citrusy tartness to this dessert. Second, the acid in lemon juice causes the casein proteins in the cream to clump together, forming a network that traps liquid and creates a solid-like texture.
Lemon zest enhances the tartness of this dessert.
Simple Steps in Making This Easy Lemon Posset Recipe
With only a few simple steps, you can make this classic dessert. Here's how I made it.
First, I added the sugar and lemon zest to the cream in a heavy saucepan.
Next, I heated the mixture to boiling over medium heat, stirring frequently until the sugar dissolved. I continued boiling the mixture for about 10 minutes, stirring occasionally to reduce the liquid to about two cups.
After ten minutes, I removed the pan from the heat and stirred in the lemon juice. I allowed the mixture to sit undisturbed for about 20 minutes to cool and thicken.
After 20 minutes, I strained the Posset mixture through a fine mesh strainer to remove the lemon zest. I like using a large measuring cup here to make transferring the Lemon Posset to individual serving dishes easier.
Finally, I poured the Posset mixture into individual serving dishes and refrigerated it, uncovered, until the Lemon Posset was fully set. This took about three hours.
I ended up with four silky-smooth Classic English Lemon Possets. For serving, I topped the Lemon Posset with some whipped cream and a raspberry.
This has to be one of the easiest and most delicious desserts I've ever made. Yum!
Frequently Asked Questions
Can lime juice be substituted for the lemon juice?
Lime juice can be used instead of lemon juice to make a lime posset, which has a more tropical flavor. You can substitute other citrus juices such as orange, grapefruit, or tangerine. However, with these substitutions, you may need to adjust the amount of sugar or juice depending on the sweetness and acidity of the other citrus fruits.
What can be done if the cream curdles too much?
If the cream curdles too much, it can become grainy or lumpy. If this occurs, you can try to save the mixture by straining it through a fine-mesh strainer or cheesecloth. You can also try to blend it with an immersion blender or food processor until smooth.
Why did the Lemon Posset not properly set?
If the lemon posset did not set, it could be because the cream and sugar mixture was not cooked long enough or because not enough lemon juice was added. The acidity from the lemon reacts with the cream, allowing the mixture to thicken and set.
How far in advance can the Lemon Posset be made?
Lemon Posset can be prepared a day or two in advance, covered, and refrigerated. This can even enhance the flavor as it gives more time for the flavors to meld together.
Is Lemon Posset gluten-free?
Lemon Posset is naturally gluten-free as it's made from cream, sugar, and lemon juice, none of which contain gluten.
Recipe Tips and Tricks
To ensure your Lemon Posset turns out perfectly every time, follow these tips and tricks:
Use high-quality heavy cream. The fat content and quality of the cream affect the texture and flavor of the dessert. Do not use half and half or milk because they will not thicken properly.
Use fresh lemon juice and zest. Bottled lemon juice or dried lemon zest will not give you the same flavor or aroma as fresh ones. You'll need about two to three lemons for this recipe.
Do not overcook the cream mixture. Boil it until it is reduced to two cups, about eight to ten minutes. If you cook the cream too long, it may curdle or separate.
Do not stir the cream mixture after adding the lemon juice. Let it sit undisturbed until it cools slightly and forms a skin on top. This helps the cream set better.
Strain the cream mixture well. Use a fine-mesh strainer to remove any lumps or bits of lemon zest from the cream mixture before pouring it into serving dishes. This will ensure a smooth and silky texture.
Other Classic English Treats – Sweet and Savory
If you're in the market for other classic English treats that are delicious and simple to make, you've come to the right place. Consider these tried and true recipes.
I hope you liked this recipe for Easy Lemon Posset as much as I do. If so, please consider rating it and leaving a comment. Also, if you'd like to receive notifications of new posts by email, enter your email address in the Subscribe box.
Thank you so much for visiting Pudge Factor. I hope you'll come back!
Recipe
Classic English Lemon Posset
Lemon Posset is an easy-to-make classic English dessert dating back to the Middle Ages. The modern version is chilled, with a velvety smooth texture that magically congeals with only three ingredients – cream, sugar, and lemon. Unlike Lady Macbeth, who drugged King Duncan's guards with poisoned posset, you can WOW your guests.
Ingredients
2

cups

(16 ounces, 473 ml) heavy cream (See Tip 1)

⅔

cup

(4.67 ounces, 132 grams) granulated sugar

1

Tablespoon

lemon zest

6

Tablespoons

(3 ounces, 89 ml) fresh lemon juice (2 to 3 lemons)
Instructions
Combine cream, sugar, and lemon zest in a medium saucepan. Bring to a boil over medium heat. Continue to boil, stirring frequently to dissolve sugar. Cook until mixture is reduced to 2 cups, 8 to 10 minutes.

Remove the saucepan from heat; stir in lemon juice. Let sit undisturbed until the mixture is cooled slightly and skin forms on top for about 20 minutes. Strain through a fine-mesh strainer into a bowl; discard the zest. Divide the mixture evenly among 4 individual serving glasses or 6 individual ramekins. (See Tip 2)

Refrigerate, uncovered, until set, at least 3 hours. Once chilled, possets can be wrapped in plastic wrap and refrigerated for up to 2 days. Unwrap and let sit at room temperature for 10 minutes before serving. If desired, garnish with whipped cream and raspberries.

Yield: 4 to 6 servings.
Notes
It's important to use high-quality heavy cream in this recipe. The reason is that the fats in the cream combine with the acid in the lemon juice to produce a thick, velvety texture. Do not try substituting half and half or whole milk.
I like to strain the Lemon Posset into a measuring cut to make it easier to transfer to individual serving dishes.
Nutrition
Calories:
363
kcal
Carbohydrates:
25
g
Protein:
1
g
Fat:
29
g
Saturated Fat:
18
g
Cholesterol:
108
mg
Sodium:
30
mg
Potassium:
74
mg
Sugar:
22
g
Vitamin A:
1165
IU
Vitamin C:
7.6
mg
Calcium:
52
mg
SaveSave