Mexican Wedding Cookies, are served at most weddings and celebrations in Mexico, and are perfect for Cinco de Mayo. Known as Polvorones, these buttery confections are packed with a toasted pecans and dusted with confectioners' sugar. They literally melt in your mouth and break into fine crumbs, leaving the extra crunch of the toasted pecans.
These are one of my favorite cookies, and the Master Taste Tester's as well. I've been making these since I was a teenager, and have always rolled the cookies as tiny as I could manage. The reason was to produce a little taste of heaven as each one was popped into my mouth!
Ingredients for Mexican Wedding Cookies:
I used the following simple ingredients: Unsalted butter, confectioners' sugar, water, vanilla extract, all-purpose flour, and toasted pecans.
Making the Mexican Wedding Cookies:
For the first step, I creamed room temperature unsalted butter with an electric mixer. Then, I added the confectioners' sugar, and beat the mixture on high until it was light and fluffy. Next, I added the vanilla extract and water, and beat until well combined. Then, I added the flour and mixed on low speed until everything was well combined. At this point, I gave the dough a quick mix with a wooden spoon to ensure that all of the flour had been incorporated. Finally, I added the toasted pecans and mixed well with a wooden spoon.
Once everything was well combined, I began the tedious process of rolling the dough into very small balls. I made sure that they were no larger in diameter than a penny. I placed the little balls on an ungreased baking sheet. Because the cookies expanded very little during cooking, I put the balls very close together.
Finishing the Mexican Wedding Cookies:
I baked the cookies in a preheated 350° F oven for about 25 minutes until they were golden brown. When I removed the cookies from the oven, I immediately transferred them to a 9×12-inch pan and covered them with confectioners' sugar.
I tossed the cookies to coat, and transferred the coated balls to a plate. Once all of the cookies had been coated with confectioners' sugar, I repeated the process. Because the cookies were hot during the first coating, the confectioners' sugar melted just a bit. This allowed the confectioners' sugar from the second coating to adhere very nicely to the cookies.
Although it was somewhat of a tedious process to roll the dough into such small balls and then double coat them with confectioners' sugar, it was well worth it.
I actually think that the cookies are better the next day, if that's possible.  The Mexican Wedding Cookies stay fresh for a week when packaged in an airtight container. They're an awesome ending to your Cinco de Mayo feast, and are the perfect size to pop into your mouth. Yum!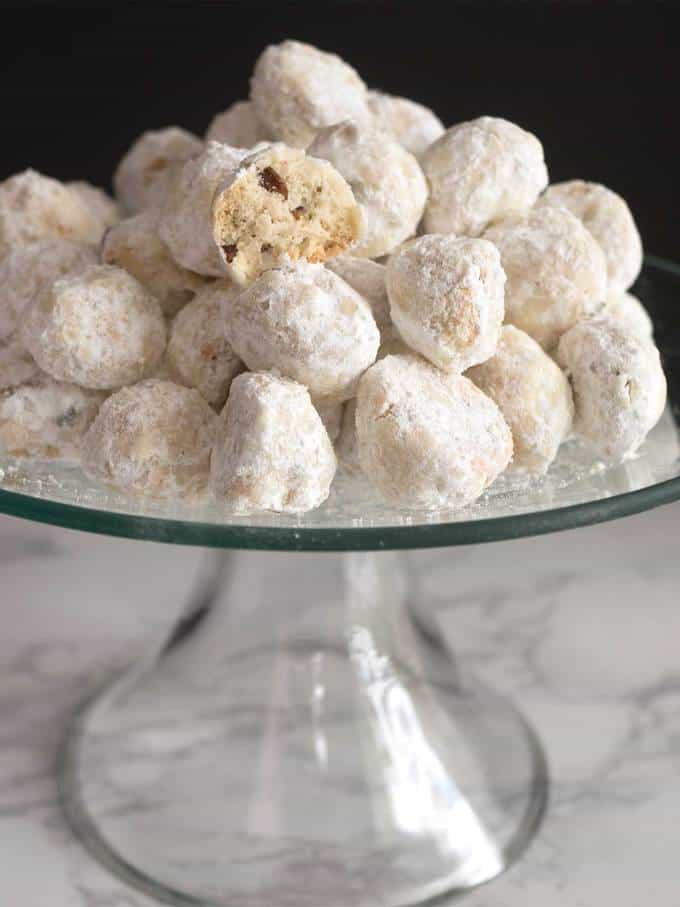 Ingredients
1 cup (2 sticks) unsalted butter, room temperature
1/3 cup confectioners' sugar
2 teaspoons vanilla extract
1 Tablespoon water
2 cups (10 ounces) all purpose flour
1-1/2 cups chopped pecans, toasted
Additional confectioners' sugar for dusting (about 2 cups)
Instructions
Preheat oven to 350° F.
In a large bowl, beat butter until creamy. Add ⅓ cup confectioners sugar and beat until fluffy. Add vanilla extract and water; blend well. Add flour and stir until well blended. Stir in pecans.
Form into small balls (no larger than the diameter of a penny - the smaller the balls, the better the cookies). Place on an ungreased cookie sheet. Bake for 25 minutes or until golden brown.
Remove from the oven and immediately roll in confectioners' sugar. When all cookies have been rolled in confectioners' sugar, roll the cookies again in confectioners 'sugar.
Store in an airtight container (I use a ziploc bag).
Yield: 13 to 14 dozen.
7.6.7
227
https://pudgefactor.com/mexican-wedding-cookies/