Ham and Cheese Quiche is simple to make. This delicious ham and cheese quiche uses only five ingredients and is easy to put together. I like to use gruyere cheese in this quiche recipe, but other cheeses will also work. For the ham, my choice tends to be Black Forest Ham.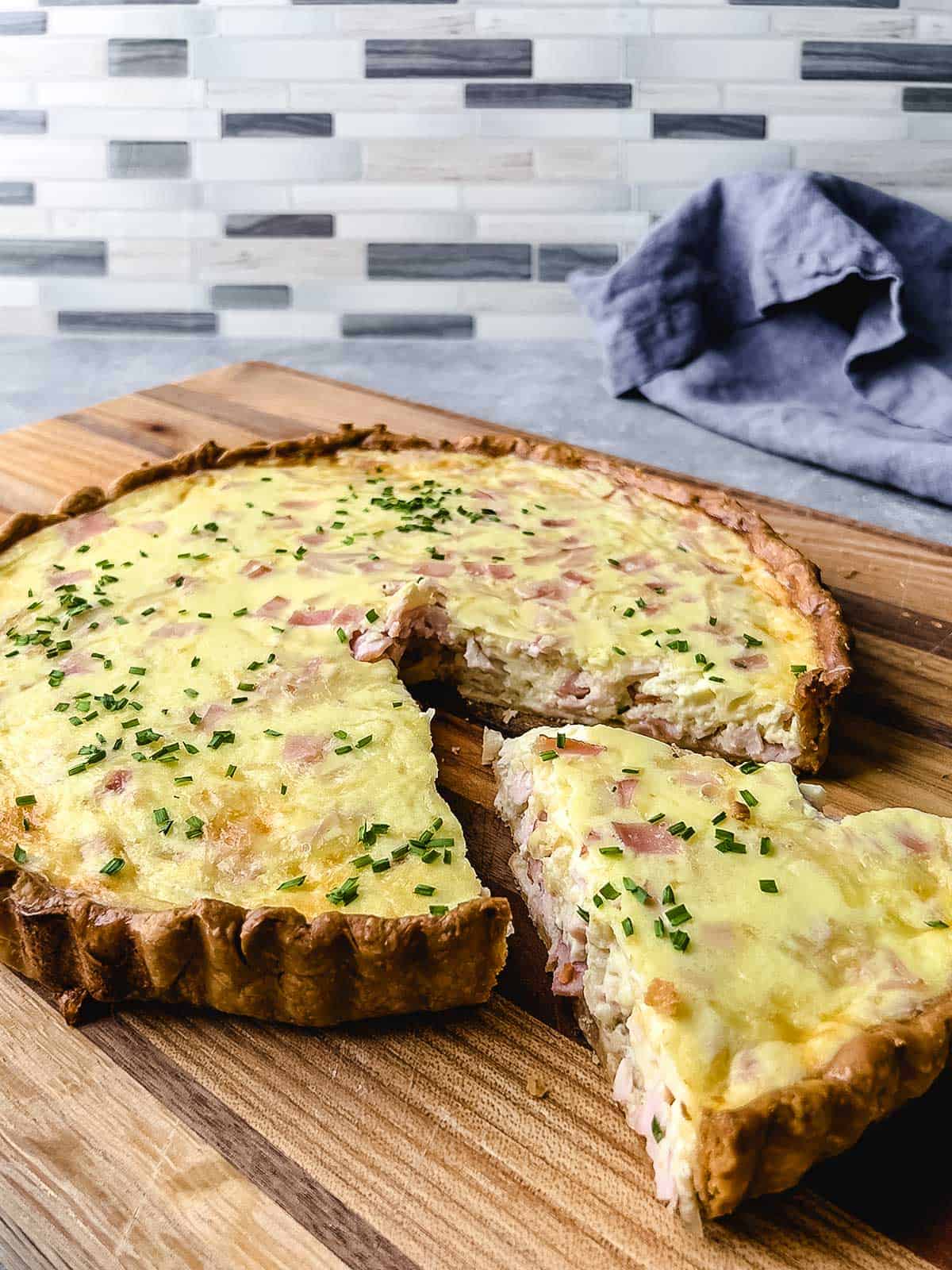 The ham and cheese quiche is perfect for brunch or a light dinner with a green salad. Whatever the occasion, you will not be disappointed by this fantastic ham and cheese quiche.
Jump to:
Ingredients: Here's What You'll Need
The Crust: For this delicious quiche, I used store-bought pie crust. In the past, I've also used puff pastry.
The Filling: For the simple filling, I used eggs, half & half, ham, and gruyère cheese.
Here's How I Made This Delicious Quiche
I started by pressing the room-temperature store-bought pie crust into a tart pan with a removable bottom. Then, I folded the excess pie crust down the sides. This served to reinforce the sides.
Next, I pierced the bottom of the pie crust with a fork. Then I put the pie crust in the freezer for about 15 minutes.
The reason for freezing the pie crust was to minimize the shrinkage from the sides during the baking.
While the crust was in the freezer, I made the filling by whisking the eggs, half & half, ham, and cheese.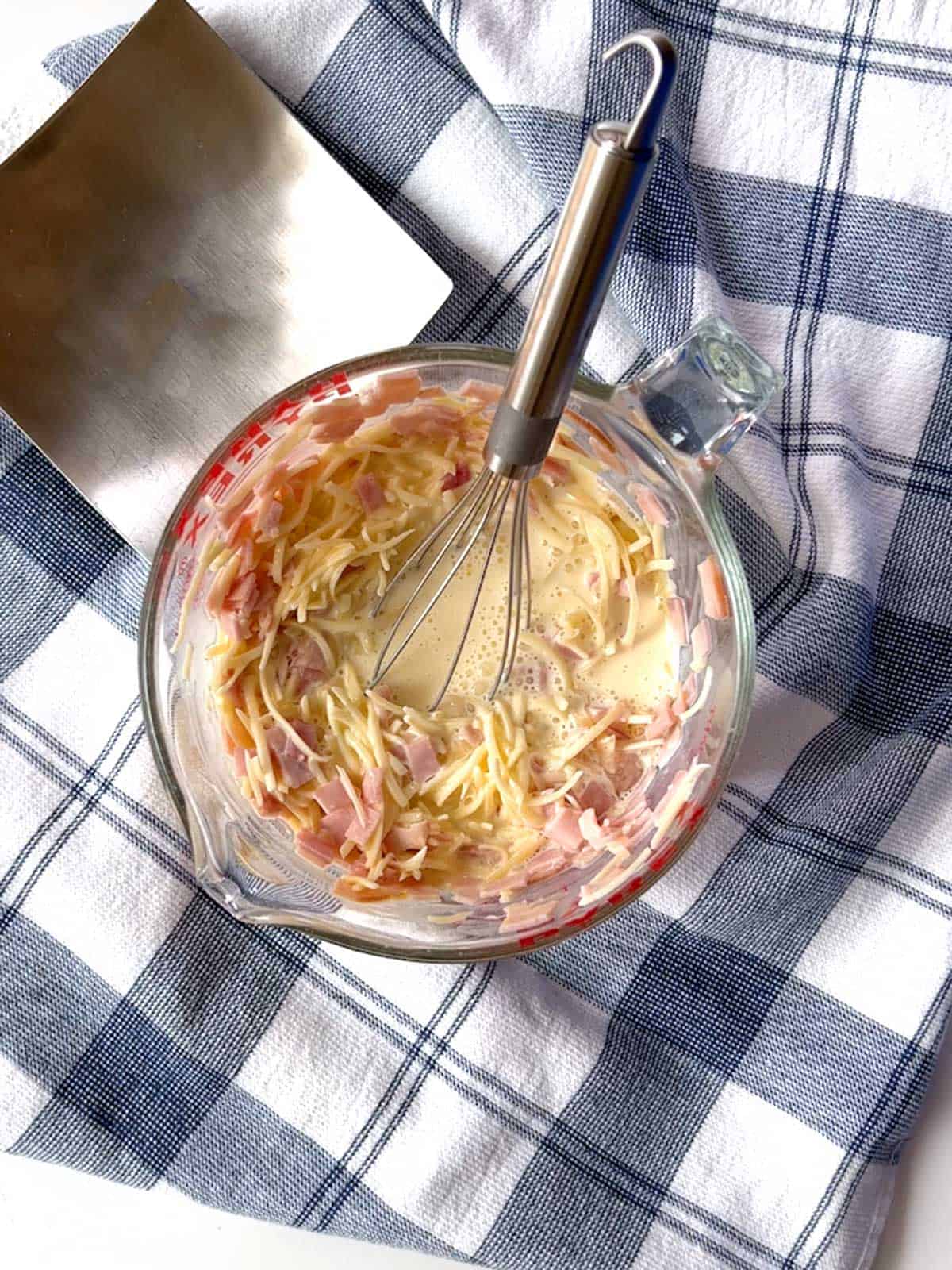 Once the crust was frozen, I removed it from the freezer. Then, I lined the crust with a crumpled piece of parchment paper and filled the crust with dried beans. Then, I baked the crust at 450°F for 25 minutes.
The dried beans served as weights to help minimize the shrinkage of the crust during baking.
After 25 minutes, I removed the crust from the oven and let it cool for about 15 minutes. Then, I removed the parchment paper and the dried beans. I noticed that a small crack had developed in the crust, so I brushed it with the custard mixture.
I returned the crust to the 450°F oven for another 5 minutes to better brown the bottom.
After an additional 5 minutes, I noticed that another small crack had developed. I brushed some of the egg/half & half custard on the crack before pouring the filling into the tart shell.
I baked the ham and cheese quiche in a 375°F oven for 25 minutes.
The quiche was perfectly done after 25 minutes of cooking. I removed it from the oven and placed it over a small over-turned bowl to drop the sides of the tart pan.
I transferred the quiche to a cutting board. Then, I sprinkled on some minced chives before serving the quiche.
I let the Ham and Cheese Quiche sit for about 10 minutes before serving it with a side salad. The quiche was delicious. Yum!
Frequently Asked Questions
What about leftovers?
This quiche makes delicious leftovers. I generally warm the leftovers at 350°F for about 15 minutes. I don't like to use the microwave because the crust gets soggy in the microwave.
Why crumple the parchment paper before putting it in the tart pan?
Parchment paper that is not crumpled is difficult to mold into the shape of the tart pan. However, if the parchment paper is crumpled, it molds quite easily into the tart pan.
What other types of cheese can be used in this quiche?
This quiche is delicious with Swiss cheese, Cheddar cheese, pepper jack cheese, and Colby Jack cheese. Just about any type of cheese can be used in this recipe.
Can broccoli or spinach be added to this recipe?
You can easily dress up this quiche recipe by adding chopped broccoli or chopped spinach.
If you're looking for another yummy Quiche recipe, check out my Vidalia Onion and Mushroom Quiche.
I hope you liked this recipe for Ham and Gruyère Quiche much as I do. If so, please consider rating it and leaving a comment. Also, if you'd like to receive notifications of new posts by email, enter your email address in the Subscribe box.
Thank you so much for visiting Pudge Factor. I hope you'll come back!
Recipe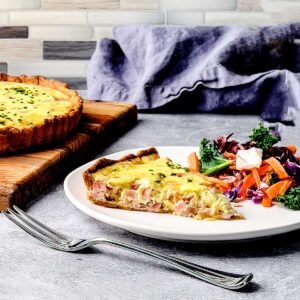 Ham and Gruyère Quiche
Ham and Cheese quiche is simple to make and delicious to serve. It only has a few ingredients, and is perfect for a light brunch or light dinner.
Print
Pin
Ingredients
1

(9-inch) refrigerated pie crust

3

eggs

¾

cup

half & half

1

cup

ham cut into small pieces

1

cup

(4 ounces) shredded Gruyère cheese (See Tip 1)
Instructions
Press pie crust into 9-inch tart pan with removable bottom, tucking excess pie crust down the sides. Pierce well with a fork. Freeze for at least 15 minutes.

While pie crust is in the freezer, whisk together the eggs, half & half, ham and cheese. Set aside.

Remove pie crust freezer. Line pie crust with crumpled parchment paper and fill with dried beans or another type of pie weight. Bake at 450°F for 25 minutes. Remove from oven and let cool for 15 minutes.

Remove parchment paper and dried beans. If any cracks have formed, brush with some of the egg/half & half. Return crust to the 450°F oven for another 5 minutes. (See Tip 2)

Reduce oven heat to 375° F. Pour ham and cheese filling into prepared pie crust. Bake at 375°F for 25 minutes, or until nice and puffy.

Allow to cool 10 minutes before serving.

Yield: 6 servings. (See Tip 3)
Chula's Expert Tips
May substitute Swiss cheese, Cheddar cheese, pepper jack cheese, Colby jack cheese or other cheeses of your choice for the Gruyère cheese.
While the crust is still hot, brush any cracks that have developed with the egg/half & half mixture. This will seal the cracks.
Leftovers if any can be reheated in a 350°F oven for 15 minutes or until hot.
Nutrition
Calories:
249
kcal
|
Carbohydrates:
15
g
|
Protein:
12
g
|
Fat:
15
g
|
Saturated Fat:
6
g
|
Cholesterol:
108
mg
|
Sodium:
429
mg
|
Potassium:
71
mg
|
Vitamin A:
270
IU
|
Calcium:
160
mg
|
Iron:
1.3
mg
Tried this recipe?
Please leave a comment below and/or give this recipe a rating. On Instagram? Take a picture and tag @pudgefactor or #pudgefactor.