If you like cheese and lasagna, you will absolutely love Six Cheese Turkey Lasagna. It's filled with a classic turkey meat sauce and ooey-gooey melted cheese that no one can resist! In addition, it freezes beautifully, and leftovers, if any are even better the next day.
The last time I made this incredible lasagna, was years ago when we were in the middle of house renovations. I made the huge mistake of offering the leftovers to the workers. Why? Because the Master Taste Tester had set his sights on having the leftovers! What's worse, it took the workers away from their primary task. Through the years, the Master Taste Tester has reminded me of my faux pas.
Ingredients for Six Cheese Lasagna:
I used the following ingredients: Ground turkey, onion, bell pepper, garlic, Italian seasoning, Kosher salt, granulated sugar, freshly ground black pepper, diced Italian tomatoes, tomato sauce, homemade Ricotta cheese, Parmesan cheese, egg, extra sharp Cheddar cheese, Swiss cheese, Gruyère cheese, Mozzarella cheese, and lasagna noodles. Wow, that's a mouthful!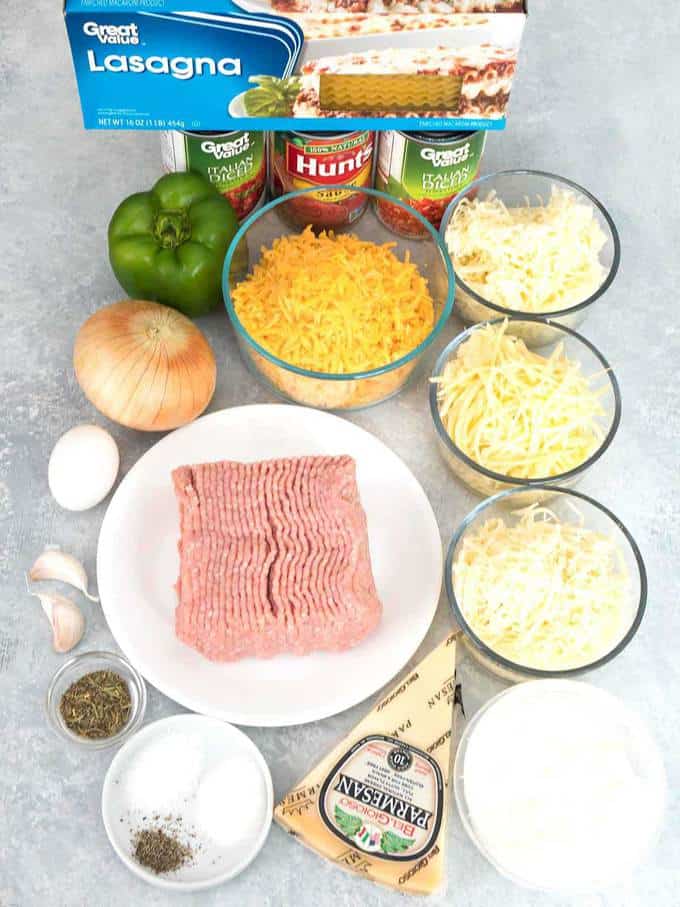 Making the Turkey Meat Sauce:
I started by browning the ground turkey in a 12-inch skillet. When all of the pink was gone, I transferred the turkey to a colander, and rinsed it under hot water to remove any fat. After it had cooled a bit, I broke the clumps into fine pieces with my hands. This is standard practice for me whenever I make anything with ground meat.
While the turkey was cooling, I sautéed the onion and bell pepper in the same skillet over medium heat for about 5 minutes. Then, I added the minced garlic and continued cooking the vegetables for 30 seconds or so until the garlic was fragrant. Next, I returned the ground turkey to the skillet, and added the Italian seasoning, salt, sugar, and pepper. After giving the mixture a good stir, I added the diced tomatoes and tomato sauce.
I brought the turkey mixture to a boil, lowered the heat to medium low, and covered the skillet. I simmered the meat sauce for about 2 hours, stirring occasionally. While it was cooking, I decided that there was too much liquid, so I removed about 1/2 cup. I didn't want the meat sauce to be too soupy. After 2 hours, the meat sauce was perfectly cooked and of the proper consistency for the lasagna.
Preparing the Remaining Ingredients for Six Cheese Turkey Lasagna:
While the meat sauce was cooking, I prepared the remaining ingredients. First, I mixed together freshly grated Parmesan cheese, the homemade Ricotta cheese, and a lightly beaten egg. Then, I combined the Cheddar, Swiss, and Gruyère cheese in a large bowl. Finally, I cooked the lasagna noodles according to the package directions, and drained and rinsed them well with cold water.

Finishing the Six Cheese Turkey Lasagna:
Because it's only the two of us, I decided to make two smaller dishes of lasagna rather than one large one. I used 6 x 8-inch Pyrex dishes for this. If you want a larger lasagna, use a 9 x 13-inch dish.
First, I spread a thin layer of the meat sauce in the bottom of the Pyrex dish. Then, I added a layer of noodles. Next, I spread some of the Ricotta cheese mixture on the noodles. I then spread some of the meat mixture over the Ricotta cheese. Finally, I sprinkled on some of the cheddar cheese mixture. I repeated this two more times, ending with the cheddar cheese mixture.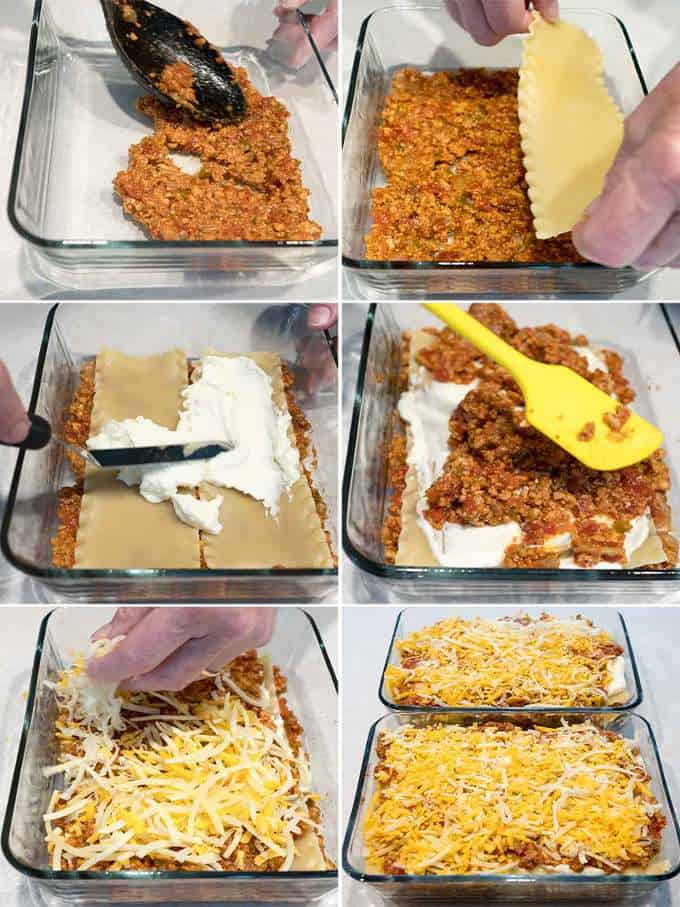 I popped one of the lasagnas into a preheated 350° F oven for 30 minutes, and froze the other one for a later time. After 30 minutes, the cheese was nicely melted and the mixture bubbly. I removed the lasagna from the oven, and sprinkled on some Mozzarella cheese. Then, I returned the lasagna to the oven for another 10 minutes or so, until the Mozzarella cheese was melted.
Before serving the lasagna, I allowed it to cool for about 5 minutes. I served it with steamed fresh green beans, a freshly made loaf of Crusty French Bread, and a chilled Chardonnay. Each bite was filled with ooey-gooey melted cheese and a delicious turkey meat sauce. The Master Taste Tester kept commenting on how good it was. I totally agree. Yum!
Six Cheese Turkey Lasagna
Ingredients
Meat Sauce

1-1/2 pounds (24 ounces) 93% ground turkey
1 large onion, chopped (about 2 cups)
1/2 green bell pepper, seeded and chopped (about 1/2 cup)
2 cloves garlic, minced
1-1/2 teaspoons Italian seasoning
1 teaspoon Kosher salt
1/4 teaspoon freshly ground black pepper
2 (14.5 ounce) cans diced Italian tomatoes, undrained
1 (16 ounce) can tomato sauce

Cheeses

1-1/2 cups (12 ounces) Ricotta cheese, preferably homemade
1/2 cup (2 ounces) Parmesan cheese, grated
1 large egg
2 cups (8 ounces) shredded extra sharp Cheddar cheese
1 cup (4 ounces) shredded Swiss cheese
1 cup (4 ounces) shredded Gruyère cheese
1 cup (4 ounces) shredded Mozzarella cheese

Other

9 long strips lasagna noodles, cooked according to package directions
Instructions
Meat Sauce: Brown ground turkey in 12-inch skillet over medium heat. Transfer to colander; rinse well with hot water and drain. When cool, crumble with hands to produce small pieces.
Sauté onion and bell pepper in skillet over medium heat for 5 minutes. Add garlic; continue cooking until fragrant, about 30 seconds. Return turkey meat to skillet; stir to combine. Add Italian seasoning, salt, sugar, pepper, Italian tomatoes, and tomato sauce. Stir to combine. Bring to a boil. Lower heat to medium low; cover and simmer for 2 hours, stirring occasionally. After one hour, If mixture appears too thin, remove some of the liquid with large spoon to produce desired consistency.
Cheeses: Combine Ricotta cheese, Parmesan cheese, and lightly beaten egg in a medium bowl; set aside.
Combine Cheddar, Swiss, and Gruyère cheeses in large bowl. Set aside.
Assembly*: Preheat oven to 350° F.
Spread a thin layer of meat sauce in bottom of baking dish. Add layer of lasagna noodles. Spread thin layer of Ricotta mixture over noodles. Spread thin layer of meat sauce over Ricotta layer. Sprinkle on Cheddar cheese mixture. Repeat layering two more times, ending with Cheddar cheese mixture.
Bake at 350° F for 30 minutes, or until cheeses are melted and the mixture, bubbly. Remove from oven and top with Mozzarella cheese. Continue baking for another 10 minutes, or until Mozzarella cheese is nicely melted.
Remove from oven; allow to cool 5 minutes before serving.
Yield: Six servings.
*Note: Can make one lasagna in a 9 x 13-inch pan, or two lasagnas in 6 x 8-inch pans.
7.6.7
280
https://pudgefactor.com/six-cheese-turkey-lasagna/