French Sablés are buttery, crumbly shortbread cookies known for their sandy texture. These tender cookies with a hint of sweetness provide a melt-in-your-mouth experience that you will long remember. They're easy to make and will WOW even your most picky eater!
Jump to:
Ingredients: Here's What You'll Need
This recipe uses traditional ingredients for French Sablés.
Butter: Unsalted butter provides the rich buttery taste for these delicious cookies.
Sugars: I used two types of sugar in this recipe. Granulated sugar provides the basic sweetness. Confectioners' sugar adds some sweetness but, more importantly, contributes to the texture.
Egg Yolks: I was concerned that egg yolks would inhibit the melt-in-your-mouth goodness of these cookies. However, that didn't occur. In fact, the egg yolks contributed added richness to the cookies.
Flour and Salt: It should come as no surprise that this recipe used all-purpose flour. I also added some fine sea salt to help cut down on the sweetness.
Steps to Making the Batter
As a start, I beat the butter until it was smooth and creamy.
Then, I added the granulated sugar, confectioner's sugar, and salt to the butter. I beat the mixture for about a minute until it was well blended.
At this point, I wanted the mixture to be smooth and velvety, not fluffy and airy.
With the electric mixer on low speed, I added the egg yolks and beat the mixture until everything was well blended.
Finally, I added the flour and beat the mixture on low speed just until the flour was incorporated into the dough.
Forming and Finishing the French Sablés
A traditional way of making French Sablés is to form the dough into logs and slice the logs into individual cookies.
I wanted these cookies to look more festive, so I decided to skip forming the dough into logs. Rather, I decided to pipe the dough into circles.
I placed the dough into a pastry bag fitted with a 1M Star tip and piped circles onto a baking sheet lined with parchment paper.
As an aside, I used reusable parchment paper – thus the color!
I baked the French Sablés in a preheated 350°F oven for 12 to 13 minutes until they were a light golden brown around the edges.
Then, I transferred the cookies to a wire rack to allow them to cool completely.
The result was around three dozen amazingly delicious melt-in-your-mouth French Sablés. Yum!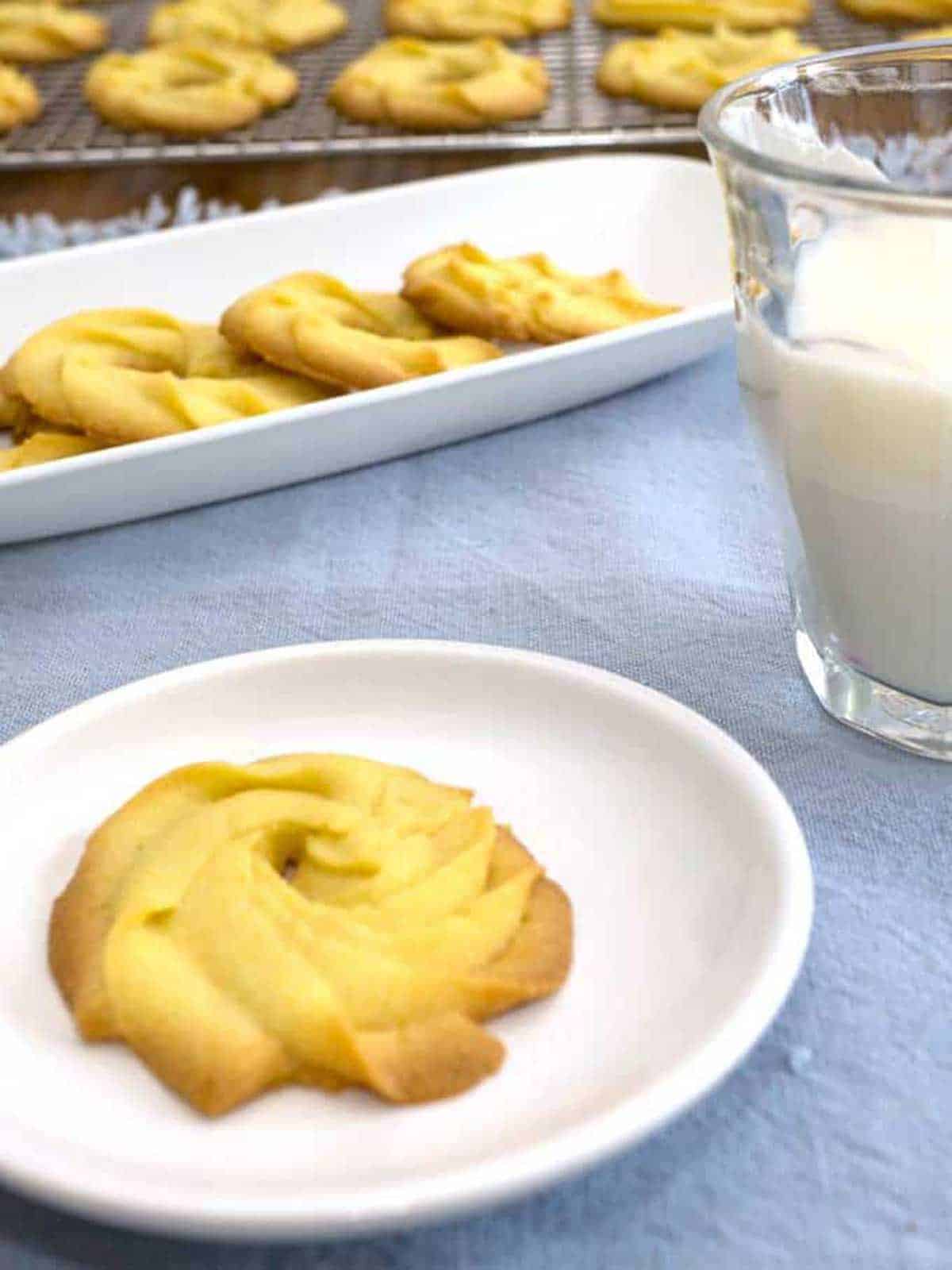 Frequently Asked Questions
What gives sablés their unique texture?
The sandy, crumbly texture of sablés comes from the combination of cold butter and sugar in the dough. This method helps create small pockets of air in the dough, resulting in a delicate and tender crumb.
What is the difference between sablés and shortbread cookies?
Sablés and shortbread cookies are somewhat similar. However, sablés are more delicate than shortbread cookies and have a softer texture. Sablés also contain egg yolks, whereas shortbread cookies do not.
Can both salted and unsalted butter be used in this recipe?
You can use either salted or unsalted butter in this recipe. However, it's better to use unsalted butter. The reason is that with unsalted butter, you can better control the amount of salt in the recipe. If using salted butter, reduce the amount of additional salt added to the recipe.
How long will sablés last?
If stored in an airtight container, the sablés should last for about a week. They can also be frozen in an airtight container for up to three months. Be sure to bring the sablés to room temperature before serving if you freeze them.
If you'd like to try another kind of Sablé, check out my Meyer Lemon Sablés.
I hope you liked this recipe for French Sablés as much as I do. If so, please consider rating it and leaving a comment. Also, if you'd like to receive notifications of new posts by email, enter your email address in the Subscribe box.
Thank you so much for visiting Pudge Factor. I hope you'll come back!
Recipe
French Sablés
French Sablés, with their characteristic sandy texture and melt in your mouth delicious. They're easy to make, and will WOW even your most picky eater!
Print
Pin
Servings:
36
French Sables
Ingredients
1

cup

(2 sticks, 8 ounces) unsalted butter, room temperature

½

cup

(3.5 ounces) granulated sugar

¼

cup

(1 ounce) confectioners' sugar

½

teaspoon

salt, preferably fine sea salt

2

large egg yolks, room temperature

2

cups

(10 ounces) all-purpose flour
Instructions
Preheat the oven to 350°F. Line two baking sheets with parchment paper or a silicone sheet.

Beat butter in a large bowl at medium speed until smooth and very creamy. Add the sugars and salt; beat until well blended, about 1 minute. The mixture should be smooth and velvety, not fluffy and airy. Reduce the mixer speed to low and beat in the egg yolks, again beating just until the mixture is homogenous.

Add the flour; mix on low speed, just until the flour disappears into the dough and the dough looks uniformly moist. (If most of the flour is incorporated but you've still got some in the bottom of the bowl, use a rubber spatula to work the rest of the flour into the dough.) The dough will not clean the sides of the bowl, nor will it come together in a ball – and it shouldn't. You want to work the dough as little as possible. You're aiming for a soft, moist clumpy dough rather than a smooth dough. Pinch it, and it should feel a little like Play-Doh.

Transfer the dough to a pastry bag fitted with a 1M-star tip. Pipe circles or whatever shape is desired onto the prepared baking sheet, leaving 1-inch between the cookies. Bake for 11 to 13 minutes, or until a light brown on the bottom, lightly golden around the edges, and pale on the top. Remove from the oven and let the cookies rest a minute or two before carefully lifting them with a spatula onto a rack to cool to room temperature.
Nutrition
Calories:
87
kcal
|
Carbohydrates:
8
g
|
Fat:
5
g
|
Saturated Fat:
3
g
|
Cholesterol:
24
mg
|
Sodium:
33
mg
|
Potassium:
10
mg
|
Sugar:
3
g
|
Vitamin A:
170
IU
|
Calcium:
4
mg
|
Iron:
0.3
mg
Tried this recipe?
Please leave a comment below and/or give this recipe a rating. On Instagram? Take a picture and tag @pudgefactor or #pudgefactor.