Tired of the same old pumpkin pie for Thanksgiving? If so, you should definitely try this incredible Pumpkin Bundt Cake. It has the same characteristic flavor of a pumpkin pie, but will leave your family and guests saying "WOW"! What's even better is that it's easy to make, and can be made ahead of time and frozen (I'll tell you how in a minute!).
The ingredients include granulated sugar, canola oil, eggs, pumpkin spice, baking soda, salt, canned pumpkin, and flour.
As a starting point, I combined the sugar and oil in a large bowl, and beat on medium until well blended. Then, I added the eggs, one at a time, beating well after each addition. I sifted in the pumpkin spice, baking soda, and salt, and continued beating the mixture until everything was well combined. Next, I added the can of pumpkin, and beat the mixture on high to ensure that all of the ingredients were fully incorporated.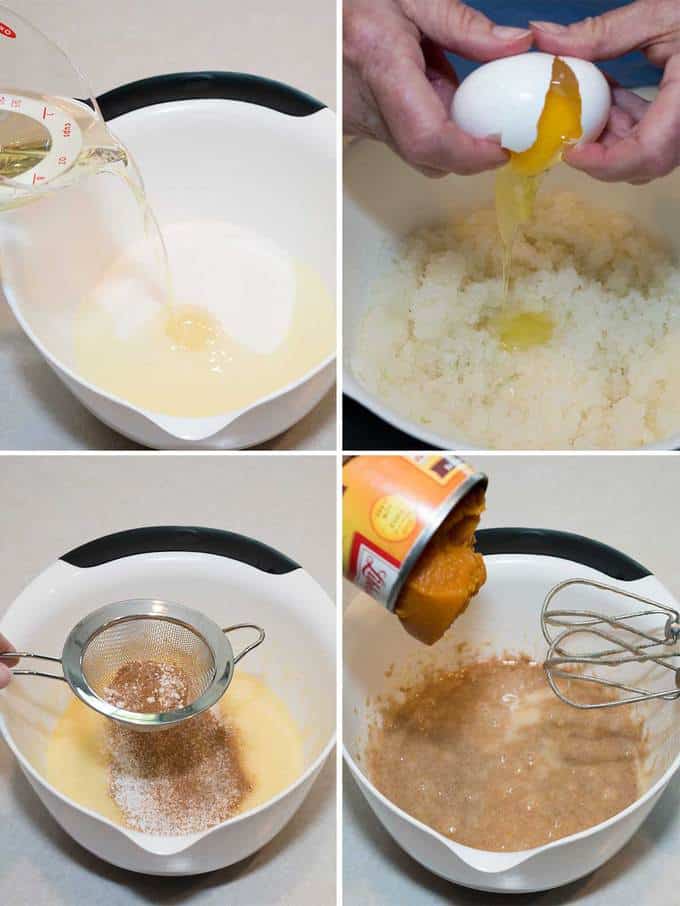 The final addition was the flour, which I added all at once. I beat the mixture on low speed just until the flour was almost incorporated, and switched to a wooden spoon to scrape the sides of the bowl and stir to ensure that all of the flour was mixed in. Once the flour is added, it's important not to overdo the mixing, because you want to minimize the gluten formation.
I transferred the batter to a 10-inch bundt pan that I had sprayed well with a baking spray (I use Bak-Klene ZT that I got from Williams Sonoma).
Into a preheated 350° F oven the Bundt cake went for 65 minutes, at which point a toothpick inserted near the center came out clean. I let the cake cool for about 10 minutes before I inverted it onto a wire rack to cool completely. When the Master Taste Tester saw the cake, he commented that the swirls looked like a northern hemisphere cyclone with counter-clockwise rotation!
While the cake is cooking, the house smells wonderful! The Pumpkin Bundt Cake is moist and delicious. It makes a perfect dessert for your Thanksgiving feast or any fall gathering. Yum!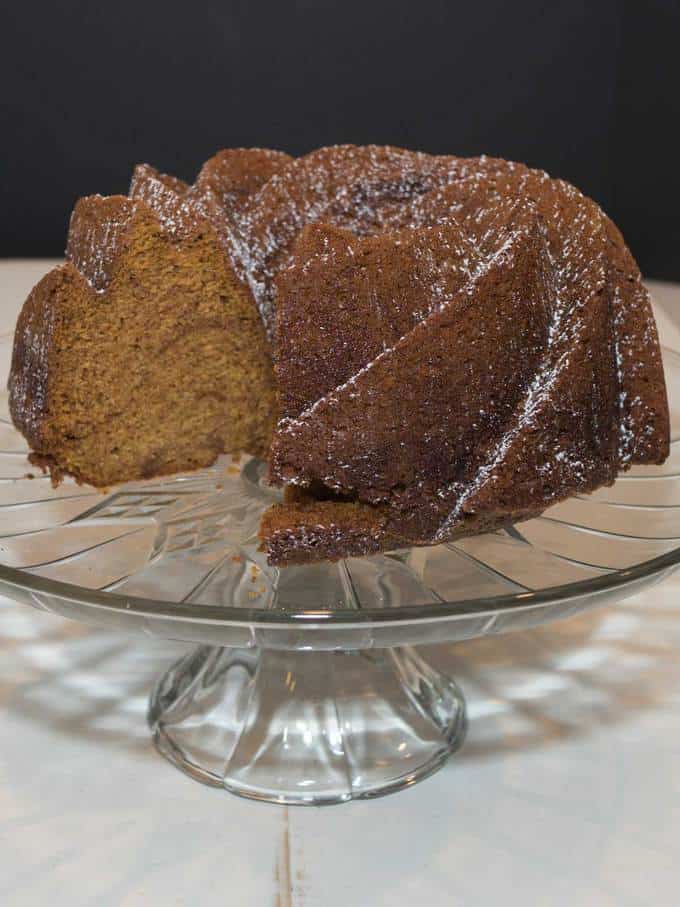 Here's how you freeze and use the frozen Bundt cake for a later time:
Let it cool completely
Put the Bundt cake on a cardboard disk, and put it in the freezer to freeze just until it's firm and easy to handle
Wrap the partially frozen cake in aluminum foil, making sure that the foil is securely folded around the cake to ensure that no air can get in
Wrap it with a second layer of aluminum foil just to make sure that it's air-tight.
Put the wrapped cake in a large Ziploc freezer bag; seal and label the cake with the date
When ready to use, remove the cake from the Ziploc bag and loosen the foil. Let it thaw in the refrigerator overnight or at room temperature for a hour or two.
The frozen cake will retain its fresh flavor for a month or two.
Ingredients
2-1/2 cups (17.5 ounces, 496 grams) granulated sugar
1 cup (8 ounces, 227 grams) canola oil
3 large eggs
3 cups (15 ounces, 425 grams) all purpose flour
2-1/2 teaspoons Pumpkin Spice
2 teaspoons baking soda
1/2 teaspoon salt
1 (15 ounce) can solid-pack pumpkin
Confectioners' sugar for dusting (optional)
Instructions
Preheat oven to 350° F.
In a large bowl, combine the sugar and oil; beat on medium until well blended.
Add eggs, one at a time, beating well after each addition.
Using a small wire strainer, sift in pumpkin spice, baking soda, and salt; beat well to fully incorporate.
Add pumpkin; beat well to fully incorporate.
Add flour; beat on low just until combined. Scrape down sides with wooden spoon; stir to ensure that flour is fully combined.
Transfer to a greased 10-inch Bundt pan. Bake 60 to 65 minutes or until a toothpick inserted near the center comes out clean. Cool 10 minutes before inverting onto a wire rack. Remove pan and cool completely.
Dust with confectioners' sugar, if desired.
Yield: 12 to 16 servings.
7.6.7
85
https://pudgefactor.com/pumpkin-bundt-cake/