Tarte Flambée is an Alsatian dish composed of a thin dough covered with fromage blanc or crème fraîche, thinly sliced onions, and bacon. It is to northern Alsace what pizza is to southern Italy. It is both easy to make, and absolutely delicious. Tarte Flambée is the perfect appetizer or light entrée.
I had the luck of watching André Soltner make his tarte flambée in an episode of Julia Child: Cooking with Master Chefs. In the episode, Soltner explained that "flambée" comes from the way that the tarte used to be made, in a wood oven with the flames coming over the tarte. What really caught my eye was that I felt that it was similar to a tarte that the Master Taste Tester and I had eaten in a little outdoor cafe in Rheims, France a number of years ago. I knew that I had to make it.
Ingredients:
I used the following ingredients for Soltner's incredible tarte: cottage cheese, crème fraîche, flour, oil, salt, pepper, thick cut bacon, onions, and puff pastry.
Ahead of Time:
In the first stage of preparing the tarte flambée, I made a cream type base. To do this, I processed the cottage cheese in a blender until it was smooth. Then, I added the crème fraîche, flour, oil, salt, and pepper to the blender, and processed it until the mixture was smooth. This can be prepared in advance and covered and refrigerated until it's time to put the tarte together.
Next, I thawed a sheet of puff pastry. I rolled it out until I had a rough rectangle that was about 1/8-inch thick. In the episode that I watched, Soltner cut the puff pastry into four 8-inch circles. Rather than cut circles, I made the tarte in an 8 x 12-inch rectangular tart pan with a removable bottom. I lined the tart pan with the puff pastry, and trimmed it. Then I used a fork to poke small holes in the puff pastry. Once this was done, I placed the prepared puff pastry in the freezer until I was ready to assemble everything.
Assembling the Tarte Flambée:
For the next step, I cooked the bacon in a large skillet over medium heat. After 15 minutes, the fat had been rendered and the bacon had just begun to brown.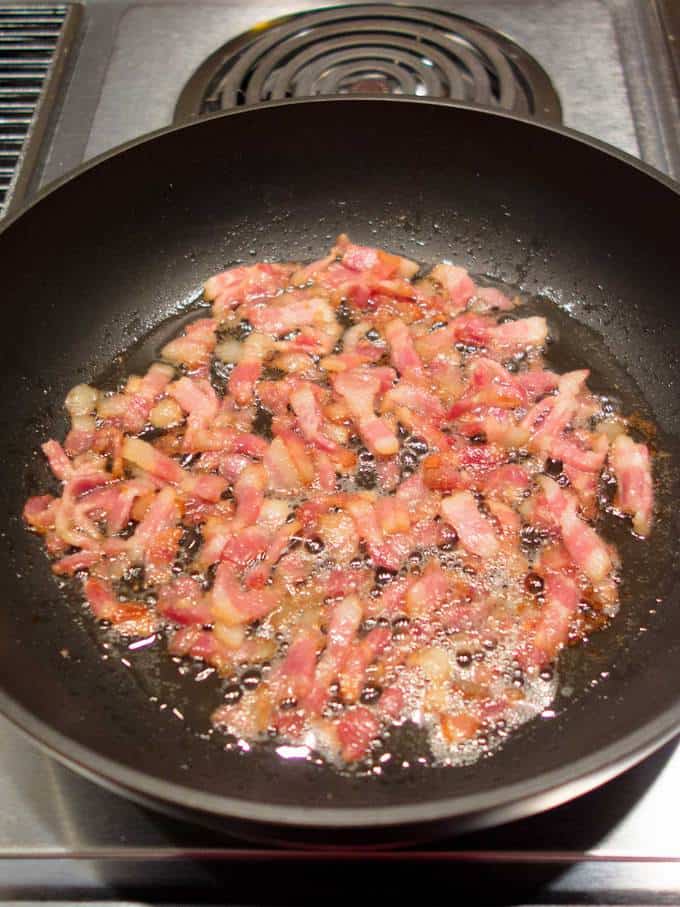 I removed the bacon from the pan to a paper towel to allow it to drain. Then I removed all but 1 Tablespoon of the bacon fat from the pan. I added the finely chopped onions to the pan and cooked them over medium heat. After about 10 minutes the onions had softened a bit, but not browned.
Now it was time for me to assemble the tarte. I spread the cream mixture over the bottom of the prepared puff pastry, and sprinkled on the bacon and onions.
I baked the Tarte Flambée in a preheated 425° F oven for around 20 minutes, until the pastry was puffed and golden brown. After the tarte had cooled for about 5 minutes, I removed it from the pan, and cut it into pieces.
All I could say as we were eating it was "Oh my gosh, this is delicious!" It makes a perfect appetizer when cut into small pieces, or a light entrée when cut into larger pieces. Yum!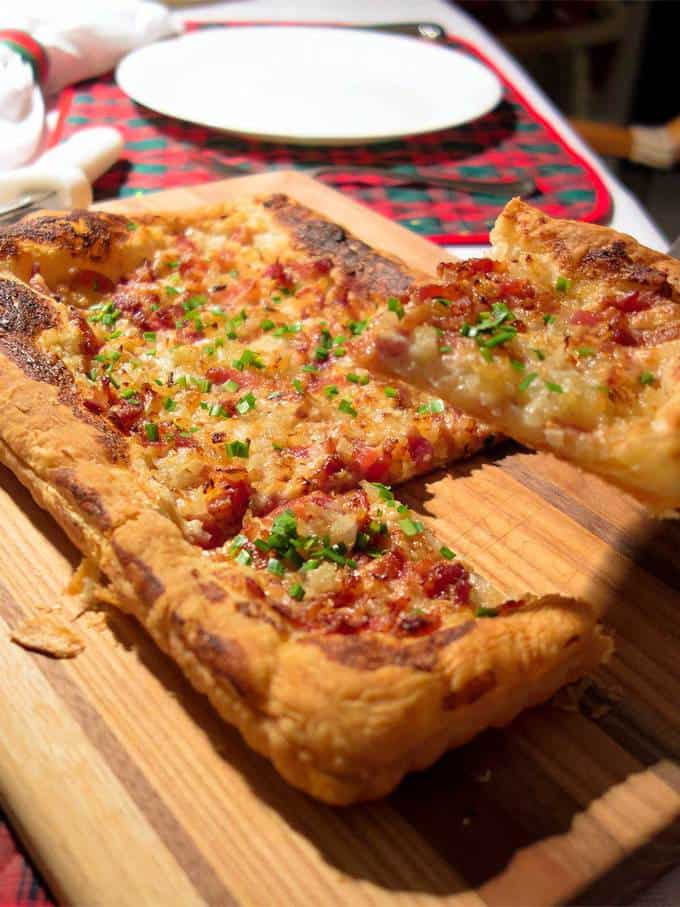 Ingredients
1 sheet puff pastry, thawed
1/2 cup cottage cheese
1/2 cup crème fraîche
1 Tablespoon all purpose flour
2 Tablespoons vegetable oil
1/4 teaspoon Kosher salt
1/4 teaspoon freshly ground pepper
4 slices thick cut bacon (about 4 ounces), cut into ¼-inch slices
1 large onion, finely chopped
Instructions
Preheat oven to 425° F.
Place cottage cheese in a blender, and process until smooth, scraping down the sides as necessary. Add crème fraîche, flour, vegetable oil, salt, and pepper; process until smooth. Transfer to a small bowl; cover and refrigerate until ready to use.
On a lightly floured surface, roll puff pastry into a rectangle, about 1/8-inch thick. Line a tart pan; trim edges. Alternatively, cut into 8-inch circles. Dock or poke holes in the pastry with a fork. Place in the freezer until ready to use.
Cook bacon pieces in a large skillet over medium heat until the fat is rendered, and the bacon just begins to brown slightly, about 15 minutes. Remove the bacon; drain on a paper towel. Pour bacon fat out of the pan, and return 1 Tablespoon to the skillet. Add the onions and sauté over medium heat until the onions soften and become translucent, about 10 minutes. Remove from heat.
Spread the cream mixture over the bottom of the prepared puff pastry. Sprinkle on the bacon and onions. Bake at 425° F for about 20 minutes, or until the pastry is nicely puffed and is golden brown. Yield: 6 entrée servings or 16 appetizers.
7.6.7
125
https://pudgefactor.com/tarte-flambee/