If you like roasted pecans and chocolate, you're going to love these easy to make chocolate covered roasted pecans! Whether you eat them as a snack, or give them as a holiday gift, you will quickly discover that they are totally addictive.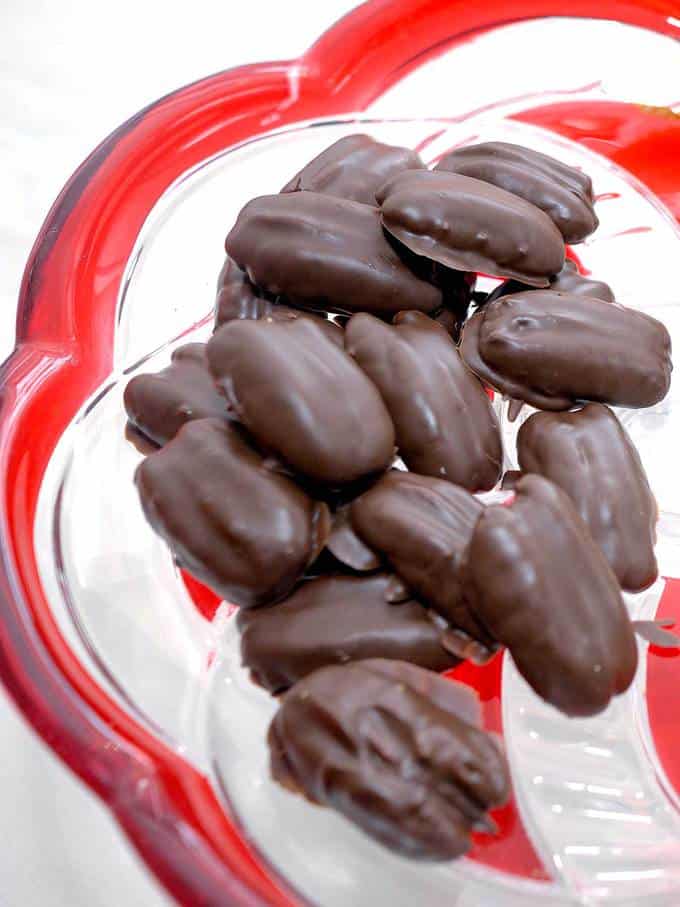 I had some leftover chocolate candy coating from making peanut butter balls, chocolate billionaires and chocolate-dipped peanut butter bugles.  Susan suggested that I use it to make Chocolate Covered Roasted Pecans. They are incredibly tasty and easy to make, albeit a bit time-consuming.
The time-consuming part comes into play because I had to individually dip each roasted pecan half. The effort is well worth it!
Ingredients:
For these delicious morsels, I used whole pecan halves, unsalted butter and chocolate candy coating.  I used Ghirardelli Dark Melting Wafers for the dipping chocolate.
Roasting the Pecans:
The first step in the process was roasting the pecans.  I melted the butter on an aluminum foil lined baking sheet in a 325° F oven. Then, I added the pecans to the baking sheet, and stirred to coat the pecans with butter. Susan asked why I didn't just melt the butter in the microwave, pour it over the pecans in a bowl, and dump the pecans on the baking sheet. My answer was that I had always done it the other way, but will likely follow her suggestion in the future!
I placed the pecans into a preheated 325° F oven the pecans for a total of 20 minutes. After the first 10 minutes, I removed the pecans, gave them a good stir and returned them to the oven for another 10 minutes. When the pecans were perfectly roasted, I dumped them on a paper towel lined plate to cool.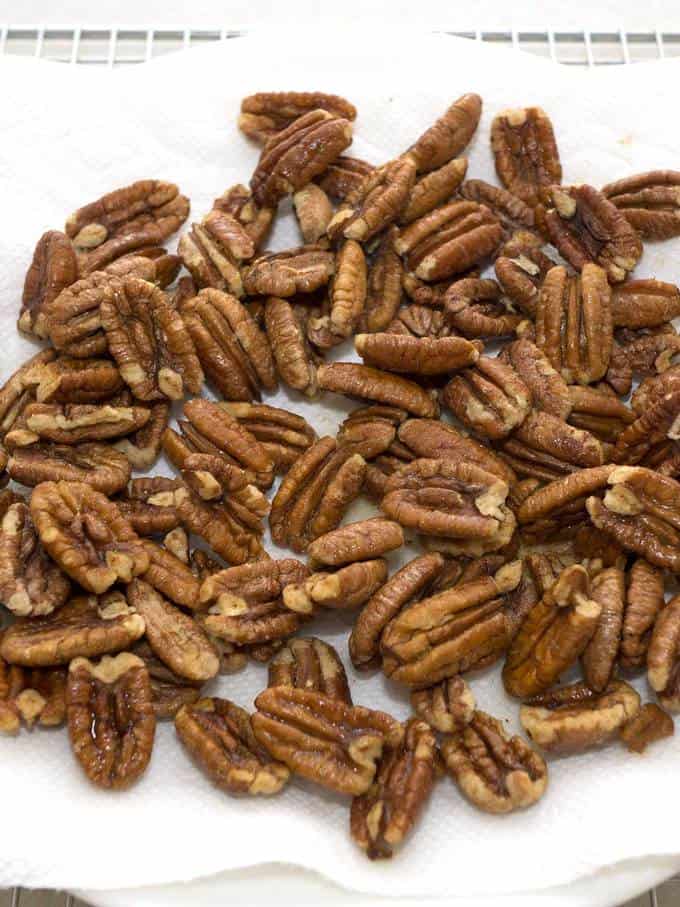 Chocolate Coating:
I melted the chocolate candy coating in the top of a double boiler set over simmering water. I made sure that the water didn't touch the bottom of the top pan. The reason for this was to ensure that the chocolate didn't get too hot. The time-consuming part was having to individually dip each pecan in the chocolate. I use a fork to do this, and allowed excess chocolate to dip off the pecan before placing it on a wax paper lined baking sheet to cool.
As an aside, I still had some Bugles left over from the chocolate-dipped peanut butter bugles and some caramels. I dropped some pecan pieces into the Bugle, topped it with a small amount of caramel rolled into a ball, and dipped that in the chocolate. Mighty tasty!
The Chocolate Covered Roasted Pecans make wonderful gifts, if they last that long. In fact, Susan admitted that her's were gone in a day!  The typical reaction is closing one's eyes and relishing the taste. Yum!
Chocolate Covered Roasted Pecans
Ingredients
2 cups whole pecan halves
2 Tablespoons unsalted butter
8-ounces chocolate candy coating
Instructions
Preheat oven to 325° F.
Melt butter on aluminum foil lined baking sheet in preheated oven. Spread pecans evenly in pan, tossing to cost. Bake for 20 to 25 minutes, stirring every 10 minutes, until pecans are perfectly roasted. Drain on paper towels.
Melt chocolate candy coating in a double boiler over low heat, making sure that the water does not touch the top pan and does not boil. Add pecans; coat thoroughly. Remove pecans one at a time with a fork, letting excess chocolate drip off. Place on waxed paper to cool and harden. Peel from waxed paper, and store in an airtight container. Yield: 2 cups.
Note: This recipe can easily be reduced or increased using the following proportions: 1 Tablespoon butter per 1 cup pecans per 4-ounces chocolate candy coating.
7.6.7
118
https://pudgefactor.com/chocolate-covered-roasted-pecans/