Why buy taco seasoning at the grocery store when you can easily make your own? It's so much better than those little packets, and you know what's in it!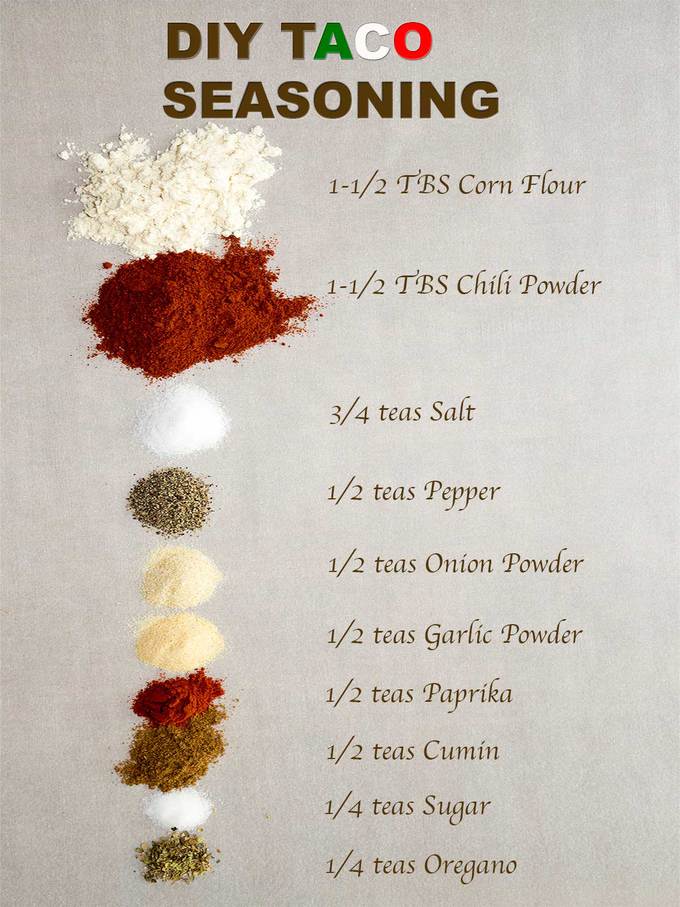 I was totally in the mood for a taco meat and cheese quesadilla, but didn't have any taco seasoning. After scouring the Internet for a substitute for that little packet that you can buy at the store, I decided to make my own by picking and choosing from among the plethora of recipes that I found. This DIY Taco Seasoning is the perfect blend of spices. It was ready in minutes, contained no preservatives, and was lower in sodium than the packets you buy in the store.
I combined all of the spices in an air-tight container, gave it a shake, and was ready to go. I added the DIY Taco Seasoning to 1-1/4 pounds of lean ground turkey and 1 cup of water in a large skillet, and cooked it over medium heat, breaking up the pieces of meat, until the liquid had evaporated. I'll never buy those little packets again. Yum!
Ingredients
1-1/2 Tablespoons corn flour 
 

1-1/2 Tablespoons chili powder
3/4 teaspoon salt

1/2 teaspoon onion powder 

1/2 teaspoon garlic powder 
 

1/2 teaspoon black pepper
1/2 teaspoon paprika 

1/2 teaspoon cumin 

1/4 teaspoon sugar 

1/4 teaspoon dried oregano
Instructions
Combine all ingredients; store in air-tight container.
To use, add 1-1/4 pounds lean (93% or higher) ground turkey or beef, 1 cup of water, and DIY Taco Seasoning to large skillet. Cook over medium heat, breaking up meat into small pieces, until liquid is evaporated.
7.6.7
70
https://pudgefactor.com/diy-taco-seasoning/