Homemade Buttery Caramels are the perfect combination of soft, chewey, and buttery. Once you've tasted these homemade caramels, you'll never go back to the store-bought kind again.
With Thanksgiving is behind us, I'm focusing my attention on making Christmas goodies to give as gifts. I've made my list, and put these Homemade Buttery Caramels at top. If you think that caramels are difficult to make, think again. They're actually pretty easy to make, albeit time-consuming.
The first time I made caramels, I spent a fair amount of time looking at different recipes. I was surprised at the variation in temperature from one recipe to the next. At the low end, the recommended temperature was 236° F; at the high end, it was 250° F. Most of the recipes recommended a cooked temperature of around 245° F, which is what I ultimately settled on. The pan size into which I poured the cooked caramel was another variation, ranging from 12 x 15-inches to 8-inches square. I opted for a 10 x 13-inch pan which I lined with parchment paper.
Ingredients
I used the following ingredients for these delectable caramels: Granulate sugar, brown sugar, whipping cream, evaporated milk, corn syrup, butter, and a vanilla bean. If you're concerned about corn syrup, read my explanation here.
Making the Caramels
As a first step, I placed all of the caramel ingredients except for the vanilla bean into a Dutch oven, and fitted the pan with my digital thermometer. Next, I heated the ingredients over a medium heat to melt everything.
Once everything was melted, I cooked the caramel over medium heat, stirring occasionally until it reached 245° F and was a beautiful golden brown .
When it reached 245° F, I removed the mixture from the heat, and added scraped seeds from the vanilla bean. I stirred to combine everything, and poured the caramel into the parchment lined pan.
I let the caramel cool overnight before attempting to cut it into pieces. The next day, I removed the caramel from the pan, and used a pizza cutter that had been lightly coated with butter to cut it into strips. I tried using kitchen shears to cut the caramel into individual pieces, but decided that the pizza cutter actually worked better.
Once it was cut, I wrapped each individual caramel in a piece of parchment paper, cut to 3½ x 5-inches. I did manage to sample a piece or two. Oh my gosh, these are absolutely delicious. They are soft and buttery, with the perfect amount chew. Yum!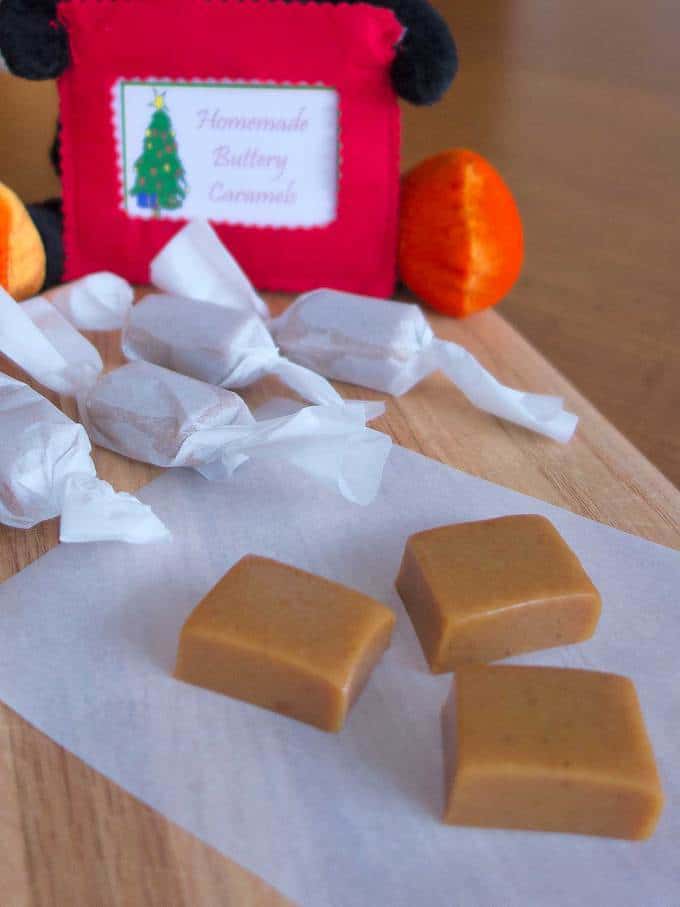 If you're looking for some more Christmas treats, check out my Festive Homemade Treats Guide or Ultimate Easy Holiday Edible Gift Guide.
I hope you liked this recipe for Homemade Buttery Caramels as much as I do. If so, please consider rating it and leaving a comment. Also, if you'd like to receive notifications of new posts by email, ever your email address in the Subscribe box.
Thank you so much for visiting Pudge Factor. I hope you'll come back!
Ingredients
2

cups

14 ounces granulated sugar

1

cup

7.5 ounces packed light brown sugar

1

cup

corn syrup

2

cups

heavy whipping cream

1

cup

evaporated milk

1

cup

2 sticks unsalted butter

1

whole vanilla bean

or 1-1/4 teaspoons vanilla extract
Instructions
Line a 10 x 13-inch pan with sides with parchment paper. Set aside. (Note: may use a pan as small as 9 x 9-inches for a thicker caramel).

In a large, heavy pan, combine all ingredients except for the vanilla. Cook over medium heat, stirring occasionally until the mixture reaches 245° F, about one hour.

Remove from heat and add the seeds scraped from the vanilla bean, or the vanilla extract. Stir to combine. Pour mixture into prepared pan and let cool completely.

When cooled completely, lift the caramel out of pan, and cut into small pieces. Wrap caramel in parchment paper or waxed paper, and store in an airtight container. Yield: 12-dozen pieces.
Tried this recipe?
Please leave a comment below and/or give this recipe a rating. On Instagram? Take a picture and tag @pudgefactor or #pudgefactor.