The perfect Croque Monsieur or Croque Madame is a simple creation. However, if you try to order one in an American restaurant, you'll likely receive quizzical look. Not so if you ordered a grilled cheese sandwich. Croque Monsieur, literally translated as "crunch sir" is somewhat of a French grilled cheese sandwich. However, it is so much more as I'll explain shortly. Add a fried egg on top and you have a Croque Madame! Both are awesome for your Mother's Day brunch.
Susan and I ate Croque Monsieurs almost every day when we were in Paris. Interestingly, we never had quite the same Croque Monsieur from one bistro to the next. Our all time favorite was an open-faced Croque Monsieur which I'm featuring here.
In our opinion, the perfect Croque Monsieur is a simple creation. It starts with a thin piece of white bread, that is layered with the perfect amount of ham, béchamel sauce, and Gruyère cheese. You can top it with another piece of bread if you like, but in our opinion, the open face version is the absolute best! In addition, we never found mustard or any other condiment included on any Croque Monsieur in Paris.
Making the Béchamel Sauce:
Béchamel sauce is a basic white sauce made with butter, all-purpose flour, milk, salt, pepper, and nutmeg. For the Croque Monsieur and Madames, I've found that a somewhat thicker béchamel sauce works best. I used 2 tablespoons of unsalted butter, 2 tablespoons of all-purpose flour and 1 cup of hot milk, seasoned with salt, freshly ground black pepper, and a pinch of nutmeg to produce the perfect consistency.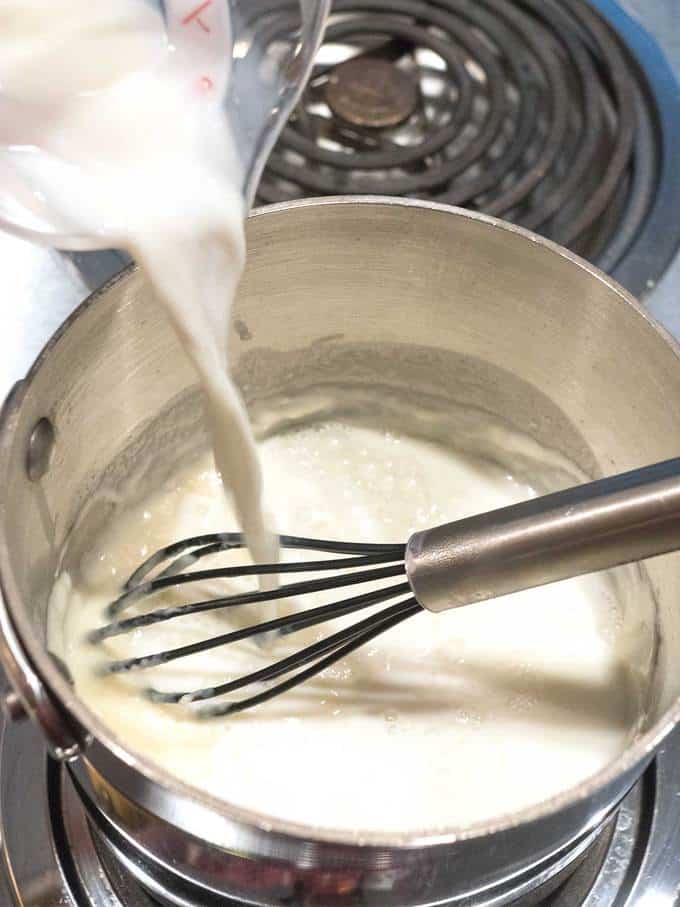 Making the Croque Monsieur and Croque Madame:
I started by lightly toasting the bread. Since it was just the Master Taste Tester and me, I toasted two pieces of thin white bread. Then, I added some thinly sliced ham to both pieces of bread. Next, I topped the ham with some béchamel sauce, and finished it off with some shredded Gruyère cheese.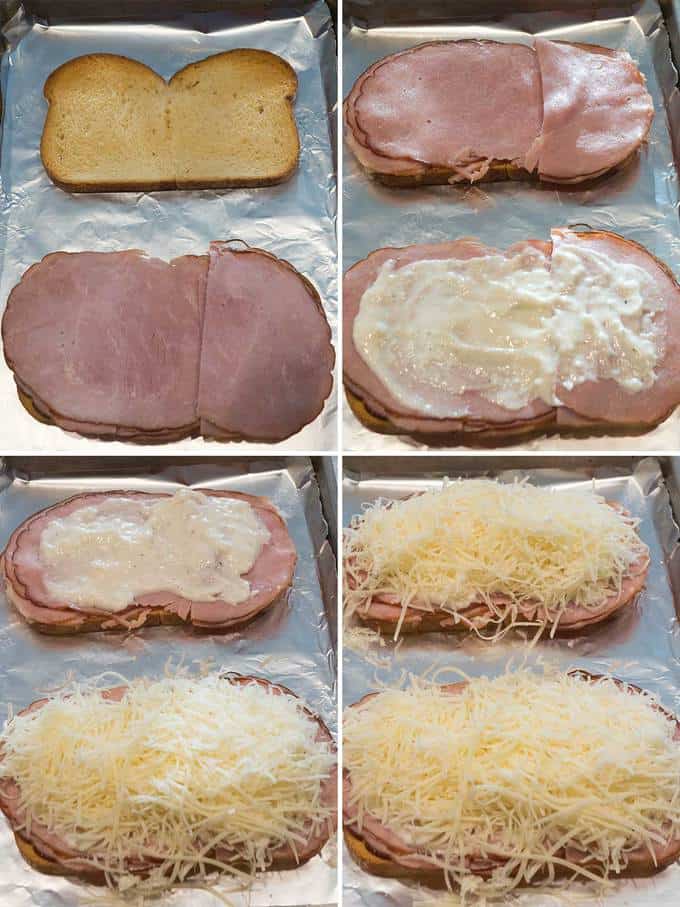 I popped the Croques into a preheated 375° F oven for about 15 minutes until the cheese was nicely melted and the ingredients heated throughout. Then, I finished them off under the broiler for several minutes to lightly brown the cheese. When I pulled them out of the oven, the cheese was bubbly and beautifully browned.
My choice was the Croque Monsieur which I served with a simple salad.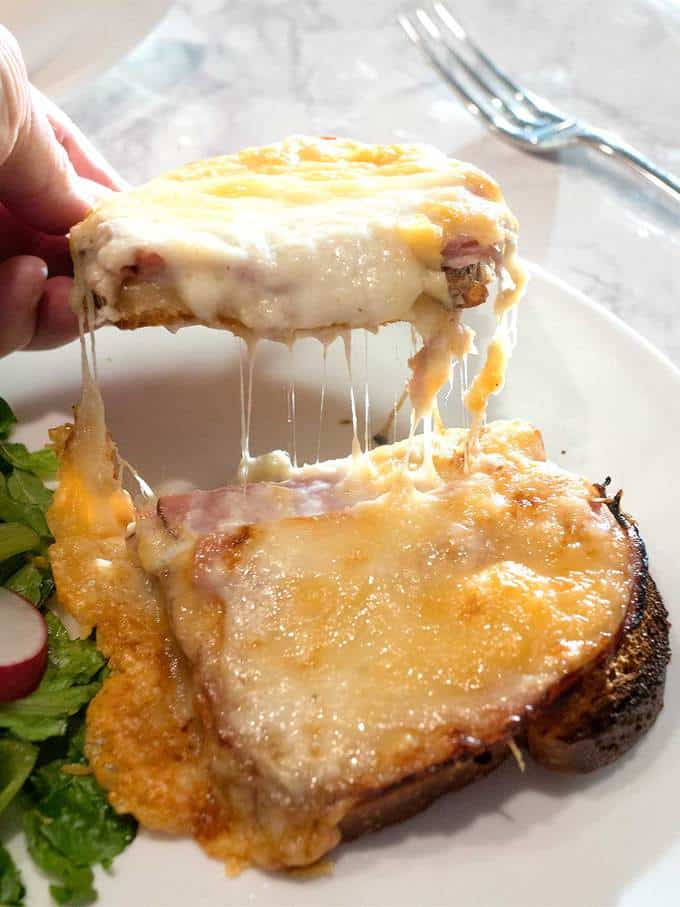 The Master Taste Tester opted for the Croque Madame with a fried egg on top.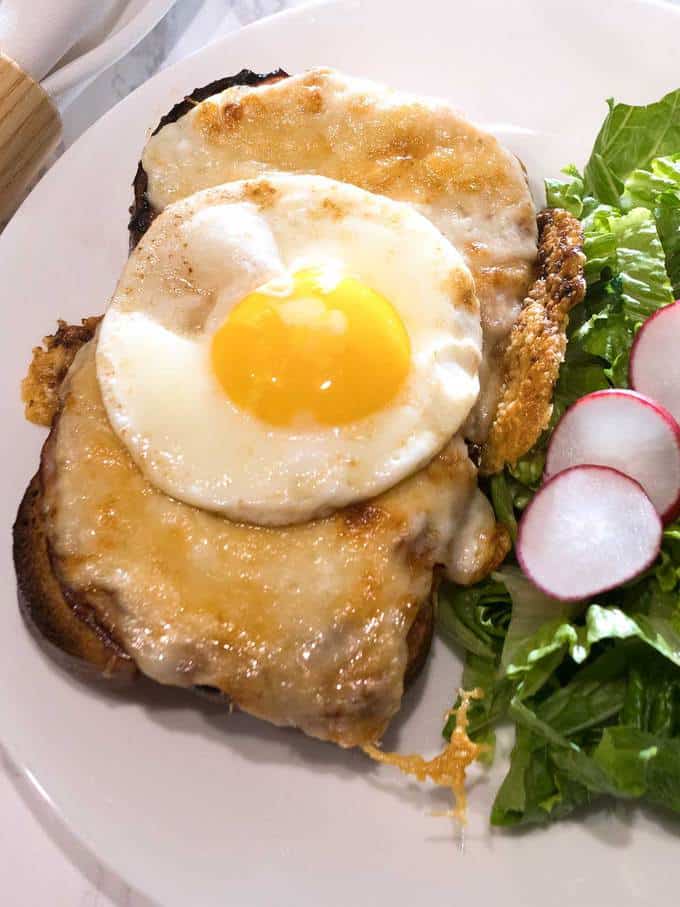 The combination of the perfectly cooked fried egg and the gooey melted cheese on the Croque Madame was a match made in heaven. Yum!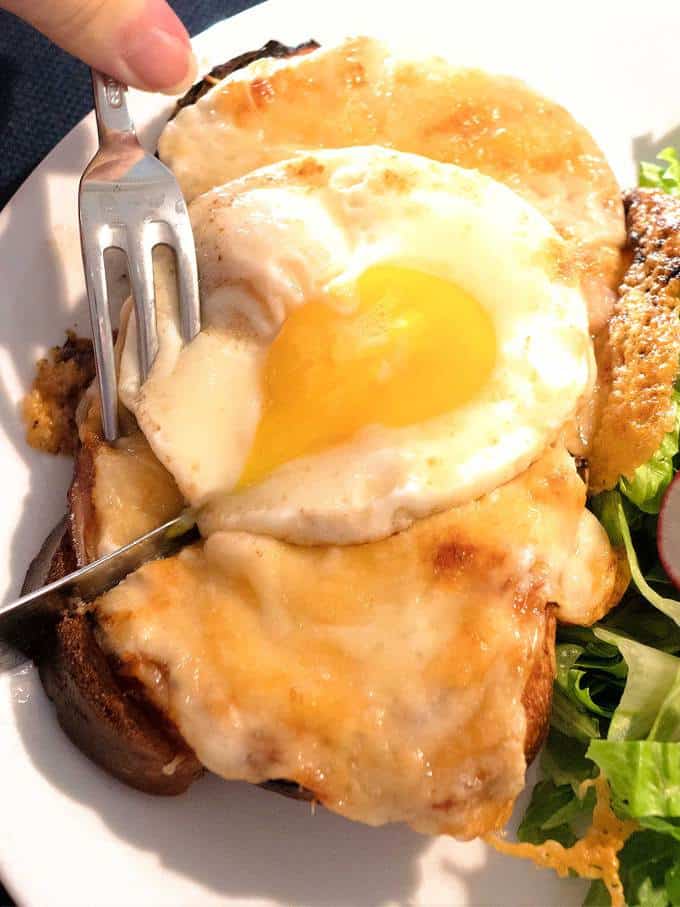 Perfect Croque Monsieur and Madame
Ingredients
Béchamel Sauce

2 Tablespoons unsalted butter
2 Tablespoons all purpose flour
1 cup milk, heated
1/4 teaspoon salt
Pinch of freshly ground black pepper
Pinch of nutmeg

Croques

4 thin slices of white bread
8 ounces thinly sliced ham
2 cups (8 ounces) shredded Gruyère cheese
Fried eggs for Croque Madame
Instructions
Béchamel Sauce: Melt butter in small saucepan. Whisk in flour. Allow to cook for about a minute, ensuring that the flour does not brown.
Slowly whisk in hot milk. Whisk constantly until thickened. Add salt, pepper, and nutmeg. Set aside.
Croques: Preheat oven to 375° F.
Lightly toast bread.
Place half of ham on one slice of toasted bread.
Spread 1-1/2 to 2 Tablespoons of Béchamel Sauce on ham. Top with half of Gruyère cheese.
Repeat with remaining slices of toasted bread.
Bake at 375° F for 15 minutes, or until cheese is bubbly and ingredients are heated through.
Increase oven temperature to broil. Broil for several minutes until top is golden brown.
For Croque Madame, top with fried egg.
Yield: 4 servings.
7.6.7
246
https://pudgefactor.com/perfect-croque-monsieur-madame/