Poffertjes, (pronounced puff' ur jis) or Dutch Mini Pancakes are small, fluffy yeasted treats made in a special cast iron pan. Poffertjes are sold throughout the Netherlands. They are traditionally served hot with a pat of butter and a good sprinkling of confectioners' sugar. However, they're equally good when topped with Nutella.
I first tasted Poffertjes several years ago when Susan and I were in Amsterdam. She was the master itinerary planner and included a visit to The Carousel pancakes in Amsterdam. The Poffertjes were so good that I decided that I had to buy a special pan to make them. We found the pan in a store in Brussels. However, it was just too heavy to lug back. Therefore, I ended up ordering the pan from Amazon UK. It was the same pan that we saw in Brussels.
After our Poffertjes experience in Amsterdam and almost buying the pan in Brussels, we stumbled across a food stall in the Greenwich Market near London called Planet Pancake. So of course we had to try the Poffertjes because they were so amazing when we first had them a few weeks earlier in Amsterdam. They were all either of us could think about ever since. We skipped the butter and sugar and instead opted for a Nutella topping. Needless to say we ruined our dinner but it was well worth it!
Ingredients for Poffertjes
I used the following ingredients to make these delectable treats: Milk, yeast, all-purpose flour, granulated sugar, salt and an egg. Poffertjes are traditionally made with equal parts of buckwheat flour and all-purpose flour. The first time that I made them, I used buckwheat flour. However, I didn't think that they turned out that good, so instead I used all-purpose flour. The Poffertjes recipe that I used was borrowed from Tara's Multicultural Table.

Special Equipment for Making Poffertjes
As I previously indicated I ordered the Poffertjes pan from the UK. Aside from the pan, I used a small cookie scoop to add the batter to the pan, and a candy-making fork along with a chopstick to turn the Poffertjes. I could have also used a regular fork here or a wooden skewer.

Poffertjes versus Ebelskivers
The Dutch Poffertjes shouldn't be confused with Danish Ebelskivers. Both are variations of pancakes. However, the batter for Poffertjes contains yeast whereas that for Ebelskivers does not contain yeast. Poffertjes are traditionally served with butter and a sprinkling of confectioners' sugar while Ebelskivers are generally stuffed with things like jam or Nutella.
The cavities in the Poffertjes pan are much smaller than those in the Ebelskivers pan – 1 ⅝-inches versus 2 ⅜-inches in diameter. In addition, my Poffertjes pan is made of cast iron and has a solid bottom. The Ebelskivers pan is made of aluminum and has an open bottom.
Here's a pictorial comparison of my cast iron Poffertjes pan (top) and my aluminum Ebelskivers pan (bottom).

Making the Batter for Poffertjes
I started by heating the milk in the microwave to about 105° F. This took a little over a minute. Then, I added the yeast to the lukewarm milk and gave it a stir.
While the yeast was coming to life, I added the sugar and salt to the flour. Then, I whisked the dry ingredients together.
After about 10 minutes, the yeast had started doing its thing, so I added the milk/yeast mixture and an egg to the dry ingredients.
Then, I beat the batter with my electric mixture on high until all of the ingredients were incorporated and it was smooth. I could have also whisked the ingredients together until the batter was smooth.
I covered the bowl with a piece of plastic wrap and set it aside for about 45 minutes. After 45 minutes, the batter was bubbly and had doubled in size.

Making the Poffertjes
First, I heated the Poffertjes pan over medium heat for several minutes until it was hot. Then, I brushed each of the cavities with melted butter. Next, I added the batter to each of the cavities using a small cookie scoop. In Amsterdam the batter was put into a plastic bottle and squeezed into the cavities. However, my batter was too thick for this to work. As it turned out the small cookie scoop was the perfect size!
I let the Poffertjes cook on one side for several minutes until the top formed bubbles and started to look dry. If you've ever made pancakes, you should know how the tops form bubbles and start to looked dried out, signaling the time to flip them. I carefully flipped the Poffertjes over using the candy fork and chopstick. Then, I let them cook for another minute or so on the other side and lifted them out. I repeated this with the remaining batter.
I ended up with about 60 absolutely delicious Poffertjes or Dutch Mini Pancakes. To serve, I piled some onto a small plate while still hot, placed a pat of butter on top, and gave them a good sprinkling of confectioners' sugar. Each bite brought back fond memories of being in Amsterdam. Yum!
If you tried the recipe for Poffertjes, I'd love to hear how they turned out. Also, if you'd like to receive notifications of new posts by email, ever your email address in the Subscribe box. Thank you so much for visiting Pudge Factor. I hope you'll come back!
Recipe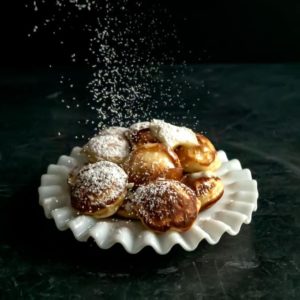 Poffertjes (Dutch Mini Pancakes)
Poffertjes, (pronounced puff' ur jis) or Dutch Mini Pancakes are small, fluffy yeasted treats made in a special cast iron pan. Sold throughout the Netherlands, Poffertjes are traditionally served hot with a pat of butter and a good sprinkling of confectioners' sugar.
Print
Pin
Rate
Ingredients
1 ½

cups

(12 ounces, 350 ml) milk, heated to about 105° F (See Tip 1)

2 ¼

teaspoons

instant yeast

1 ¾

cups

(8.75 ounces, 250 grams) all-purpose flour

2

Tablespoons

granulated sugar

Pinch of

salt

1

large egg

Unsalted butter (See Tip 2)

Confectioners' sugar for sprinkling on Poffertjes
Instructions
Add yeast to lukewarm milk; stir to combine. Allow to sit for about 10 minutes or until frothy.

Whisk together flour, sugar and salt in a large bowl. Add milk/yeast mixture and egg. Beat with electric mixer on high until smooth, about 1 minute. (See Tip 3)

Cover bowl with plastic wrap; let sit until bubbly and doubled in size, about 45 minutes.

Heat Poffertjes pan on medium heat until hot, 3 to 4 minutes. Brush cavities with melted butter. Add about 1 tablespoon of batter to each of the cavities. When small bubbles start to appear and the top starts to look a bit dried out, quickly flip Poffertjes. (See Tips 4 and 5)

Allow Poffertjes to cook on other side until nicely browned, about 2 minutes. Remove from pan. Repeat with remaining batter.

Serve hot with a pat of butter and sprinkling of confectioners' sugar. Yield, about 60 Poffertjes.
Chula's Expert Tips
I used whole milk. However, you could also use low-fat milk. I heated the milk in my microwave on full power for about a minute.
I melted about a tablespoon of butter to use for greasing the cavities of the Poffertjes pan. 
I could have also used a whisk to beat the ingredients together to form a smooth batter.
If you've ever made pancakes, you should know how they look when it's time to flip them over - small bubbles appearing and the top looking a bit dried out.
While cooking the Poffertjes, watch the heat carefully. You might need to lower the heat just a little bit to prevent the Poffertjes from burning.
Nutrition
Calories:
210
kcal
|
Carbohydrates:
36
g
|
Protein:
8
g
|
Fat:
3
g
|
Saturated Fat:
1
g
|
Cholesterol:
33
mg
|
Sodium:
39
mg
|
Potassium:
172
mg
|
Fiber:
2
g
|
Sugar:
7
g
|
Vitamin A:
140
IU
|
Calcium:
79
mg
|
Iron:
1.9
mg
Tried this recipe?
Please leave a comment below and/or give this recipe a rating. On Instagram? Take a picture and tag @pudgefactor or #pudgefactor.