The other day, my sister at Grits and Pinecones posted an incredible recipe for Southern Style Crispy Onion Rings. I absolutely love onion rings, so as soon as I saw her post, I knew that I had to make them. I decided to take them one step further, however, and add a spicy dipping sauce. The onion strings and dipping sauce were totally awesome!
Rather than use thickly cut onions as is typical with onion rings, my sister's recipe called for cutting the onions as thinly as possible. This is a brilliant way to make onion rings or onion strings as I call them because it produces the perfect balance of onion and crunch!
These out-of-this-world onion strings can be served as an appetizer, as a side dish, on top of a juicy burger, or as a crunchy topping for your favorite casserole.
Ingredients for Crispy Fried Onion Strings with Spicy Dipping Sauce:
I used the following ingredients for the onion strings: Vidalia onions, buttermilk, all-purpose flour, Kosher salt, cayenne pepper, and peanut oil. For the dipping sauce, I used mayonnaise, chili sauce, prepared horseradish, paprika, salt, dried oregano, freshly ground black pepper, and cayenne pepper. As an aside, I could have used ketchup in place of the chili sauce.
Making the Spicy Dipping Sauce:
Making the spicy dipping sauce was a snap. Basically, I just combined all of the dipping sauce ingredients in a small bowl. After the sauce was made, I put it in the refrigerator to allow the flavors to meld.
Making the Crispy Fried Onion Strings:
I used my mandoline to thinly slice the Vidalia onions 1/16 of an inch. Then, I separated the rings, and combined the onions with the buttermilk. I let the mixture sit for about an hour.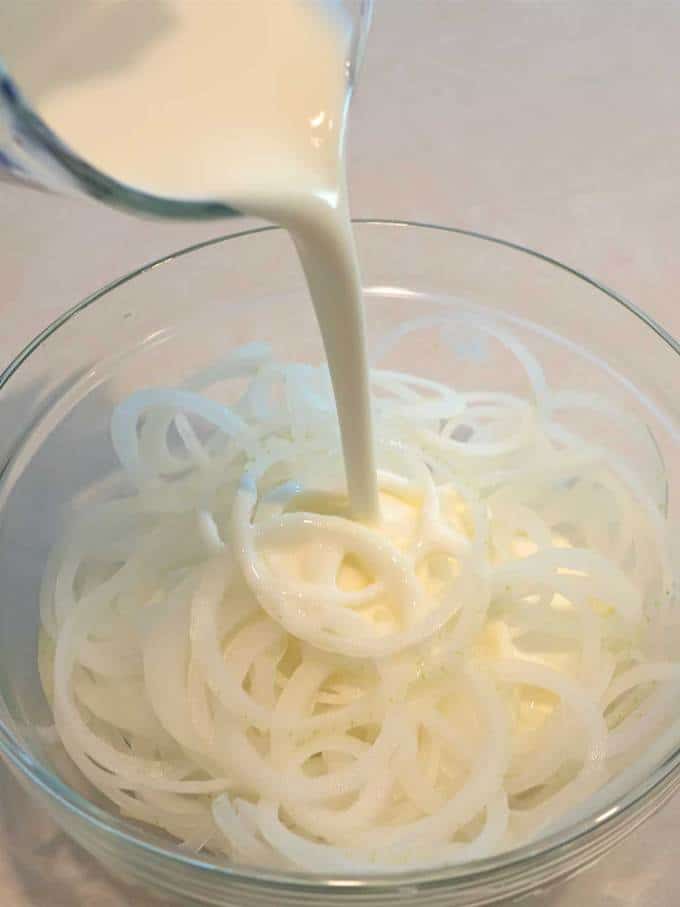 While the onions were soaking in the buttermilk, I combined the flour, salt, and cayenne pepper.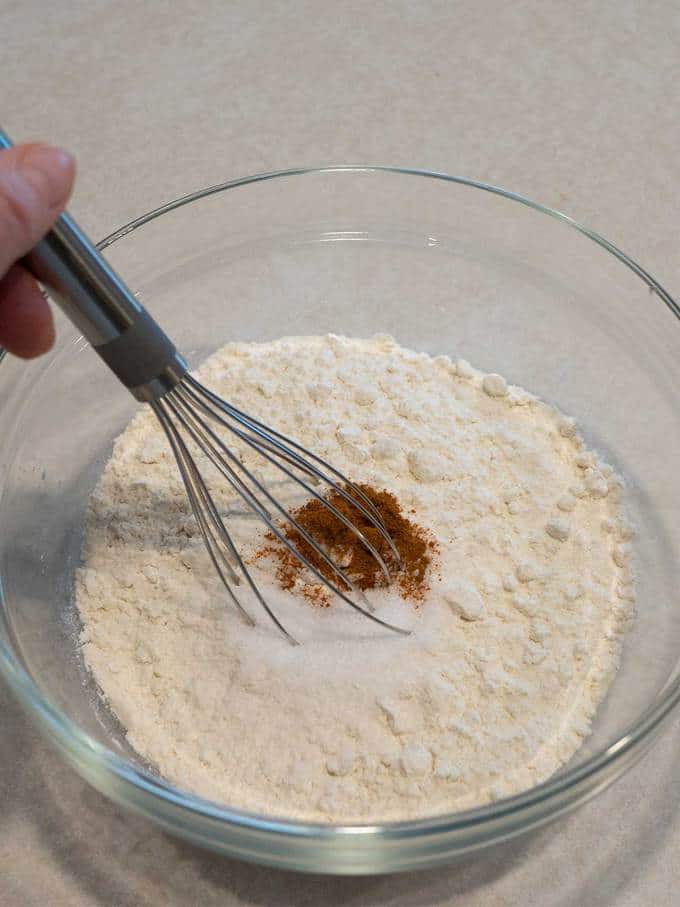 Frying the Onion Strings:
I heated the peanut oil in a Dutch oven to 375° F. When the oil had reached temperature, I removed a handful of onions from the buttermilk. I used tongs to add them to the flour mixture and coat the onions. Then, I shook the onions to remove excess flour, and dropped them in the hot oil. I used the tongs to separate the onions while they were cooking. When the onions were golden brown, I removed them from the oil to a paper towel lined plate to drain. I repeated this with the remaining onions.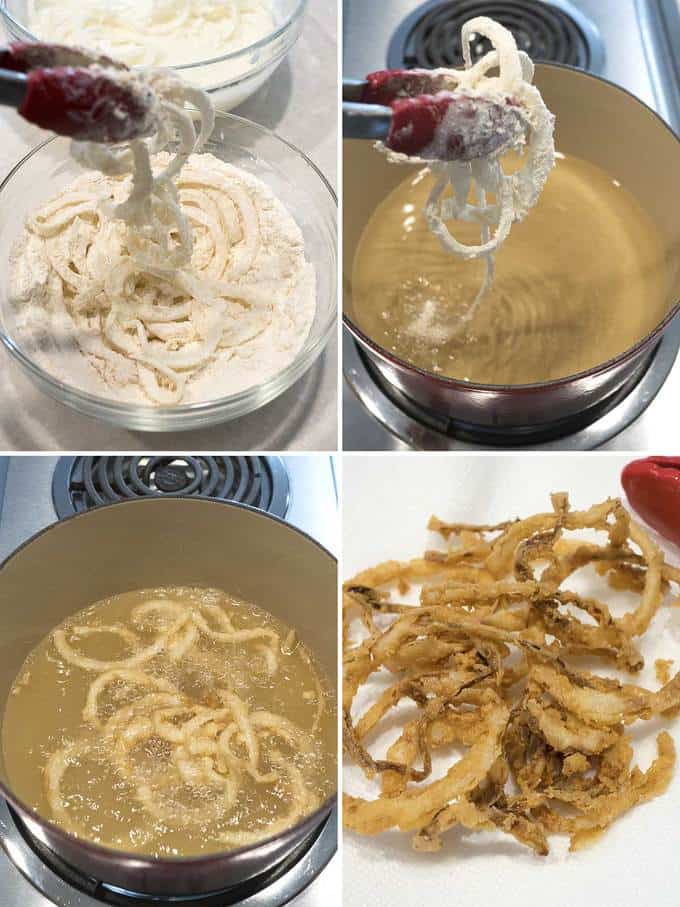 I served the Crispy Fried Onion Strings with the Spicy Dipping Sauce. They were beyond awesome! For an added treat, you could top your juicy burger with these onion strings and spicy dipping sauce, or add a crunchy topping to your favorite casserole. Thank you Grits and Pinecones for these fabulous fried onions! Double Yum!
Crispy Fried Onion Strings with Spicy Dipping Sauce (adapted from Grits and Pinecones' Recipe)
Ingredients
Crispy Fried Onion Strings

2 large onions, preferably Vidalia onions
2 cups buttermilk
2 cups all-purpose flour
1 Tablespoon Kosher salt
1/4 teaspoon cayenne pepper
2 cups peanut oil

Spicy Dipping sauce

1/2 cup mayonnaise
2 Tablespoons Chili sauce
2 Tablespoons prepared horseradish
1/4 teaspoon paprika
1/4 teaspoon Kosher salt
1/8 teaspoon dried oregano
Dash of freshly ground black pepper
Dash of cayenne pepper
Instructions
Crispy Fried Onion Rings: Peel and thinly slice onions (if possible use a mandoline). Separate onion rings.
Place the onion rings bowl and cover with buttermilk. Allow the onions to soak in the buttermilk for at least an hour.
Combine the flour, salt and cayenne pepper in a bowl.
Preheat the oil in a Dutch oven or large frying pan to 375° F.
When the oil is hot, take a handful of the onion rings and coat them in the flour mixture. Shake off any excess flour and add to the hot oil. Fry for 1-2 minutes or until they are golden brown. Drain on paper towels.
Repeat with remaining onions.
Serve alone or with Spicy Dipping Sauce.*
Yield: 4 servings
Spicy Dipping Sauce: Combine mayonnaise, Chili sauce, horseradish, paprika, salt, oregano, black pepper, and cayenne pepper in small bowl. Stir until smooth. Refrigerate until ready to use.
Yield: 3/4 cup.
*Note: Onion strings can be kept warm in 225° F oven until ready to serve. Leftover onion strings can be reheated in 350° F oven for five minutes, or until hot.
7.6.7
270
https://pudgefactor.com/crispy-fried-onion-strings-spicy-dipping-sauce/