Last night for dinner, I made an incredible Chicken Chow Mein dish that generated enough leftovers for a second meal. I had originally planned on making these Egg Rolls last night to go with the Chicken Chow Mein, but was too late getting home from work to do both.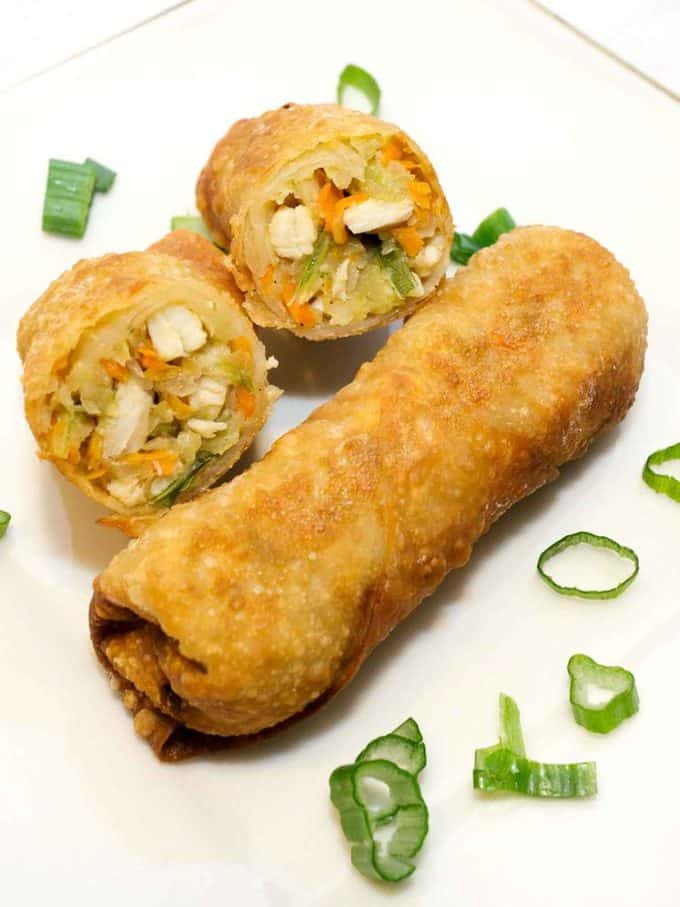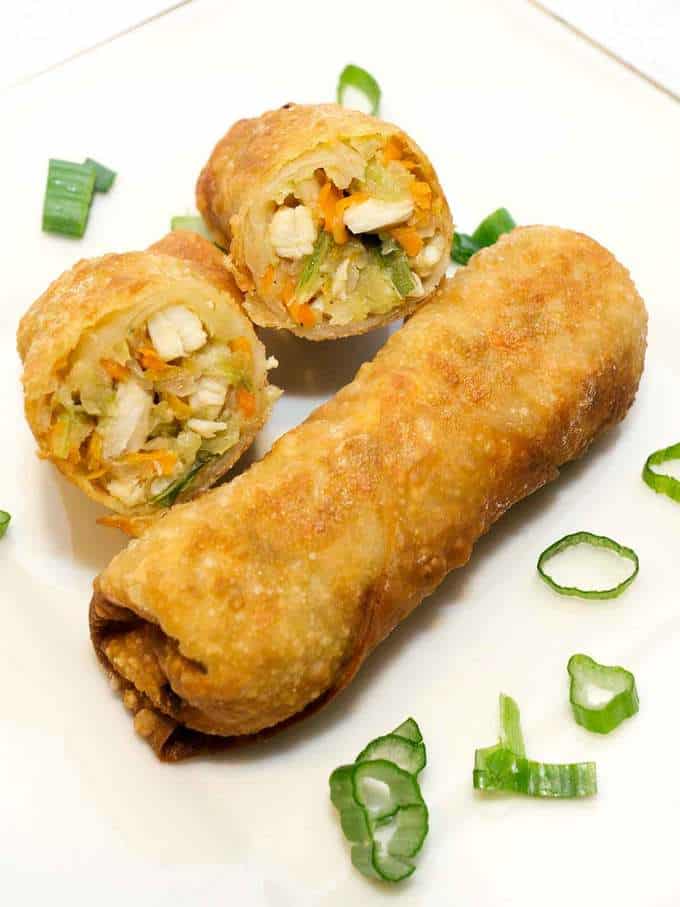 I therefore made the Egg Rolls tonight to go with the leftovers.
As an aside, the leftover Chicken Chow Mein was just as good as the original dish. I've had this recipe for more years than I care to think about. It originally came from a Chinese eatery in a mall in Tallahassee. It's an extremely forgiving recipe, and over the years, I've tinkered with it, sometimes omitting the meat or using a different meat/seafood, sometimes adding more/different vegetables, sometimes tinkering with the seasonings, sometimes using different egg roll wrappers, etc. With all of the variations on the theme, the results are consistently outstanding!
Ingredients
I used the following ingredients for these delicious Egg Rolls: Egg roll wrappers, chicken, garlic, soy sauce, cornstarch, cabbage, celery, onions, carrots, fresh ginger, and vegetable oil. It also included salt, pepper and ground ginger that I thought was necessary to correct the seasonings.
Making the Filling for the Egg Rolls
I started by prepping the ingredients. First I cut the chicken into very small pieces. Then I shredded the cabbage, celery, onion and carrot in the food processor. Finally I grated the ginger and minced the garlic.
Once the prep was completed, I mixed 1 Tablespoon of soy sauce with 2 teaspoons of cornstarch, the grated ginger and minced garlic in a bowl. Then I added the chicken and stirred to ensure that the chicken was nicely coated. I let this sit for about 30 minutes before I started the cooking.
To cook the filling I heated 1 Tablespoon of vegetable oil in my wok over medium high heat and added the chicken. I cooked the chicken, stirring occasionally until it was opaque. This took about 2 minutes.
Next I removed the chicken from the wok and added another Tablespoon of vegetable oil. Then I added the cabbage, celery, onions and carrots. I stirred to combine the ingredients and cooked the mixture over medium high heat. I continued stirring often until the cabbage was translucent. This took about 15 minutes.
I added 2 Tablespoons of soy sauce to the vegetables and returned the chicken to the wok.
I stirred the mixture and tasted it to see if it needed any seasonings. I thought that it was lacking something so I added 1 teaspoon of Kosher salt, ¼ teaspoon of freshly ground black pepper and ½ teaspoon of ground ginger. It was perfect.
As the vegetables cooked, they gave off a fair amount of liquid. To remove this excess liquid, I transferred the egg roll filling to a colander set over a large bowl, and pressed the filling with the back of a large spoon. I ended up with over ¾-cup of the liquid. Had I left the liquid in the filling, the resulting egg rolls would have been quite soggy.
Rolling the Egg Rolls
To make the egg rolls I rolled them as follows: (1) With a of the egg roll wrapper point facing me, I placed ¼-cup of the filling in the center; (2) I folded the point facing me towards the center, covering the filling; (3) Then I brought the two sides towards the center, like an envelope; and (4) Finally, I rolled the egg roll towards the remaining point, sealing it with a dab of water on the point.
I placed the egg rolls on a parchment lined baking sheet, knowing that what I didn't use would freeze beautifully.
I poured some oil into my wok and heated it to 350° F. Once the oil was hot enough, I placed a few in the wok, so as not to crowd them. I cooked them, turning them over until they were golden brown on all sides.
When the egg rolls were golden brown, I removed them to a plate lined with paper towels to drain. They were a perfect starter for the delicious leftover Chicken Chow Mein. Yum!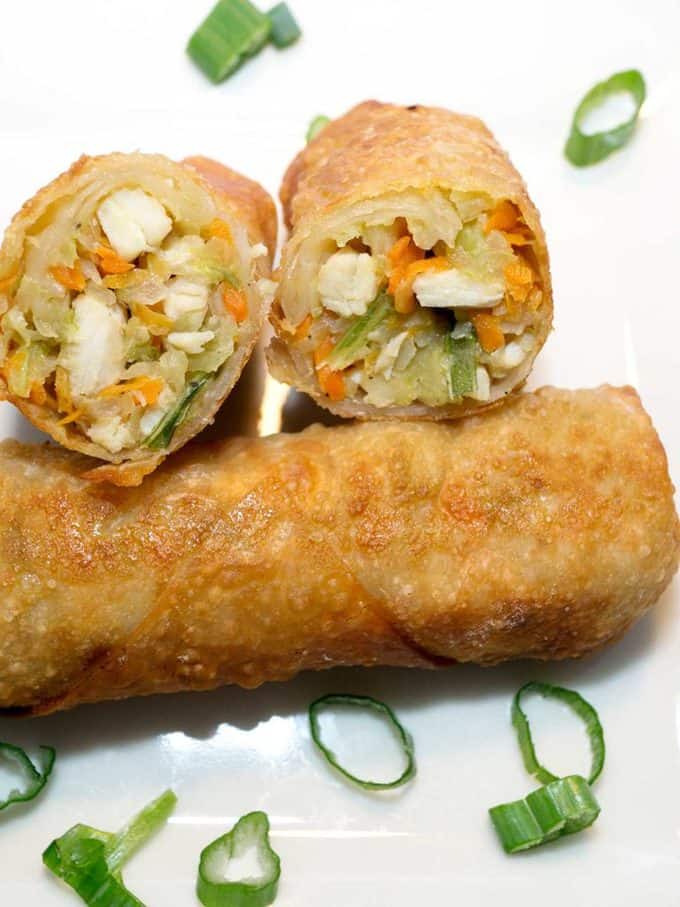 If you're looking for some more Asian inspired cuisine, check out my Easy Asian Chicken Lettuce Wraps with Spicy Dipping Sauce, Veggie Spring Rolls, Bourbon Chicken, or Vegetable Lo Mein.
I hope you liked this recipe for Chicken Chow Mein as much as I do. If so, please consider rating it and leaving a comment. Also, if you'd like to receive notifications of new posts by email, enter your email address in the Subscribe box.
Thank you so much for visiting Pudge Factor. I hope you'll come back!
Recipe
Egg Rolls
I've been making these incredible egg rolls for as long as I can remember. They never cease to impress!
Ingredients
1

package egg roll wrappers

Vegetable oil for frying egg rolls
Chicken Mixture
12

ounces

(2 6-ounce )chicken breasts, skinned, boned and cut into small pieces*

2

cloves

garlic

1

Tablespoon

soy sauce

2

teaspoons

cornstarch

1

Tablespoon

vegetable oil
Vegetable Mixture (I use a food processor to shred the vegetables)
1

small head of cabbage

shredded (about 4 cups)

4

stalks celery

shredded

1

large onion

shredded

2

carrots

peeled and shredded

1

Tablespoon

fresh ginger

grated

2

Tablespoons

soy sauce

Salt

freshly ground black pepper, and ground ginger to taste

1

Tablespoon

vegetable oil
Instructions
Chicken Mixture
Combine chicken, garlic, 1 Tablespoon soy sauce and cornstarch in a small bowl. Let sit for 30 minutes. Heat 1 Tablespoon vegetable oil in a 12-inch skillet or wok over medium high heat. Add chicken and cook until opaque, about 2 minutes. Remove chicken; set aside.
Vegetable Mixture
Heat 1 Tablespoon vegetable oil over medium high heat in same pan as used to cook the chicken. Add the cabbage, celery, onion, carrots and ginger; cook until the cabbage is transparent, about 15 minutes. Add soy sauce; stir to combine. If necessary add salt, freshly ground black pepper and ground to taste. Add chicken; mix well. Place in colander; drain, pressing excess liquid from filing with the back of a large spoon.
Assembly
Place egg roll skin with point toward you. Place about ¼-cup of the filling in center of skin. Fold the bottom point toward the center; then fold the left and right point toward the center, like an envelope. Roll towards the top point. Seal the edge with water. Repeat with remaining egg roll wrappers and filling.
Cooking
Place 2 inches of vegetable oil in a frying pan or wok.  Heat over medium high heat to 350° F.  Add 3 to 4 egg rolls at a time to the hot oil; cook, turning occasionally until egg roll is golden brown on all sides.  Drain on paper towels and serve.  Yield: 16 egg rolls.
Notes
*Rather than cutting the chicken, I could have used the food processor fitted with the steel blade to "grind" chicken into small pieces.
Note:  For variety, add one shredded green bell pepper, a handful of bean sprouts, a can of bamboo shoots, drained and chopped, and/or ground pork or finely chopped shrimp in place of the chicken.  Also, this can easily be vegetarian by omitting the chicken/other meat.  Whatever the variation, these freeze beautifully.  To cook the frozen egg rolls, heat oil to 350° F.  Place frozen egg rolls in heated oil and cook for 15 to 20 minutes, turning occasionally to ensure that all sides are golden brown.
Nutrition
Calories:
102
kcal
Carbohydrates:
13
g
Protein:
7
g
Fat:
2
g
Saturated Fat:
1
g
Cholesterol:
14
mg
Sodium:
311
mg
Potassium:
253
mg
Fiber:
2
g
Sugar:
2
g
Vitamin A:
1380
IU
Vitamin C:
22.4
mg
Calcium:
39
mg
Iron:
0.9
mg