Mexican Key Lime Tartlets with Cream Cheese Pastry are a perfect end to your Cinco de Mayo feast. Their awesome blend of tart and sweet will have you clamoring for more of these delectable bite-sized morsels. What's even better is that the shells and the key lime mixture can be made ahead of time, and assembled right before serving.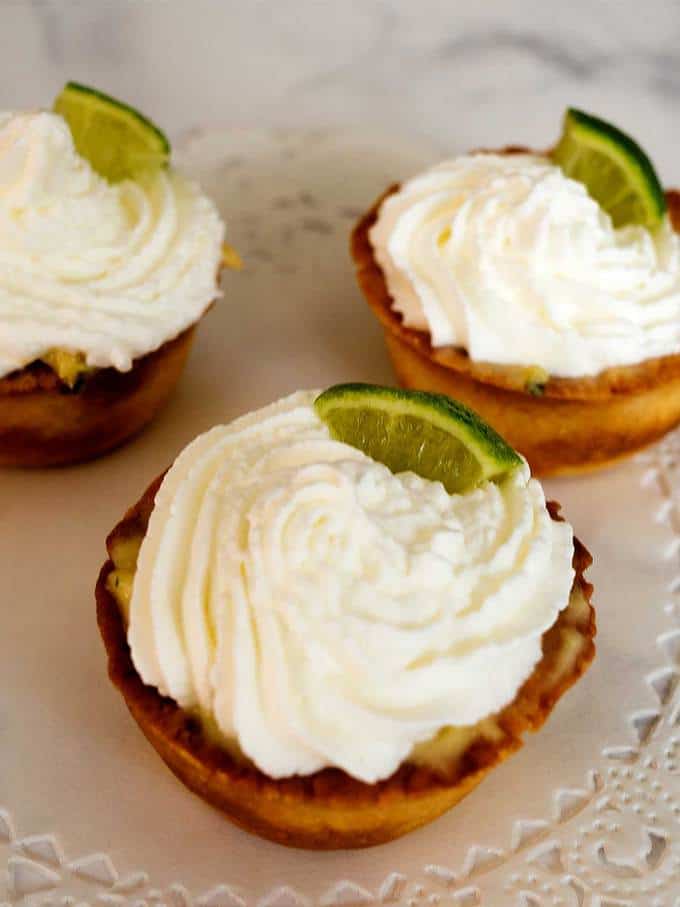 Although one often associates key limes with the Florida Keys, most are grown in Mexico and Central America. Key limes are different than the more common Persian limes that you find in grocery stores in several respects. First, they are significantly smaller than the Persian limes. Second, their skins tend to be thinner. Finally their juice is much more tart. Because they are so small, juicing key limes is a bit of a chore. In fact, I wouldn't even think about using key limes without an electric juicer!
Ingredients for Mexican Key Lime Tartlets:
I used the following ingredients for the cream cheese pastry: Cream cheese, unsalted butter, and all purpose flour. For the filling, I used eggs yolks, sweetened condensed milk, and key lime juice. Finally, I used whipping cream sweetened with confectioners sugar for the tartlet topping.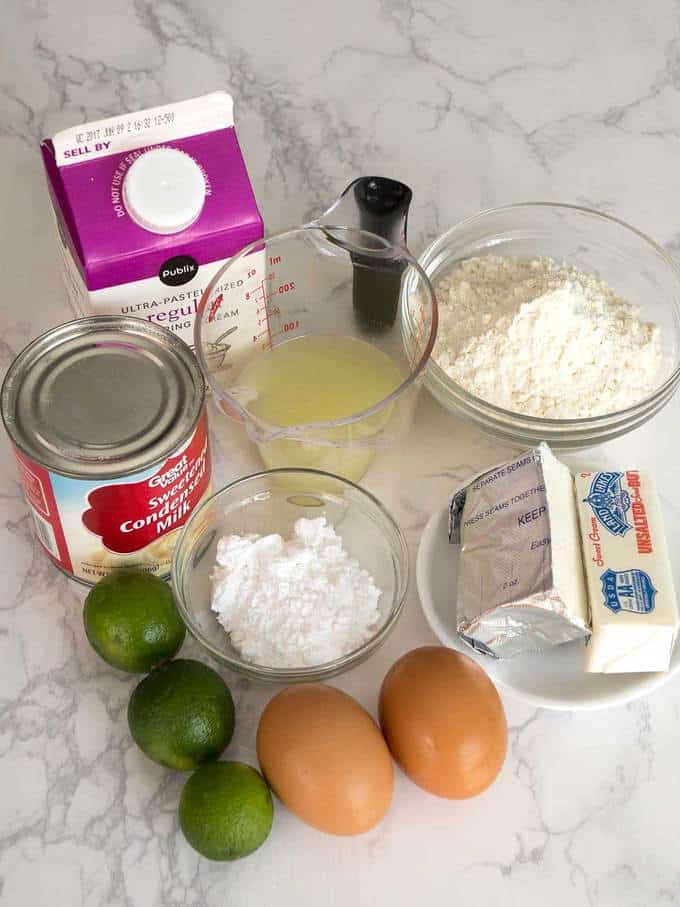 Making the Cream Cheese Pastry:
I started by beating together the cream cheese and butter on high until it was light and fluffy. Then, I added the flour, and beat the mixture on low just until it came together. It didn't matter at all that the dough was crumbly. Being the foodie nerd that I am, I weighed the dough so that I could determine how much the dough for each of the tartlet shells should weigh. With a total of 293 grams and 24 shells, the result was 12.2 grams of dough for each shell!
After weighing the dough, I formed each piece into a ball, and pressed it into the cup of my mini-muffin pan. Then, I used my tart tamper to press the dough into the shell shape. I finished shaping each shell with my fingers. Before baking the shells, I chilled them for about 30 minutes.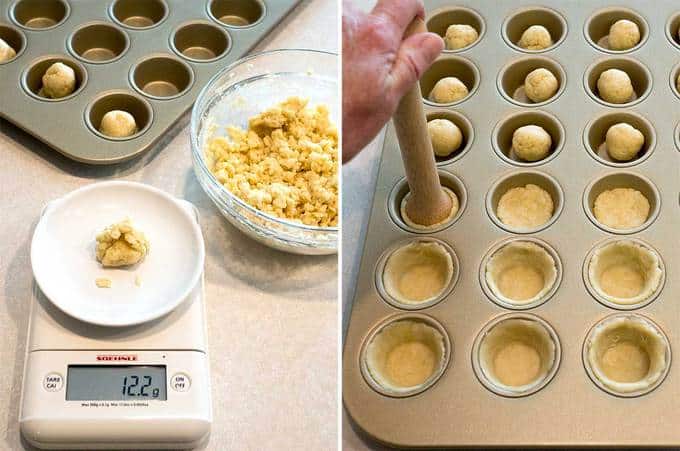 After pricking each of the shells with a fork, I popped them into a preheated 400° F oven. After about 12 minutes, the shells were golden brown. I removed them from the oven, and let them cool in the pan for about 10 minutes. Then, I removed the shells from the pan, and let them cool completely on a wire rack. I stored the cooled shells in a ziploc bag until I was ready to fill them.
Making the Key Lime Mixture:
I started by beating two egg yolks on medium speed until they were thick and lemon colored. This took about 4 minutes.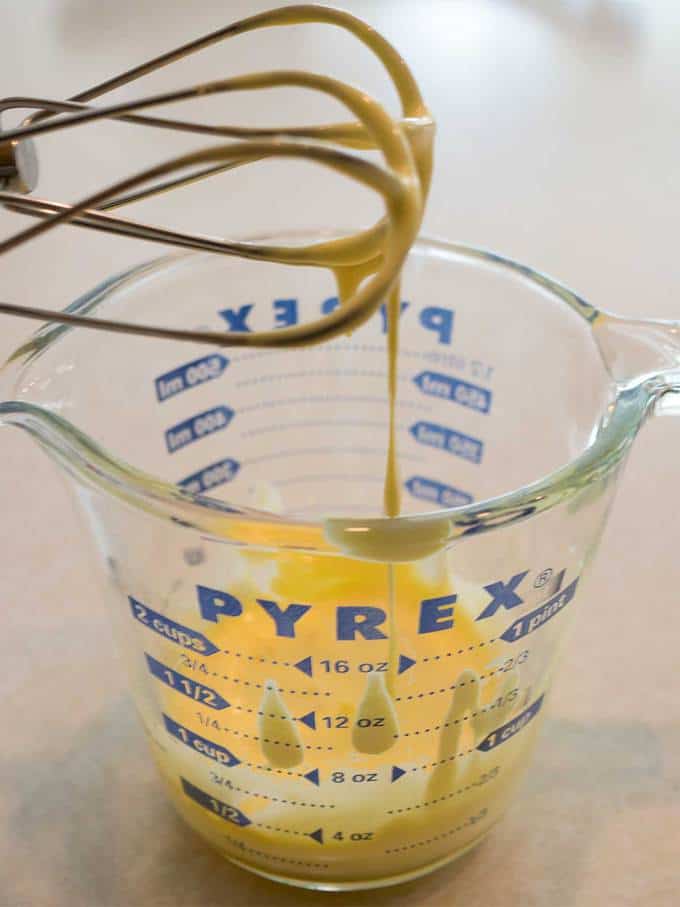 Then, I heated the key lime juice in a saucepan over medium heat until it was hot. Next, I slowly poured about a fourth of the hot juice into the eggs, stirring constantly. This tempered the eggs so that I wouldn't end up with scramble eggs! I whisked the tempered egg mixture into the remaining lime juice. Then, I cooked it, stirring constantly over medium heat until it had thickened. This took about 2 minutes. I removed it from the heat, and let the mixture cool for about ten minutes. Then, I added the sweetened condensed milk and lime zest, and whisked to ensure that everything was well combined. After the mixture had cooled a bit, I transferred it to a small bowl, pressed a piece of plastic wrap on top, and refrigerated it.
Putting the Tartlets Together:
First, I made some whipped cream by beating the cream on high until it thickened. Then, I added some confectioners' sugar, and continued beating until it reached the proper consistency. I transferred the whipped cream to a pastry bag fitted with a #21 star tip.
I filled each of the pastry shells with the key lime mixture, and pipped whipped cream on top.
I garnished each of the Mexican Key Lime Tartlets with a small piece of key lime. They were absolutely delicious. Each little morsel had the perfect blend of tart and sweet, making it the perfect ending to the perfect Cinco de Mayo feast. Yum!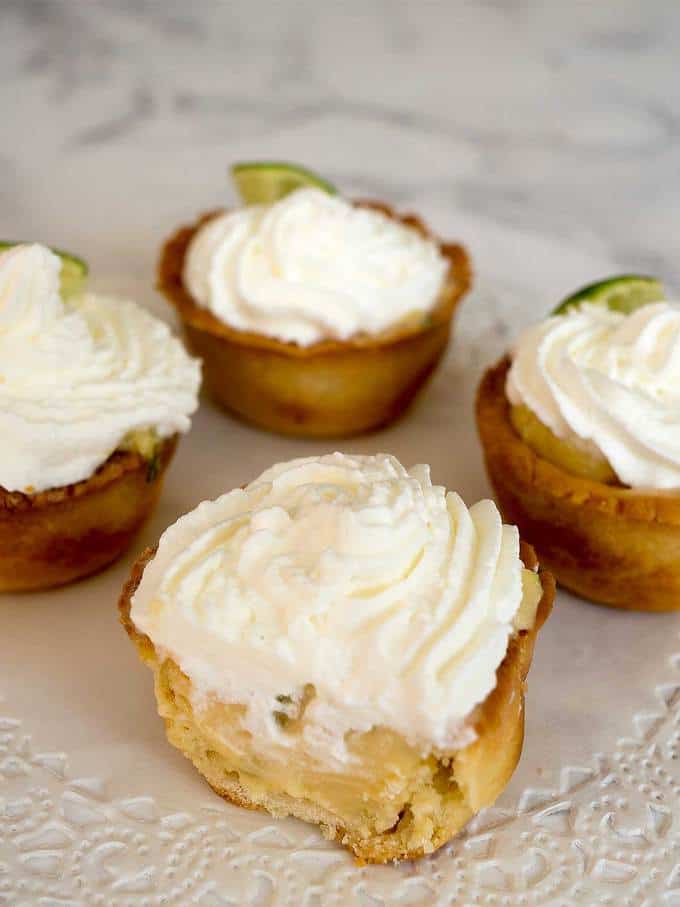 Mexican Key Lime Tartlets
Ingredients
Cream Cheese Pastry

1/3 cup unsalted butter, softened
1 (3-ounce) package cream cheese, softened
1 cup all-purpose flour

Key Lime Mixture

2 egg yolks
1/3 cup freshly squeezed Key Lime juice (may also use freshly squeezed regular lime juice)
3/4 cup (10 ounces) sweetened condensed milk
1/2 teaspoon lime zest
1/2 cup whipping cream
2 Tablespoons confectioners' sugar
Lime wedges for garnish
Instructions
Cream Cheese Pastry: Beat butter and cream cheese on high until light and fluffy. Add flour, beating just until combined. Shape Cream Cheese Pastry dough into 24 balls. Place in non-stick, ungreased mini-muffin pan, shaping each into a shell. Chill 30 minutes. Prick each shell, and bake at 400° F for 10 to 12 minutes or until golden brown. Loosen edges of tart shells from pans, using a sharp knife; cool in pan for 10 minutes. Remove from pan and cool completely on wire rack. May be prepared in advance and stored in a ziploc bag.
Key Lime Mixture: Beat egg yolks at medium speed of an electric mixer until thick and lemon colored, about 4 minutes. Heat Key lime juice over medium heat until hot. Gradually stir about one-fourth of hot lime juice into egg yolks, and add to remaining hot lime juice, stirring constantly. Cook, stirring constantly over medium heat for 2 minutes, or until mixture is thickened. Remove from heat and cool 10 minutes. Add sweetened condensed milk and lime zest, stirring well. Transfer to small bowl; cover with plastic wrap, pressing plastic wrap to top of mixture. Refrigerate.
Prepare whipped cream by beating cream on high until thickened. Add confectioners' sugar; continue beating until desired consistency. Transfer to piping bag fitted with #21 star tip.
Spoon filing evenly into baked pastry shells. Pipe whipped cream on top. Garnish with lime slice.
Yield: 24 Mexican Key Lime Tartlets
7.6.7
226
https://pudgefactor.com/mexican-key-lime-tartlets_cream_cheese_pastry/