Spooky Spider Pops are quick and easy to make. They are perfect for your next Halloween Party! Kids, young and old, will love these yummy treats.
Ingredients
The ingredients for the Spooky Spider Pops include chocolate chips, butterscotch chips, unsalted peanuts, chow mein noodles, M&M's (for the eyes), and lollipop sticks.
Making the Spooky Spider Pops
To make these Halloween treats, I started by adding the chocolate chips and butterscotch chips to a microwave-safe bowl. Once melted, these will hold the Spooky Spider Pops together.
When you melt chocolate, you need to be very careful not to get it too hot. Therefore, I microwaved the chocolate/butterscotch chips on 50% power in 30-second increments. I stirred the chips after each 30-second increment to ensure that there were no hot spots. With my microwave (1100 W), it took about 2 minutes to melt the chips.
I added the peanuts and chow mein noodles to the melted chocolate/butterscotch to make the spiders. Then, I stirred the mixture with a wooden spoon to thoroughly coat the peanuts and noodles.
Using a 1¾-inch ice cream scoop, I dropped the spider mixture onto lollipop sticks that were on a piece of parchment paper, and added M&M's for the eyes.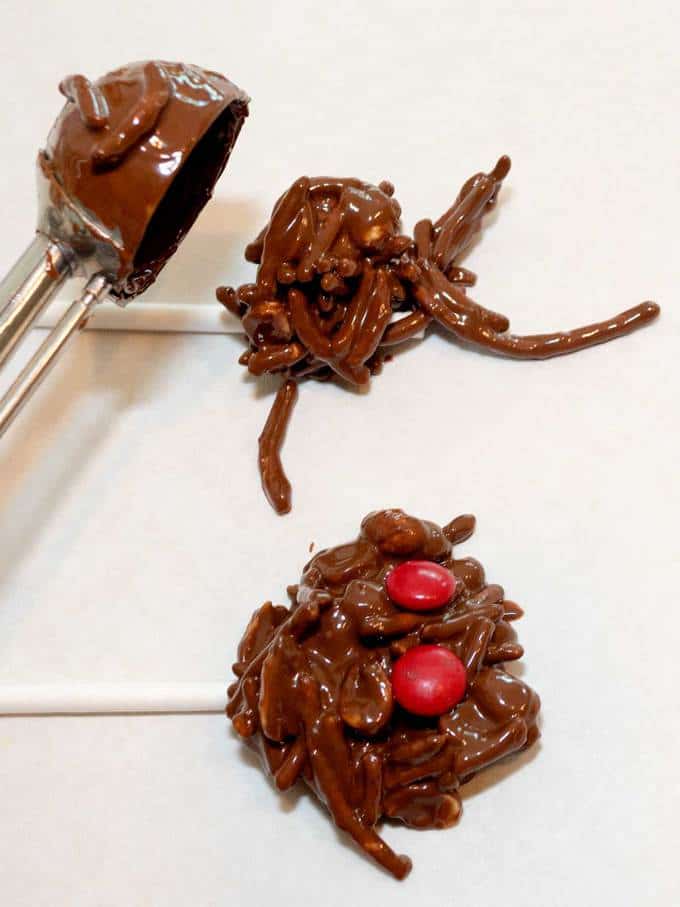 I popped them into the refrigerator for about 20 minutes to harden.
These yummy Spooky Spider Pops are sure to be hit at your Halloween Party. Yum!
f you would like some more Halloween sweets, you should try these amazing recipes:
I hope you liked this recipe for Spooky Spider Pops as much as I do. If so, please consider rating it and leaving a comment. Also, if you'd like to receive notifications of new posts by email, ever your email address in the Subscribe box.
Thank you so much for visiting Pudge Factor. I hope you'll come back!
Ingredients
1

cup

6 ounces chocolate chips

1

cup

6 ounces butterscotch chips

1

cup

4 ounces unsalted peanuts

2

cups

5 ounces chow mein noodles

24

red M&M's

24

yellow M&M's

24

lollipop sticks
Instructions
Melt chocolate chips and butterscotch chips in microwave-safe bowl in 50% power in 30-second increments. Stir well after each 30 seconds.

Add peanuts and chow mein noodles; stir well to coat peanuts and chow mein noodles.

Position lollipop sticks on parchment paper or wax paper. Using 1-3/4 inch ice cream scoop, drop chow mein mixture onto top part of lollipop sticks; flatten slightly.

Top with 2 M&M's for eyes.

Refrigerate until hard, about 20 minutes.

Yield: 24 Spooky Spider Pops.
Tried this recipe?
Please leave a comment below and/or give this recipe a rating. On Instagram? Take a picture and tag @pudgefactor or #pudgefactor.