If you like strawberries and ice cream, you will absolutely love this delicious strawberry ice cream. It's easy to make, and awesome to eat.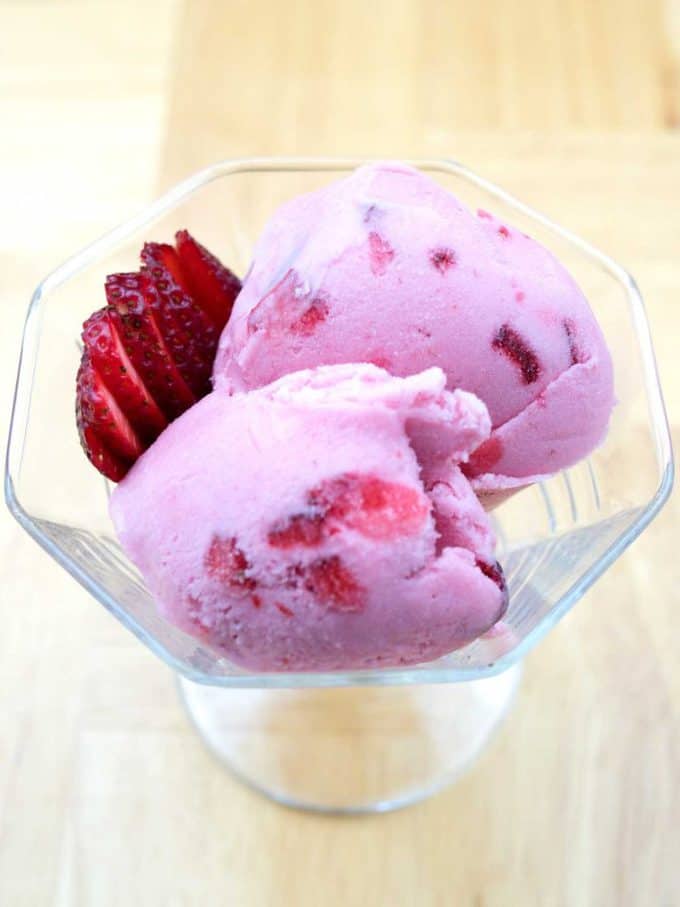 Ingredients
I used the following ingredients to make the Strawberry Ice Cream: Fresh strawberries, sugar, Grand Marnier, half and half, corn syrup, and Kosher salt.
First I hulled and quartered 6 ounces of the strawberries, then I sliced the quarters into very thin pieces. I ended up with about a cup of strawberry pieces. Next I mixed the strawberries with part of the sugar and the Grand Marnier. Then I covered the bowl with plastic wrap and refrigerated it for about 2 hours.
Preparing the strawberries
In the meantime, I hulled the remaining strawberries and puréed them in the blender until they were very smooth. This took about 30 seconds. Then I poured the puréed strawberries into a fine mesh strainer set over a bowl and stirred the mixture to filter out all of the seeds and fibers. I ended up with about 1½ cups of the purée.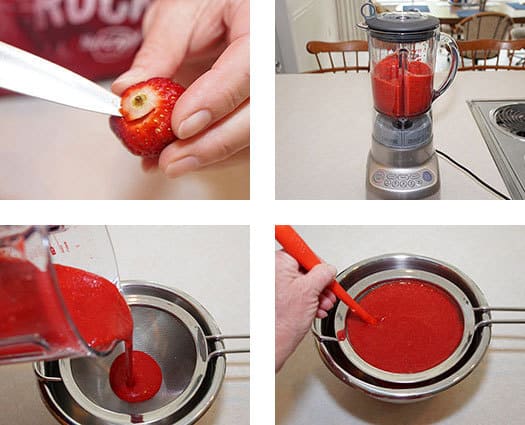 Making the Ice Cream
Next I whisked together the strawberry purée with the half and half, corn syrup, remaining sugar, and Kosher salt until everything was fully combined.
I placed the ice cream mixture in the freezer for about 15 minutes to cool it to at least 45° F.
Then I poured the ice cream mixture into the bowl of the ice cream maker and let it churn until it expanded and became quite thick.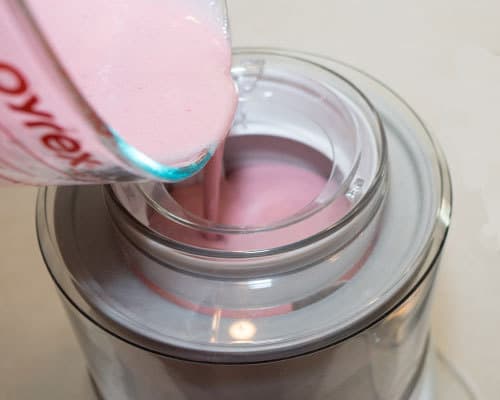 While the ice cream was churning, I poured the strawberry pieces into a fine mesh strainer and allowed them to drain.
Several minutes before it was ready, I added the strawberry pieces to the churning ice cream.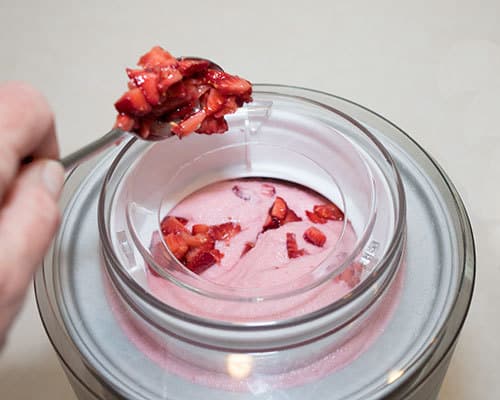 When the ice cream was done, I transferred it to an airtight container and put it in the freezer.
The Strawberry Ice Cream was absolutely delicious! It was neither "icy" nor rock hard, like some homemade ice creams can be. The strawberry pieces were an added bonus. Yum!
The Strawberry Ice Cream is great served in a bowl, but even better in my homemade waffle cones. If you're looking for some more ice cream flavors try my chocolate ice cream or vanilla ice cream.
I hope you liked this recipe for Strawberry Ice Cream as much as I do. If so, please consider rating it and leaving a comment. Also, if you'd like to receive notifications of new posts by email, enter your email address in the Subscribe box.
Thank you so much for visiting Pudge Factor. I hope you'll come back!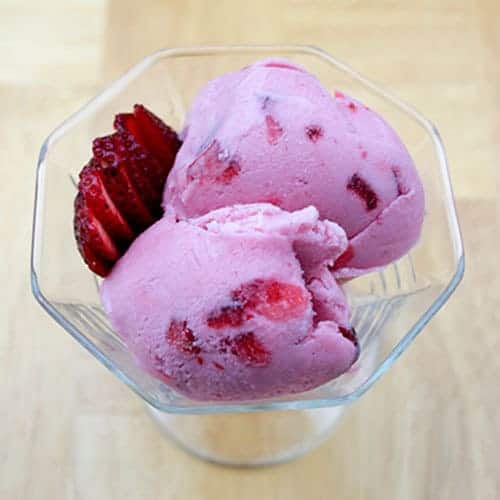 Strawberry Ice Cream
If you like strawberries and ice cream, you will absolutely love this delicious strawberry ice cream. It's easy to make, and awesome to eat.
Print
Pin
Rate
Ingredients
1

quart

(30 ounces, 850 grams) fresh strawberries, divided

1 ¼

cups

(8.75 ounces, 248 grams) sugar, divided

¼

cup

(2 ounces, 57 grams) 80-proof liquor such as Vodka or preferably, Grand Marnier

2

cups

(16 ounces, 454 grams) half and half

½

cup

(5.5 ounces, 156 grams) light corn syrup

½

teaspoon

Kosher salt
Instructions
At least 24 hours before making the ice cream, place bowl of ice cream maker in freezer.

Hull and quarter 6 ounces (about 1 cup) strawberries; slice quarters crosswise into very thin pieces. In a mixing bowl, combine strawberries with ½ cup sugar and alcohol, and let stand in refrigerator for at least 2 hours and up to 2 days.

Hull remaining strawberries and purée at high speed in a blender until very smooth, about 30 seconds. Strain through a fine mesh strainer to filter out all seeds and fibers, then measure and reserve 1 ½ cups purée. Extra purée, if there is any, can be put to another use.

In a clean mixing bowl, whisk together 1 ½ cups strawberry purée with half and half, corn syrup, and remaining ¾ cup sugar until fully combined. Add salt to taste, and, if mixture is too sweet, a few drops of lemon juice.

Chill in freezer or ice bath until base is very cold, at least 45°F, then churn in ice cream maker according to manufacturer's instructions. In the last few minutes of churning, retrieve strawberry pieces from the refrigerator, strain off syrup, and add pieces to the churn. Transfer ice cream to airtight container and chill in freezer for at least 4 hours before serving. Yield: 1 quart.
Nutrition
Calories:
315
kcal
|
Carbohydrates:
59
g
|
Protein:
2
g
|
Fat:
7
g
|
Saturated Fat:
4
g
|
Cholesterol:
22
mg
|
Sodium:
184
mg
|
Potassium:
259
mg
|
Fiber:
2
g
|
Sugar:
53
g
|
Vitamin A:
230
IU
|
Vitamin C:
70.1
mg
|
Calcium:
85
mg
|
Iron:
0.5
mg
Tried this recipe?
Please leave a comment below and/or give this recipe a rating. On Instagram? Take a picture and tag @pudgefactor or #pudgefactor.