Brining is a technique in which chicken or other meat is soaked in a brining solution for a period of time before it is cooked. Over the years, I've tried different formulations of brine. However, I keep coming back to this basic recipe which includes only three ingredients: Kosher salt, granulated sugar, and water.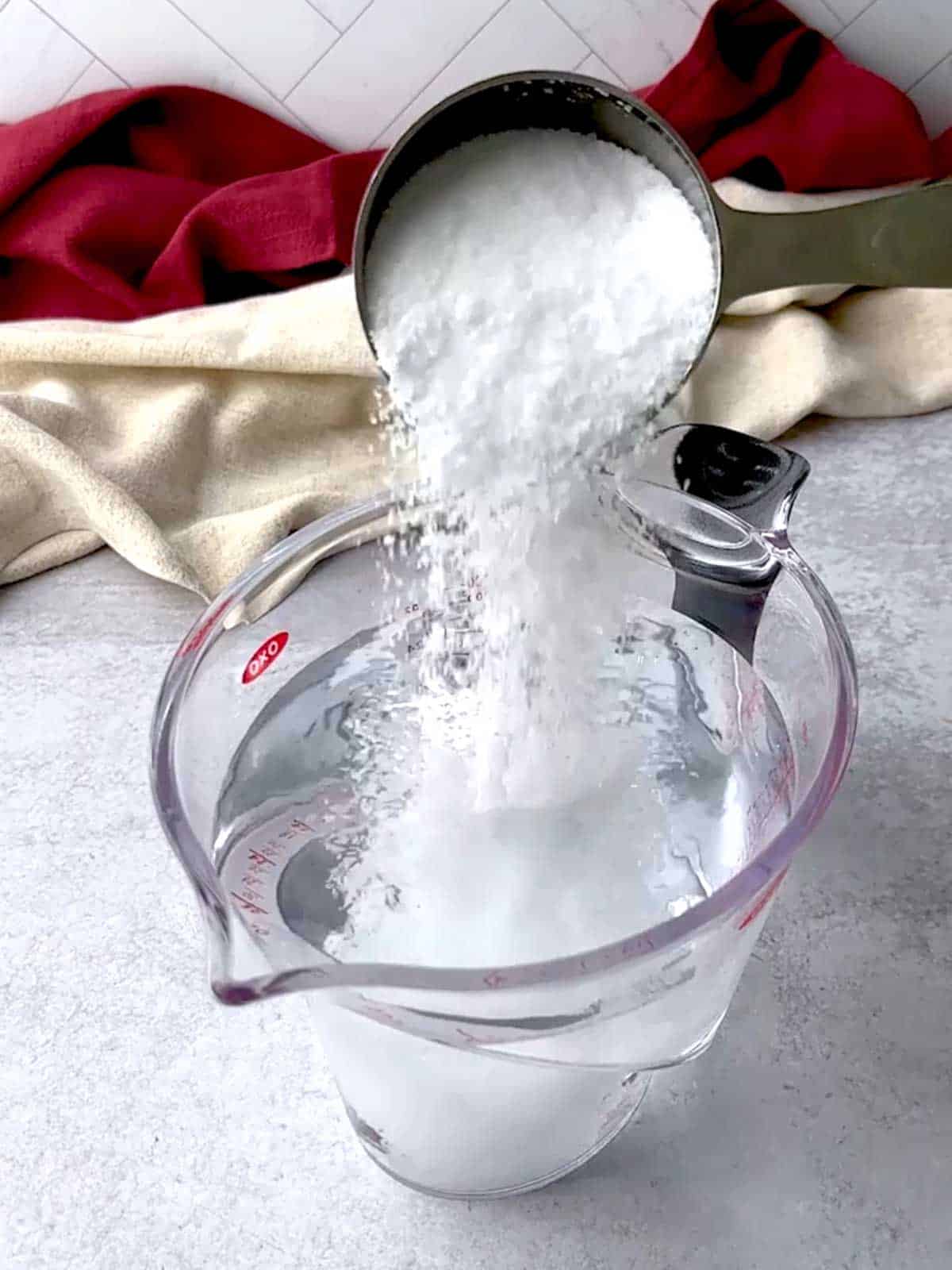 I use this simple technique for chicken breasts, chicken thighs, and even whole chicken like my Roasted Chicken with Vegetables.
Jump to:
Why You Should Brine Chicken
Many of my recipes call for skinless, boneless chicken breasts. Nothing is worse than going through the steps of making what should be a delicious recipe only to find that the chicken lacks flavor and is tough. Brining the chicken mitigates this by adding the following to the chicken.
Moisture: During brining, the salt causes the muscle fibers of the chicken to relax. This allows the water to be absorbed into the chicken. As a result, the chicken stays moist during cooking.
Flavor: Both the salt and the sugar in the brining solution add flavor to the chicken. Salt is a natural flavor enhancer, and the sugar balances out the saltiness, adding a subtle sweetness.
Tenderness: Without brining, chicken tends to dry out and loses some of its natural tenderness. Salt breaks down the protein structure of the chicken, enhancing its tenderness.
Simple Ingredients for Maximum Benefit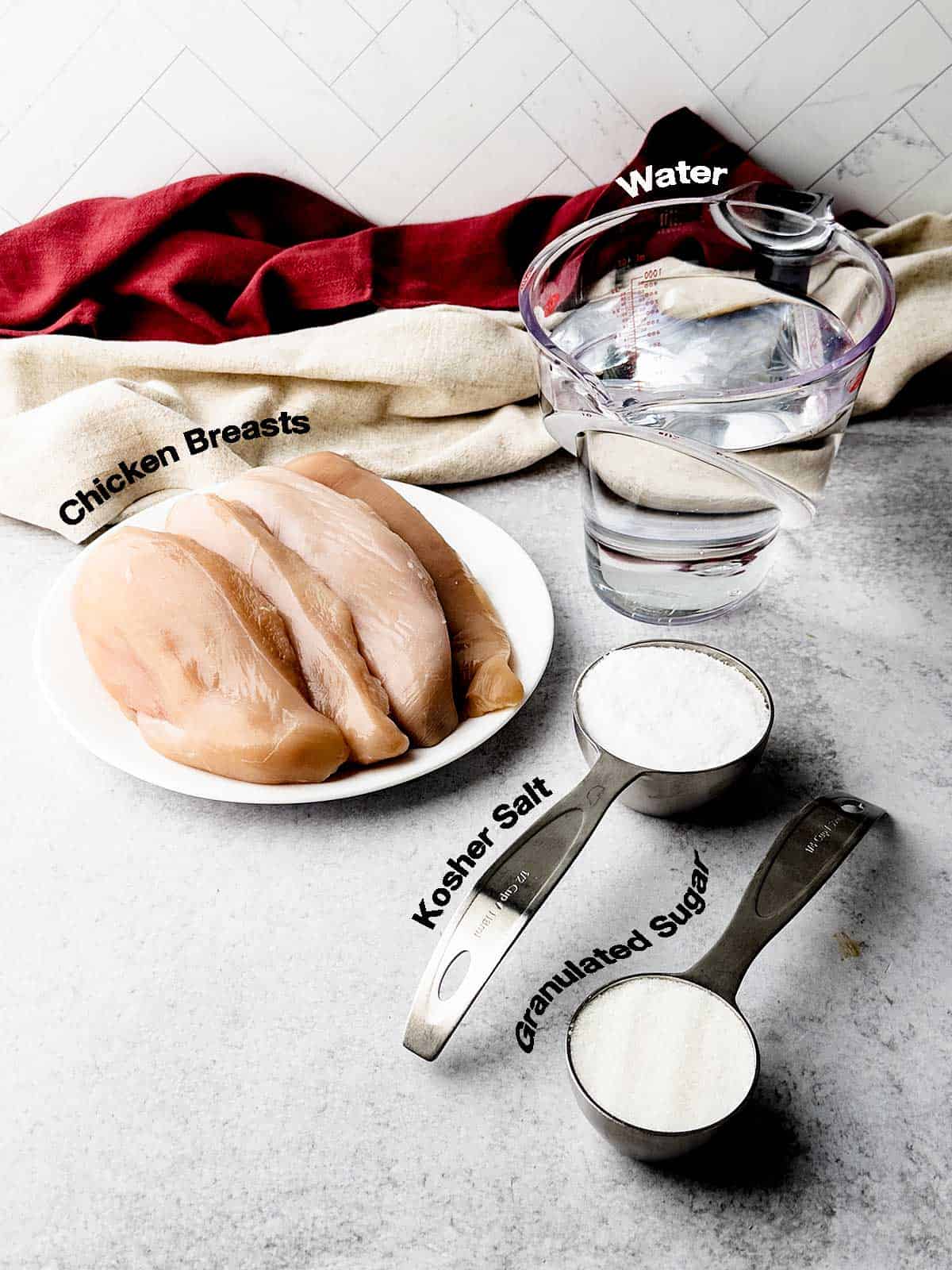 My go-to brine for chicken uses only three basic ingredients:
Salt: Salt is a key ingredient in brining. I use Morton Kosher salt.
Sugar: Granulated sugar counters the saltiness of the brine.
Water: The liquid in the brining solution is ordinary water. I tend to use filtered water from my refrigerator since regular tap water can sometimes contain higher than normal amounts of chlorine.
Chicken Breasts: This recipe works well on not only chicken breasts but also chicken thighs and whole chicken.
Making the Basic Chicken Brine
My recipe includes not only simple ingredients but also basic techniques.
Specifically, I add Kosher salt and granulated sugar to water.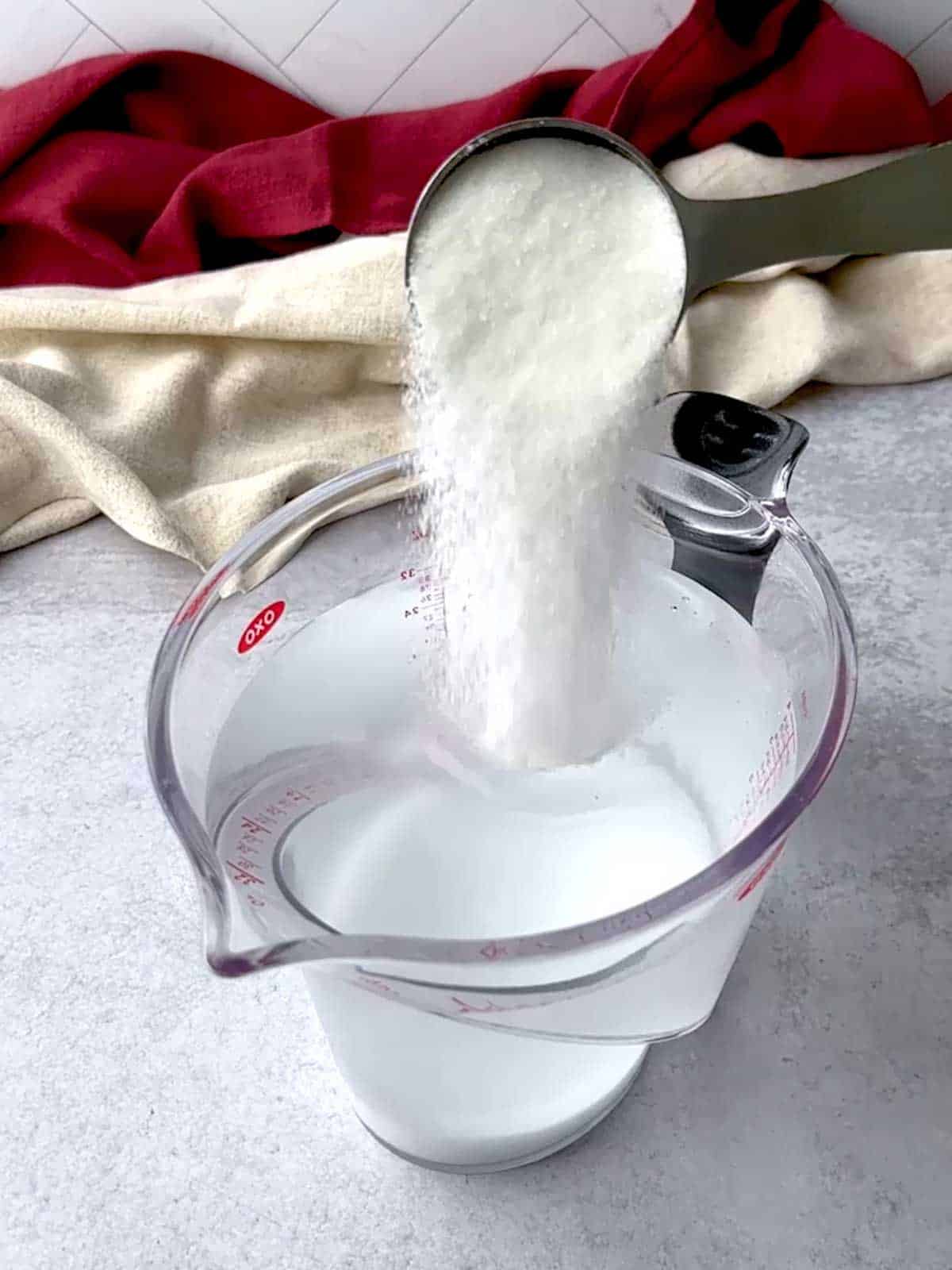 Next, I whisk the mixture until the salt and sugar have dissolved in the water.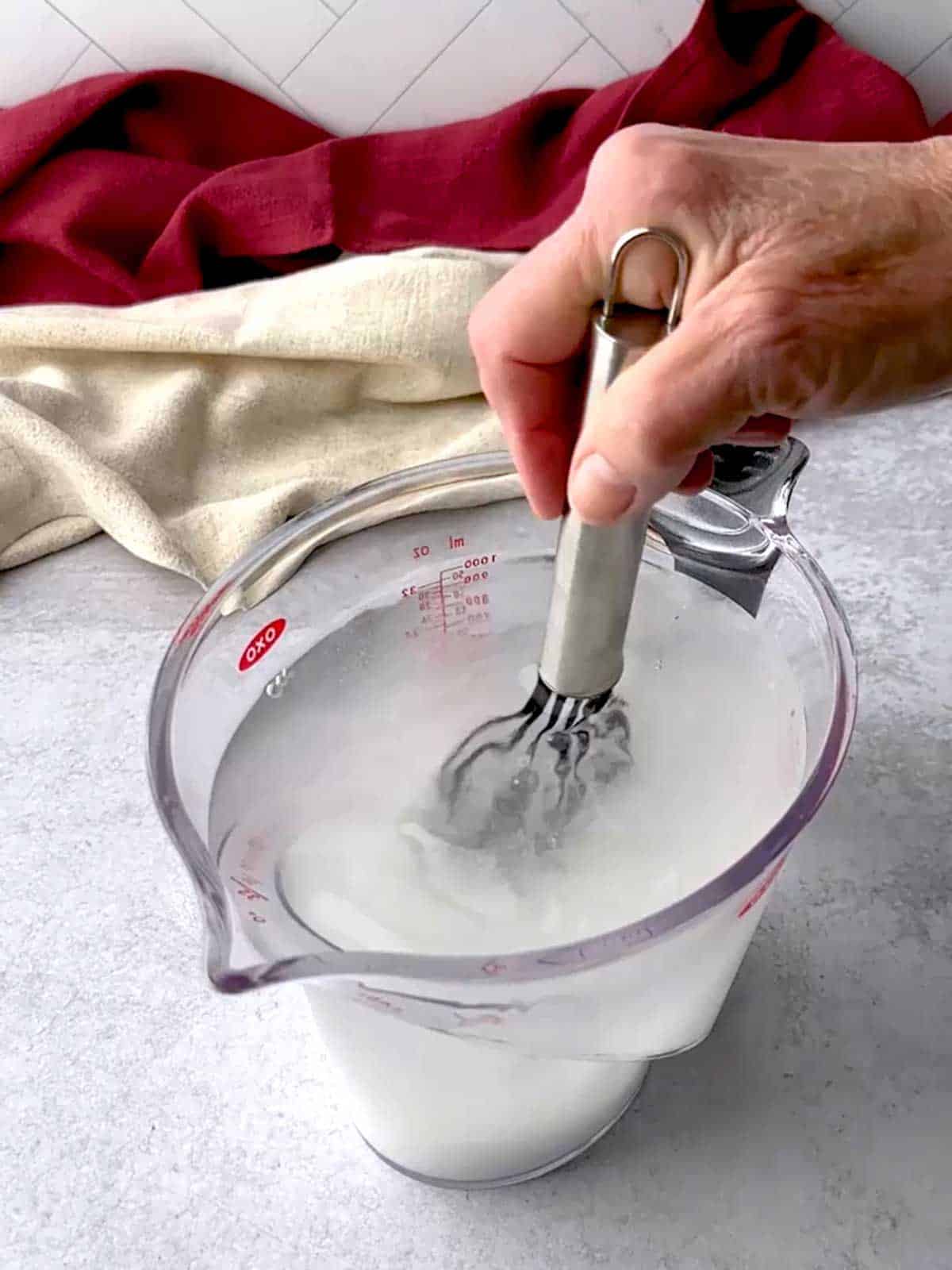 After that, add the chicken to a bowl. Then, I pour the brining solution onto the.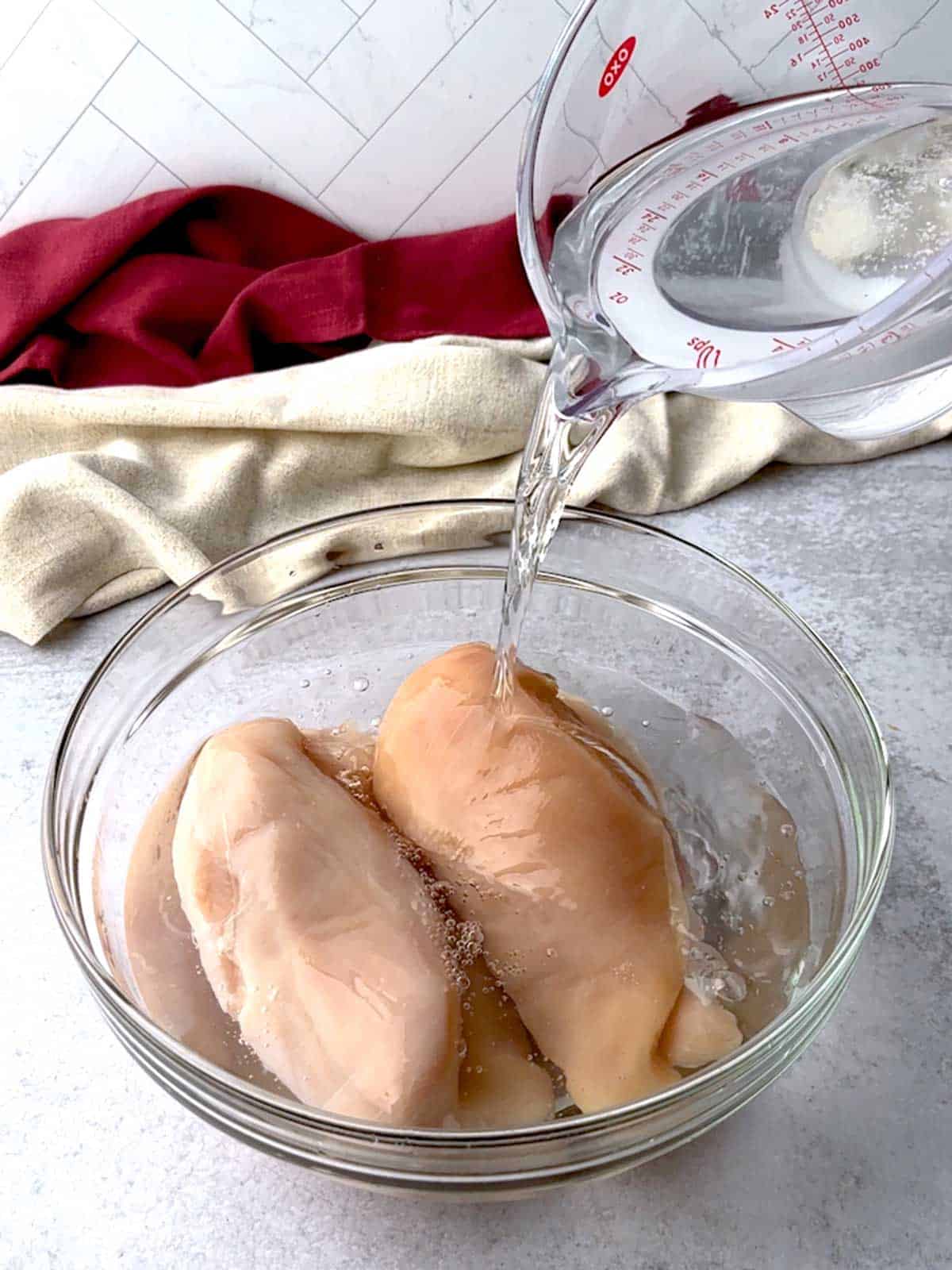 Finally, I cover the chicken and brining solution with plastic wrap and refrigerate it for at least an hour but up to six hours.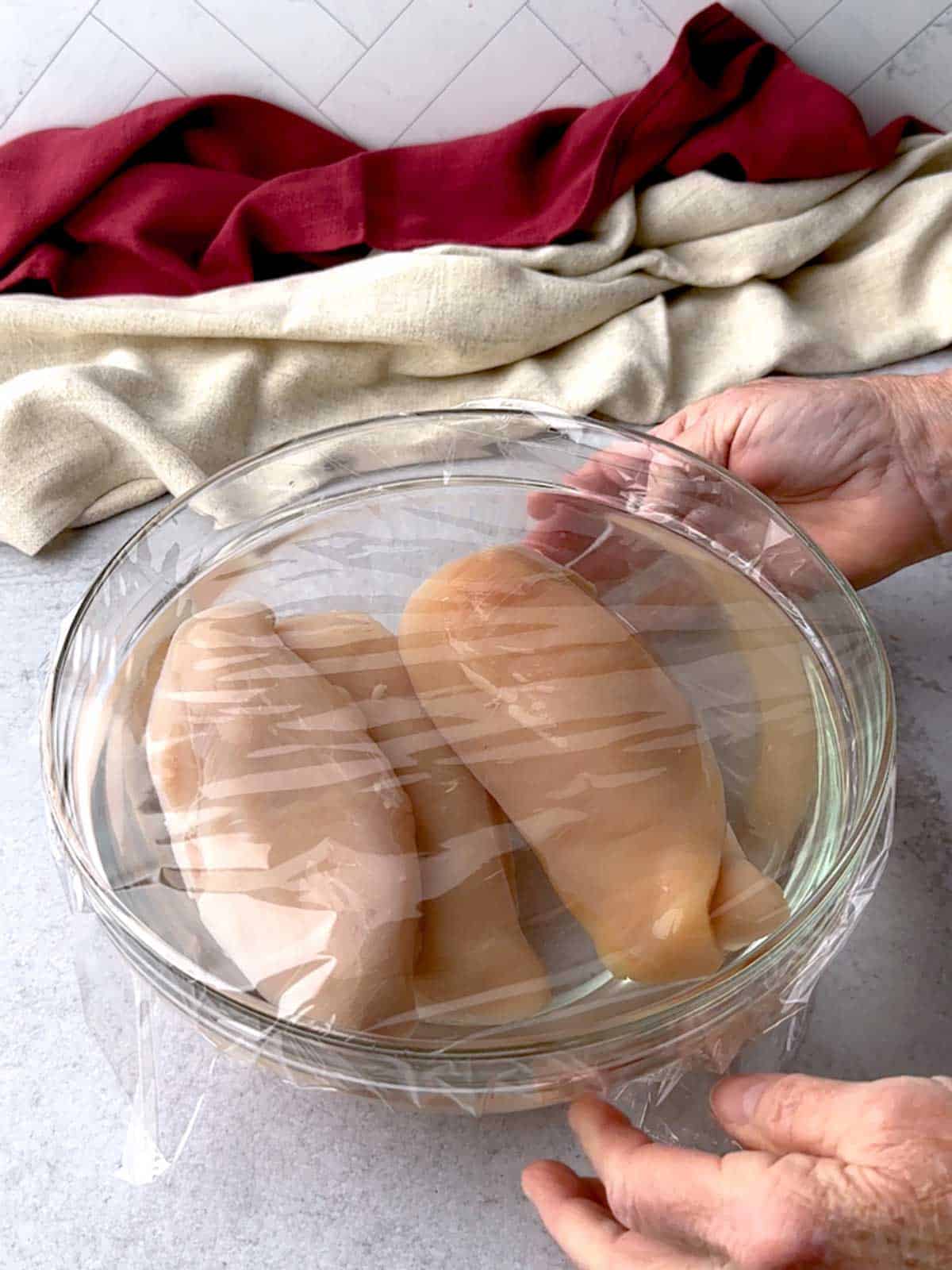 Before using the chicken, I rinse it well and pat it dry. Then, I proceed with whatever recipe I'm making.
Overall, brining is a simple and effective way to enhance the flavor and tenderness of the chicken. Yum!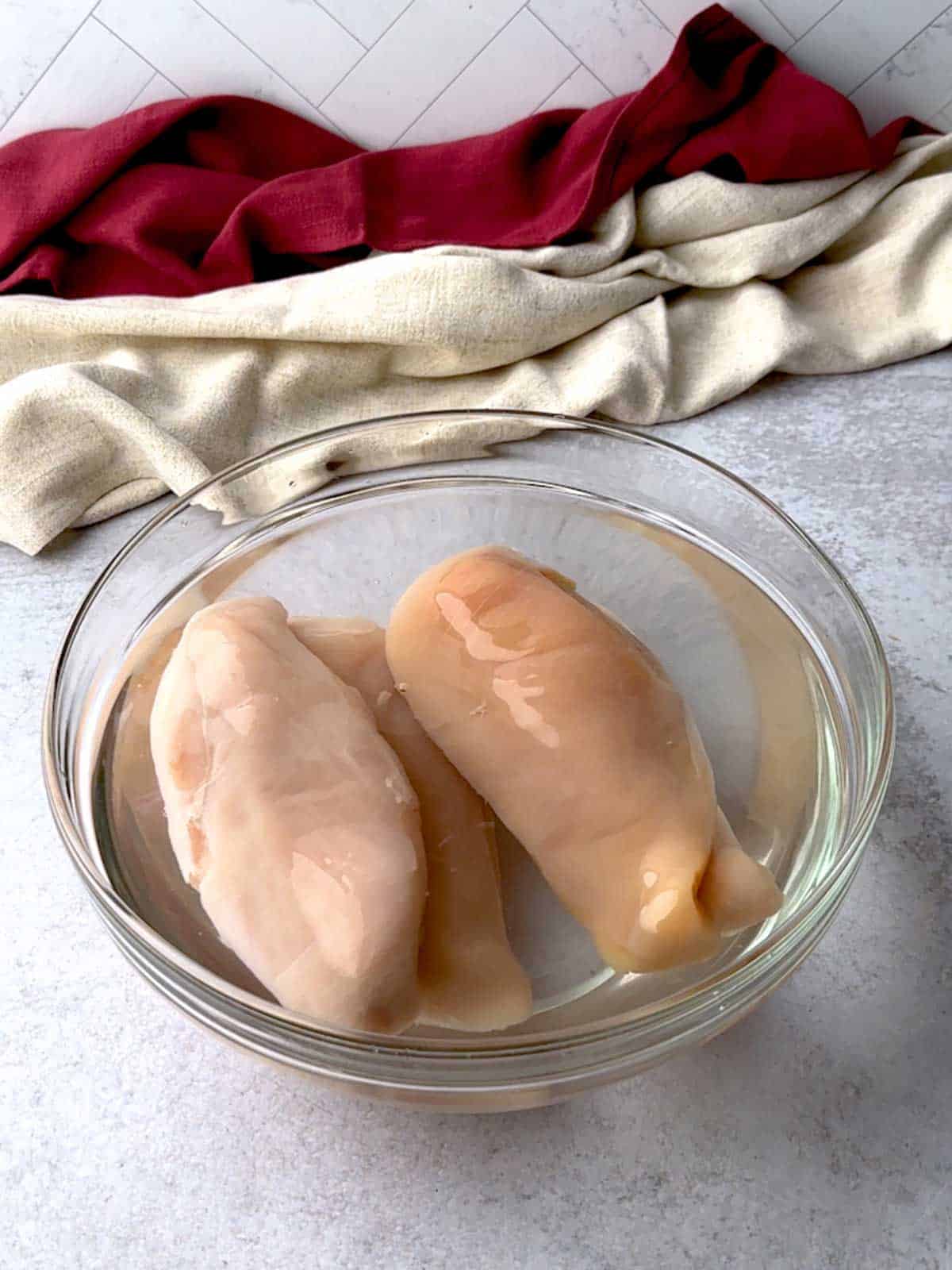 Recipe FAQ
Can other ingredients be added to the brining solution?
This is a basic recipe for a brining solution. However, you can substitute brown sugar or honey for the granulated sugar. Also, you can add different herbs, lemons, or oranges.
Should the brining solution be heated before using it?
Some recipes will call for brining the brining solution to a boil and cooling it before use. With this simple recipe, I don't find that to be necessary.
Can the brining solution be reused?
You should never reuse the brining solution. The reason is that it can contain harmful bacteria from the raw chicken.
Does brining alter the cooking time?
Because the brine alters the protein structure of the chicken, the cooking time may be affected.
Should the chicken be refrigerated while it's brining?
It is important to refrigerate the chicken during brining to prevent the growth of harmful bacteria.
I hope you liked this recipe for Basic Chicken Brine as much as I do. If so, please consider rating it and leaving a comment. Also, if you'd like to receive notifications of new posts by email, enter your email address in the Subscribe box.
Thank you so much for visiting Pudge Factor. I hope you'll come back!
Recipe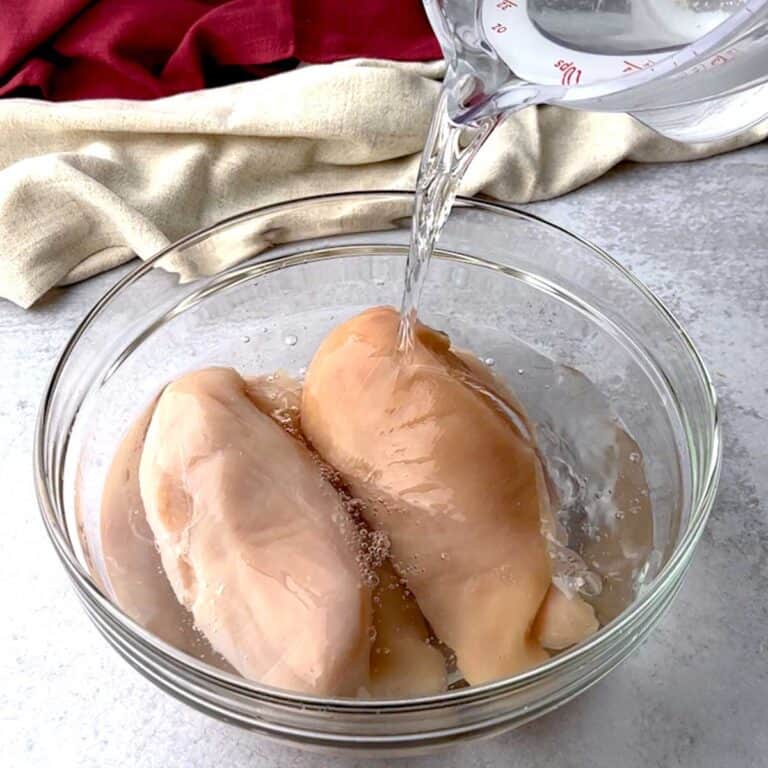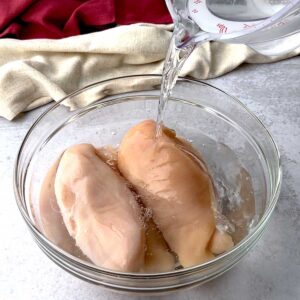 Basic Chicken Brine
Basic Chicken Brine is a salt and sugar solution used to soak chicken or other meat to enhance flavor, moisture, and tenderness.
Ingredients
½

cup

kosher salt (See Tip 1)

¼

cup

granulated sugar

1

quart

(4 cups) water

4

boneless skinless chicken breasts, trimmed of fat (See Tip 2)
Instructions
Whisk together the salt, sugar, and water.

Place chicken in a bowl. Pour brine on the chicken. Cover with plastic wrap. Refrigerate for at least one hour and up to six hours.

Before using the chicken, rinse well and pat dry.

Yield: 4 brined chicken breasts.
Tips/Notes
I used Morton Kosher salt. If you use regular table salt, reduce the amount to ⅓ cup.
Each piece of chicken that I used weighed approximately 8 ounces.
Nutrition
Calories:
177
kcal
Carbohydrates:
12
g
Protein:
24
g
Fat:
3
g
Saturated Fat:
1
g
Polyunsaturated Fat:
0.5
g
Monounsaturated Fat:
1
g
Trans Fat:
0.01
g
Cholesterol:
72
mg
Sodium:
14278
mg
Potassium:
421
mg
Sugar:
12
g
Vitamin A:
34
IU
Vitamin C:
1
mg
Calcium:
15
mg
Iron:
1
mg