Hasselback potatoes are the Swedish version of a baked potato. However, they are so much more – tender on the inside like a baked potato, and crispy on the outside like a roasted potato. Add cheese and bacon, and you have an awesome combination that is sure to WOW even your pickiest eater!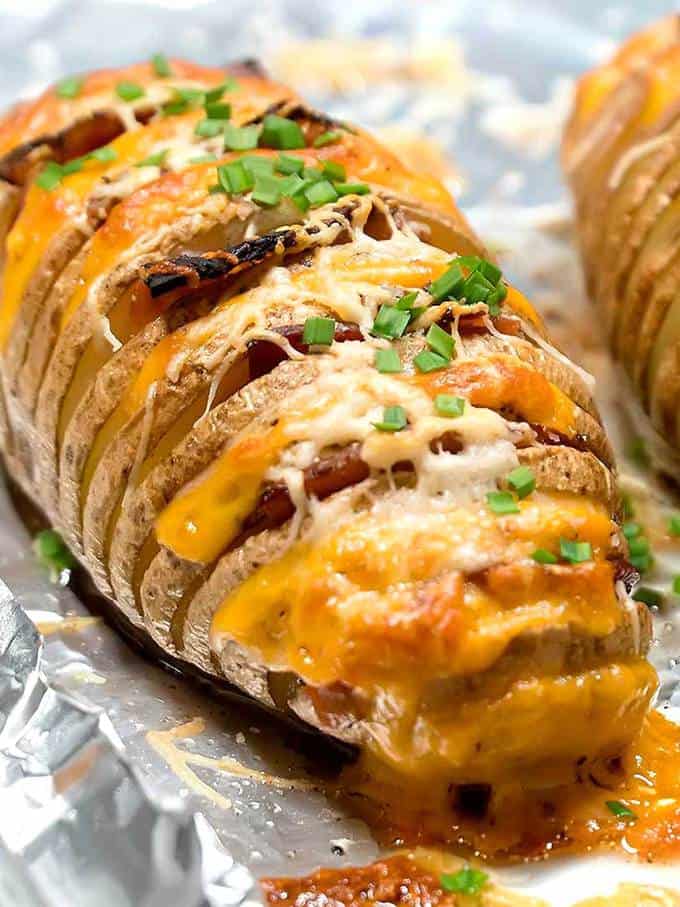 Ingredients for Cheesy Bacony Hasselback Potatoes:
I used the following ingredients for these delicious potatoes: Baking potatoes, unsalted butter, olive oil, Kosher salt, freshly ground black pepper, sharp Cheddar cheese, bacon, Parmesan cheese, and fresh chives.

Making the Cheesy Bacony Hasselback Potatoes:
I started by cutting a thin lengthwise slice off the bottom of each potato. Then, I placed the potato in a shallow butter dish. I cut the potato with a sharp knife into 1/4-inch slices, stopping when the knife hit the butter dish. I know that a lot of recipes for Hasselback potatoes suggest placing the potato between two wooden spoons to prevent cutting the slices all the way through. However, I think that a butter dish works much better!
Next, I microwaved the potatoes for about six minutes until they were almost tender. I placed the potatoes, on a foil lined baking sheet, and brushed them with a mixture of melted butter and olive oil. Then, I sprinkled them with Kosher salt and freshly ground black pepper. 
I popped the potatoes into a preheated 450° F oven for 15 minutes until they were fully cooked. I removed the potatoes from the oven, and let them cool for about 15 minutes. Next, I inserted the cheese slices and bacon pieces alternately between the potato slices. Finally, I sprinkled the potatoes with some freshly grated Parmesan cheese. I placed the potatoes under the broiler for several minutes, until the cheese was nicely melted and slightly browned.
Before I served the Cheesy Bacony Hasselback potatoes, I garnished them with fresh chives. I put together this brief video that shows how I made these awesome potato.
I was blown away when I tasted these Cheesy Bacony Hasselback Potatoes. They were incredible. Yum!
Cheesy Bacony Hasselback Potatoes
Ingredients
2 (10 to 12-ounce) baking potatoes, scrubbed clean
2 Tablespoons unsalted butter, melted
1 Tablespoon olive oil
Kosher salt
Freshly ground black pepper
4 slices sharp Cheddar cheese (about 3 ounces) cut into 6 pieces each (for a total of 24 pieces)
3 slices bacon, cooked and broken into 8 pieces each (for a total of 24 pieces)
2 Tablespoons grated fresh Parmesan cheese
1 Tablespoon fresh chives, minced (for garnish)
Instructions
Cut a lengthwise thin slice from bottom of each potato.
Place potato, cut side down, in butter dish, or between the handles of two wooden spoons
Using a sharp knife, cut 1/4-inch crosswise slices, making sure that you do not cut all the way through.
Microwave the potatoes on high 5 to 6 minutes, or until almost tender. Remove from microwave and place on foil lined baking sheet with sides.
Preheat oven to 450° F.
Combine melted butter and olive oil in small bowl. Brush butter mixture over tops of potatoes and in between slices. Sprinkle with salt and pepper. Bake for 15 minutes in preheated oven, or until potatoes are tender.
Remove from oven; let cool for 15 minutes.
Set oven to broil.
Place alternating slices of cheese and pieces of bacon between potato slices. Sprinkle with grated Parmesan cheese.
Broil for 2 to 3 minutes, or until cheese is melted and lightly browned. Garnish with chives.
Yield: 2 Cheesy Bacony Hasselback Potatoes.
7.6.7
273
https://pudgefactor.com/cheesy-bacony-hasselback-potatoes/