Hummus is an Eastern Mediterranean dip or spread made from cooked, mashed chickpeas or other beans, and blended with tahini, olive oil, lemon juice, garlic, and salt. This Classic Roasted Garlic Hummus is absolutely delicious, and is easy to make.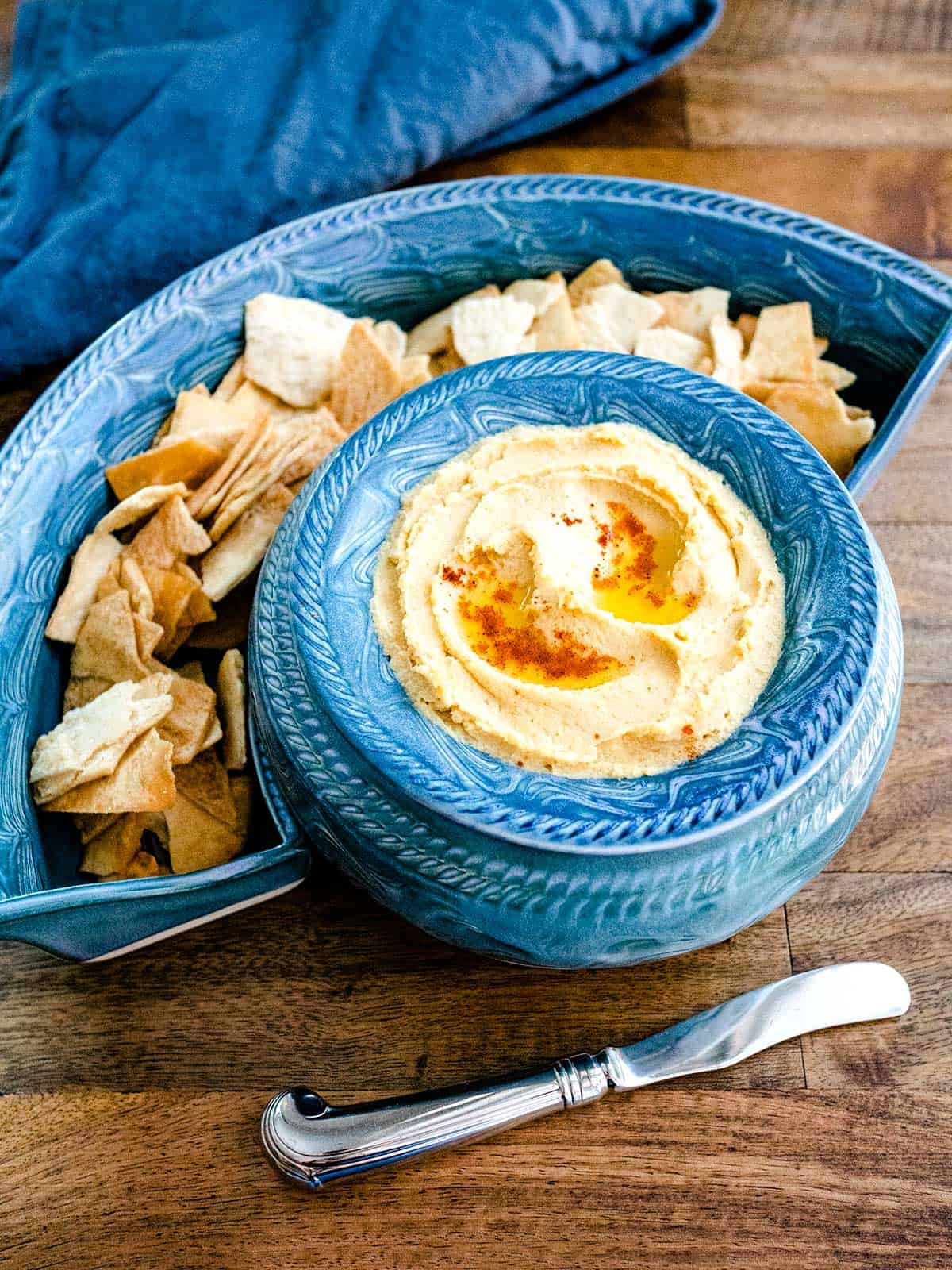 Ingredients: Here's What You'll Need
I used the following ingredients for this incredible hummus: Chickpeas (a.k.a. Garbanzo Beans), tahini, sour cream, roasted garlic, fresh lemon juice, olive oil, and salt. The reason that I used roasted garlic was to produce a milder garlic flavor.
Here's How I Made the Hummus
I started by roasting a whole garlic bulb. To do this, I preheated the oven to 400°F.
While the oven was heating up, I cut about ¼ off the top of the garlic and drizzled it with about a teaspoon of olive oil. I popped it into the oven for about 30 minutes – a perfectly roasted bulb of garlic.
While the garlic was roasting, I drained and rinsed the chickpeas, reserving some of the liquid. The reason for reserving the liquid was that I used it later to achieve the perfect consistency of the hummus.
Next, I peeled the skins off the chickpeas. This is really easy to do – just pinch the chickpeas between your fingers and the skins pop right off.
This may seem an overkill, but it's totally worth the effort of getting rid of the skins. Otherwise, you'll never achieve the totally creamy texture of the hummus.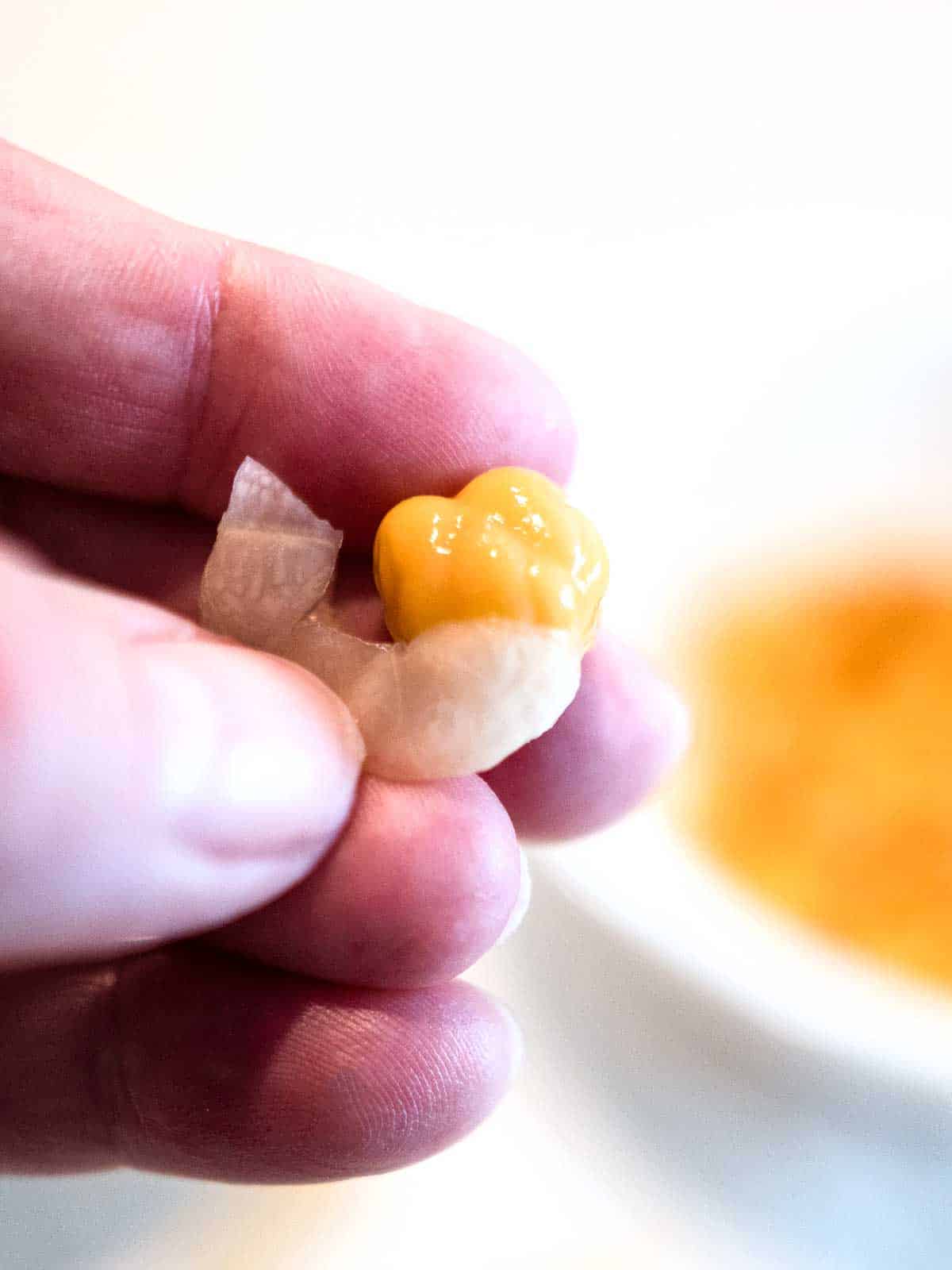 Once the garlic had cooled, I added all of the hummus ingredients to the food processor fitted with the steel blade. I processed the hummus until everything was nicely incorporated.
Part way through the processing, I added several tablespoons of the reserved chickpea liquid to achieve the perfect creamy texture.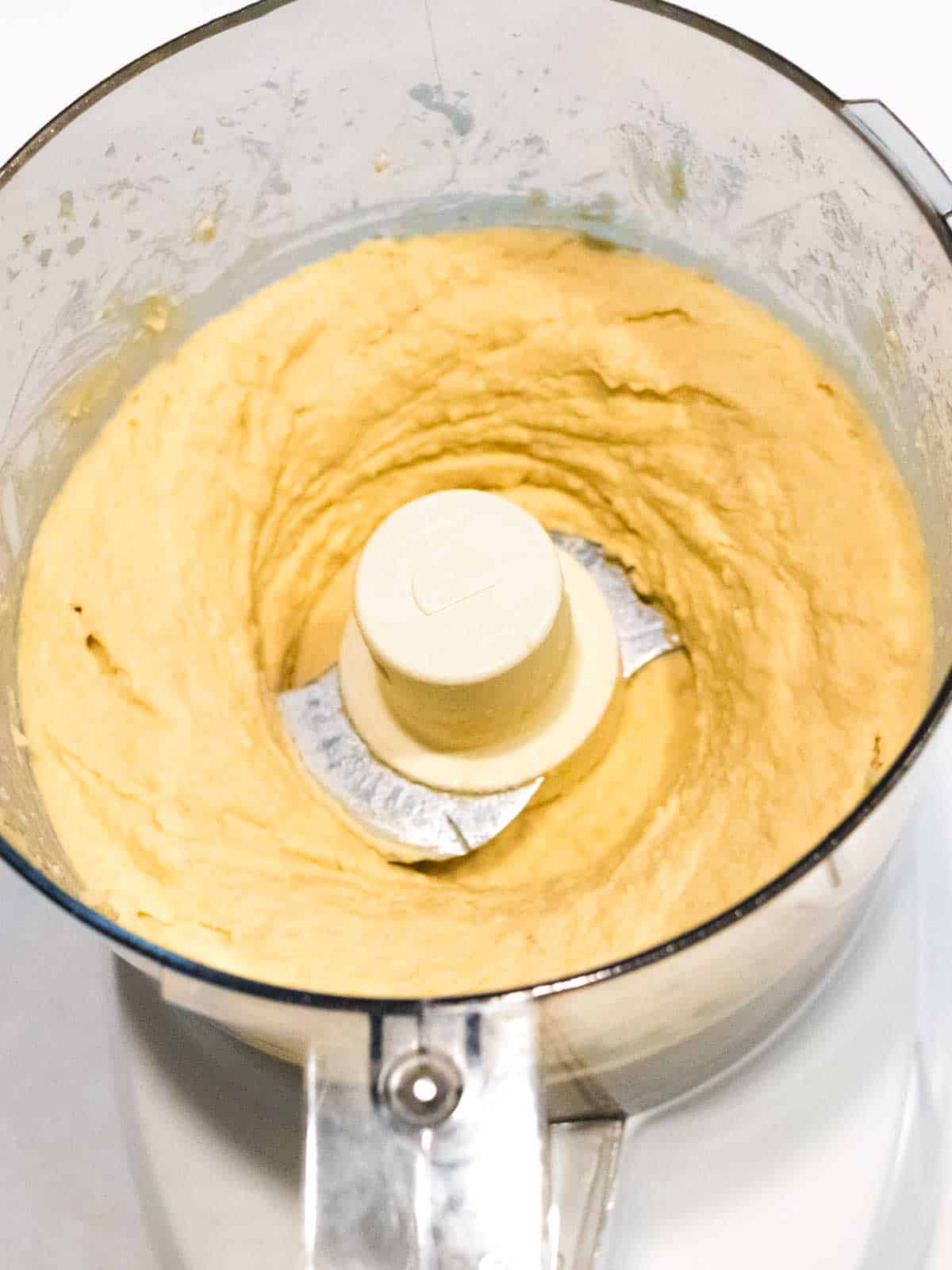 I ended up with about 3 cups of incredible Classic Roasted Garlic Hummus.
I served the hummus with pita chips and honestly, couldn't stop eating it. The Master Taste Tester dug in as well. Yum!
Frequently Asked Questions
What's the difference between chickpeas and garbanzo beans?
There's no difference between chickpeas and garbanzo beans. The names are used interchangeable for the same delicious superfood.
Can home cooked chickpeas be used in place of canned chickpeas?
Home cooked chickpeas can be used interchangeably in this recipe.
Can raw garlic be substituted for the roasted garlic?
Roasted garlic in this recipe produces a milder garlic taste than raw garlic. However, you can substitute 2 to 4 cloves of minced raw garlic for the roasted garlic.
What is tahini?
Tahini which is a main ingredient in hummus is a paste made from toasted hulled sesame seeds that are ground and emulsified with oil and sometimes salt to create a smooth, creamy seed butter with a pourable consistency. Tahini is generally available in the grocery store in the condiment section or the ethnic food section.
Is there a substitute for tahini?
Tahini is basically a seed butter. Therefore, if you're unable to find tahini, try substituting cashew butter, almond butter, peanut butter, greek yogurt or sesame oil. The hummus won't taste quite the same, but will still be good.
What can be served with hummus?
I like to keep things simple and serve my hummus with pita chips. However, hummus is also delicious with fresh vegetables like carrots, radishes, broccoli, bread, crackers, etc.
How long does hummus last in the refrigerator?
If covered and refrigerated, the hummus should last 3 to 4 days.
Other Amazing Dips
For other amazing dips, check out these recipes:
Classic Roasted Garlic Hummus
Hummus is an Eastern Mediterranean dip or spread made from cooked, mashed chickpeas or other beans, and blended with tahini, olive oil, lemon juice, garlic, and salt.
Print
Pin
Rate
Ingredients
2

15.5-ounce

cans chickpeas or garbanzo beans, drained (reserve liquid) and rinsed

2

Tablespoons

tahini

4

Tablespoons

sour cream or plain yogurt

1

head

garlic, roasted (See Tip 1)

4

Tablespoons

fresh lemon juice, about ½ lemon

6

Tablespoons

olive oil

¼

teaspoon

salt

2

Tablespoons

Reserved liquid, or more if necessary for desired consistency
Instructions
Remove skins from chickpeas by pressing between fingers.

Combine all ingredients in food processor fitted with steel blade. If hummus is too thick, add some of the reserved liquid from the chickpeas, and blend again until desired consistency is reached. You could also add one more tablespoon of yogurt or sour cream to make the hummus creamier.

If desired, garnish with a drizzle of olive oil and paprika, or toasted pine nuts or black olives.

Refrigerate until ready to serve.

Serve with pita chips or crackers.
Chula's Expert Tips
For a variation on the classic hummus, add black olives or roasted peppers before blending.
Nutrition
Calories:
203
kcal
|
Carbohydrates:
21
g
|
Protein:
7
g
|
Fat:
10
g
|
Saturated Fat:
1
g
|
Sodium:
106
mg
|
Potassium:
234
mg
|
Fiber:
5
g
|
Sugar:
3
g
|
Vitamin A:
20
IU
|
Vitamin C:
3.2
mg
|
Calcium:
49
mg
|
Iron:
2.3
mg
Tried this recipe?
Please leave a comment below and/or give this recipe a rating. On Instagram? Take a picture and tag @pudgefactor or #pudgefactor.