For dinner tonight, we're having leftover meatloaf that the Master Taste Tester made earlier in the week. I thought that I would pair it with steamed fresh broccoli and Julia Child's Grated Potato Galettes from The Way to Cook.
This is an incredible cookbook that has never failed to produce exceptional results. The Grated Potato Galettes are no exception. They are not only absolutely delicious, but also easy to make with a minimum of ingredients.
The ingredients include baking potatoes, clarified butter, salt and pepper.
To make this dish, it is imperative that baking potatoes be used, and that they are cooked far enough in advance that they are cold for the proper grating. Therefore, before I left for work this morning, I steamed two large baking potatoes for about 20 minutes until they were slightly underdone, and then refrigerated the potatoes until I was ready to grate them.
I also made the clarified butter ahead of time. I started with a stick of unsalted butter that I had cut into small pieces and placed in a microwave-safe measuring cup. I microwaved it on 50% power for about 2 minutes, checking it at the 1 minute mark, until the butter was melted and the milk solids had risen to the top. After letting the melted butter sit for 10 minutes, I used a gravy ladle to carefully skim off the foamy milk solids, leaving behind the perfectly clarified butter.
I peeled the cold potatoes and rubbed them through the large holes of a grater onto a baking sheet.
Then, I placed the grated potatoes in a large bowl, and tossed them with a half teaspoon of Kosher salt and a quarter teaspoon of freshly ground black pepper.
When it was time to start cooking, I added half of the clarified butter to a 10-inch skillet, and heated it over medium heat for several minutes.
I added the grated potatoes and pressed them lightly to form a compacted disk.
I cooked the potatoes over medium heat for about 10 minutes until they were browned and crispy on the bottom.  I carefully flipped the galette onto a plate, added the rest of the clarified butter to the pan, and slid the galette back into the pan to cook the other side.
After another 10 minutes or so, the underside of the galette was perfectly browned and crispy. I turned the galette onto a cutting board, sprinkled it with chopped fresh parsley and cut it into serving size pieces.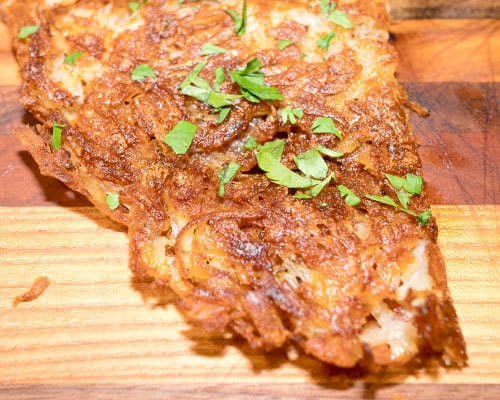 This was a perfect accompaniment to the Master Taste Tester's meatloaf. Yum!
Grated Potato Galettes à la Julia Child (adapted from The Way to Cook)
Time for Potatoes to cool.
Grated Potato Galette is crispy and delicious. It's easy to make, and incredibly versatile. It makes an elegant side dish.
Keyword:
Potato Pancakes, Potatoes
Ingredients
2

or 3 large baking potatoes about 12 ounces each

(See Note 1)

½

cup

clarified butter or olive oil

Salt and freshly ground black pepper
Instructions
Cooking the Potatoes
Several hours or a day in advance: Scrub the potatoes under hot running water; then steam them for 15 to 20 minutes, until the potatoes are almost but not quite cooked. After 15 minutes, pierce one with a sharp small knife which should just penetrate. Cut one of the potatoes in half crosswise: if there is a raw central core, steam several minutes more. (If the central core is not cooked through, it can discolor.) Let the potatoes cool uncovered or refrigerated; the potatoes must be thoroughly cold before you grate them.
Grating the Potatoes
Peel the cold potatoes and rub through the large holes of the grater onto a baking sheet or tray (the food processor does not work well here). Toss lightly with a sprinkling of salt (try 1/2 teaspoon) and pepper (try 1/4 teaspoon), leaving them loosely massed; set aside until time to sauté.
Sautéeing the Potato Galette
Heat half of the clarified butter in a 10-inch non-stick frying pan over medium heat. When hot, add grated potatoes. Sauté over medium heat for 10 to 15 minutes, pressing the potatoes together lightly with a spatula, until the bottom has crusted and browned. Flip onto a plate; add remaining clarified butter and slide galette back into pan; sauté to brown the other side, about 10 minutes. Cut into serving pieces. Yield: 4 servings.
Recipe Notes
Russet potatoes work best in this recipe because of their starch content. Avoid Yukon Gold and Red Potatoes.
The galette may be sautéed ahead of time and reheated briefly in a 425° F oven.
Rather than making one large galette, you can make individual galettes. Also, rather than flipping the large galette, you can brown the top under the broiler.