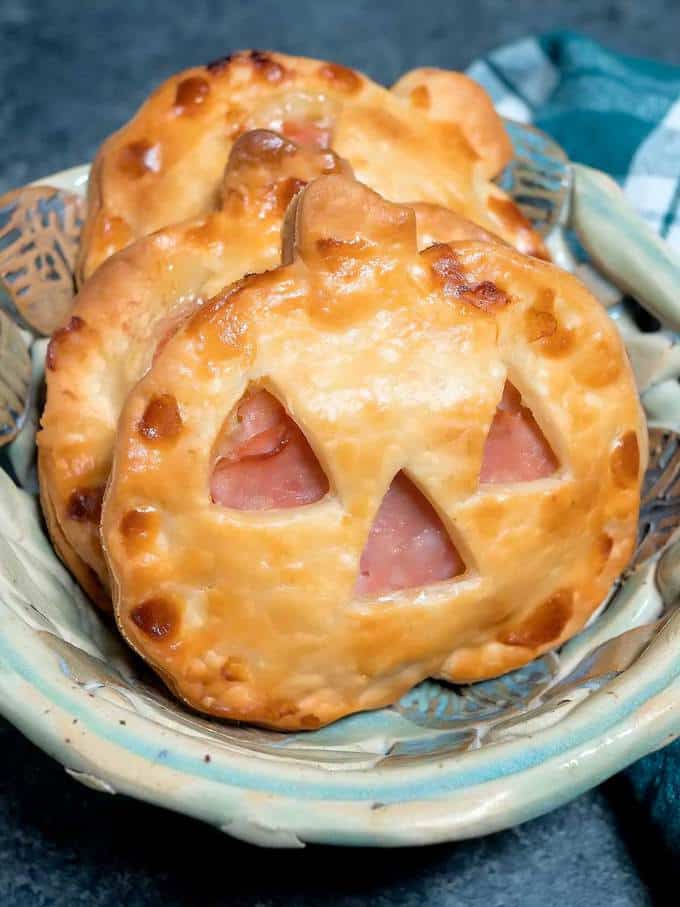 For a quick bite during the hectic Halloween season, grab a delicious Jack O'Lantern Ham and Swiss Hand Pie. They are way easier to make than carving a pumpkin, and taste as good as they look!
The ingredients for these little morsels include store-bought pie crust, Dijon mustard, Swiss cheese, ham, and an egg for the egg wash. For variety, you could also use Brie in place of the Swiss cheese.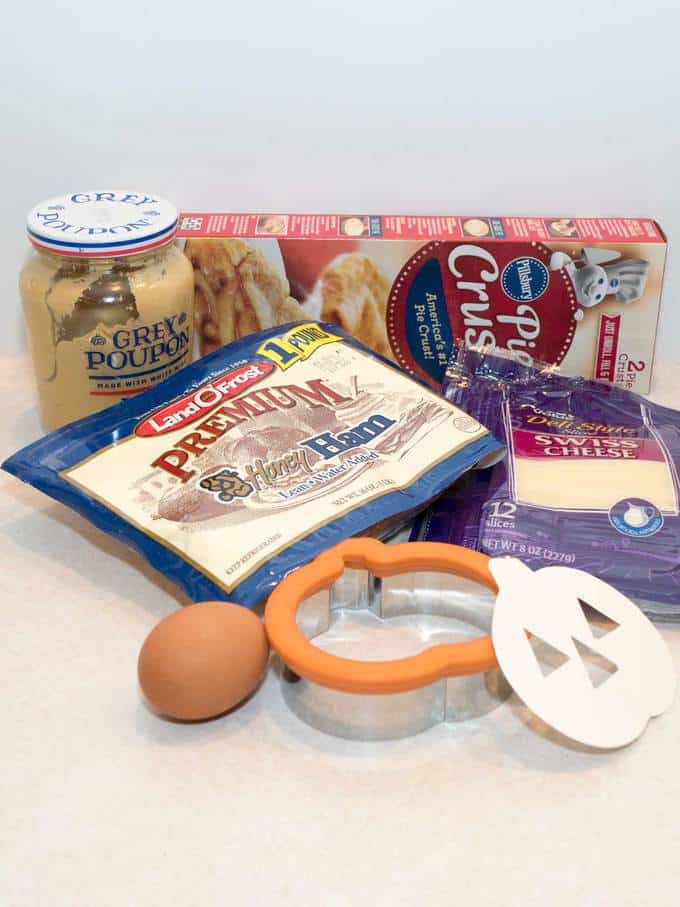 I unrolled one of the pie crusts onto a floured surface, and used a Wilton Pumpkin cookie cutter to cut the shapes. I was able to get seven pumpkins from one crust. I repeated the process with the other pie crust. Previously, I had made a template with cut-outs of the eyes and nose on card stock, so I used that as a pattern to cut out the eyes and noses on half of the pumpkins with a sharp knife.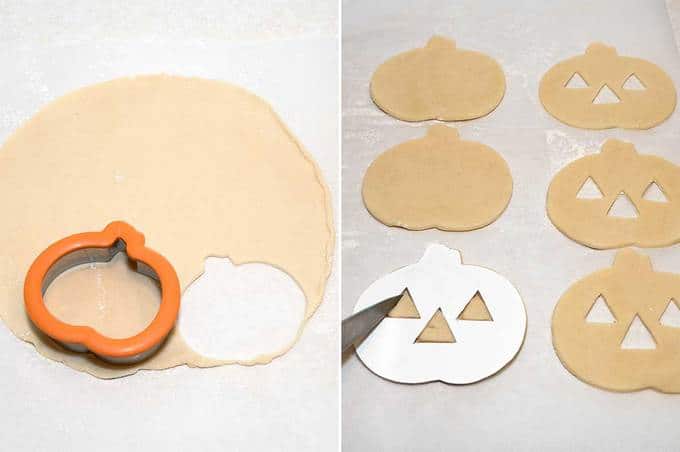 I spread some mustard on the uncut side of one of pumpkin shapes, and topped that with some Swiss cheese and ham, making sure that I left space around the edge. Then, I put one of the cut pumpkin shapes on top, and pressed all around to produce a seal.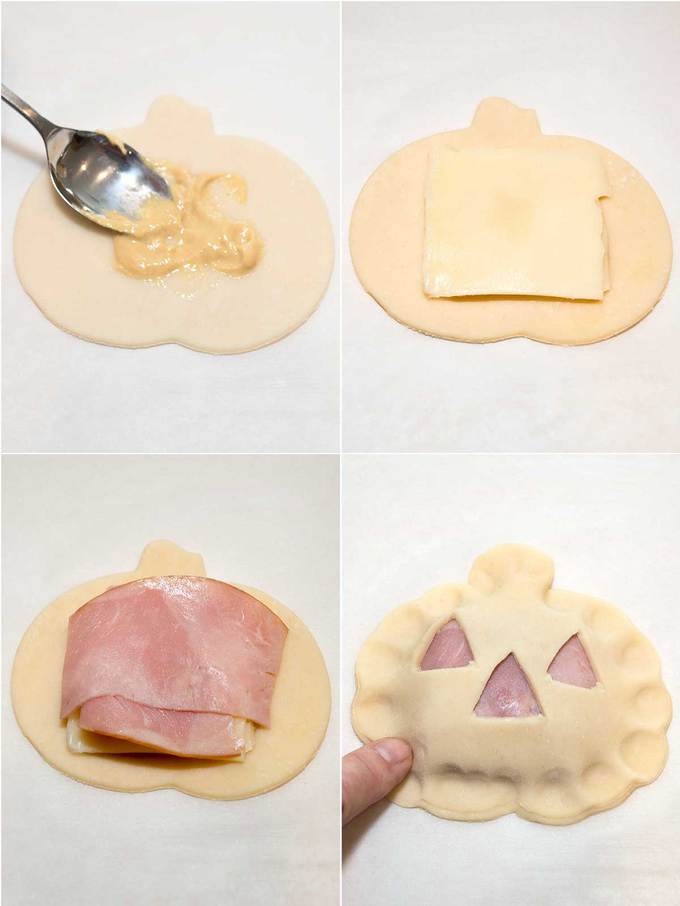 I brushed the tops with some egg wash, and baked them at 425° F for 15 minutes.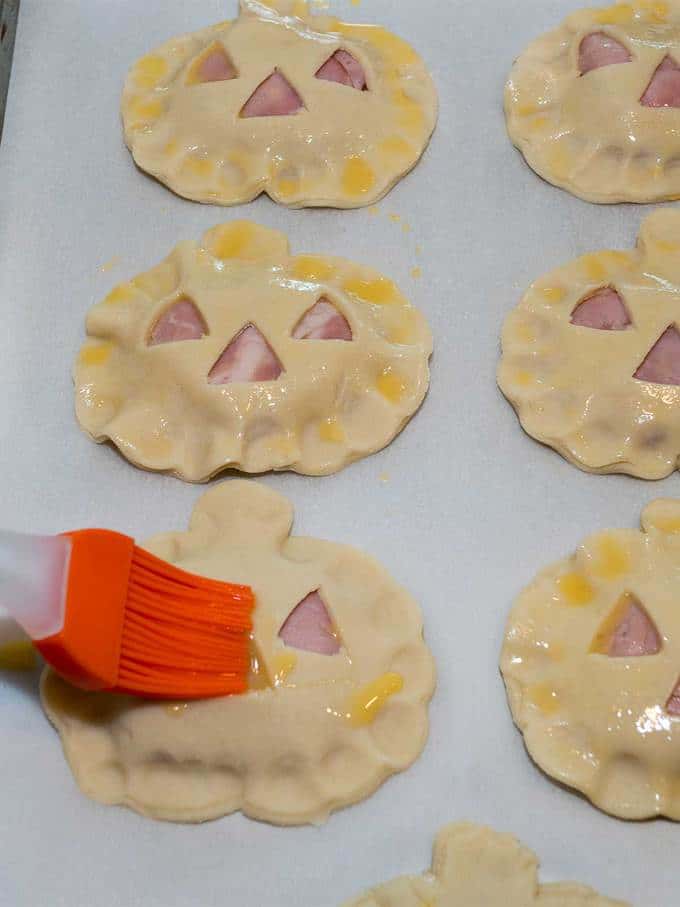 After 15 minutes, the hand pies were a golden brown. I transferred them to a wire rack, and let them cool for about 5 minutes before sampling one of the morsels. They were crispy delicious. Yum!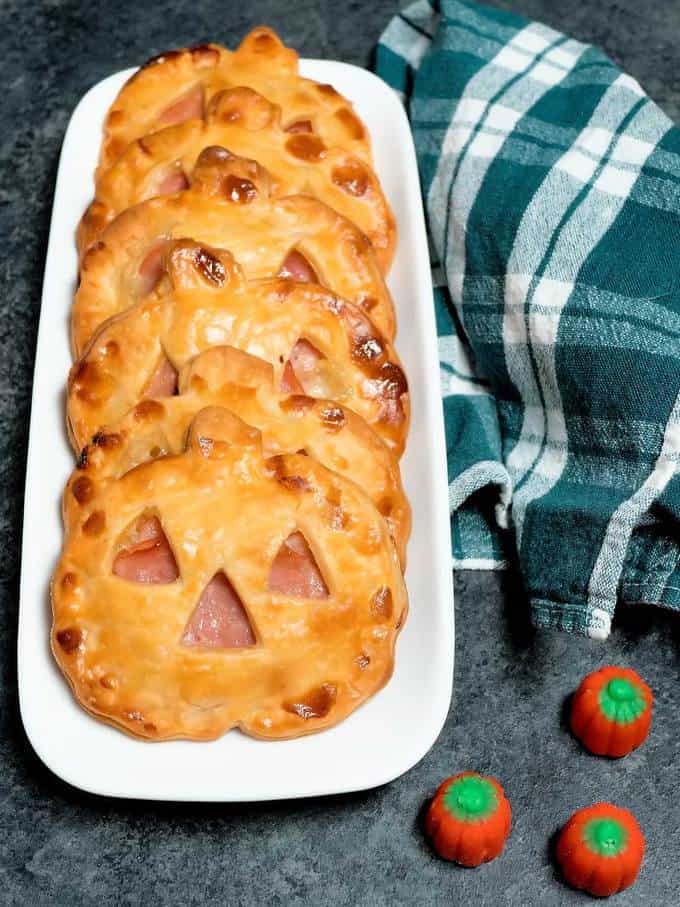 Here's a short video showing how to make these adorable little hand pies. Check it out!
Jack O'Lantern Ham and Swiss Hand Pies
Ingredients
1 box refrigerated pie crusts
3 to 4 teaspoons Dijon mustard
3 to 4 slices thinly sliced Black Forest or Virginia ham, cut in half
3 to 4 slices thinly sliced Swiss cheese, cut in half
1 large egg, plus 1 Tablespoon water for egg wash
Instructions
Heat oven to 425°F. Line a rimmed baking sheet with nonstick foil or parchment paper.
Make a template of pumpkin cookie cutter on card stock. Cut out eyes and nose.
Unroll pie crusts on floured surface. Cut each crust into 6 to 7 pumpkin shapes with a 3-in. pumpkin cookie cutter.
Using template, cut eyes and nose with a sharp knife on half of the cutouts.
Spread 1/2 teaspoon of Dijon mustard on solid pumpkin shapes.
Fold Swiss cheese into 2-inch squares, and place on top of mustard.
Fold ham into 2-inch squares and place on top of cheese.
Top with remaining pumpkins with cut-out faces. Carefully press edges to seal.
Place on prepared baking sheet. Brush tops with egg wash. Bake 12 to 15 minutes, or until golden brown Transfer to wire rack to cool. Let cool on rack 5 minutes before serving. Yield 6 to 7 hand pies.
7.8.1.2
74
https://pudgefactor.com/jack-olantern-ham-and-swiss-hand-pies/