For an appetizer that is sure to Wow your guests, you should try Marinated Cheese. It has alternating layers of sharp Cheddar cheese and cream cheese, topped with an incredible marinade. Marinated cheese is a snap to make, and is awesome to serve.
Making the Marinated Cheese:
I used the following ingredients for this delicious appetizer: Extra sharp Cheddar cheese, cream cheese, and the marinade. For the marinade, I used olive oil, white wine vinegar, fresh parsley, green onions, granulated sugar, dried basil, salt, freshly ground black pepper, garlic, and diced pimientos.
First, I made the marinade by combining all of the marinade ingredients in a jar, screwing on the lid, and giving it a good shake.
Then, I cut the cheddar cheese and cream cheese in half length-wise. Next, I cut the cheese into 1/4-inch slices.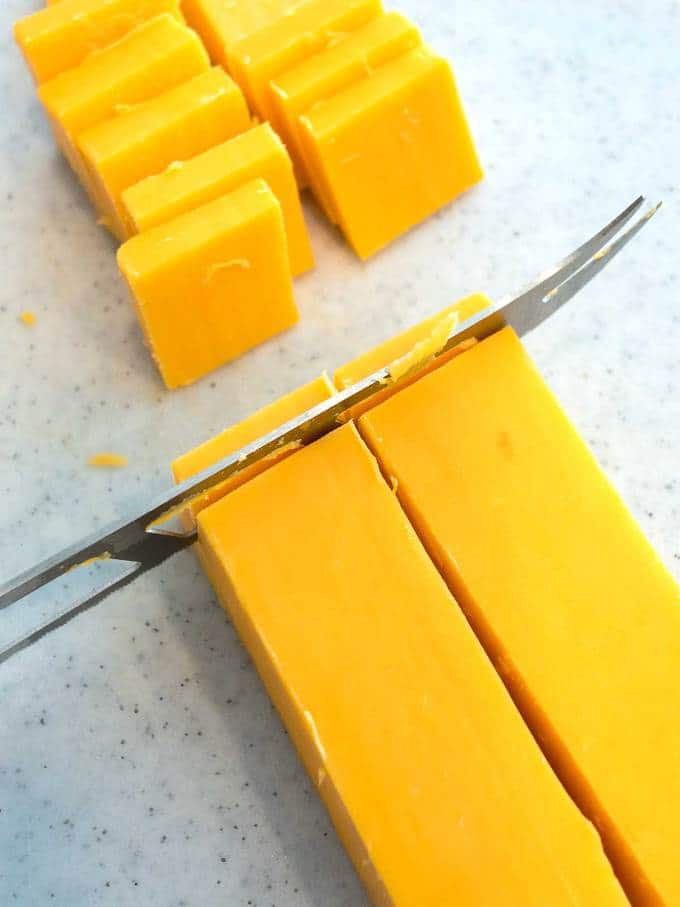 After that, I alternated the cheese slices in a container, and spooned the marinade on top.
I covered the container and refrigerated the marinated cheese over night to allow the flavors to blend together. I served the marinated cheese with crackers. My friend William was the first to sample this delicious appetizer. Yum!
Ingredients
Marinade

1/2 cup olive oil
1/2 cup white wine vinegar
3 Tablespoons chopped fresh parsley
3 Tablespoons minced green onion
1 teaspoon sugar
3/4 teaspoon dried basil
1/2 teaspoon salt
1/4 teaspoon freshly ground pepper
3 cloves garlic, minced
1 (2-ounce) jar diced pimiento, drained (about 2 Tablespoons)

Cheese

1 (8-ounce) block extra sharp Cheddar cheese, chilled
1 (8-ounce) package cream cheese, chilled
Instructions
For the Marinade: Combine first 10 ingredients in a jar; cover tightly and shake vigorously. Set marinade aside.
The Cheese: Cut block of cheddar cheese in half lengthwise. Cut crosswise into ¼-inch thick slices; set aside. Repeat procedure with the cream cheese. Stand cheese slices on edge in a shallow dish, alternating types of cheese. Pour marinade over cheese. Cover and marinate in refrigerator at least 8 hours.
To Serve: Remove from refrigerator an hour or so before serving to allow the oil to come to room temperature. Transfer rows of marinated cheese to a serving platter in the same alternating fashion, reserving marinade. Spoon marinade over cheese slices. Serve with assorted crackers. Yield: 16 appetizers.
7.6.7
252
https://pudgefactor.com/marinated-cheese/