Sausage and Cheese Crescent Ring transforms three simple ingredients into an amazing and crowd pleasing dish. Watch it quickly disappear when served for breakfast, brunch, lunch or a light dinner! It's easy to put together. The Sausage and Cheese Crescent Ring can be assembled ahead of time and baked to perfection in less than 25 minutes.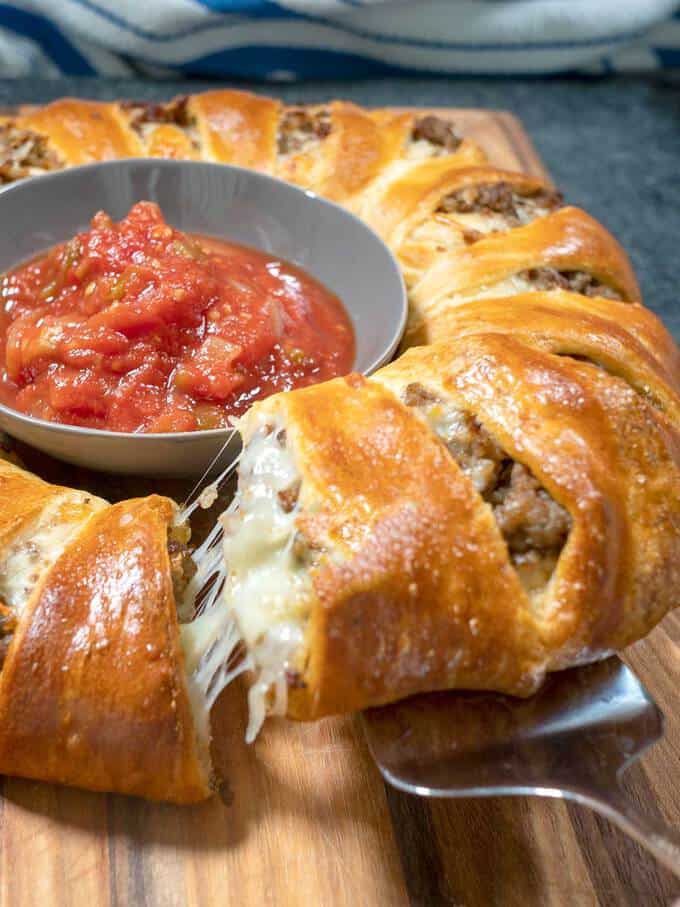 Jump to:
My inspiration for making this came from Grits and Pinecone's Easy Sausage Cheese Bread. I still remember how awesome the Sausage Cheese Bread was and couldn't wait to make it myself. This easy crescent roll recipe – insanely delicious.
Ingredients- Here's What You'll Need
I used the following simple ingredients to make this awesome dish: Refrigerated original crescent rolls dough, sausage and Monterey Jack Cheese.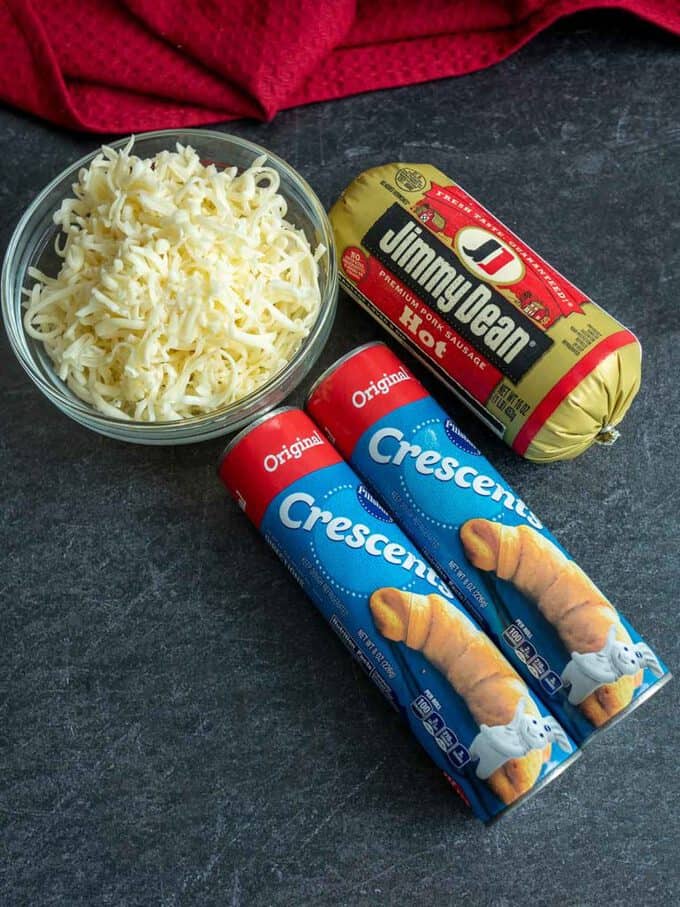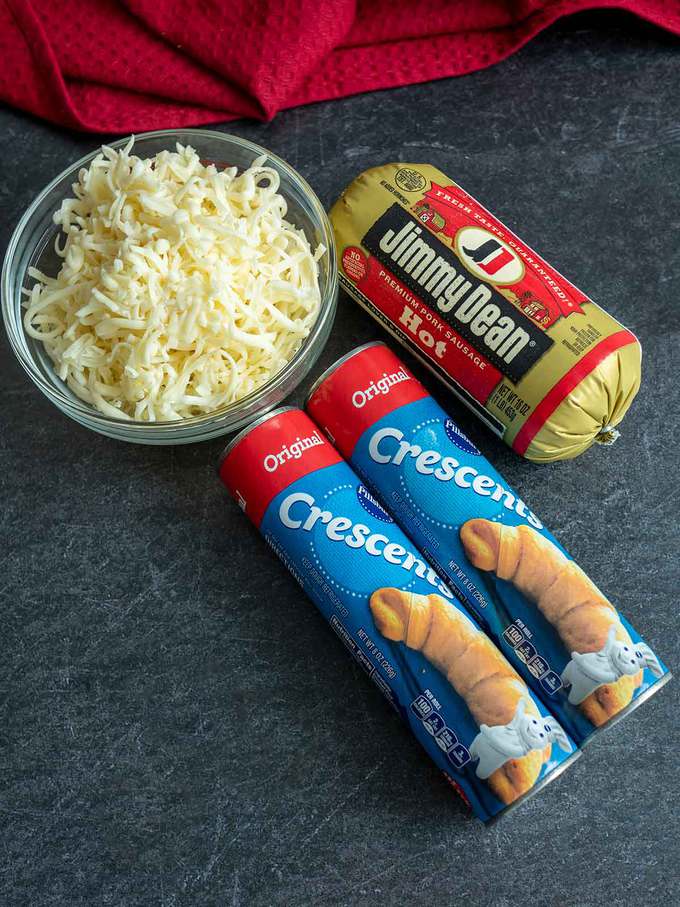 Steps – Making the Filling
As a first step, cook sausage in a 12-inch nonstick skillet over medium heat. During the cooking, crumble sausage. Once all of the pink is gone from the sausage, transfer it to a paper towel lined plate to allow the grease to drain off.
After allowing the cooked sausage to come to room temperature, transfer it to a large bowl and proceed to the second step where shredded Monterey Jack Cheese is added. Then, mix sausage and cheese together until they are well blended. That's it for the filling!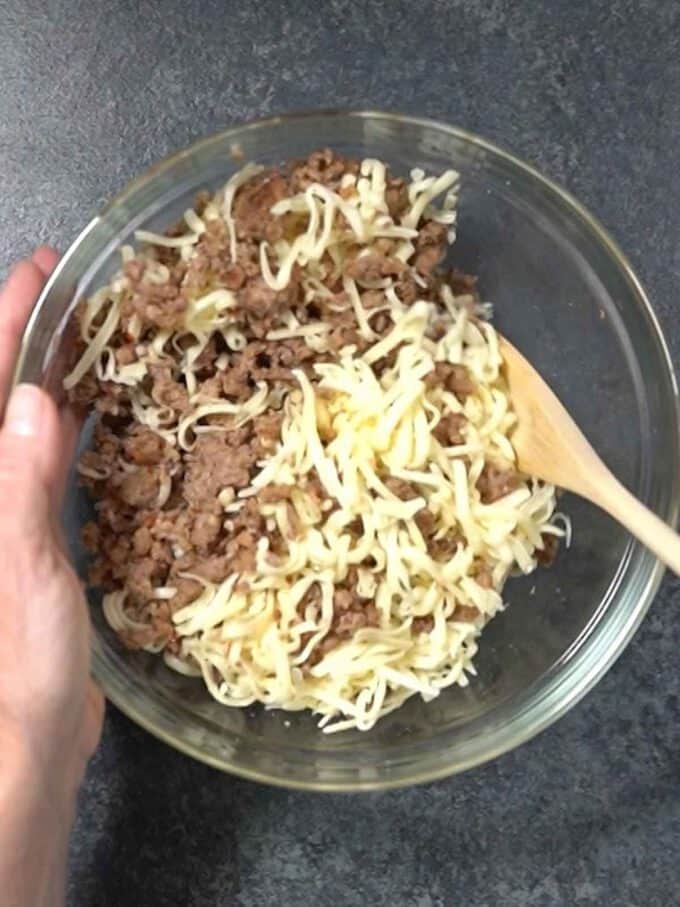 Steps – Forming the Sausage & Cheese Crescent Ring
Start by unrolling the crescent roll dough. Then, I separate the dough into 16 triangles.
Place an inverted 5-inch bowl in the center of a silicon lined large baking sheet. You could also have lined the baking sheet with parchment paper or used a nonstick cookie sheet .
Next, overlap the long end of the dough triangles around the bowl with the pointed ends facing out so that it looks like a sun! After all of the triangles are in place, remove the small bowl from the center.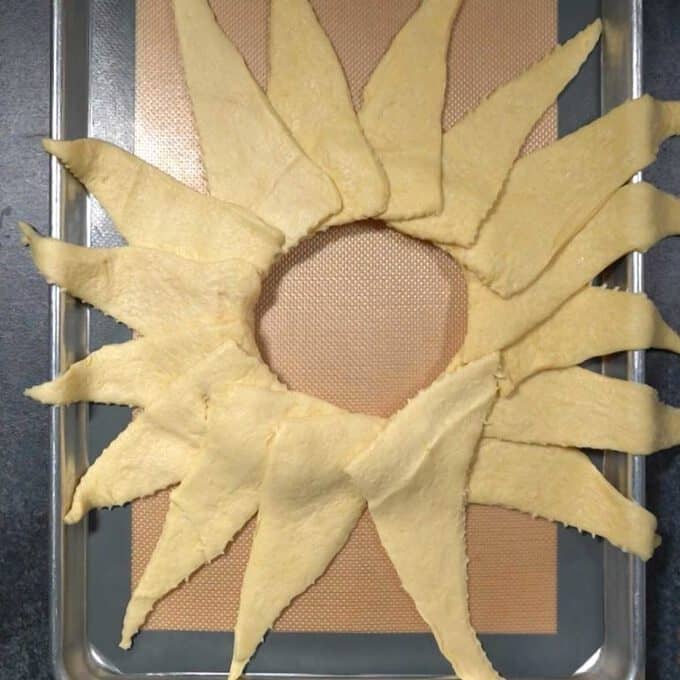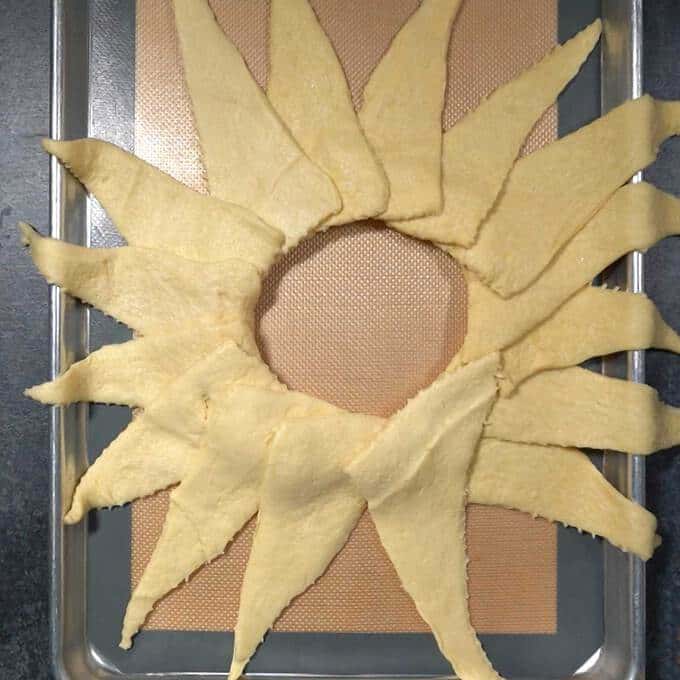 Use a medium-sized ice cream scoop to carefully place the sausage/cheese mixture on the part of each triangle closest to the center. Then, bring the long end of the triangles up over filling and tuck them under bottom layer of the dough.

Finishing the Sausage & Cheese Crescent Ring
Once the sausage/cheese mixture is enclosed with the crescent roll dough, brush it with an egg wash. If desired, sprinkle on some shredded parmesan cheese.
Then, bake in a preheated 375°F oven for about 20 minutes. After 20 minutes, the cheese should be fully melted, and the crescent ring a golden brown.
Remove it from the oven and let it cool on a wire rack for about 5 minutes. Then, transfer it to a cutting board for serving.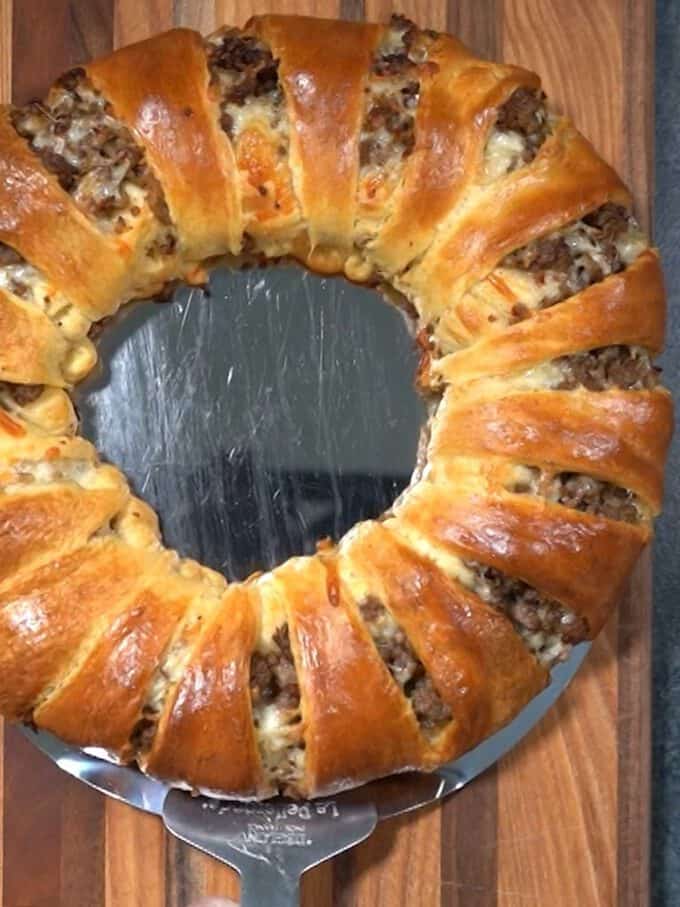 The Sausage and Cheese Crescent Ring was amazing with its ooey-gooey cheese and spicy sausage. I added some salsa for an extra bite, and could have also used sour cream for dipping. Yum!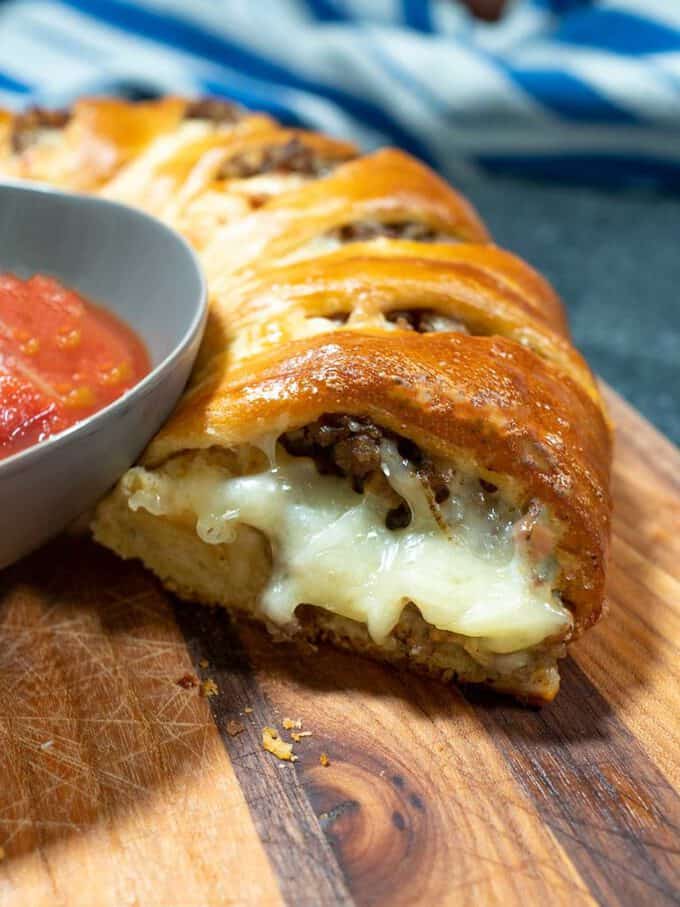 Frequently Asked Questions
Can you substitute a different cheese for the Monterey Jack Cheese?
I like to also use mozzarella cheese and cheddar cheese I this recipe.
What type of sausage is used in this recipe?
I used jimmy dean hot sausage, but could have also used a good regular pork breakfast sausage.
Can this recipe be adapted for other crescent roll ring recipes?
For a variation on this delicious recipe try making a crescent roll taco ring or converting this recipe into an Italian sausage ring recipe. Also, for an easy crescent breakfast recipe, consider adding scrambled eggs to the sausage mixture for a sausage egg crescent ring. All three are awesome.
I hope you liked this recipe for Easy Sausage and Cheese Crescent Ring as much as I do. If so, please consider rating it and leaving a comment. Also, if you'd like to receive notifications of new posts by email, enter your email address in the Subscribe box.
Thank you so much for visiting Pudge Factor. I hope you'll come back!
Recipe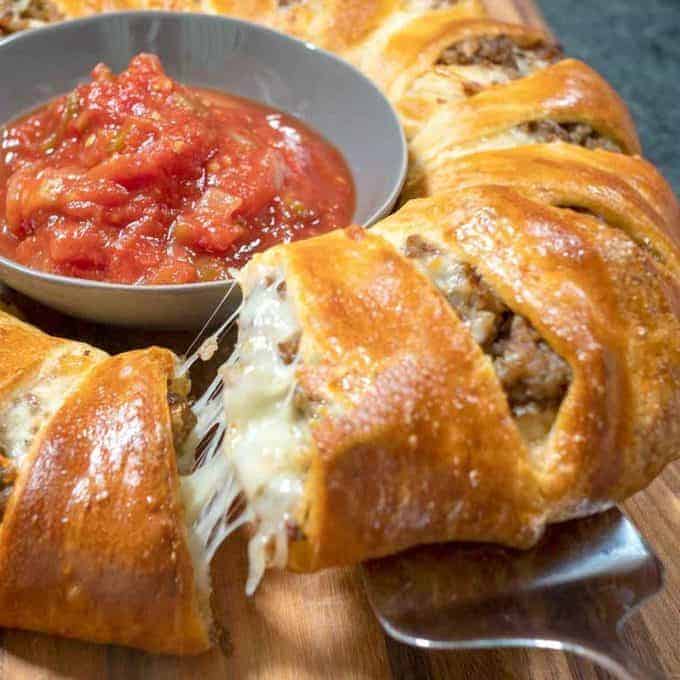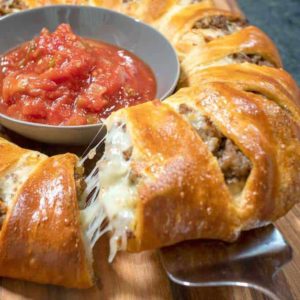 Sausage & Cheese Crescent Ring
Sausage & Cheese Crescent Ring uses three simple ingredients to create an amazing dish. Watch it quickly disappear when served for breakfast, brunch, lunch or a light dinner.
Ingredients
1

pound

Sausage (See Tip 1)

2

8 ounce

cans Refrigerated Crescent Rolls

1 ½

cups

shredded Monterey Jack cheese (See Tip 2)

Egg wash, optional (See Tip 3)
Instructions
Brown and crumble sausage in a large skillet over medium heat. Drain on paper towels. Allow to come to room temperature.

Combine cooked sausage and cheese in a bowl. Set aside.

Open cans of crescent dough; separate into 16 triangles. Place a 5-inch inverted bowl in center of silicon lined baking sheet. Arrange overlapping triangles with long ends against bowl and pointed ends facing out. The ring should look like a sun.

Remove bowl. Spoon sausage/cheese mixture around the center of the ring. Bring each dough triangle up over filling, tucking dough under bottom layer of dough to secure it. Repeat around ring until entire filling is enclosed. Brush dough with egg wash, if desired.

Bake in preheated 375°F oven for 2o to 25 minutes until golden brown. Remove from oven; allow to cool for 5 minutes before serving.

Yield: 8 servings. (See Tips 4 and 5)
Tips/Notes
I used Jimmy Dean Hot Sausage, but any good sausage will work here. For variety, try Italian Sausage!
For variety, you can also use mozzarella cheese.
I made the egg wash by whisking together an egg with 1 tablespoon of water.
Leftovers, if any can be refrigerated and reheated in a 350°F oven for about 10 minutes.
Once you get the hang of making this crescent roll dish, you can experiment with different variations. For example, I already mentioned using Italian sausage and mozzarella cheese. You could also use taco meat and cheddar cheese, ham and Swiss cheese etc. 
Nutrition
Calories:
80
kcal
Carbohydrates:
1
g
Protein:
5
g
Fat:
6
g
Saturated Fat:
4
g
Cholesterol:
19
mg
Sodium:
116
mg
Potassium:
17
mg
Sugar:
1
g
Vitamin A:
163
IU
Calcium:
158
mg
Iron:
1
mg