Easy Cheesy Sausage Bread is not only absolutely delicious, but also insanely easy to make, using only three ingredients. What's even better is that it makes incredible leftovers than can be easily reheated.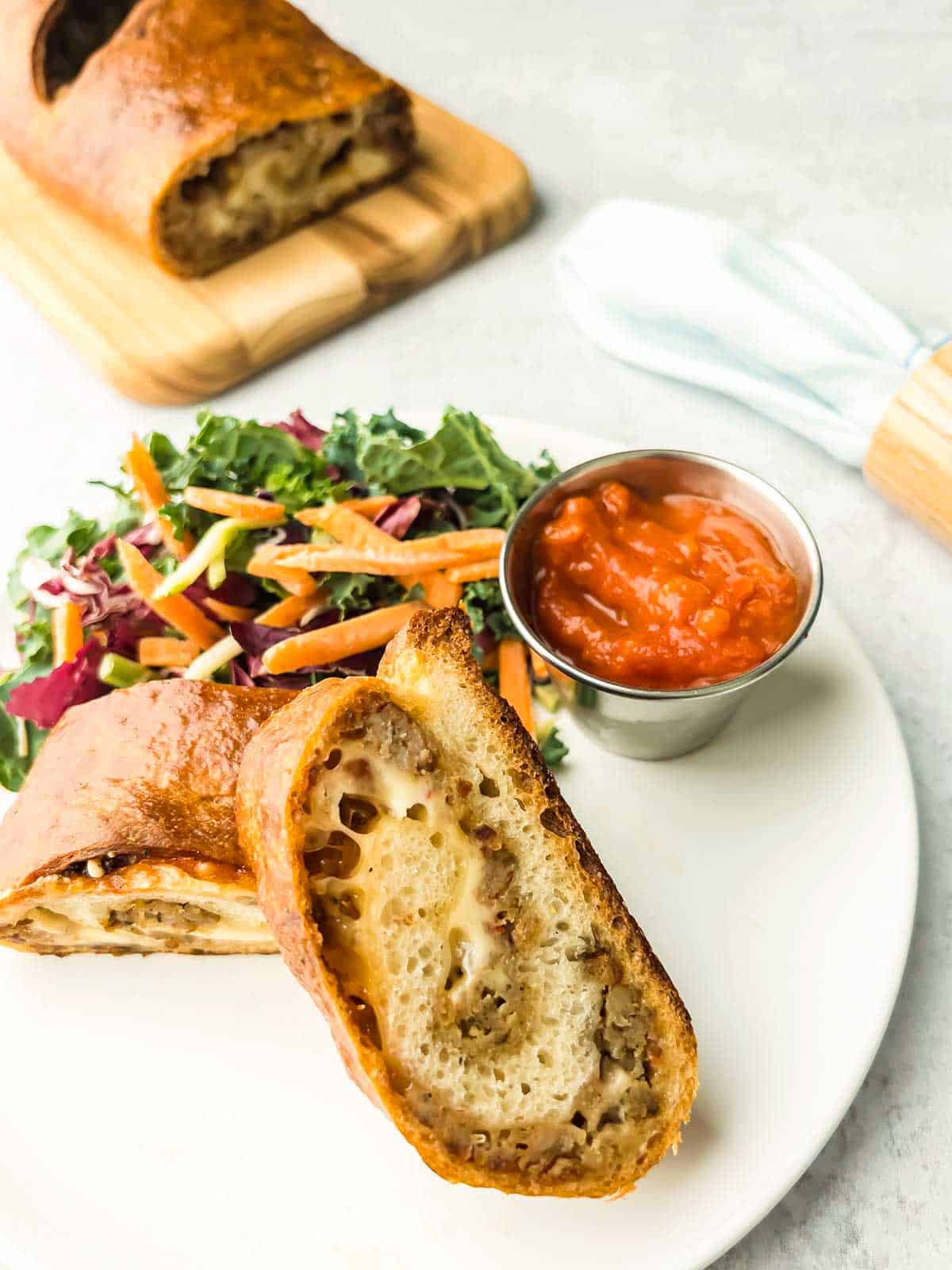 I've been making this amazing recipe ever since my sister at Grits and Pinecones shared it with me. I've updated the blog that was originally published in November of 2015 several times.
This update has new pictures and improved text. I also made a web story showing how I made this easy sausage bread.
Jump to:
Why You Should Make This Recipe
Easy: This recipe is one of the easiest recipes that you can imagine.
Only Three Ingredients: How many recipes in your repertoire can boast of requiring only three ingredients?
Versatile: You can dress this recipe up by adding several scrambled eggs to the sausage and cheese. Also this Easy Cheesy Sausage Bread is perfect for breakfast, brunch, lunch or as an appetizer.
Amazing Leftovers: Store the leftovers, if any, in the refrigerator and warm in the microwave or oven. They're just as good!
Here's What I Used In This Recipe
This amazing sausage bread uses only three ingredients.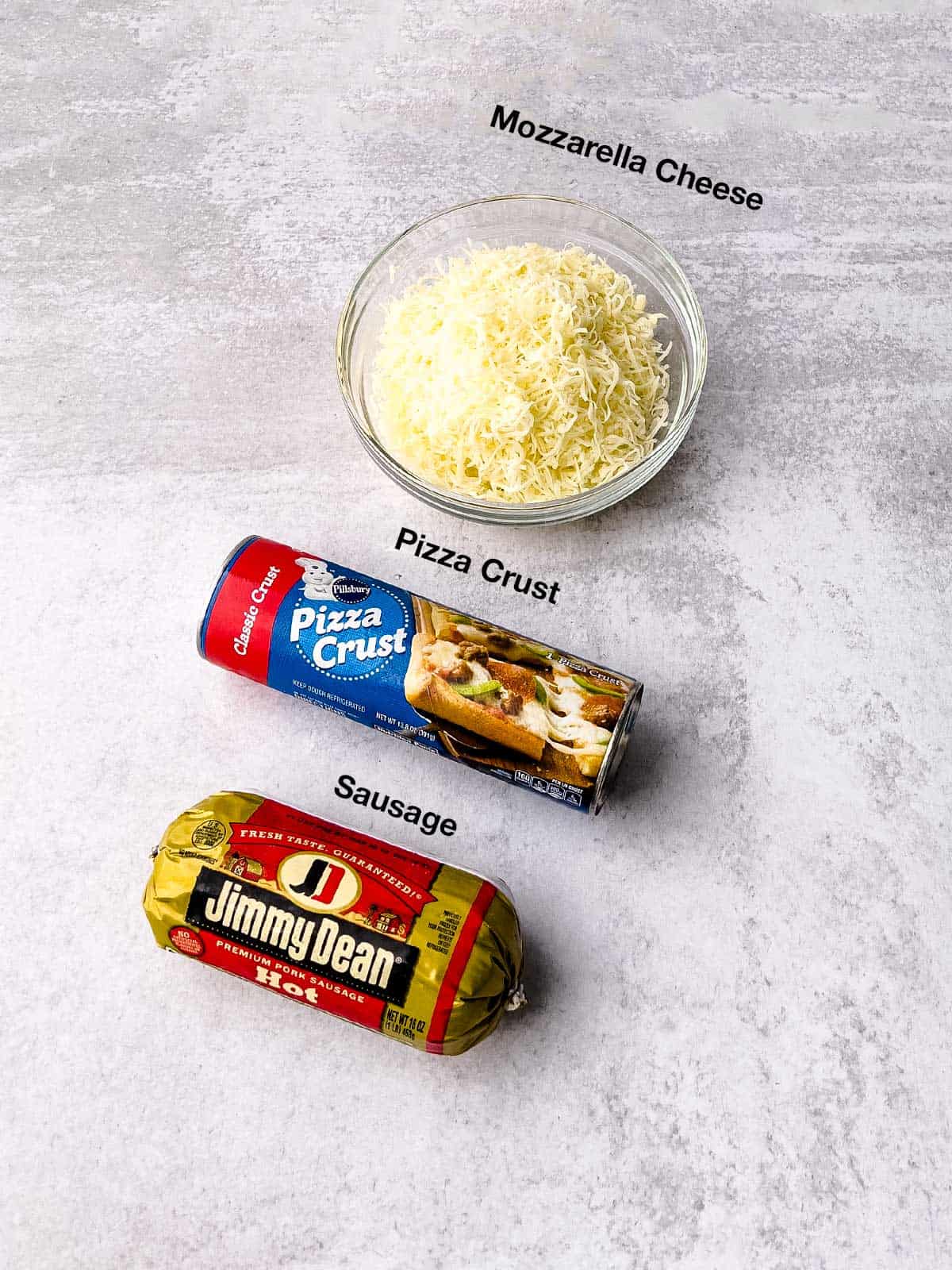 The Bread: I used a roll of refrigerated pizza crust in this recipe. Initially, I used refrigerated French bread dough, but was unable to find that at my grocery store. The pizza crust works just as well.
The Sausage: I like to use Jimmy Dean Hot sausage in this recipe.
The Cheese: My cheese of choice in this recipe is shredded mozzarella cheese.
Here's How I Made This Amazing Sausage Bread
First, I cooked and crumbled the sausage in a large skillet over medium heat until all of the pink was gone.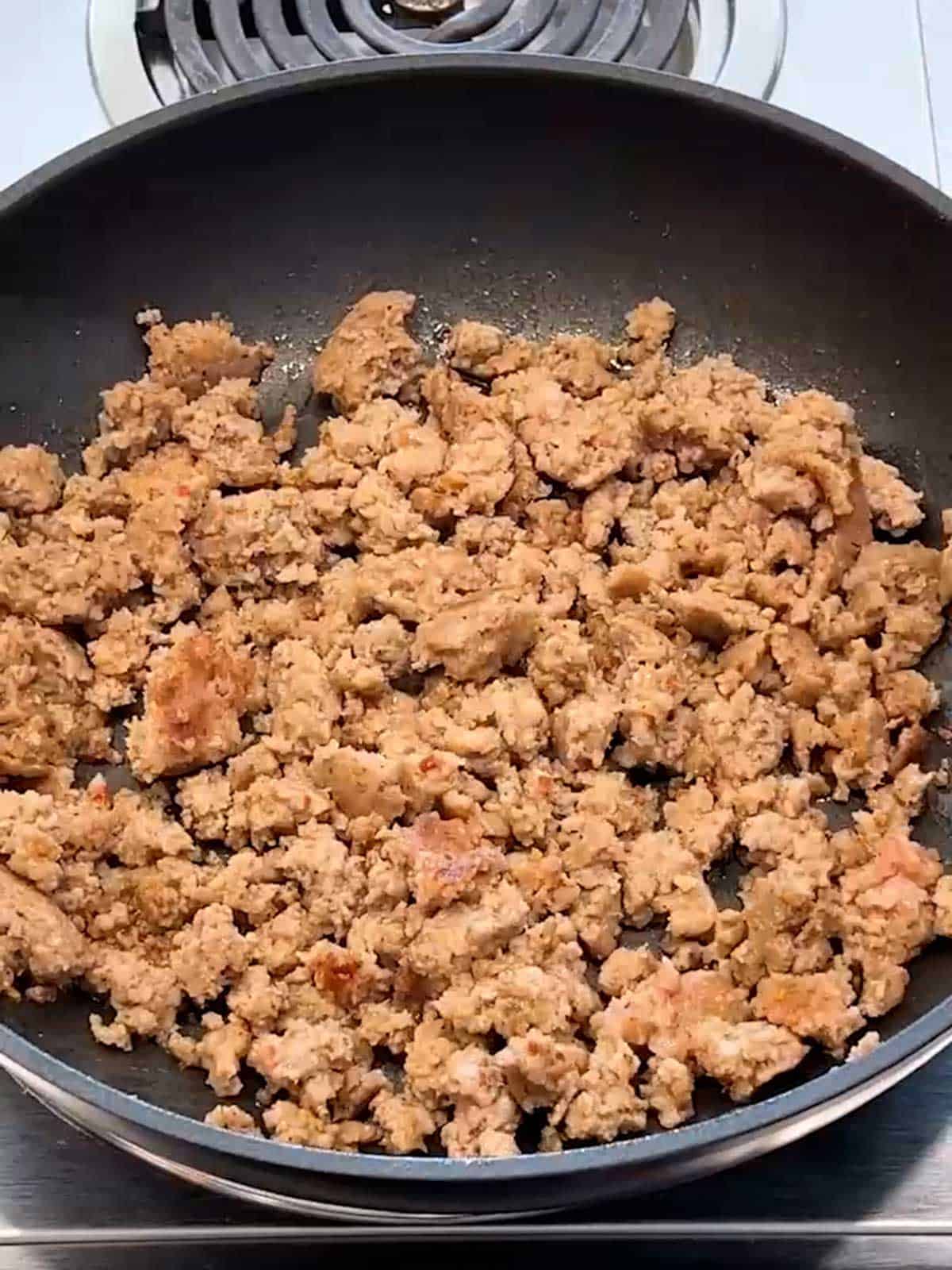 Next, I drained the sausage on a double layer of paper towels. It's amazing how much grease cooks out of the sausage!
I pressed the paper towels on the sausage to remove as much grease as possible, and then drained the sausage again on fresh paper towels.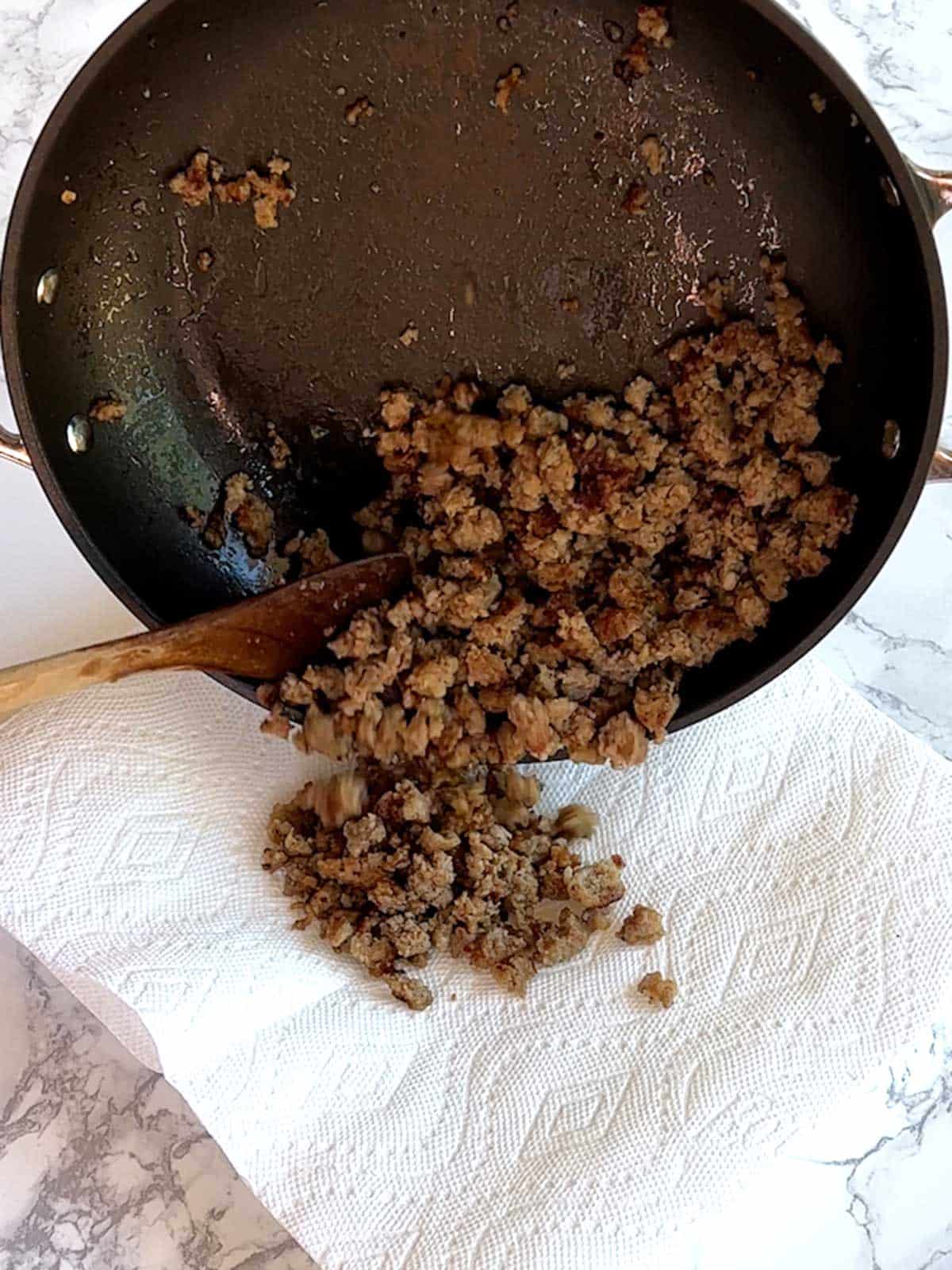 While the sausage was cooking a bit, I opened the roll of pizza crust. Then, I carefully unrolled it onto a parchment lined cookie sheet.
Interestingly for me, this was the most difficult part of making the Sausage Bread!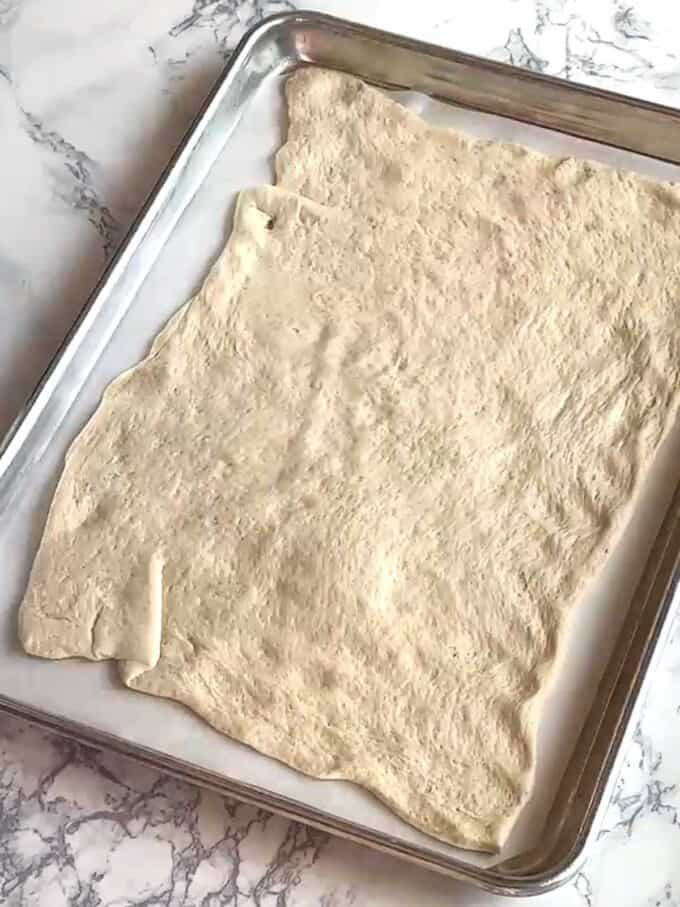 Once I had formed a rough rectangle of the pizza crust, I sprinkled on the cooked sausage and the shredded mozzarella cheese.
I made sure that I left about a 1-inch border on the crust so that the sausage bread would seal properly.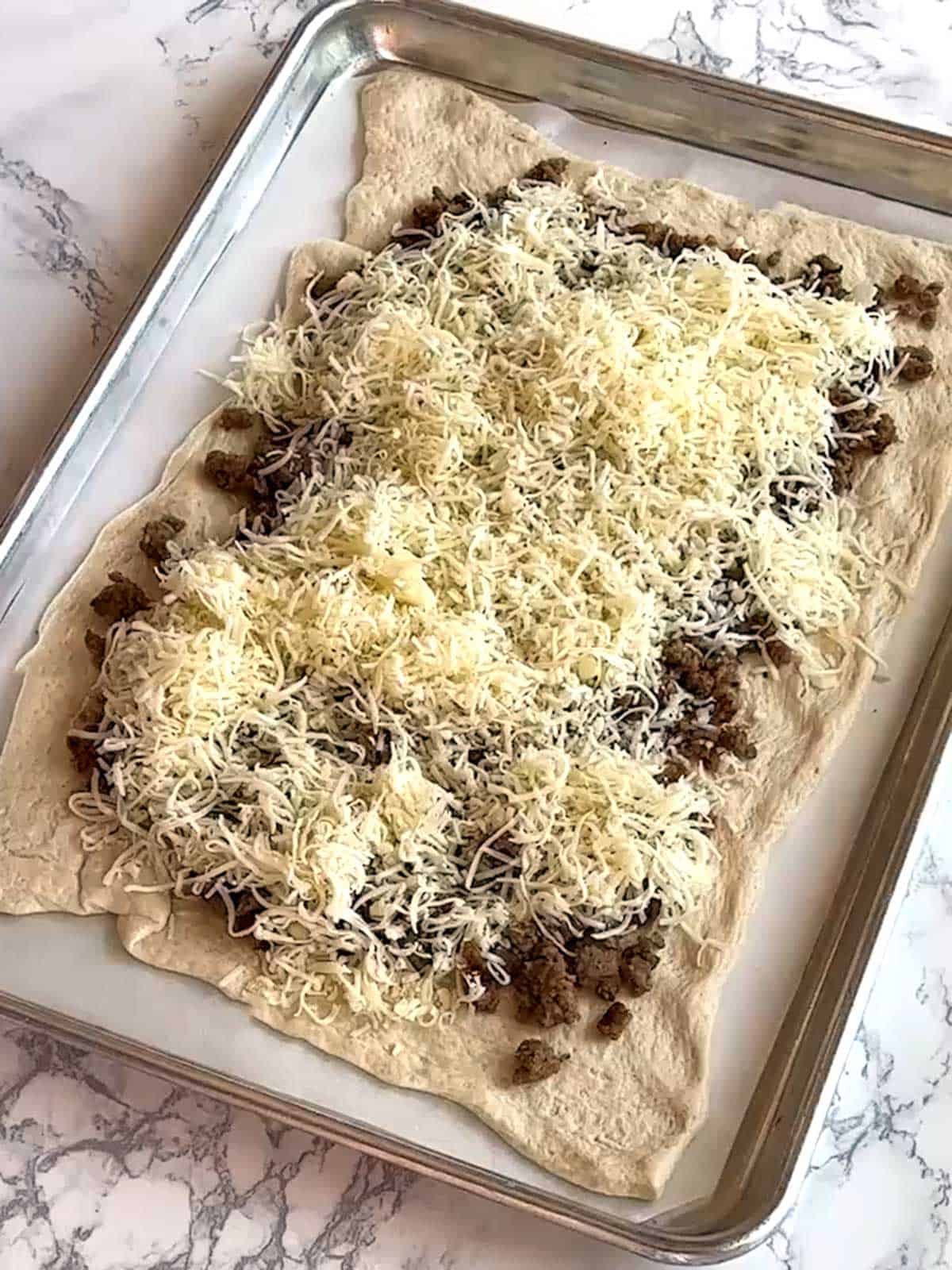 Starting at one of the long ends, I carefully rolled the Sausage Bread into a log, making sure that I rolled it as tightly as possible.
When I reached the other long side, I pulled the dough up onto the log and pinched it to ensure that the bottom was sealed. I also pinched and tucked each of the ends under to produce a seal as well.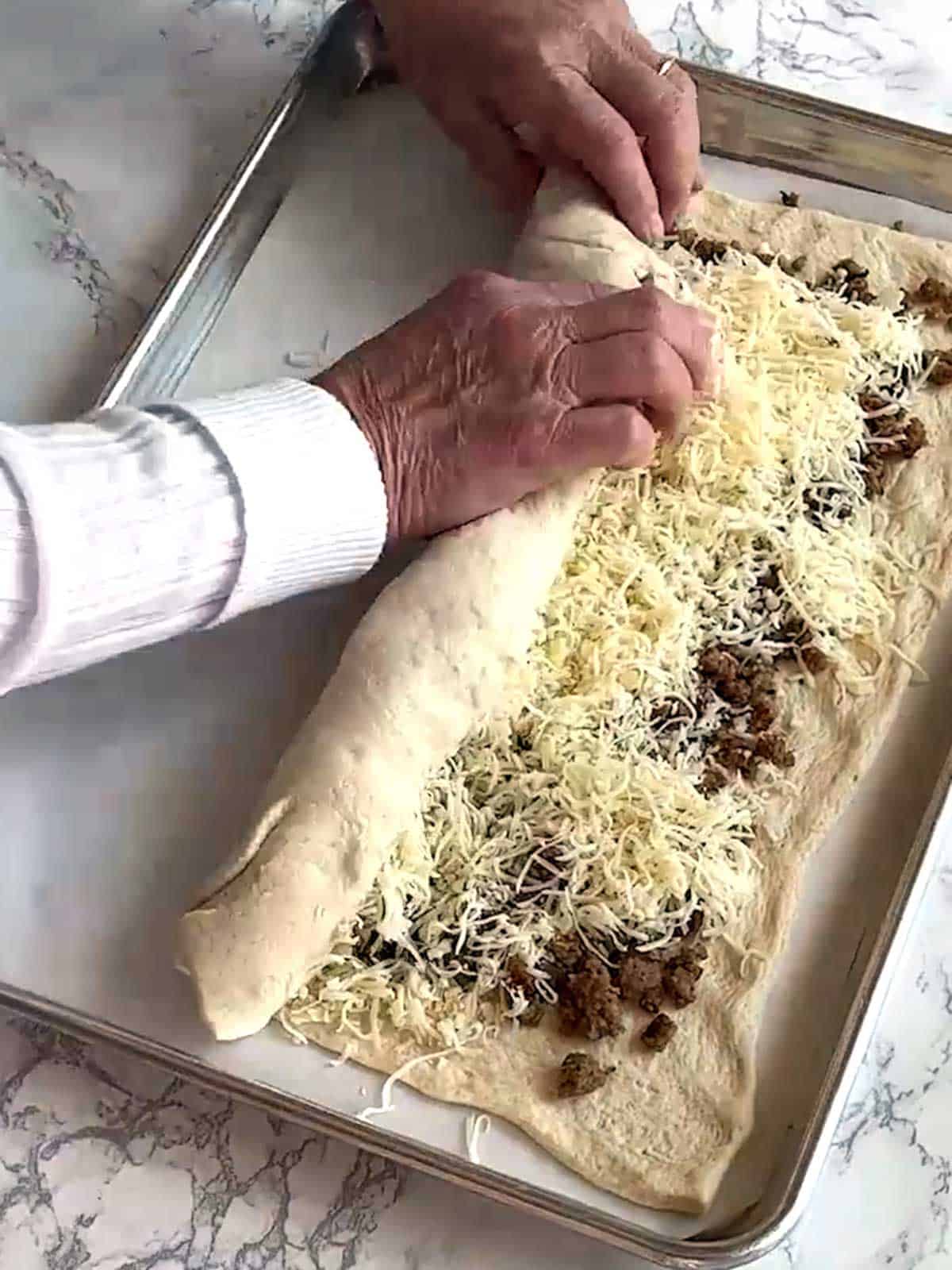 Before popping the bread into the oven, I repositioned it, seam side down on the parchment paper. Then, I cut several slits in the top to allow for the steam to escape. Finally, I brushed the Sausage Bread with an egg wash.
I baked the Easy Cheesy Sausage Bread in a preheated 350°F oven for 30 minutes. After 30 minutes, it was golden brown and a sight to behold!
I let the sausage bread cool for about 10 minutes before transferring it to a cutting board. Then, I cut the sausage bread into pieces and served it.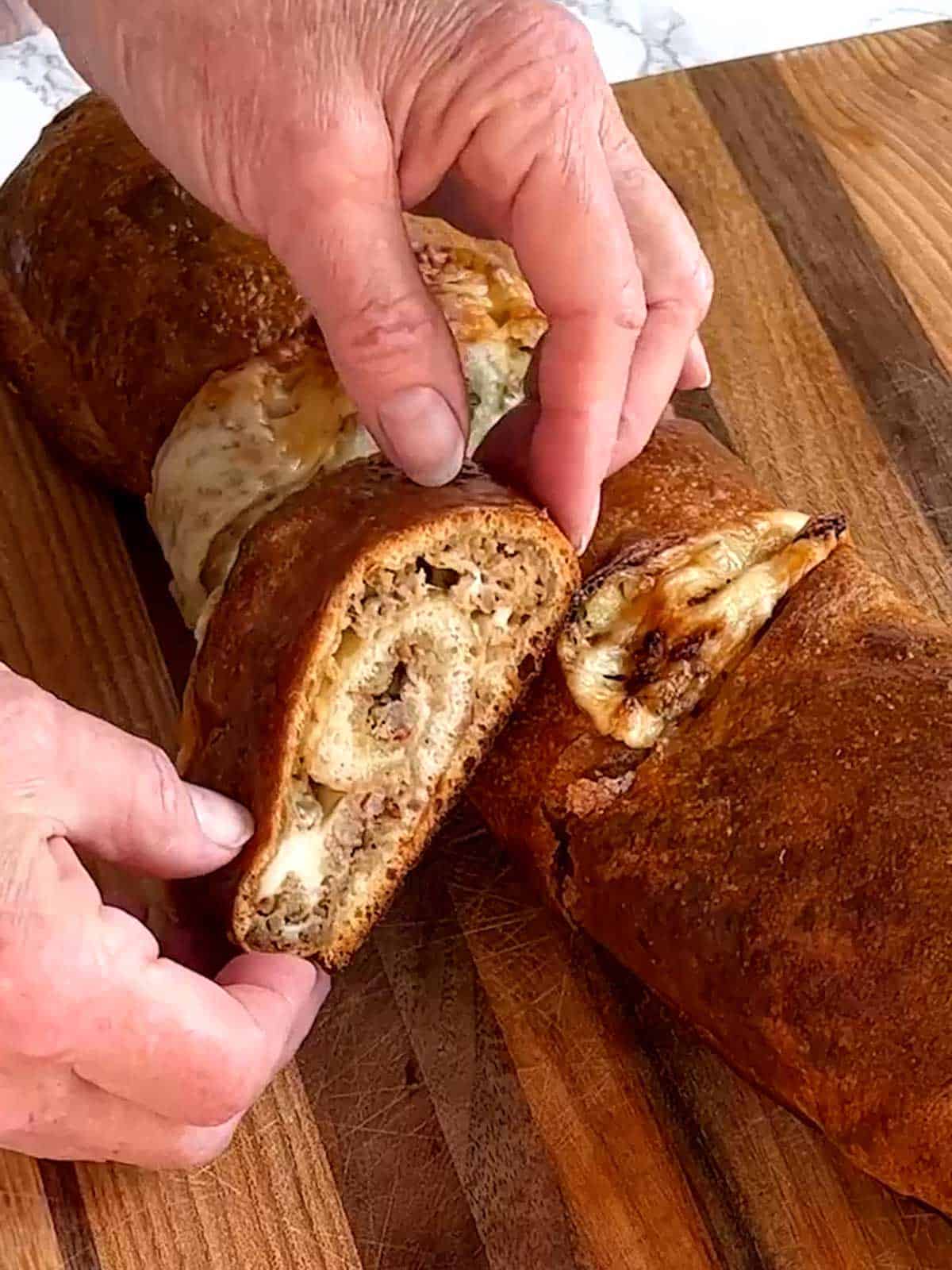 I served the Easy Cheesy Sausage Bread with a salad and some marinara sauce on the side.
Oh my – was it good. The Master Taste Tester thought so as well. In fact, he kept sneaking into the kitchen for "one more piece"! Thank you Grits and Pinecones – Yum!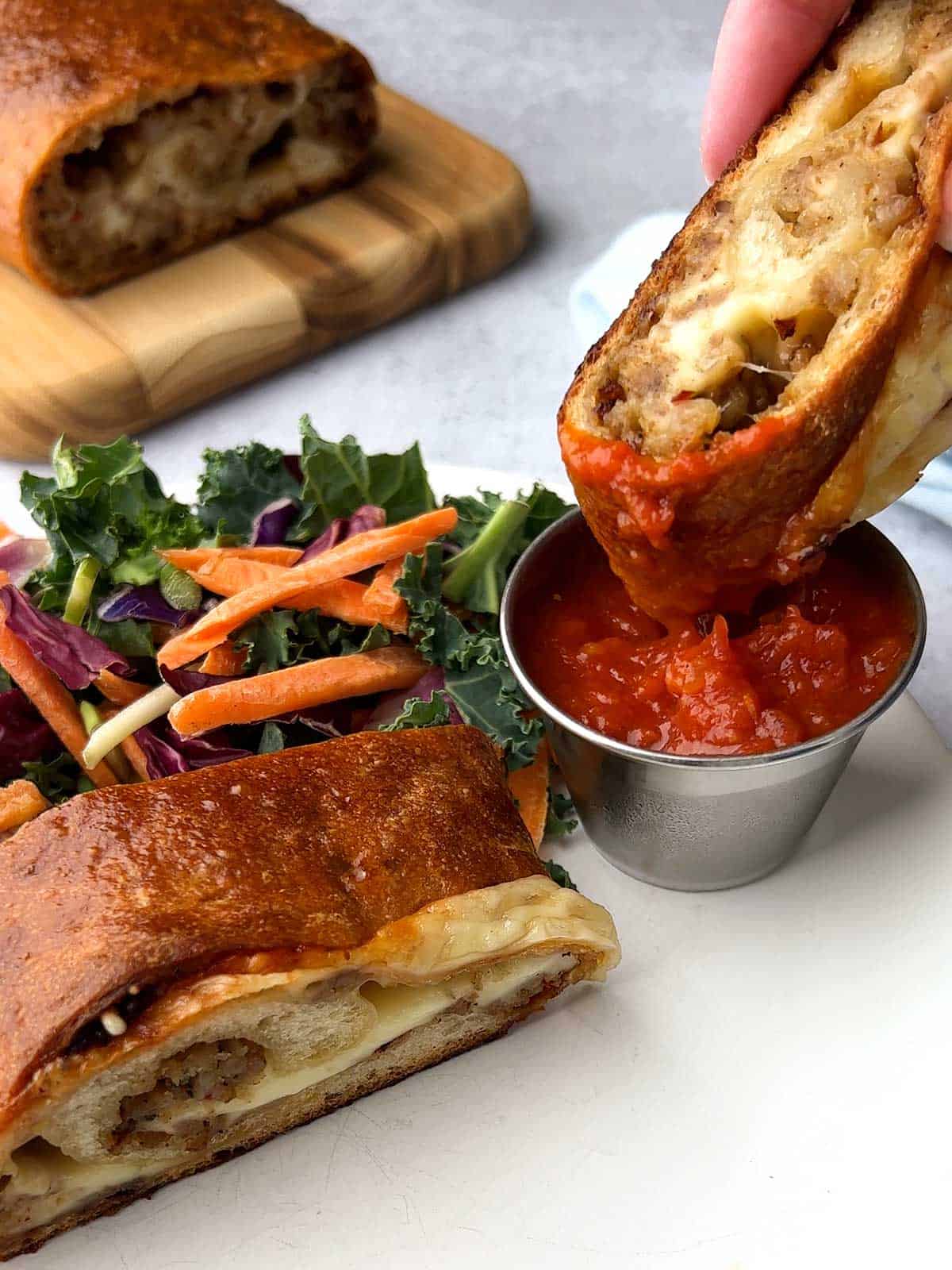 Frequently Asked Questions
What is the best kind of sausage to use in this recipe?
I like to use Jimmy Dean Hot sausage in this recipe. However, any good quality breakfast sausage will work. In fact, you could also use Italian sausage – Yum!
Is there a substitute for the mozzarella cheese?
You could also use Monterey Jack, an Italian blend of cheese or any good melting cheese of your choice.
Can you use actual pizza dough in this recipe?
Yes – feel free to substitute your own pizza dough or pizza dough purchased from your local grocery store.
What should be served with this sausage bread?
This Easy Cheesy Sausage Bread is perfect for breakfast, brunch, lunch or as an appetizer. If served for breakfast or brunch, add some fresh fruit on the side. If served for lunch, add a nice salad on the side. However, you serve this sausage bread, you'll be coming back for more.
What about leftovers?
One of the beauties of this bread is that it makes amazing leftovers. I like to store the leftovers in the refrigerator in a Ziploc bag and re-warm the bread either in the microwave or the oven. By the way, this sausage bread is really good cold as well!
Other Breakfast/Brunch Recipes
This Easy Cheesy Sausage Bread is perfect for breakfast or brunch. If you're in the market for other breakfast or brunch recipes, look no further.
Watch How I Made This Recipe!
I hope you liked this recipe for Easy Cheesy Sausage Bread as much as I do. If so, please consider rating it and leaving a comment. Also, if you'd like to receive notifications of new posts by email, enter your email address in the Subscribe box.
Thank you so much for visiting Pudge Factor. I hope you'll come back!
Recipe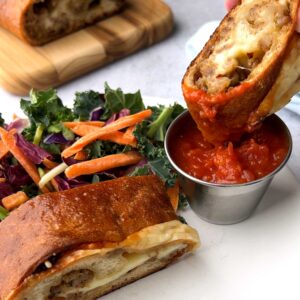 Easy Cheesy Sausage Bread
Easy Cheesy Sausage Bread is not only absolutely delicious, but also insanely easy to make. It uses three ingredients that are readily available in the grocery store, and makes incredible leftovers.
Ingredients
16

ounce

package sausage meat (See Tip 1)

13.8

ounce

roll refrigerated Pizza Crust

2

cups

(8-ounces) shredded Mozzarella Cheese (See Tip 2)

Egg Wash, optional (See Tip 3)
Instructions
Cook sausage in a large skillet over medium heat, stirring frequently and breaking the sausage up into small pieces, until the sausage is no longer pink, about 10 minutes. Drain well on paper towels.

Unroll pizza crust into a rectangular shape on a parchment lined baking sheet. (See Tip 4).  

Sprinkle on cooked sausage and cheese to within 1-inch of all edges.

Starting with one long end, roll-up jelly roll style as tightly as possible, pinching other long end to seal; pinch ends and tuck under to seal.

Turn seam side down; cut a few shallow slits in the top. If desired, brush with egg wash.

Bake at 350° F for 30 to 35 minutes, or until golden brown. Remove from oven; cool 5 to 10 minutes. Slice into 1 to 1½-inch pieces. Yield: 6 servings. (See Tip 5)
Notes
I used Jimmy Dean hot sausage. However, any good quality sausage will work in this recipe.
I like to shred my cheese. However, pre-shredded cheese will work fine in this recipe.
The egg wash is optional. However, it will produce a nice shiny crust on the sausage bread. To make an egg wash, whisk together one egg and one tablespoon of water.
One time when I made the Sausage Bread, I started by using a silicone mat instead of parchment paper. I quickly learned that this wouldn't work because the dough was so sticky. It stuck horribly to the silicone mat. Therefore, I highly recommend always using parchment paper.
The leftovers can be refrigerated and reheated in the oven at 350° F for about 5 minutes, or in the microwave for about 15 seconds on high.
Nutrition
Calories:
380
kcal
Carbohydrates:
29
g
Protein:
17
g
Fat:
21
g
Saturated Fat:
6
g
Cholesterol:
54
mg
Sodium:
747
mg
Potassium:
254
mg
Fiber:
1
g
Sugar:
1
g
Vitamin A:
55
IU
Vitamin C:
0.5
mg
Calcium:
30
mg
Iron:
2.7
mg