Almond and Chocolate Sandwich Cookies will definitely remind you of one of the more popular types of supermarket cookies, which will go unnamed! This is a crisp, thin cookie that's delicious on its own, but incredible when sandwiched around a layer of semisweet or bittersweet chocolate. It's equally amazing with Nutella in the center.
Jump to:
Ingredients: Here's What You'll Need
This amazing recipe uses typical cookie ingredients. However, the way that the ingredients are put together puts the cookie over the top.
Almonds: As the name of the cookie implies, this recipe calls for almonds. I tend to use whole, skin-on almonds because that's what I generally have on hand.
Wet Ingredients: For the wet ingredients, I use unsalted butter, an egg, and vanilla extract.
Dry Ingredients: The dry ingredients consist of granulated sugar, all-purpose flour, salt, and baking powder.
The Chocolate: The chocolate center of these sandwich cookies can be either semisweet chocolate chips or bittersweet chocolate chips. Both are equally good.
Steps in Preparing the Almonds
In some ways, the preparation of the almonds tends to be the most involved, especially if you use whole skin-on almonds as I do.
First, I blanched the almonds by adding them to boiling water and letting them sit in the boiling water for three minutes.
After three minutes, I drained the almonds. Then, I removed the skins by pinching the almonds between my fingers. It's best to pinch the large part of the almond. The skins popped right off!
Once I had removed the skins, I toasted the almonds in a 350°F oven for about 15 to 20 minutes. The reason that it took so long was that the almonds were still wet from the blanching.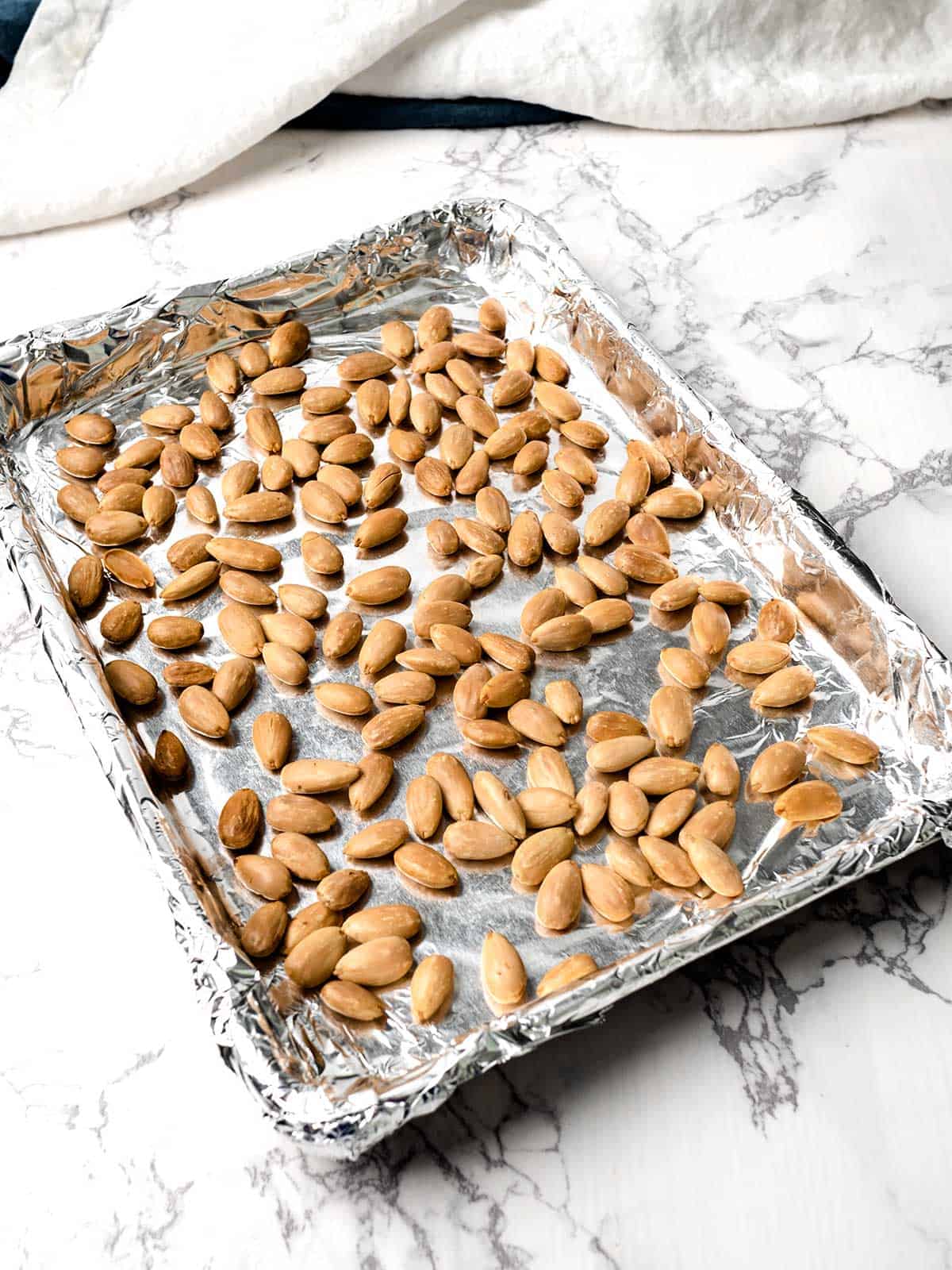 How to Make the Almond and Chocolate Sandwich Cookies
The first thing that I did was to process the toasted almonds with three Tablespoons of sugar in the bowl of my food processor fitted with the steel blade until they were finely ground. This took about 15 seconds.
The reason that I added the sugar was to keep the almonds from turning into a paste from releasing too much oil from the blade's friction.
Next, I beat the room-temperature butter with ¾ cup of sugar until it was light and fluffy. I used my hand mixer for this on the high setting. This took around 3 minutes.
Then I added the egg, vanilla extract, baking powder, and salt to the butter/sugar mixture. After that, I continued beating the mixture on high until everything was well incorporated.
I know that baking powder and salt are considered dry ingredients and that recipes traditionally call for sifting them with flour. I always add them to the wet ingredients because I think that they stand a better chance of being evenly incorporated via the beating process.
Next, I added the ground almonds and beat the mixture on medium until it was smooth.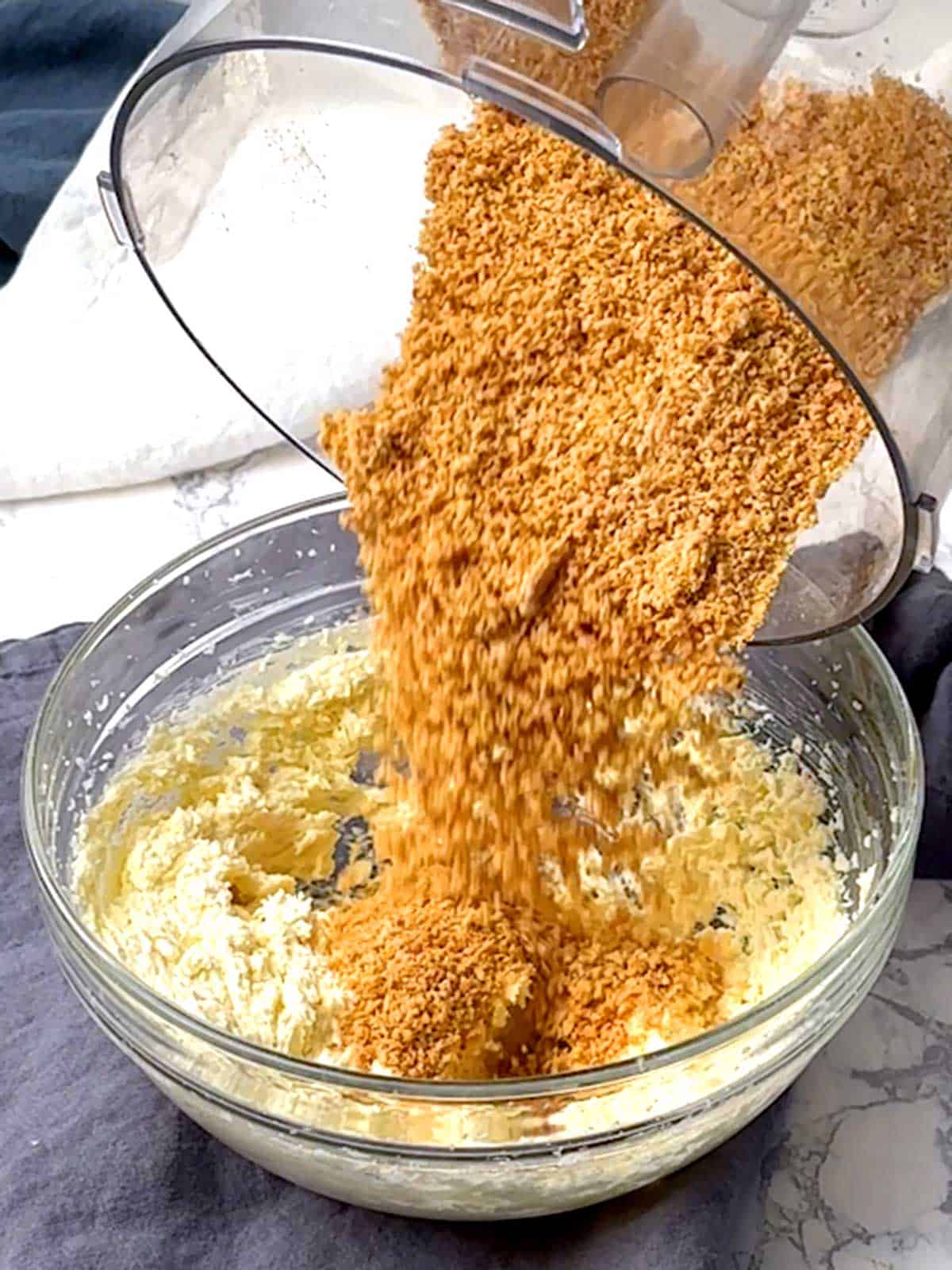 Finally, I gradually beat in the flour on low speed just until it was well mixed. To make sure that everything had been well mixed, I gave the mixture several additional stirs with my spatula.
The dough was very sticky so I covered it with plastic wrap and put it in the refrigerator for at least 2 hours.
Finishing the Cookies
I used my smallest ice cream scoop to portion out the dough onto a parchment-lined baking sheet. The ice cream scoop holds approximately 1 ¾ teaspoons and is equivalent to the food service size of #100.
To ensure that the cookies were as uniform as possible, I weighed the dough. Yes, I know that I'm a nerd! Each piece weighed 10 grams! I also rolled the dough into small balls.
I wanted the cookies to be thin and crispy, so I flattened each of the dough balls slightly.
These cookies spread quite a bit, so I made sure that I left around 2-inches between the cookie mounds.
I baked the cookies at 350°F for around 12 minutes until they were lightly browned.
When I removed the cookies from the oven, I let them cool for around three minutes on the baking sheet before transferring them to a wire rack for final cooling.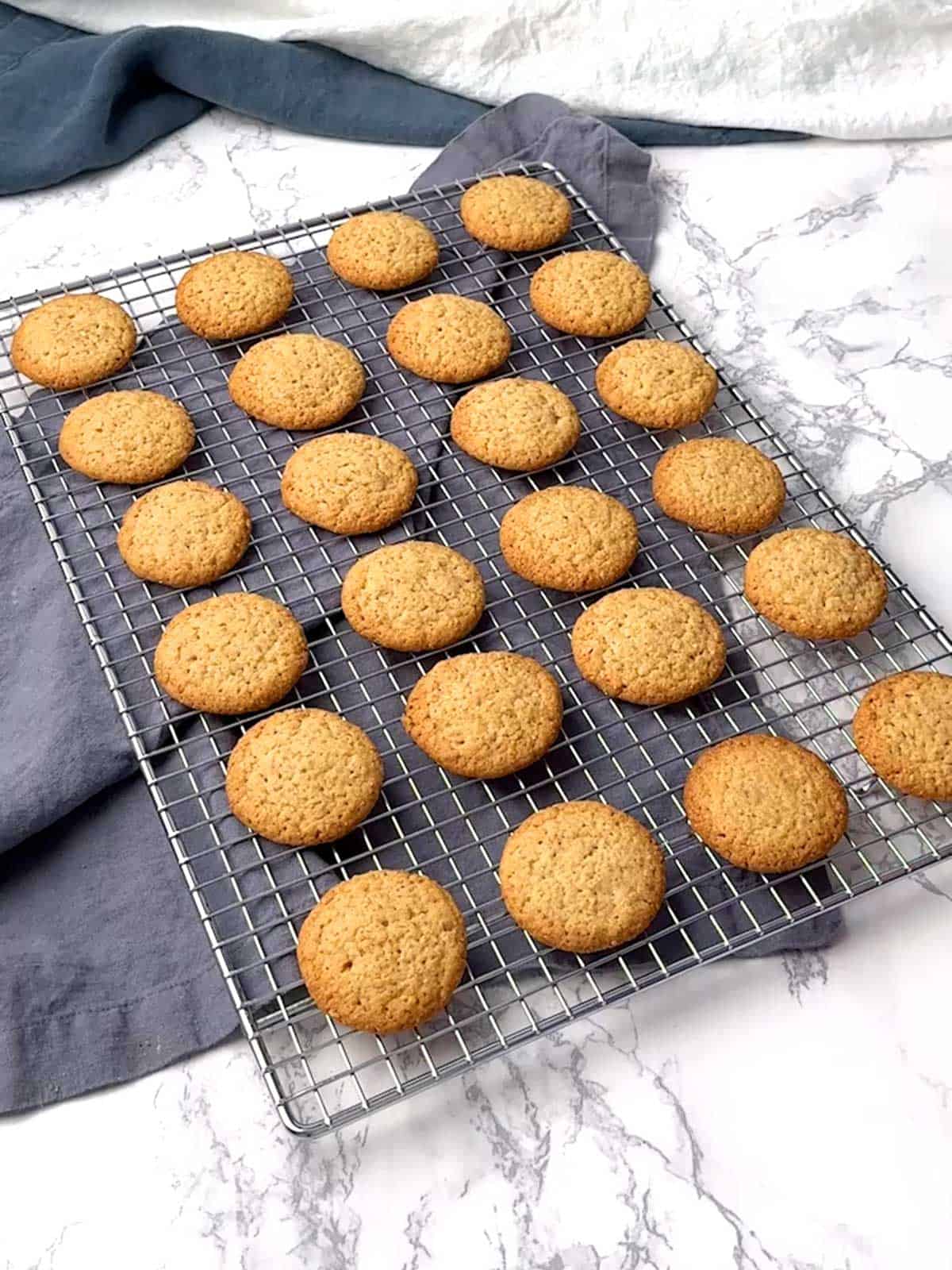 After the cookies were thoroughly cooled, I gently melted some semisweet chocolate chips in the microwave at 20-second intervals on 50% power.
Using a butter knife, I spread the melted chocolate on the underside of a cookie, and placed the underside of another cookie on top, i.e., sandwiched the cookies together.
I ended up with 4-dozen delicious individual cookies, or 2-dozen Almond and Chocolate Sandwich Cookies. Yum!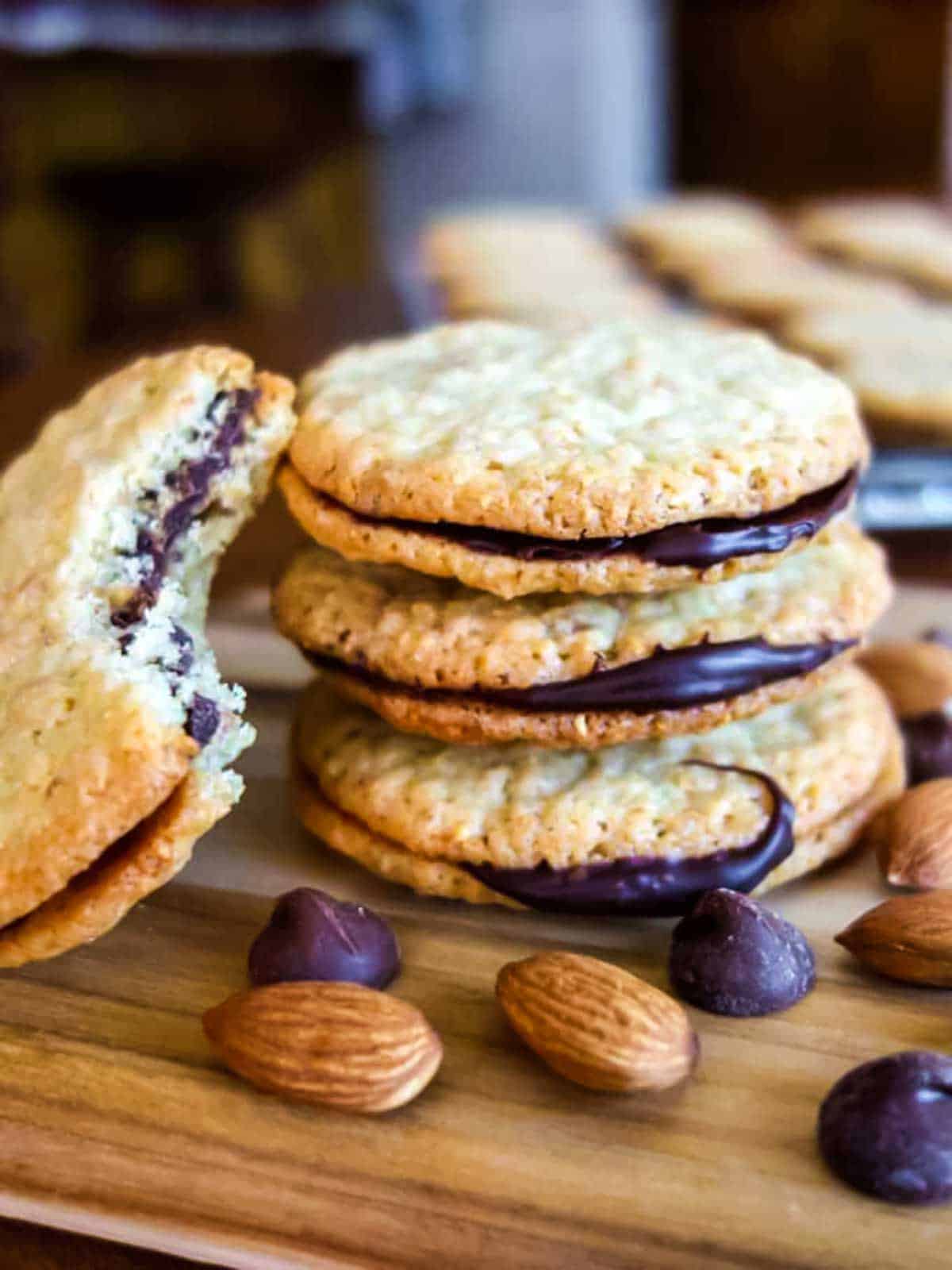 Frequently Asked Questions
Can the chocolate be omitted from this recipe?
The individual cookies are thin and crispy and are excellent on their own. In fact, the Master Taste Tester prefers these cookies without chocolate.
Is there a substitute for whole skin-on almonds in this recipe?
I use the whole skin-on almonds in this recipe because that's what I have on hand. You could certainly substitute slivered almonds that are already blanched. With this substitution, reduce the time for toasting to around eight minutes.
Can a different nut be used for these cookies?
Sometimes, I will substitute pecans for the almonds in this recipe. I think that the almonds are somewhat better. However, the pecans produce an exceptional cookie as well. The pecans should be toasted at 350°F for around eight minutes.
Can salted butter be substituted for unsalted butter?
You can substitute salted butter in this recipe. However, be sure to eliminate the added salt (⅛ teaspoon) from the recipe.
Recipe Hints and Tips
This is one of my favorite cookie recipes. It produces not only delicious cookies but also impressive-looking cookies.
In order to achieve consistent results for this recipe, you should weigh your ingredients. This is especially true for flour. The amount of flour can vary greatly depending on how it is measured.
Some years back, I decided to deviate from the traditional way of sifting ingredients like salt and baking powder with flour. Now, I always beat ingredients like salt and baking powder into the cookie dough mixture prior to adding flour. The reason is that this more evenly incorporates those ingredients. I've never found that this technique negatively impacts the final product.
This cookie is very impressive to look at. I often will individually package the sandwich cookie in clear plastic to give as gifts.
Melting chocolate for recipes such as this can be somewhat tricky because of the way that the chocolate chips are formulated. If you melt the chocolate at too high a temperature, it will not get hard enough when it cools. Therefore, gently melt the chocolate to keep its temperature down, i.e., properly temper the chocolate.
More Amazing Cookie Recipes
I thoroughly enjoy making cookies. Here are some of my very favorite recipes in addition to the Almond and Chocolate Sandwich Cookies.
If you liked this recipe for Almond and Chocolate Sandwich Cookies as much as I do, please consider rating it and leaving a comment. Also, if you'd like to receive notifications of new posts by email, enter your email address in the Subscribe box.
Thank you so much for visiting Pudge Factor. I hope you'll come back!
Recipe
Almond and Chocolate Sandwich Cookies
Do you remember the last time that you were in the supermarket on the cookie aisle and you saw those very expensive cookies in the white bag? Well, the Almond and Chocolate Sandwich Cookies will definitely remind you of one of the more popular types, which will go unnamed!
Print
Pin
Rate
Ingredients
1

cup

whole almonds, skinned, toasted, and cooled (See Tips 1 and 2)

¾

cup

(5.25 ounces), plus 3 Tablespoons (.9375 ounces) granulated sugar

½

cup

(1 stick, 4 ounces) unsalted butter, room temperature (See Tip 3)

1

large egg

1 ½

teaspoons

vanilla extract

1

teaspoon

baking powder

⅛

teaspoon

salt

¾

cup

(3.75 ounces) all-purpose flour

1

cup

(6 ounces) semisweet chocolate chips (See Tip 4)
Instructions
In a food processor fitted with a chopping blade, process the almonds and 3 Tablespoons of the sugar until the almonds are finely ground. Set aside.

In a mixing bowl, beat butter and the remaining ¾ cup of sugar on high speed until the mixture is light in color and texture, at least 3 minutes. Beat in the egg, vanilla extract, baking powder, and salt until well blended. Add the almond mixture, blending just until smooth. On low speed, gradually beat in the flour mixture just until smooth. Cover the dough tightly with plastic wrap. Refrigerate until the dough is thoroughly chilled, at least 2 hours or up to 5 days.

Preheat the oven to 350° F. Line two large baking sheets with parchment paper. Using a small ice cream scoop, portion the dough into 48 pieces. Roll the dough into small balls; place about 2 inches apart on the prepared baking sheets. Bake in the center to the top third of the oven until the cookies are lightly browned all over, 10 to 12 minutes. Let the cookies cool on the baking sheets for 3 minutes. Carefully transfer to wire cooling racks and cool completely.

Melt the chocolate chips in the microwave in 20 second increments on 50% power.

Using a small icing spatula or knife, spread about a teaspoon on the underside of a cookie, then sandwich it with another cookie, placing them back to back. When the chocolate has cooled and set, store cookies at room temperature in an airtight container. Yield: 4 dozen single cookies; 2 dozen sandwich cookies. (See Tip 5)
Chula's Expert Tips
If whole almonds with skin are used, blanch to remove the skins. To blanch, add the almonds to boiling water. Let stand for three minutes. Slip the skins off. To toast the nuts, spread them on a baking sheet. Bake in a preheated 350° F oven for 15 to 20 minutes or until golden brown. Processing the nuts with sugar keeps them from releasing too much oil from the blade's friction.
Pecans can be used in place of almonds. Toast for about 8 minutes at 350°F.
Salted butter can be substituted in this recipe. However, omit adding ⅛ teaspoon of salt to the recipe.
May substitute bittersweet chocolate chips for semisweet chocolate chips.
Omit the chocolate filling to make an excellent wafer-type cookie.
Nutrition
Calories:
137
kcal
|
Carbohydrates:
13
g
|
Protein:
2
g
|
Fat:
8
g
|
Saturated Fat:
3
g
|
Cholesterol:
17
mg
|
Sodium:
16
mg
|
Potassium:
92
mg
|
Fiber:
1
g
|
Sugar:
8
g
|
Vitamin A:
130
IU
|
Calcium:
29
mg
|
Iron:
0.8
mg
Tried this recipe?
Please leave a comment below and/or give this recipe a rating. On Instagram? Take a picture and tag @pudgefactor or #pudgefactor.