Toasted Pecan Snowball Cookies are a family favorite at Christmas. Packed with toasted pecans and dusted with confectioners' sugar, these buttery confections are the perfect edible gifts for your loved ones during the holiday season.
Jump to:
How It All Started
When I was a kid, my mother needed Christmas presents to give to her co-workers. I volunteered to make the presents. I decided that I would try to marry my favorite cookie with something appropriate for Christmas.
I decided to fill decorative jars with these delicious bite-sized cookies. I then wrapped the jars in nylon net and tied the nylon net with some sort of ribbon. From what I remember, they were a huge hit. The cookies not only looked really festive but also were incredibly good!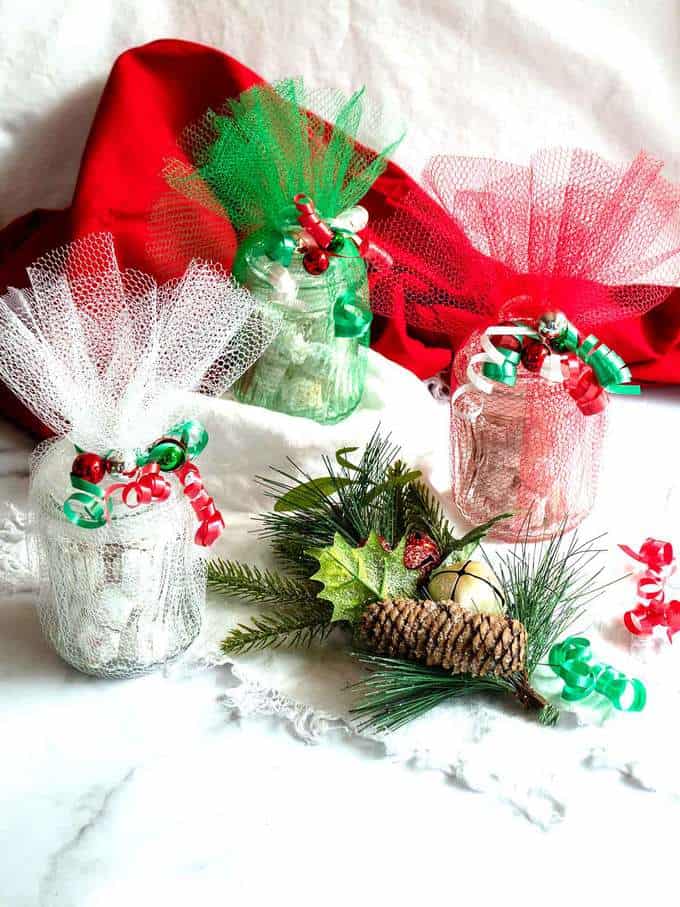 My recipe for Toasted Pecan Snowball Cookies is actually a variation of a recipe for Pecan Sandies. I seem to remember copying the recipe from a cookbook while I was babysitting.
From day one, I made the Toasted Pecan Snowball Cookies as tiny as I could manage. The reason was to produce a little taste of heaven as each one was popped into my mouth.
Ingredients: Here's What You'll Need
I used the following ingredients: Unsalted butter, confectioners' sugar, vanilla extract, water, all-purpose flour, and toasted chopped pecans.
It's important here to use unsalted butter. One time I made the mistake of using salted butter, and the salt dominated the taste.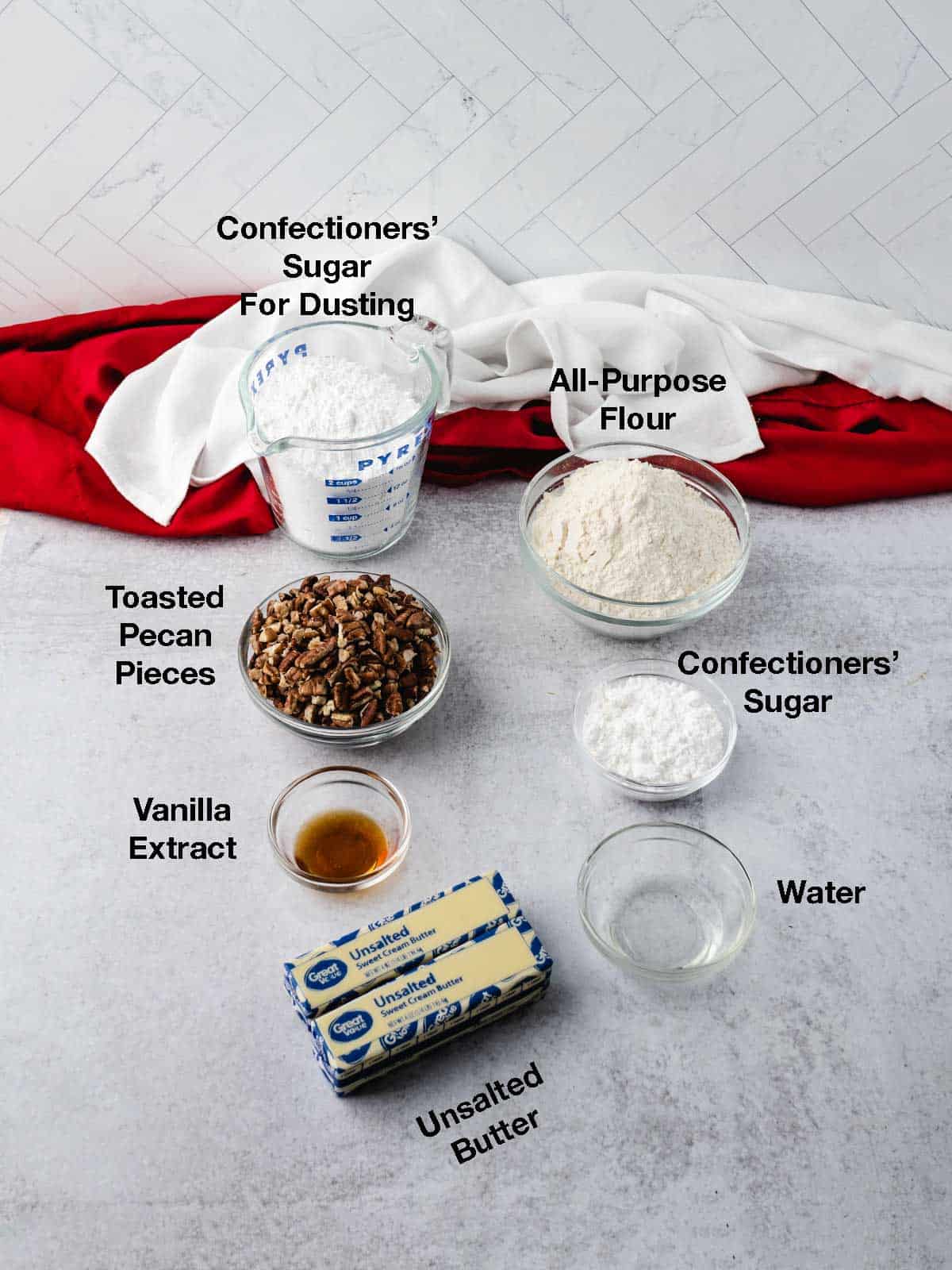 Steps to Make Snowball Cookies
For the first step in making these snowball cookies, I creamed room-temperature unsalted butter with an electric mixer.
Then, I added the confectioners' sugar and beat the mixture on high until it was light and fluffy.
To this mixture, I added the vanilla extract and water and beat until well combined.
Then, I added the flour and mixed it on low speed until everything was well combined. At this point, I gave the dough a quick mix with a wooden spoon to ensure that all of the flour had been incorporated.
Finally, I added the toasted pecans and mixed them well with a wooden spoon.
Once everything was well combined, I began the tedious process of rolling the dough into very small balls. I made sure that they were no larger in diameter than a penny. The reason that I like them so small is that one cookie is a perfect bite-sized morsel full of toasted pecans.
I placed the little balls on an ungreased baking sheet. Because the cookies expanded very little during cooking, I put the balls very close together.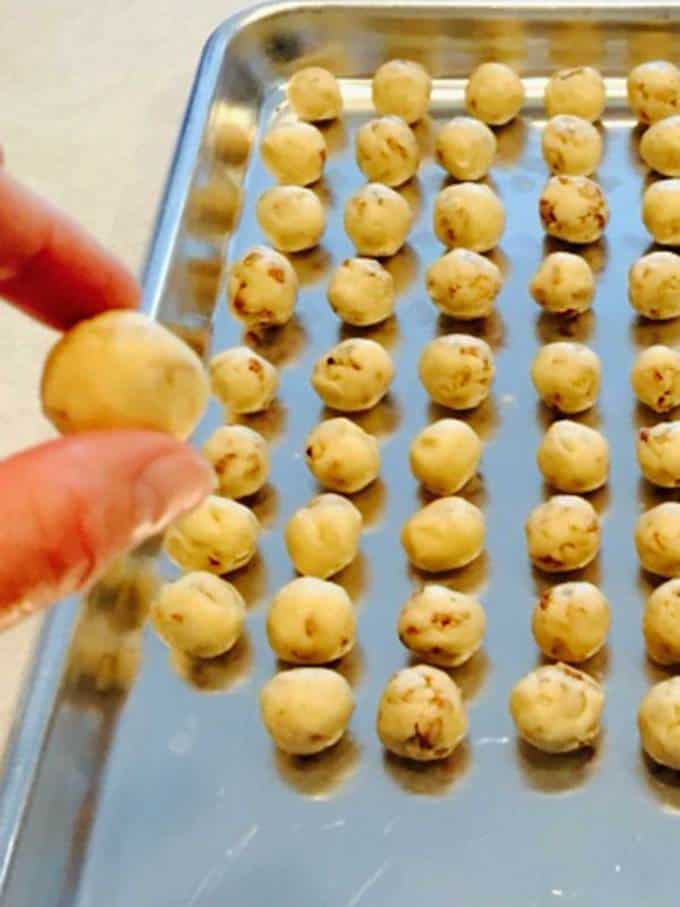 I baked the cookies in a preheated 350° F oven for about 25 minutes until they were golden brown.
How to Finish the Cookies
When I removed the cookies from the oven, I immediately transferred them to a 9×12-inch pan and covered them with confectioners' sugar. I tossed the cookies to coat and transferred the coated balls to a plate.
Once all of the cookies had been coated with confectioners' sugar, I repeated the process. Because the cookies were hot during the first coating, the confectioners' sugar melted just a bit. This allowed the confectioners' sugar from the second coating to adhere very nicely to the cookies.
Although it was somewhat of a tedious process to roll the dough into such small balls and then double-coat them with confectioners' sugar, it was well worth it.
The Edible Gift
Did I mention that these amazing little Snowball Cookies make beautiful homemade edible gifts? I like to put them into little jars with lids. The best place that I've found to get the jars is at a Dollar Store or equivalent.
Once the cookies are in the jar, I "wrap" them in nylon net. I finish them off with curled ribbon and little Christmas balls. Sometimes, I will include the recipe on a little card.
These Toasted Pecan Snowball Cookies never cease to bring rave reviews from those lucky enough to receive them!
Whether you keep the Toasted Pecan Snowball Cookies for yourself or give them as gifts, I think that you will find that they are actually better the next day, if that's possible.
The Toasted Pecan Snowball Cookies will stay fresh for a week with packaged in an airtight container.
They make the perfect edible gift for the holiday season and are the perfect size to pop into your mouth. Yum!
Other Edible Gift Ideas
If you would like more ideas for making delicious edible gifts, you would try the following:
I hope you liked this recipe for Toasted Pecan Snowball Cookies as much as I do. If so, please consider rating it and leaving a comment. Also, if you'd like to receive notifications of new posts by email, enter your email address in the Subscribe box.
Thank you so much for visiting Pudge Factor. I hope you'll come back!
Recipe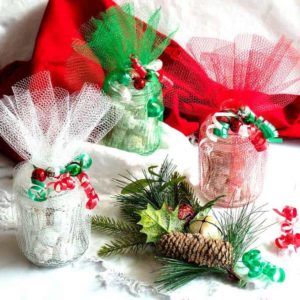 Toasted Pecan Snowball Cookies
Toasted Pecan Snowball Cookies are likely to quickly become your favorite cookie for any occasion
Print
Pin
Rate
Ingredients
1

cup

(2 sticks, 8-ounces, 227 grams) unsalted butter, room temperature

⅓

cup

(1.33-ounces, 38 grams) confectioners' sugar

2

teaspoons

vanilla extract

1

Tablespoon

water

2

cups

(10-ounces, 283 grams) all-purpose flour

1 ½

cups

(6-ounces, 170 grams) chopped pecans, toasted (See Tip 1)

Additional confectioners' sugar for dusting, about 2 cups
Instructions
Preheat oven to 350° F.

In a large bowl, beat butter, confectioners' sugar, vanilla extract and water until fluffy, about a minute. Add flour and stir until well blended. Stir in pecans.

Form into small balls (no larger than the diameter of a penny – the smaller the balls, the better the cookies). Place on an ungreased baking sheet. Bake for 25 minutes or until golden brown.

Remove from the oven and immediately roll in confectioners' sugar. When all cookies have been rolled in confectioners' sugar, roll the cookies again in confectioners 'sugar. (See Tip 2)

Store in an airtight container. (See Tip 3)

Yield: 13 to 14 dozen.
Chula's Expert Tips
To toast pecans, spread in a single layer on a baking sheet. Bake in a preheated 350°F (180°C) oven for 8 to 10 minutes or until lightly toasted and fragrant. Watch carefully to ensure that the pecans don't over-toast or burn.
I always double roll these amazing cookies in confectioners' sugar.  When I add the hot cookies to the confectioners' sugar and roll them the first time, the heat of the cookies somewhat melts the confectioners' sugar. That way, on the second roll, the confectioners' sugar adheres nicely to the cookie!
If I'm making the cookies for us, I store them in a Ziploc bag. However, if they're going to be a Christmas gift, I place them in a decorative jar with a top, and then "wrap" the jar in nylon mesh tied with curly ribbon and tiny Christmas balls. I usually purchase the jars from a dollar-type store.
Nutrition
Calories:
77
kcal
|
Carbohydrates:
5
g
|
Fat:
5
g
|
Saturated Fat:
3
g
|
Cholesterol:
12
mg
|
Potassium:
13
mg
|
Sugar:
1
g
|
Vitamin A:
140
IU
|
Calcium:
3
mg
|
Iron:
0.3
mg
Tried this recipe?
Please leave a comment below and/or give this recipe a rating. On Instagram? Take a picture and tag @pudgefactor or #pudgefactor.