Butter Pecan Cookies are buttery rich and intensely flavored with toasted pecans. They're soft in the middle and crisp around the edges – a perfect cookie!
Ingredients
The ingredients for the Butter Pecan Cookies include unsalted butter, light brown sugar, granulated sugar, eggs, vanilla extract, baking soda, salt, all-purpose flour, and toasted pecans.
Making the Butter Pecan cookie dough
The first step in making these delicious cookies is creaming the butter. You can use a stand mixer, but I actually prefer my hand-held electric mixer. I beat the butter on high for about a minute until it was smooth and creamy. Then I added the sugars and continued to beat on high for a minute or so, until the mixture was light and fluffy.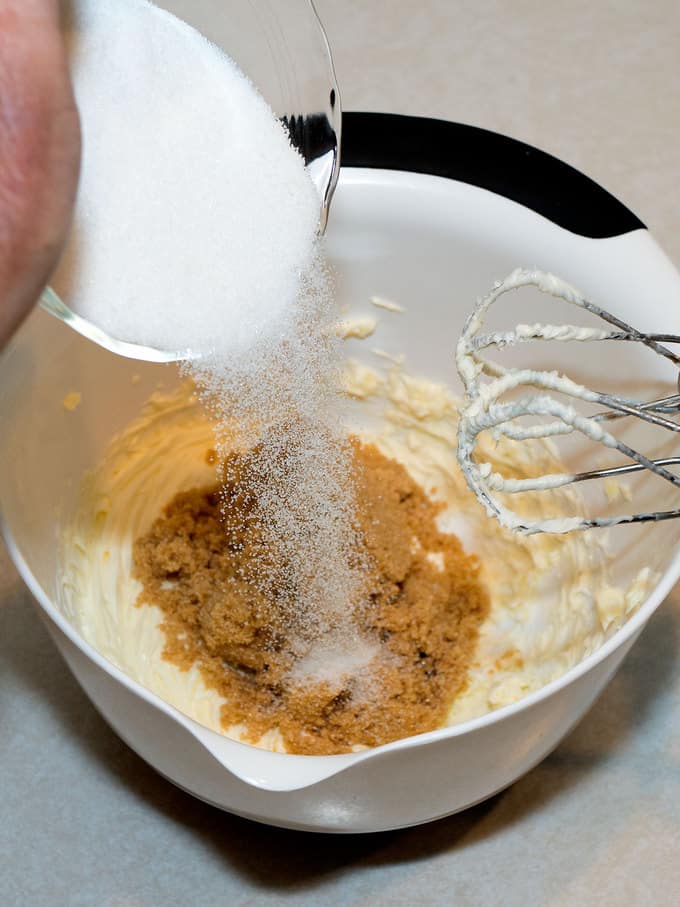 Next I added the eggs and vanilla extract. I continued beating on high until everything was well incorporated and the mixture was light and fluffy. This took another minute or so.
Just about every cookie recipe I've ever seen has you sift the dry ingredients together before adding them to the wet ingredients. Sometime back, I decided that it made more sense, at least to me, to add the baking powder/soda and salt to the wet ingredients and beat the mixture until everything was incorporated. That's what I did here. I always sift in the baking soda, because invariably it has some lumps.
Now, it was time to add the flour. I beat the mixture on low, just until the flour was incorporated.
Finally, I added the toasted pecans and stirred the dough with a wooden spoon, until the pecans were evenly distributed.
I covered the dough with plastic wrap and refrigerated it for at least three hours. In my case, I made the dough before going to work, so it sat in the refrigerator for about 11 hours before I was ready to bake some cookies.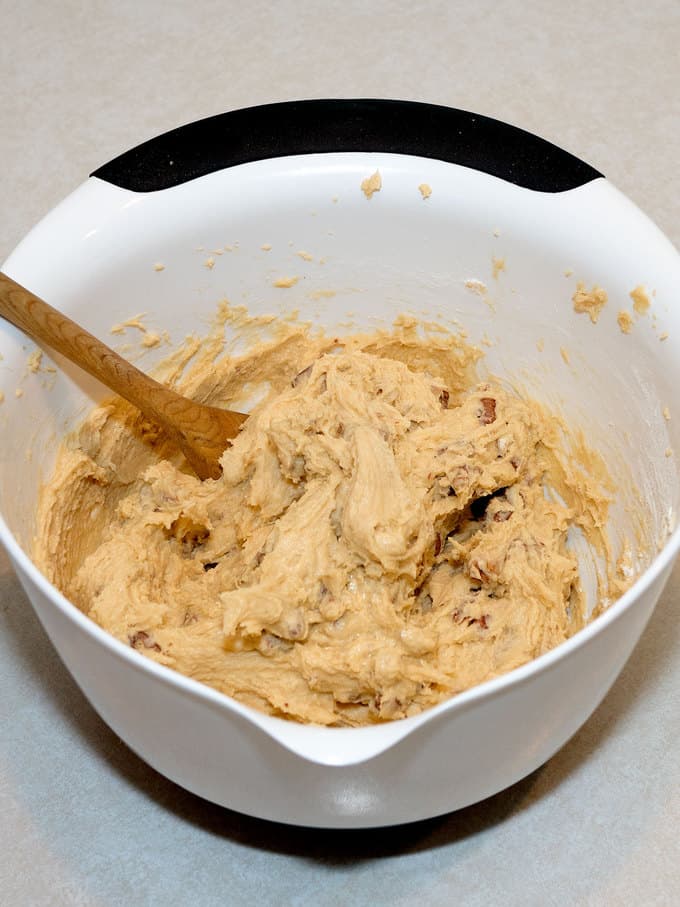 I used my 1-¾ inch ice cream scoop to partition the dough. I then rolled each piece into a ball and placed it on a parchment lined baking sheet. The last time I made these cookies, I flattened the dough ball before baking – a big mistake. They cooked too quickly and flattened out too much.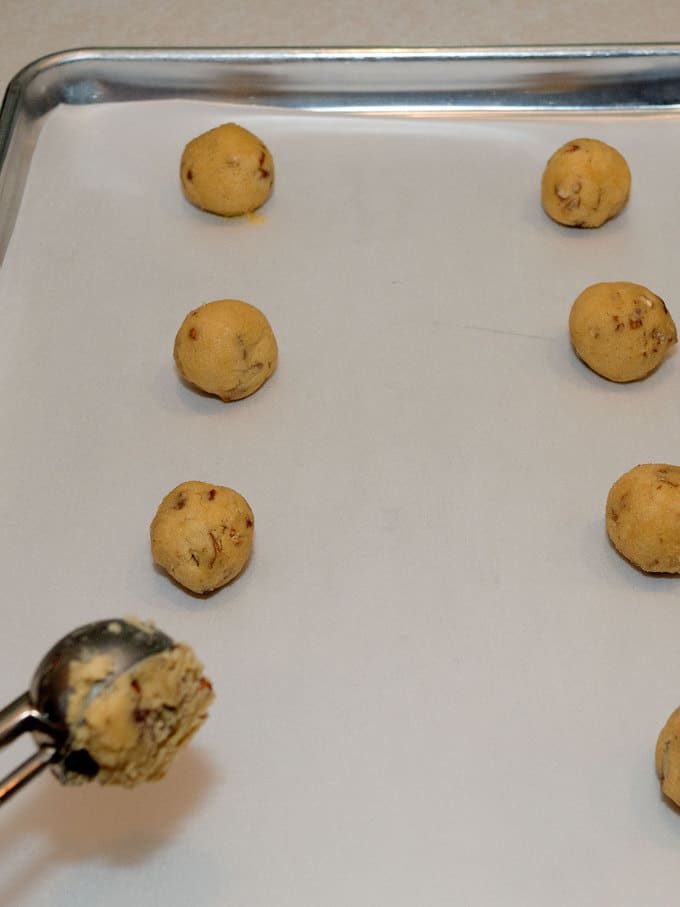 Into a 350°F oven the cookies went for 10 to 11 minutes, until they were golden brown around the edges. I removed the cookies from the oven. After letting them sit on the baking sheet for about 5 minutes, I transferred them to a wire rack to cool completely.
One of the great things about this recipe is that the cookie dough freezes beautifully. Therefore, I only baked what I thought that the Master Test Tester and I would eat in the next couple of days. I partitioned out the rest of the dough, formed it into balls, froze it, and stored the frozen cookie dough in the freezer. Nothing is better than freshly baked cookies. Yum!
If you like cookies with pecans in them, you should also try my Pecan Sandies or Toasted Pecan Snowball Cookies.
I hope you liked this recipe for Butter Pecan Cookies as much as I do. If so, please consider rating it and leaving a comment. Also, if you'd like to receive notifications of new posts by email, ever your email address in the Subscribe box.
Thank you so much for visiting Pudge Factor. I hope you'll come back!
Recipe
Butter Pecan Cookies
These cookies are buttery rich, and intensely flavored with toasted pecans. They're soft in the middle and crisp around the edges – a perfect cookie!
Ingredients
1 ½

cups

(6 ounces, 170 grams) chopped pecans

1

cup

(2 sticks, 8 ounces, 230 grams) unsalted butter, room temperature

1

cup

(7 ounces, 213 grams) light brown sugar, packed

½

cup

(3.5 ounces, 106 grams) granulated sugar

2

large egg

room temperature

1

Tablespoon

vanilla extract

2 ½

cups

(11 ounces, 312 grams) all-purpose flour

1

teaspoon

baking soda

½

teaspoon

salt
Instructions
Preheat oven to 350°F. Toast pecans in single layer on baking sheet for 8 to 10 minutes. Set aside to cool.

Beat butter in large bowl using electric mixer for 1 minute or until smooth and creamy. Add granulated sugar and brown sugar. Beat on high speed until light and fluffy.

Add eggs and vanilla; beat on high speed until light and fluffy.

Sift in baking soda and salt; beat on high speed until well incorporated.

Add flour to butter/sugar mixture, and beat on low speed just until combined.

Stir in the toasted chopped pecans until evenly disbursed.

Cover dough with plastic wrap or aluminum foil, and chill for at least 3 hours and up to 3 days. Do not skip this step.

Preheat oven to 350°F.

Line two large baking sheets with parchment paper or silicone baking mats.

Remove cookie dough from the refrigerator. Scoop and roll balls of dough, about 1-½ Tablespoons of dough each, into balls.

Bake the cookies for 10 minutes (11 minutes for crispier cookies), until slightly golden brown around the edges. The baked cookies will look extremely soft in the centers when you remove them from the oven. Allow to cool for 5 minutes on the cookie sheet. If the cookies are too puffy, gently press to flatten. Transfer to a wire rack to cool completely.

Yield: 3 dozen cookies.

Note: Cookies will stay fresh in an airtight container at room temperature for several days. Unbaked cookie dough balls freeze well for up to three months. Bake frozen cookie dough balls for an extra minute, no need to thaw.
Nutrition
Calories:
146
kcal
Carbohydrates:
16
g
Protein:
1
g
Fat:
8
g
Saturated Fat:
3
g
Cholesterol:
22
mg
Sodium:
68
mg
Potassium:
40
mg
Sugar:
8
g
Vitamin A:
175
IU
Vitamin C:
0.1
mg
Calcium:
12
mg
Iron:
0.6
mg