Simple and refreshingly decadent, these Greek Yogurt Fudge Pops are sure to please on hot summer days.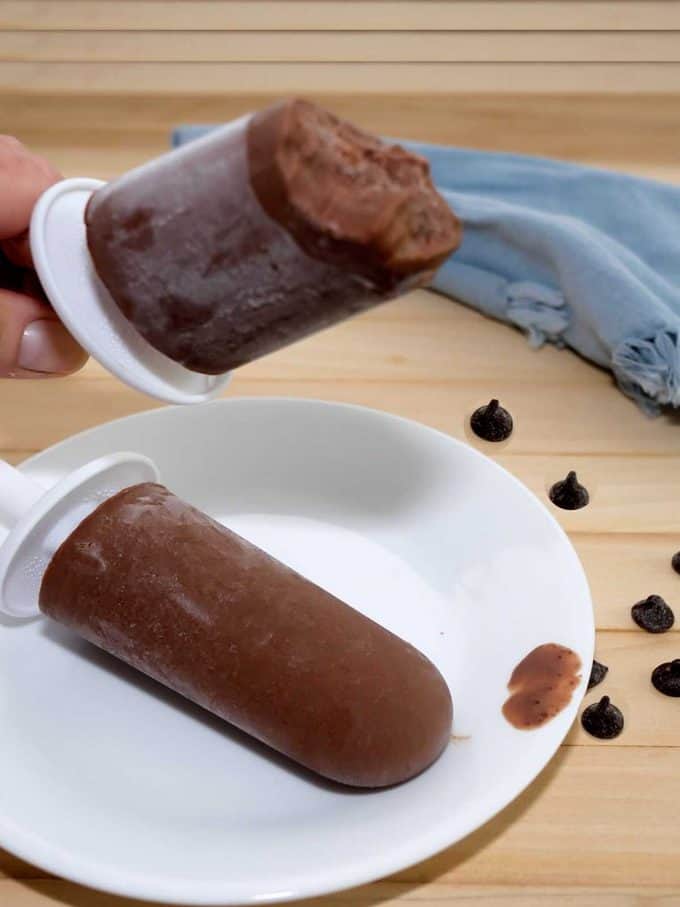 And talk about hot! The Master Taste Tester and I just returned from a trip to the Lake District in the northwest part of England where the temperatures averaged in the mid-60's during the day, and the low to mid-50's at night. Before landing in Atlanta, the captain announced that the weather was partly cloudy and 98° F. I thought that I was going to faint when I got off the plane!
I remembered seeing an incredible post of Mixed Berry and Yogurt Popsicles from my sister's Grits and Pinecones blog, and decided that as soon as I could, I was going to try my hand at making some sort of popsicle. I enlisted Susan's help in deciding what I should try first. These Greek Yogurt Fudge Pops from Baker by Nature were at the top of the list.
Ingredients
These delicious Greek Yogurt Fudge Pops only contain four ingredients: Semi-sweet chocolate chips, chocolate milk, vanilla extract, and Vanilla Greek Yogurt.
Making the Fudge Pops
To make the Greek Yogurt Fudge Pops, I started by melting the chocolate chips. I then added the chocolate milk and brought the mixture to a simmer.
I let the mixture cool for about five minutes before adding the vanilla extract and the yogurt.
Then I stirred everything together and poured the mixture into a wire strainer set over a measuring cup. I was actually surprised at how many bits were still unmelted.
I added the strained mixture to individual pop molds and placed the pops in the freezer to harden.
My popsicle molds are smallish, only holding about 3 ounces each. With the amount of the mixture that didn't make it through the strainer, I managed to get five incredibly decadent Greek Yogurt Fudge Pops. Yum!
If you'd like to try some more popsicle recipes, check out my Strawberries and Cream Popsicles or Intensely Chocolate Grown-up Fudgesicles.
I hope you liked this recipe for Greek Yogurt Fudge Pops as much as I do. If so, please consider rating it and leaving a comment. Also, if you'd like to receive notifications of new posts by email, enter your email address in the Subscribe box.
Thank you so much for visiting Pudge Factor. I hope you'll come back!
Recipe
Greek Yogurt Fudge Pops (inspired by Baker by Nature)
Perfect for a hot summer's day!
Ingredients
¾

cup

semi-sweet chocolate chips

¾

cup

chocolate milk

1

teaspoon

vanilla extract

¾

cup

Vanilla Greek Yogurt

(Full-fat recommended for creamiest results)
Instructions
In a small saucepan over medium-low heat, melt the chocolate chips, stirring constantly, until completely melted. Add the chocolate milk; increase the heat to medium. Bring to a gentle simmer, stirring constantly. Remove from heat and cool for 5 minutes. Add vanilla and yogurt; mix well until completely smooth. Place a fine-mesh strainer over a large measuring cup and pour the chocolate mixture through the strainer. Pour the strained chocolate liquid into the popsicle molds; top with drip guard/sticks. Freeze for 5 hours or until hard. To un-mold, run under warm water. Yield: Five 3-ounce pops.*

*Note: For large pop molds, e.g., 6-ounce, double the recipe.
Nutrition
Calories:
217
kcal
Carbohydrates:
22
g
Protein:
5
g
Fat:
11
g
Saturated Fat:
6
g
Cholesterol:
7
mg
Sodium:
35
mg
Potassium:
246
mg
Fiber:
2
g
Sugar:
17
g
Vitamin A:
50
IU
Vitamin C:
0.3
mg
Calcium:
59
mg
Iron:
1.8
mg