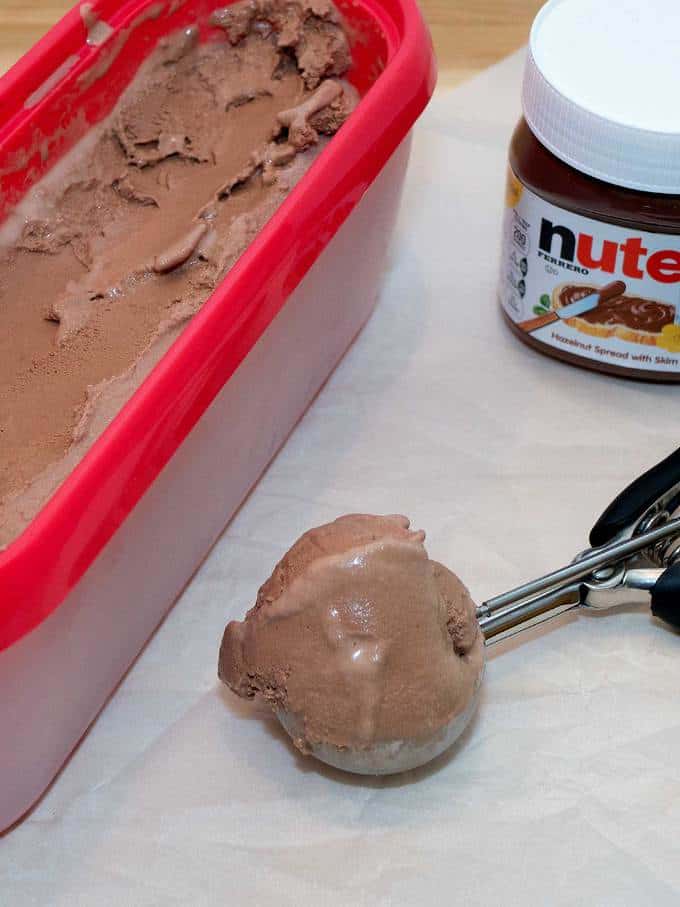 The other day, I made homemade yogurt, and decided that a great way to use some of it was in this luscious Frozen Nutella Yogurt. It's a true treat on hot summer days. Because it's made with yogurt with active cultures, Frozen Nutella Yogurt which was inspired by Chocolate Covered Katie, is a healthy alternative to ice cream.
The ingredients include whole milk yogurt which was drained for about an hour, whole milk, Nutella, unsweetened cocoa, and vanilla extract. If you want it a little sweeter, you can add a bit of Stevia.
I added all of the ingredients except for the Stevia to my blender, and blended it on high for about 30 seconds to ensure that everything was totally incorporated. After a quick taste, I decided that it didn't need any Stevia.

I refrigerated the mixture until it reached a temperature of about 40° F, and poured it into the bowl of my ice cream maker.
After about 20 minutes, the Frozen Nutella Yogurt was ready to be removed from the ice cream maker.
I transferred the Frozen Nutella Yogurt to a container, smoothed out the top, and put it the freezer to harden a bit more.
Talk about good! The Frozen Nutella Yogurt was creamy, chocolaty, and absolutely delicious. Yum!
Ingredients
2 cups (16 ounces, 454 grams) drained whole milk yogurt
1 cup (8 ounces, 227 grams) whole milk
2/3 cup (5.75 ounces, 163 grams) Nutella
1/4 cup (.75 ounces, 21 grams) unsweetened cocoa
1 Tablespoon vanilla extract
1 or more packages Stevia (optional)
Instructions
Add all ingredients except for the option Stevia to blender. Blend for 30 seconds or until all ingredients are well incorporated. Taste to determine whether or not to add any Stevia.
Refrigerate until the mixture reaches a temperature of at least 41° F.
Add to bowl of ice cream maker; process according to manufacturer's directions.
Transfer to container. Freeze until firm.
Yield: 1 quart.
7.6.7
63
https://pudgefactor.com/frozen-nutella-yogurt/