Strawberries and Cream Popsicles are the perfect way to beat the summer's scorching heat. These homemade popsicles feature a silky blend of vanilla Greek Yogurt with vibrant swirls of roasted fresh strawberry purée. They are guaranteed to bring a wave of cooling refreshment your way.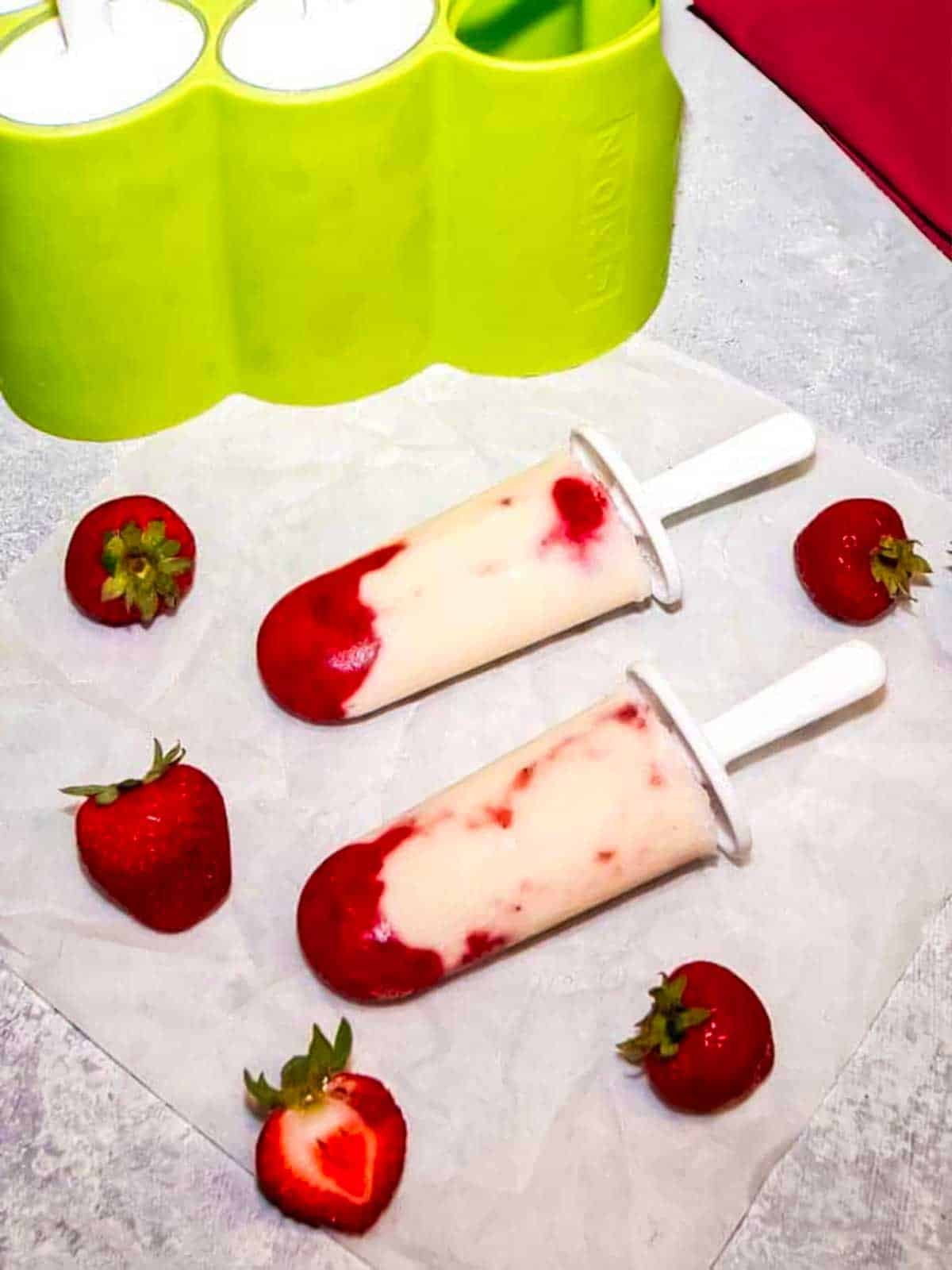 Jump to:
Why You Should Make These Frozen Treats
Summer is here, and what better way to cool down than with these homemade Strawberries and Cream Popsicles?
Refreshing Summer Treat: On scorching summer days, there's nothing like a cooling, fruity popsicle to offer relief from the heat. The sweet and tart strawberry purée combined with the creamy Greek yogurt creates an ultimate refreshing experience.
Packed with Natural Goodness: These popsicles are packed with the goodness of fresh strawberries, offering a natural source of vitamins and fiber. Greek yogurt adds a protein punch, while the honey provides a touch of natural sweetness.
Easy to Make: Making these delicious treats is straightforward, requiring no special culinary skills. Whether you're a kitchen novice or a seasoned cook, you can whip up these popsicles with ease.
Kid-Friendly: These popsicles are a hit with kids of all ages. Fun to eat and healthier than store-bought, sugar-laden ice creams or lollies, they're a snack you can feel good about serving.
Ingredients: Here's What You'll Need
For this summer delight, you only need a handful of ingredients.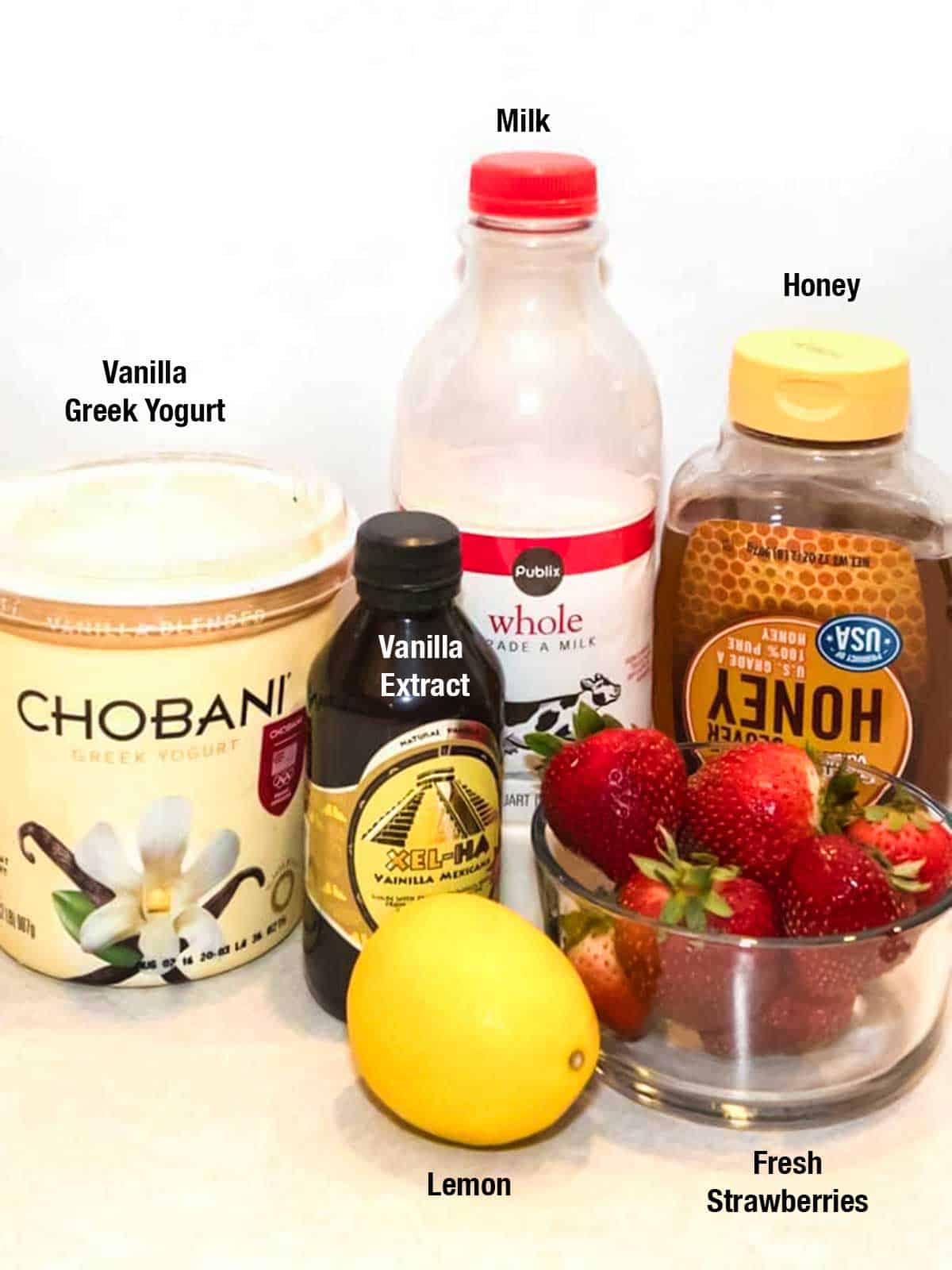 Fresh Strawberries: Fresh strawberries are a key component in the name of this recipe as well as a key ingredient.
The "Cream": Vanilla Greek yogurt and whole milk combine to produce the creaminess.
Sweet and Tart: Honey and fresh lemon juice combine to produce the perfect level of sweet and tart.
Added Flavor: Vanilla extract adds a hint of added flavor to these summer treats.
Steps: How to Make Strawberries and Cream Popsicles
The most time-consuming part of making these treats was roasting the strawberries. I know that this might sound odd, but the roasting concentrates the flavors.
I started by cutting the hulled strawberries in half and placed them in a single layer on a rimmed baking sheet lined with nonstick aluminum foil.
I roasted the strawberries for 25 minutes in a preheated 400°F oven. Halfway through the roasting, I gave the strawberries a stir.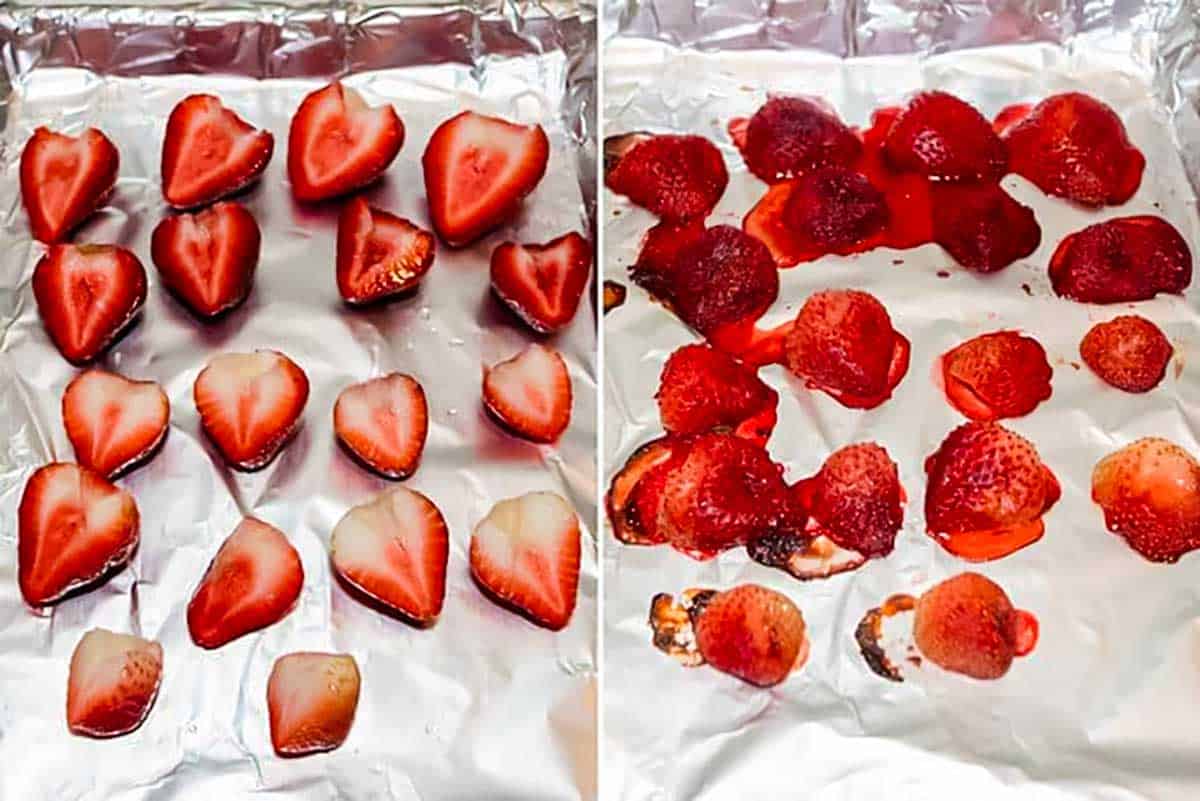 After allowing the strawberries to cool for a bit, I put them in the blender and pulsed it several times. I wanted some chunks to remain in the purée.
Then I whisked together the yogurt, milk, honey, lemon juice, and vanilla extract in a measuring cup. The reason that I used a measuring cup was that I wanted to be able to easily pour the mixture into the popsicle molds.
To fill the popsicle molds, I put a Tablespoon of strawberry purée into the mold, filled it about half-way up with the cream mixture, added a teaspoon of the strawberry purée, and filled it to the top with the cream mixture.
I took a knife and swirled the mixture once or twice to better distribute the strawberry purée. I placed the popsicle stick into the mold, and placed the Strawberries and Cream Popsicles in the freezer.
Once the popsicles were frozen, I removed them from the popsicle container to enjoy.
I ended up with five perfect little treats for the hot summer days. They were creamy, with just the right balance of the sweetness of strawberries and honey and the tartness of the Greek yogurt and lemon juice. Yum!
Recipe FAQs
Can frozen strawberries be substituted for fresh strawberries?
You can substitute frozen strawberries in this recipe. Just make sure that the strawberries are not frozen in syrup.
How long do the strawberries and cream popsicles last?
Strawberries and cream popsicles will last for about two weeks in the freezer.
What popsicle mold is used in this recipe?
I used the Zoku Classic Pop Mold that I purchased on Amazon.com.
Will this recipe work with different popsicle molds?
This recipe should work fine with whatever popsicle mold you happen to have on hand. Depending on the size of the popsicle mold, you may be able to produce more or less than with the Zoku mold.
Recipe Tips and Tricks
Use the ripest strawberries that you can find. The sweeter the strawberries, the tastier the strawberries and cream popsicles.
This recipe is quite versatile. For example, you add ¼ cup of melted chocolate chips to the Greek yogurt mixture for Chocolate Strawberries and cream popsicles. Substitute blueberries for the strawberries for Blueberries and Cream popsicles.
Do not overfill the popsicle mold. As the mixture freezes, it expands.
Freeze the popsicles for at least 4 hours before trying to remove them from the mold. Dip the molds in warm water for 10 to 20 seconds to make it easier to remove the frozen treats.
Other Frozen Treats
If you're looking for more frozen treats to enjoy during the hot summer months, you've come to the right place!
I hope you liked this recipe for Strawberries and Cream Popsicles as much as I do. If so, please consider rating it and leaving a comment. Also, if you'd like to receive notifications of new posts by email, enter your email address in the Subscribe box.
Thank you so much for visiting Pudge Factor. I hope you'll come back!
Recipe
Strawberries and Cream Popsicles
With the hot weather approaching, what better way to cool off than these delicious Strawberries and Cream Popsicles? They're made with creamy vanilla Greek Yogurt and swirls of fresh strawberry purée. Their bright and refreshing flavors are a perfect treat on a hot summer day.
Ingredients
1

pint

(2 cups) fresh strawberries, stemmed and halved

¾

cup

vanilla Greek yogurt

½

cup

whole milk

2

Tablespoons

honey

1

teaspoon

fresh lemon juice

1

teaspoon

vanilla extract

Popsicle molds
Instructions
Preheat oven to 400°F.

Line a rimmed baking sheet with non-stick aluminum foil. Place the strawberries onto the baking sheet; roast for 25 minutes, stirring half way.

Allow the strawberries to cool for 10 minutes. Place in blender; pulse 2 to 3 times, or enough so the strawberries become puréed but some chunks remain.

In a medium bowl, whisk together remaining ingredients yogurt, milk, honey, lemon juice and vanilla extract.

Place 1 Tablespoon of strawberry purée into the popsicle mold. Fill the mold half-way up with the cream mixture. Add 1 teaspoon of the strawberry purée. Fill mold to the top with the cream mixture.

Using a knife, make several swirls through the purée/cream mixture. Fit with popsicle stick. Repeat with remaining molds.

Freeze for at least 4 hours, preferably overnight.

Yield: 5 (3-ounce) popsicles.
Nutrition
Calories:
100
kcal
Carbohydrates:
19
g
Protein:
4
g
Fat:
1
g
Cholesterol:
3
mg
Sodium:
22
mg
Potassium:
207
mg
Fiber:
1
g
Sugar:
16
g
Vitamin A:
50
IU
Vitamin C:
56
mg
Calcium:
43
mg
Iron:
0.4
mg