Wondering what amazing side dish you can make for your holiday feast that takes little time to put together and can be made ahead of time? This creamy and cheesy Make-Ahead Broccoli Rice Casserole is the perfect solution! It is sure to become your most requested casserole.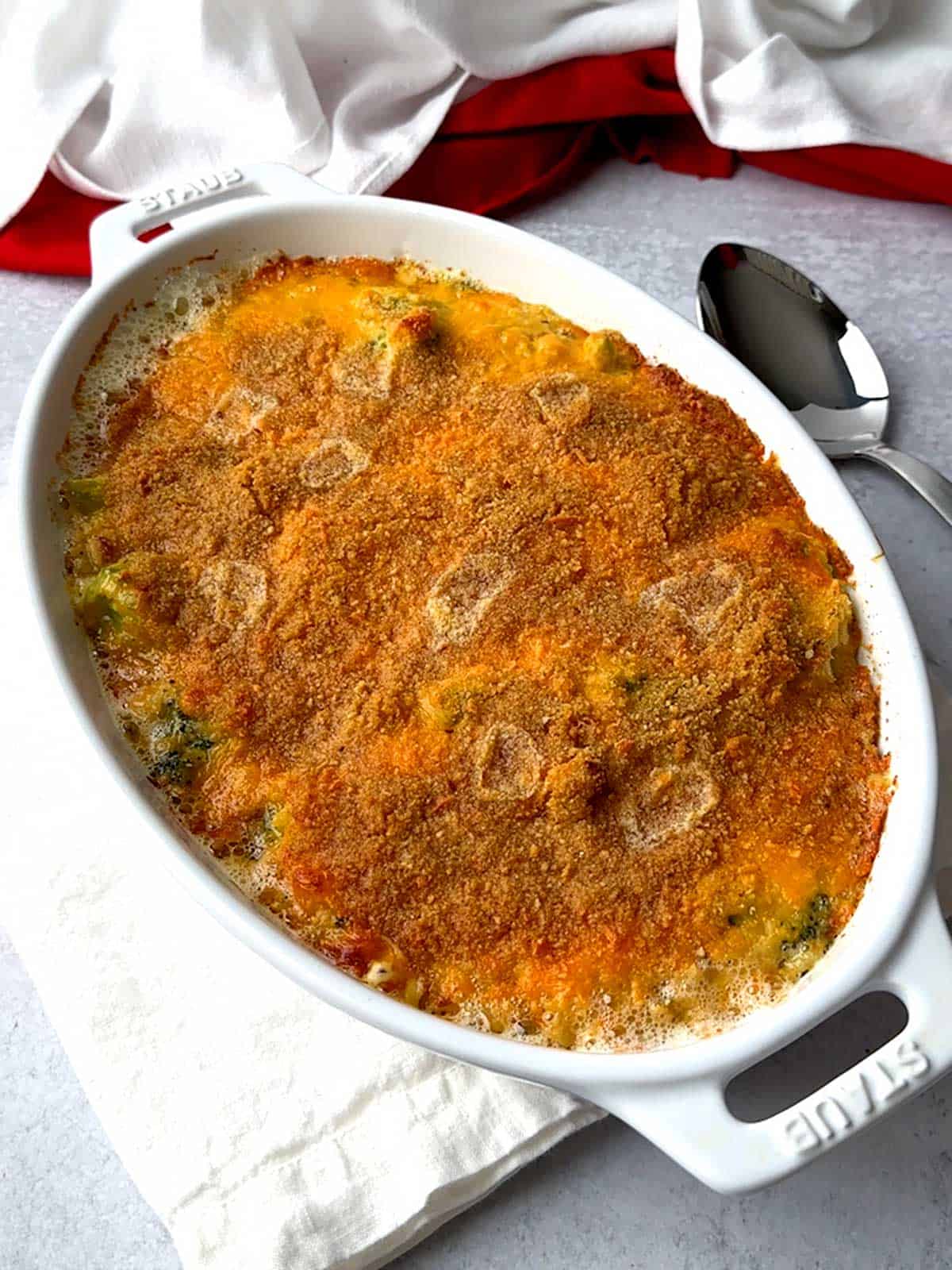 I've been making this casserole for as long as I can remember for not only holiday gatherings but also potluck dinners. It never ceases to bring rave reviews, even from those who profess to hate broccoli!
Jump to:
Broccoli Florets versus Broccoli Pieces
I generally use frozen broccoli florets as opposed to fresh broccoli. While fresh broccoli would work, I like the consistency and tenderness that frozen broccoli provides. In addition, the frozen broccoli is already cut up and ready to use.
However, there is a huge difference between using broccoli florets and broccoli pieces.
The broccoli florets are just that – they are the tender dark green clumps at the end of the broccoli stalks. Frozen broccoli pieces include some of the tender florets and a lot of the more fibrous stalks.
One time, I made the mistake of using frozen broccoli pieces instead of broccoli florets. The casserole was filled with tough, chewy pieces of broccoli stalks that just weren't very appealing.
Ingredients: Here's What You'll Need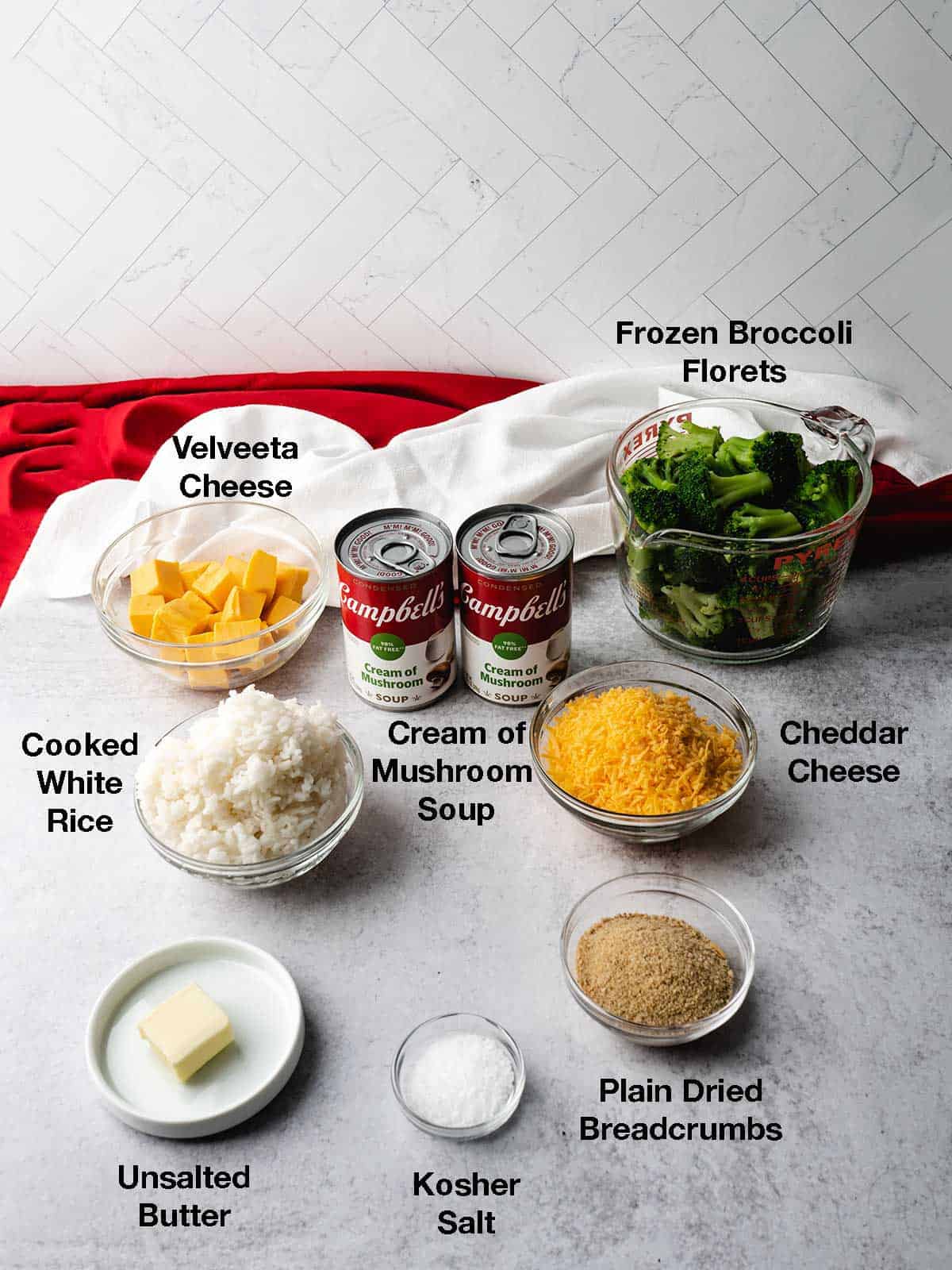 The Broccoli: I used frozen broccoli florets in this recipe, slightly cooked in boiling water with added Kosher salt. Often, the frozen florets contain some woody stems, which I remove.
When I first started making this casserole, I could purchase frozen broccoli florets in 16-ounce packages. Now, all that I can find are 12-ounce packages. I still use 16 ounces in the recipe, so I purchase two 12-ounce packages and use part of one to equal 16 ounces.
The Sauce: The sauce is a simple combination of Cream of Mushroom Soup and Velveeta Cheese. I know that there are those who don't like using either Cream of Mushroom Soup or Velveeta cheese. If you're one of these, this recipe isn't for you.
The Rice: When I first started making this recipe years ago, I used Minute Rice. Over time, I switched to cooked long-grain white rice. While both are delicious in this dish, I tend to have the long-grain rice on hand more often than Minute Rice.
The Toppings: To finish this amazing casserole, I top it with shredded Cheddar cheese, plain dry breadcrumbs, and dotted unsalted butter.
Steps in Making the Broccoli Casserole
To start, I added the broccoli florets to a pan of salted boiling water. As soon as the water started boiling again, I cooked the broccoli for 2 minutes. Then, I transferred the broccoli to a colander. I rinsed the broccoli with cold water to stop the cooking and let it drain well.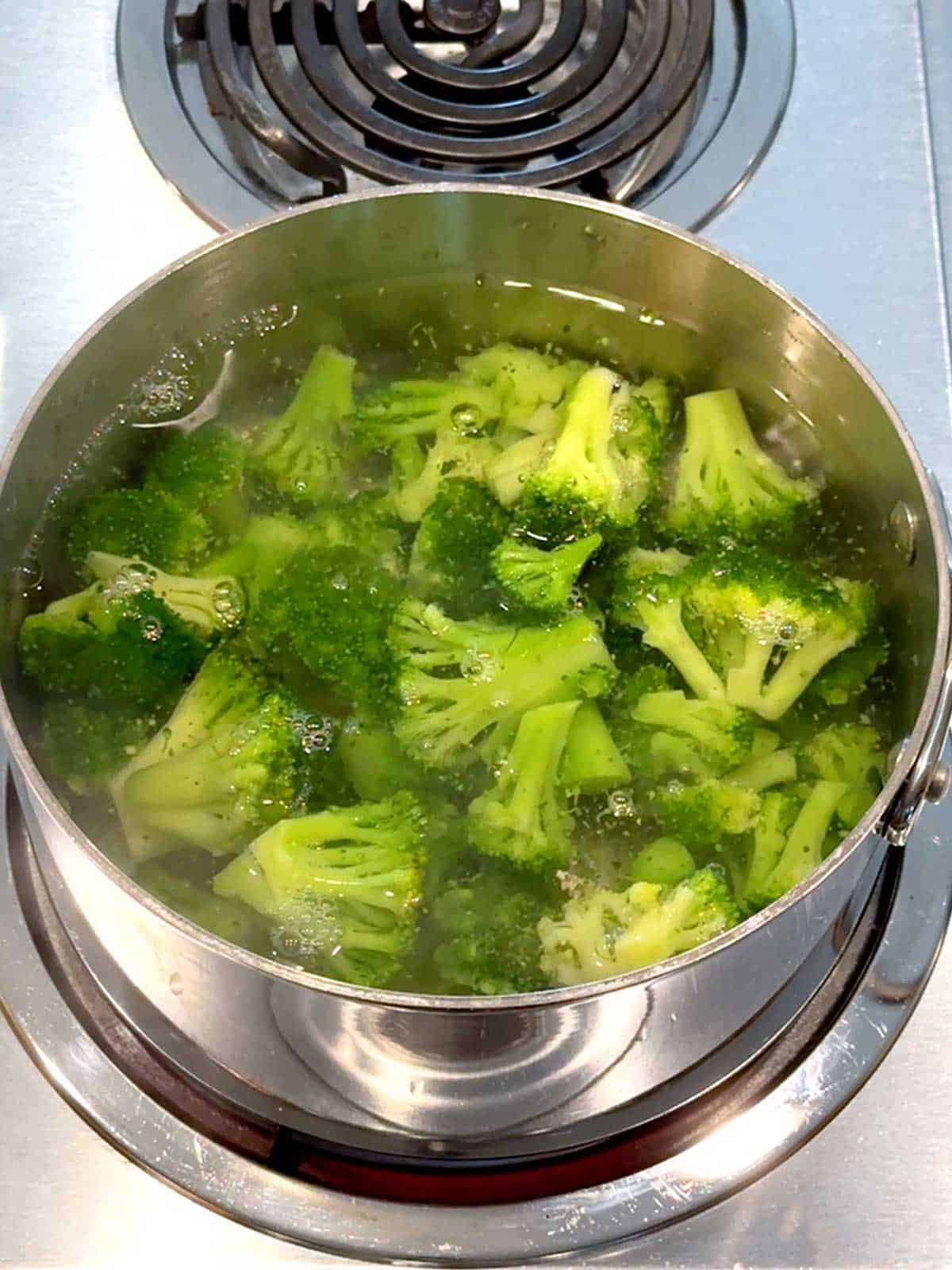 While the broccoli was draining, I heated the cream of mushroom soup and Velveeta cheese in a large saucepan over medium heat until the cheese melted.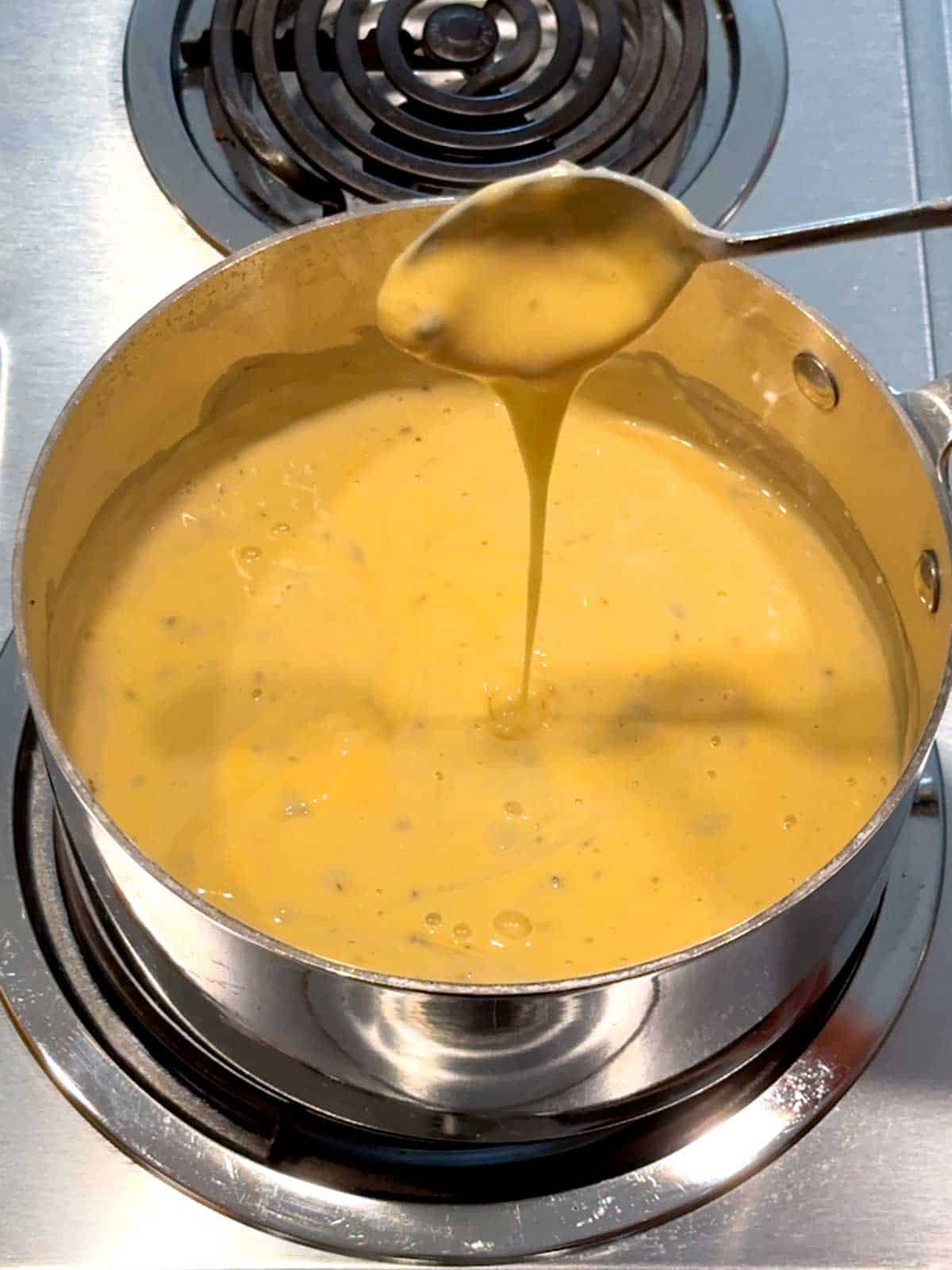 Next, I added the drained broccoli and rice to the cheese sauce and stirred to combine everything.
I poured the mixture into a casserole dish and sprinkled on some shredded Cheddar cheese and breadcrumbs. Next, I dotted the casserole with a bit of butter.
Here's the make ahead part – at this point, you can cover the casserole with aluminum foil and refrigerate it for up to two days before baking it!
I popped the casserole into a 350°F oven the casserole for 30 minutes until it was hot and bubbly and the top was golden brown.
With creamy and cheesy goodness, this easy Make-Ahead Broccoli Casserole is the perfect side dish for your annual holiday family gatherings. By the way, if by chance you have any leftovers, which is doubtful, this reheats extremely well. Yum!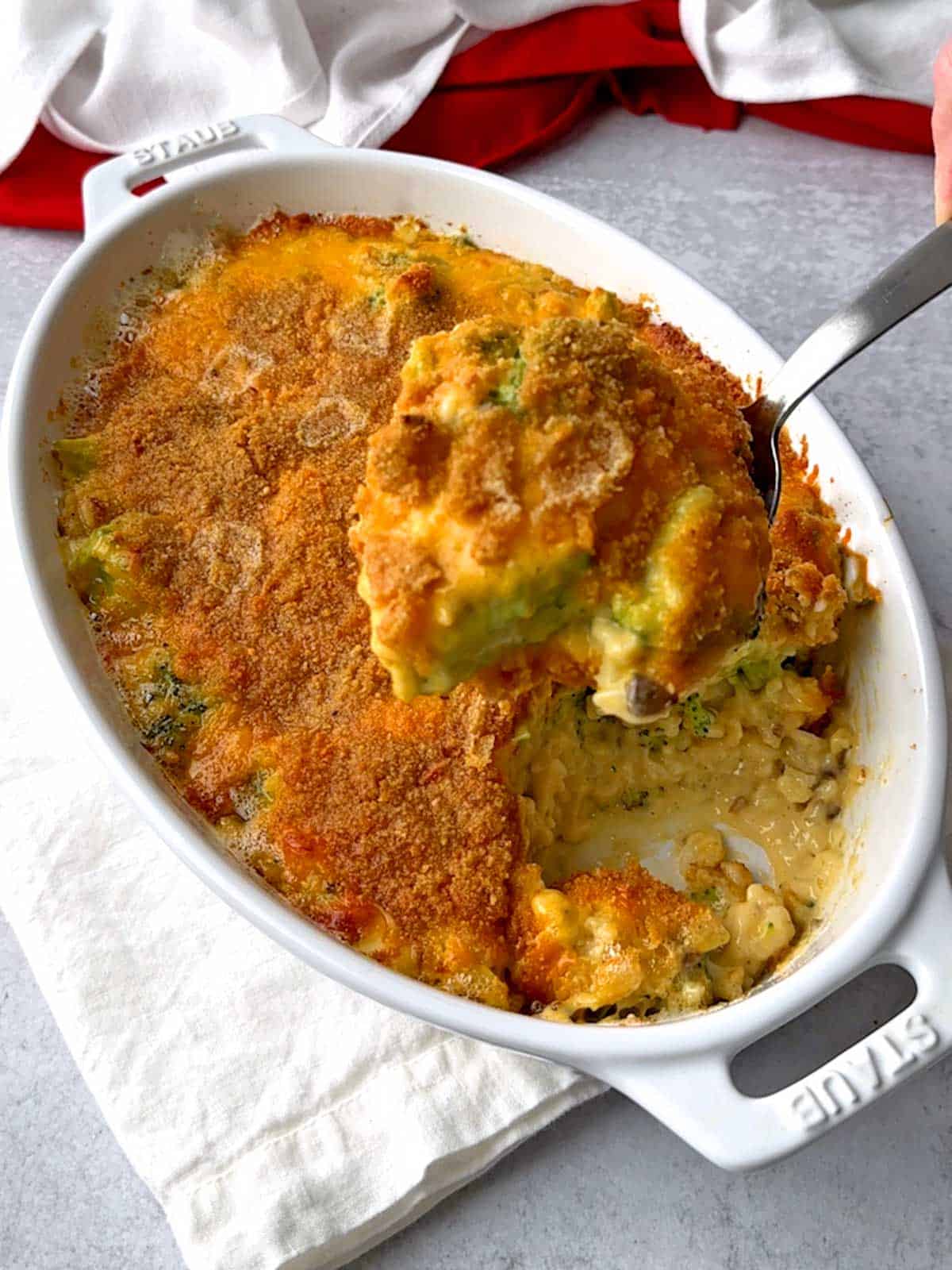 Frequently Asked Questions
How can the recipe be modified if fresh broccoli is used?
This recipe works well with fresh broccoli. Cut the florets and measure around 5 cups. Add the florets to boiling salted water and cook for about 5 minutes. Then proceed with the remainder of the recipe.
Is there a substitute for Velveeta cheese?
I've never made the sauce for this recipe with anything other than Velveeta cheese. One of the benefits of Velveeta cheese is that it melts evenly and results in a velvety smooth sauce. Therefore, I would not recommend a substitution for the Velveeta cheese.
How are leftovers reheated?
I like to reheat the leftovers in the microwave for a minute or two until hot. To maintain the crunchy top, I also reheat the leftovers in a 350°F oven for around 20 minutes.
How far in advance can this Make-Ahead Broccoli Rice Casserole be made?
You can make this recipe up to two days in advance. Just be sure that the casserole is well covered in the refrigerator.
Recipe Tips and Tricks
Have leftover ham or turkey? Add 2 cups of cubed ham or turkey to the broccoli and rice mixture at this point for a company-worthy after-Thanksgiving treat!
For an added crunch on top of the casserole, substitute 24 crushed Ritz crackers or plain Panko breadcrumbs for the plain breadcrumbs.
You do not want to overcook the broccoli. What you're really doing when adding the broccoli to boiling water is thawing it. The reason for rinsing the broccoli in cold water is that you want to stop the cooking at this point. You want the broccoli to be crisp-tender and bright green.
If I don't have any leftover rice on hand to use in this recipe, I make the required amount with ½ cup of well-rinsed long-grain rice and one cup of water.
Other Make-Ahead Side Dishes
Looking for more make-ahead side dishes? Check out these delicious recipes:
Recipe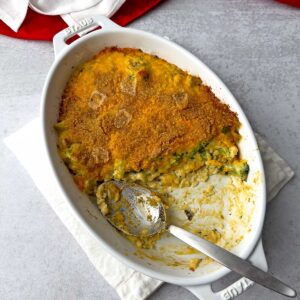 Make-Ahead Broccoli and Rice Casserole
This creamy and cheesy Broccoli Rice Casserole is a delicious make ahead side dish for your holiday or anytime feast. It contains just a few ingredients, and is a snap to make. Add 2 cups of leftover ham and you have an outstanding after Easter dish that is company worthy!
Ingredients
16

ounce

package frozen broccoli florets, about 5 cups (See Tip 1)

2

teaspoons

Kosher salt

2

cans of Cream of Mushroom Soup, undiluted

8

ounces

Velveeta Cheese cut into cubes

1 ½

cups

cooked long-grain rice (See Tip 2)

1

cup

(4 ounces) shredded Cheddar cheese

¼

cup

plain dried breadcrumbs (See Tip 3)

1

Tablespoon

unsalted butter
Instructions
Preheat oven to 350° F.

Bring a pan of water with two teaspoons of salt to a boil. Add broccoli florets. When the water returns to a boil, cook the broccoli for two minutes. Pour broccoli in a colander and rinse with cold water. Drain well; set aside (See Tip 4)

Heat cream of mushroom soup and Velveeta Cheese in a large saucepan until cheese melts. Add broccoli and rice; stir to combine. (See Tip 5)

Pour into a 2 ½ quart casserole dish sprayed with nonstick spray. Sprinkle shredded cheese and breadcrumbs on top. Dot with butter. (May be prepared in advance up to this point – cover with aluminum foil and refrigerate for up to 2 days.)

Bake at 350° F for 25 to 30 minutes or until bubbly and golden brown. (See Tip 6)

Yield: 6 servings. (See Tip 7)
Notes
Be sure that you use frozen broccoli florets as opposed to frozen broccoli pieces. The frozen broccoli pieces contain a lot of fibrous broccoli stalks, which tend to be tough and chewy.
You can use 1 cup of uncooked Minute Rice in place of the 1 ½ cups of cooked rice.
For an added crunch, use 24 crushed Ritz crackers in place of the breadcrumbs.
You do not want to overcook the broccoli. What you're really doing when adding the broccoli to boiling water is thawing it. The reason for rinsing it in cold water is that you want to stop cooking at this point. You want the broccoli to be crisp-tender and bright green.
For a company-worthy meal, add 2 cups of cubed cooked ham, chicken, or turkey to the broccoli and rice mixture. Proceed as directed.
If you've made this casserole ahead of time and refrigerated it, allow for an additional 5 minutes of cooking.
Leftovers, if any, can be reheated in the microwave for several minutes or in a preheated 350°F oven for 20 to 25 minutes.
Nutrition
Calories:
340
kcal
Carbohydrates:
35
g
Protein:
17
g
Fat:
14
g
Saturated Fat:
8
g
Cholesterol:
44
mg
Sodium:
2025
mg
Potassium:
857
mg
Fiber:
3
g
Sugar:
7
g
Vitamin A:
1100
IU
Vitamin C:
67.4
mg
Calcium:
417
mg
Iron:
2.5
mg