Dinner tonight was chicken schnitzel with mustard cream sauce.  A perfect accompaniment is mushroom risotto.  My job was taking care of the mise en place, or getting everything ready.  Susan took over from there and actually made the risotto.
The recipe is an adaption of Emeril's mushroom risotto on Food Network.  Like a lot of Emeril's recipes, the list of ingredients is pretty long.
Those ingredients include butter, shallots, garlic, mushrooms, dried thyme, salt, pepper, arborio rice, wine, chicken stock, heavy cream, Parmesan cheese, and chopped parsley.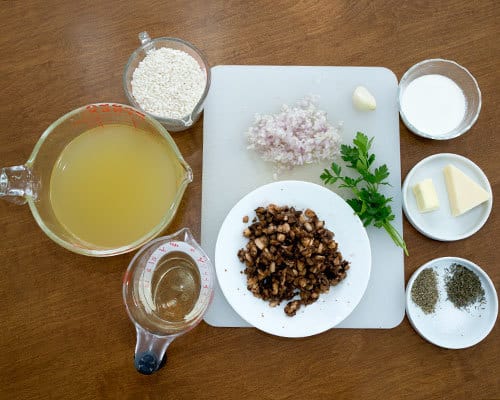 As a first step, Susan sautéed the finely chopped shallots and minced garlic in melted butter in a heavy saucepan for several minutes.
Then she added the mushrooms.  I know that the mushrooms look pretty awful.  However, what I did was to chop them and then squeeze as much liquid from the mushrooms as possible.  This causes the mushrooms to discolor.
After about a five minute sauté, Susan added the thyme, salt and pepper, followed by the addition of the rice.
Once the rice was opaque, Susan added the wine, and continued to cook the rice, stirring constantly.
When the wine was nearly evaporated, Susan began adding the heated chicken stock in stages, again stirring constantly until the amount that had been added was nearly evaporated.
After all of the chicken stock had been added, Susan added the heavy cream and stirred the mixture until the cream was well incorporated.
Finally, she added finely grated Parmesan cheese to the risotto.
After Susan garnished the risotto with chopped parsley, it was ready to serve.
The complete meal consisted of chicken schnitzel with mushroom cream sauce, mushroom risotto, steamed green beans and a Chardonnay.  Yum!
Mushroom Risotto
(Adapted from
Emeril's recipe on Food Network
)
1 Tablespoon unsalted butter
¼ cup finely chopped shallots
1 clove garlic, minced
6 ounces mushrooms, chopped and squeezed
1 cup Arborio rice
¼ teaspoon dried thyme
½ cup white wine or Vermouth
2¾ cups chicken stock
¼ teaspoon salt
¼ teaspoon freshly ground pepper
¼ cup heavy cream
½ cup finely grated Parmesan cheese
1 teaspoon chopped fresh parsley leaves
In a heavy saucepan, heat butter over medium heat. Add the shallots and garlic; cook, stirring until fragrant and soft, about 3 minutes. Add the mushrooms and cook, stirring, until wilted and their liquid is evaporated, 4 to 5 minutes. Add the rice, and cook, stirring constantly, until the grains are opaque, about 1 minutes. Stir in the thyme, salt and pepper. Add the wine and cook, stirring, until nearly all evaporated. Add ¾ cup of the chicken stock; cook, stirring constantly, until the stock is nearly all evaporated. Continue adding the stock ½ cup at a time as the previous addition is nearly absorbed, until the rice is tender and the risotto is creamy, 18 to 20 minutes. Stir in the cream, the Parmesan cheese and the parsley. Mix well. Yield: 4 servings.