Oatmeal Spice Shortbread is the perfect marriage of the nutty texture of oats and the crumbly texture of shortbread. The cookies are delicately flavored with a hint of cinnamon and healthy oats brought to life by the addition of toasted pecans.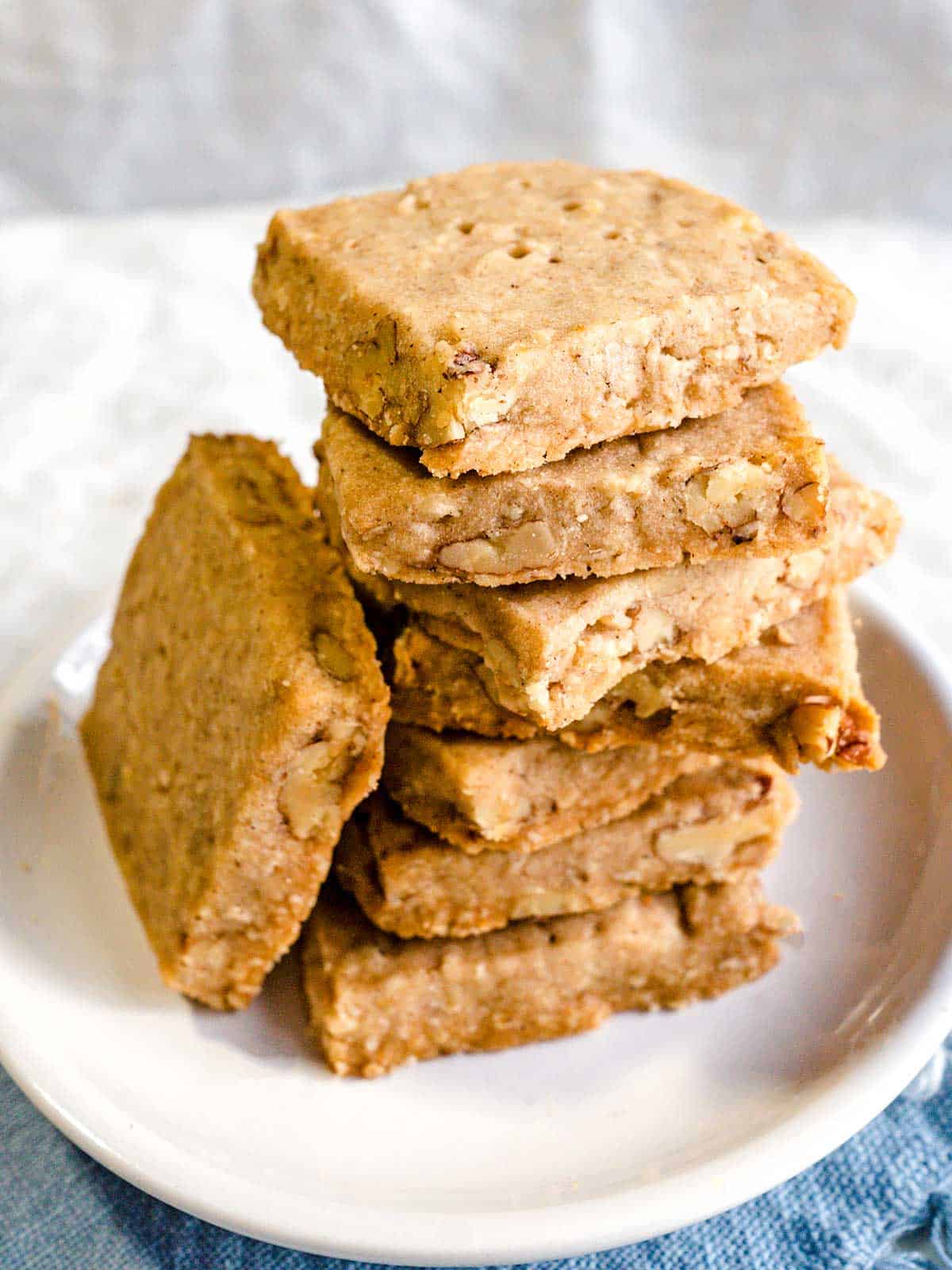 Ingredients: Here's What You'll Need for the Oatmeal Spice Shortbread
These amazing Oatmeal Spice Shortbread cookies use simple ingredients you probably already have on hand.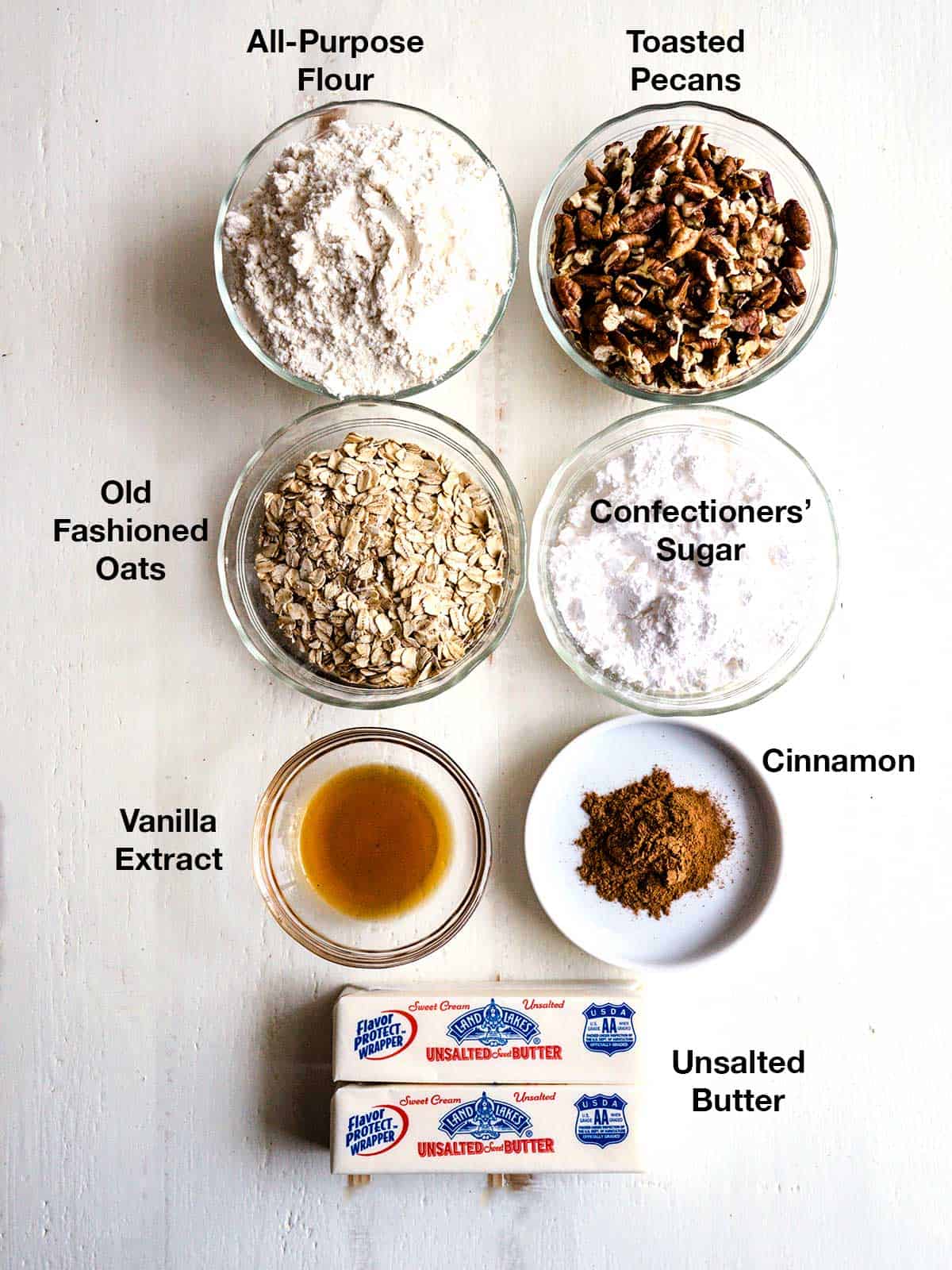 Flour: I used all-purpose flour in this recipe.
Sugar: For the sugar, I used confectioners' sugar. Confectioners' sugar tends to produce a more tender and melt in your mouth cookie compared to a cookie made with granulated sugar that has more of a crispy texture.
Structure and Crunch: Old Fashioned oats provide structure to this cookie while toasted pecans add an amazing crunch.
Fats: A key ingredient in shortbread cookies is butter. This recipe is no exception, using unsalted butter.
Flavorings: I included both vanilla extract and ground cinnamon to add flavor undertones to these cookies.
Here's How I Made the Dough
I started by processing the oats in my food processor fitted with a steel blade until the oats were the consistency of coarse ground cornmeal. This took about 10 seconds.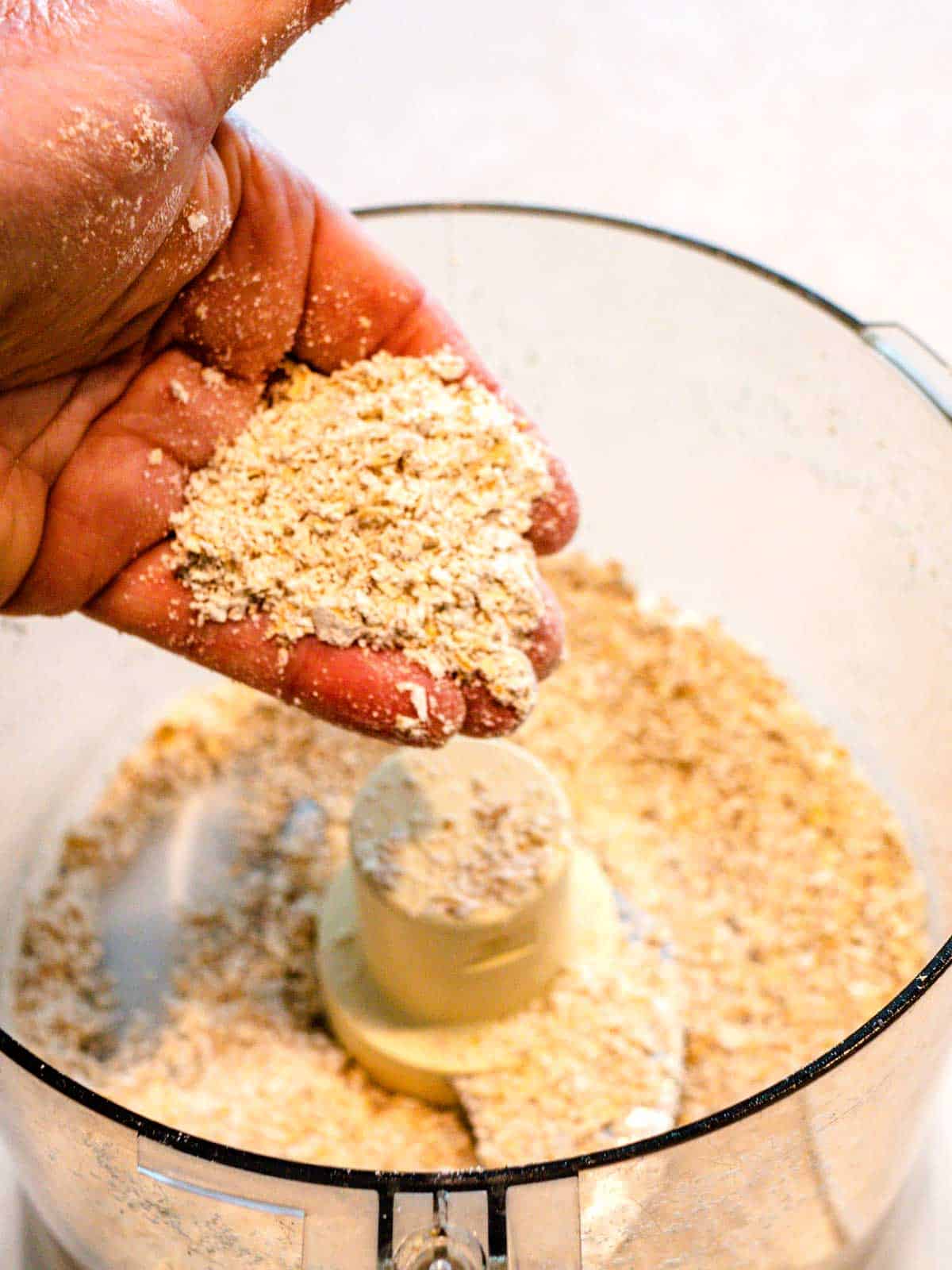 Then I added the flour and cinnamon to the food processor and pulse processed the mixture until everything was combined. This took about 5 pulses.
Next, I beat the butter, confectioners' sugar, and vanilla together with my electric mixer on medium speed until the mixture was smooth. This took about a minute.
After that, I added the flour/oat mixture, and beat on low just until everything was incorporated.
Finally, I added the pecans and stirred the mixture with a wooden spoon until well combined.
The Genius Hack
Some time back I came across a brilliant cookie hack from a Dorie Greenspan. That hack involved placing cookie dough into a gallon Ziploc bag, rolling it into an even layer and freezing the dough until it was ready to be used.
The beauty of this hack is that (1) there's no mess in rolling the dough; (2) the even layer dough produces even layer cookies; and (3) it works every time!
Therefore, once the dough was finished, I dumped it into a gallon-size Ziploc bag and began gently rolling it out with my rolling pin until the dough completely filled the bag.
I sealed the bag and placed it in the freezer for at least two hours.
Here's How I Finished The Oatmeal Spice Shortbread
After the two hours, I removed the dough from the freezer. I cut away the Ziploc bag and placed the dough on a piece of parchment paper.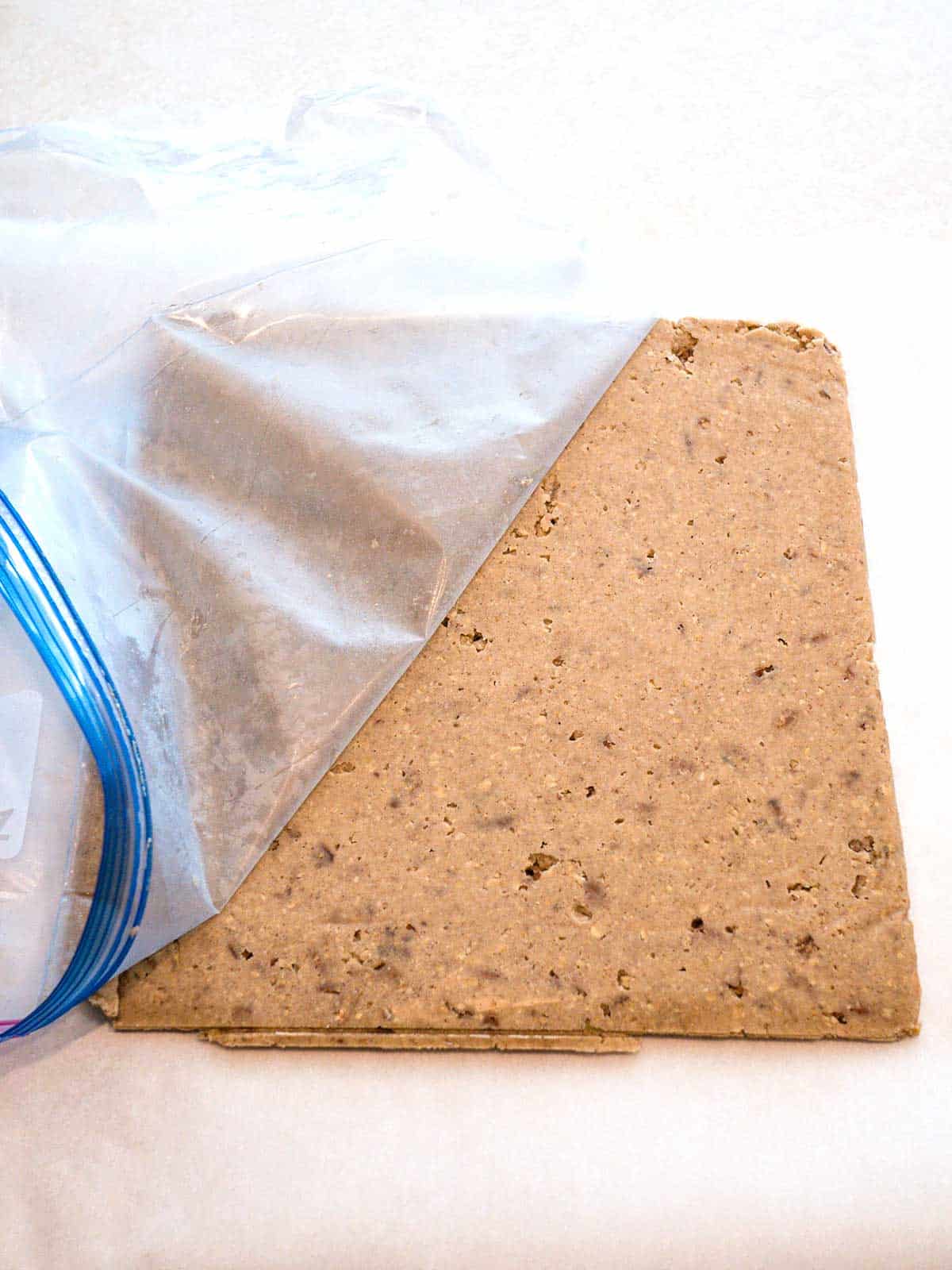 Using a ruler, I marked 1 ½-inch increments on the dough. Then, I cut the dough into squares with my pizza cutter. I could have also used a sharp knife here.
I transferred the squares to a silicone lined baking sheet, and pricked each cookie twice with a fork, ensuring that the fork tines went all the way through the cookies.
Before putting the cookies into the oven, I placed the baking sheet in the refrigerator for about 20 minutes.
I popped the shortbread into a preheated 325°F oven for about 20 minutes until the cookies were very lightly browned. Then, I transferred them to a wire rack to cool.
I ended up with 4 dozen absolutely delicious Oatmeal Spice Shortbread cookies. Yum!
Frequently Asked Questions
What is shortbread?
Shortbread is generally made from one part white sugar, two parts butter, and three to four parts plain wheat flour. Unlike other cookies, shortbread does not contain any leavening like baking powder or baking soda.
Can granulated sugar be substituted for confectioners' sugar?
The texture of these cookies is perfect, partly because of the confectioners' sugar. Therefore I would stick to the confectioners' sugar. Granulated sugar will produce a crispier cookie.
Can the pecans be omitted in this recipe?
I personally love cookies that include toasted pecans. However, if required, the pecans can be omitted.
How long will these cookies last?
These cookies should remain fresh for several days is stored in an airtight container. They can also be frozen for a month or so in an airtight container.
Other Shortbread and Shortbread-Type Cookies
If you're interested in recipes for other awesome cookies that are similar in texture to the Oatmeal Spice Cookies, check these out.
I hope you liked this recipe for Oatmeal Spice Shortbread as much as I do. If so, please consider rating it and leaving a comment. Also, if you'd like to receive notifications of new posts by email, enter your email address in the Subscribe box.
Thank you so much for visiting Pudge Factor. I hope you'll come back!
Oatmeal Spice Shortbread
Oatmeal Spice Shortbread is the perfect marriage of the nutty texture of oats, and the crumbly texture of shortbread. The cookies are delicately flavored with a hint of cinnamon and healthy oats. In addition, I couldn't make these delicious cookies without the addition of toasted pecans.
Print
Pin
Rate
Ingredients
¾

cup

(2.6-ounces, 74 grams) old-fashioned oats

1 ½

cups

(7.5-ounces, 213 grams) all-purpose flour

2

teaspoons

ground cinnamon

1

cup

(2 sticks, 8-ounces, 227 grams) unsalted butter, room temperature

¾

cup

(3-ounces, 85 grams) confectioners' sugar

1

Tablespoon

vanilla extract

1

cup

(4-ounces, 113 gram) toasted pecans (See Tip 1)

Confectioners' Sugar for dusting (Optional)
Instructions
Process oats in food processor fitted with steel blade until the consistency of coarse cornmeal, about 10 seconds. Add flour and cinnamon. Pulse process 5 times or until combined.

Place butter, confectioners' sugar, and vanilla in a large bowl. Beat together on medium speed until the mixture is very smooth, about 1 minute. Do not beat until light and fluffy. Add the flour, and mix on low speed only until the flour disappears into the dough, about 1 minute. Don't work the dough much once the flour is incorporated. Fold in the toasted pecans with a wooden spoon or sturdy rubber spatula. (See Tip 2)

Using the spoon or spatula, transfer the dough to a gallon-size Ziploc bag. Put the bag on a flat surface. Leaving the top open, roll the dough into a ¼-inch thick rectangle that completely fills the bag. As you roll, turn the bag occasionally and lift the plastic from the dough so that it doesn't cause creases. Seal the bag, and place in refrigerator or freezer for at least 2 hours, or for up to 2 days. (See Tip 3) 

Preheat the oven to 325°F. Line two baking sheets with parchment paper or silicone mats.

Put the Ziploc bag on a cutting board and slit it open. Turn the firm dough onto a parchment lined board or counter; discard the bag. Using a ruler as a guide and a pizza cutter or sharp knife, cut the dough into 1-½ inch squares. Transfer the squares to the baking sheets and carefully prick each one twice with a fork, gently pushing the tines through the cookies until they hit the baking sheet. Refrigerate for 20 minutes. (See Tip 4)

Bake at 325°F for 20 to 25 minutes, rotating the sheets from the top to bottom and front to back at the midway point. The cookies will be very pale – they shouldn't take on much color. Transfer the cookies to a rack to cool.

If desired, dust the cookies with confectioners' sugar while they are still hot. Cool the cookies to room temperature before serving. Yield: 4 dozen cookies. (See Tip 5)
Chula's Expert Tips
Spread pecan pieces in a single layer on baking sheet. Bake in preheated 350°F oven for 8 to 10 minutes. Cool completely.
The reason that you don't want to overbeat the dough is that the more you beat, the more air is incorporated into the dough. This causes the cookies to puff up when they are baking and to sink when they are cooling.
I generally to put the prepared dough in the freezer, primarily because I tend to have more room in the freezer. You want the butter to become hard, whichever method you use.
Pricking the cookies with a fork is termed docking. Docking allows the steam to escape while the cookies are baking. This prevents the cookies from puffing up during cooking.
Store the Oatmeal Spice Shortbread in an airtight container for up to 5 days. Also, the cookies can be frozen for up to 2 months.
Nutrition
Calories:
76
kcal
|
Carbohydrates:
6
g
|
Fat:
5
g
|
Saturated Fat:
2
g
|
Cholesterol:
10
mg
|
Potassium:
19
mg
|
Sugar:
1
g
|
Vitamin A:
120
IU
|
Calcium:
5
mg
|
Iron:
0.3
mg
Tried this recipe?
Please leave a comment below and/or give this recipe a rating. On Instagram? Take a picture and tag @pudgefactor or #pudgefactor.