Brown Sugar Pecan Shortbread is a delicious blend of subtle sweetness and nutty crunch that is certain to become a family favorite. These tasty treats feature a mouthwatering combination of toasted pecans surrounded by the rich caramel undertones of brown sugar.
Easy to make Brown Sugar Pecan Shortbread transforms a traditional Scottish confection into a Southern treat that is perfect for any occasion.
This recipe is an adaptation of David Lebovitz's Brown Sugar Shortbread.
Jump to:
Why You Should Make This Yummy Treat
Delicious: Brown sugar and Southern pecans are a classic flavor combination that is sure to please. The shortbread base is crispy and buttery, while the brown sugar and pecans add a touch of sweetness and crunch.
Easy to Make: This straightforward recipe only requires a few simple ingredients you probably already have. The cookie dough takes minutes to put together, followed by an innovative technique that simplifies the rolling of the dough.
Versatile: Brown sugar pecan shortbread cookies can be enjoyed on their own or dipped in chocolate for the ultimate treat.
Make Ahead Magic: Once the shortbread dough has been made, it can be stored in the freezer for several months.
Thoughtful Gifts: Homemade gifts are the best kind. Consider packaging the Brown Sugar Pecan Shortbread in treat bags tied with decorative ribbons for that special gift for friends and co-workers.
Ingredients: Here's What You'll Need
You can make this tasty treat with only a handful of simple ingredients.
Unsalted Butter: The base ingredient of shortbread is butter. This recipe for Brown Sugar Pecan Shortbread is no exception. Specifically, it uses unsalted butter.
Light Brown Sugar: Unlike traditional shortbread that includes granulated sugar and/or confectioners' sugar, this recipe uses light brown sugar. The brown sugar provides a subtle sweetness to this shortbread as well as caramel undertones.
Flavorings: Two simple flavorings include vanilla extract and fine sea salt.
All-Purpose Flour: This recipe includes all-purpose flour.
Toasted Pecans: The crowning jewel in this recipe is the South's favorite nut – pecans, which have been toasted to perfection.
Simple Steps: Here's How I Prepared the Brown Sugar Pecan Shortbread Dough
For starters, I beat together room-temperature unsalted butter, light brown sugar, vanilla extract, and salt until the mixture was smooth. This took about a minute.
Next, I scraped down the sides of the bowl. I added the flour and beat the mixture on low speed just until the flour was incorporated. This took another minute.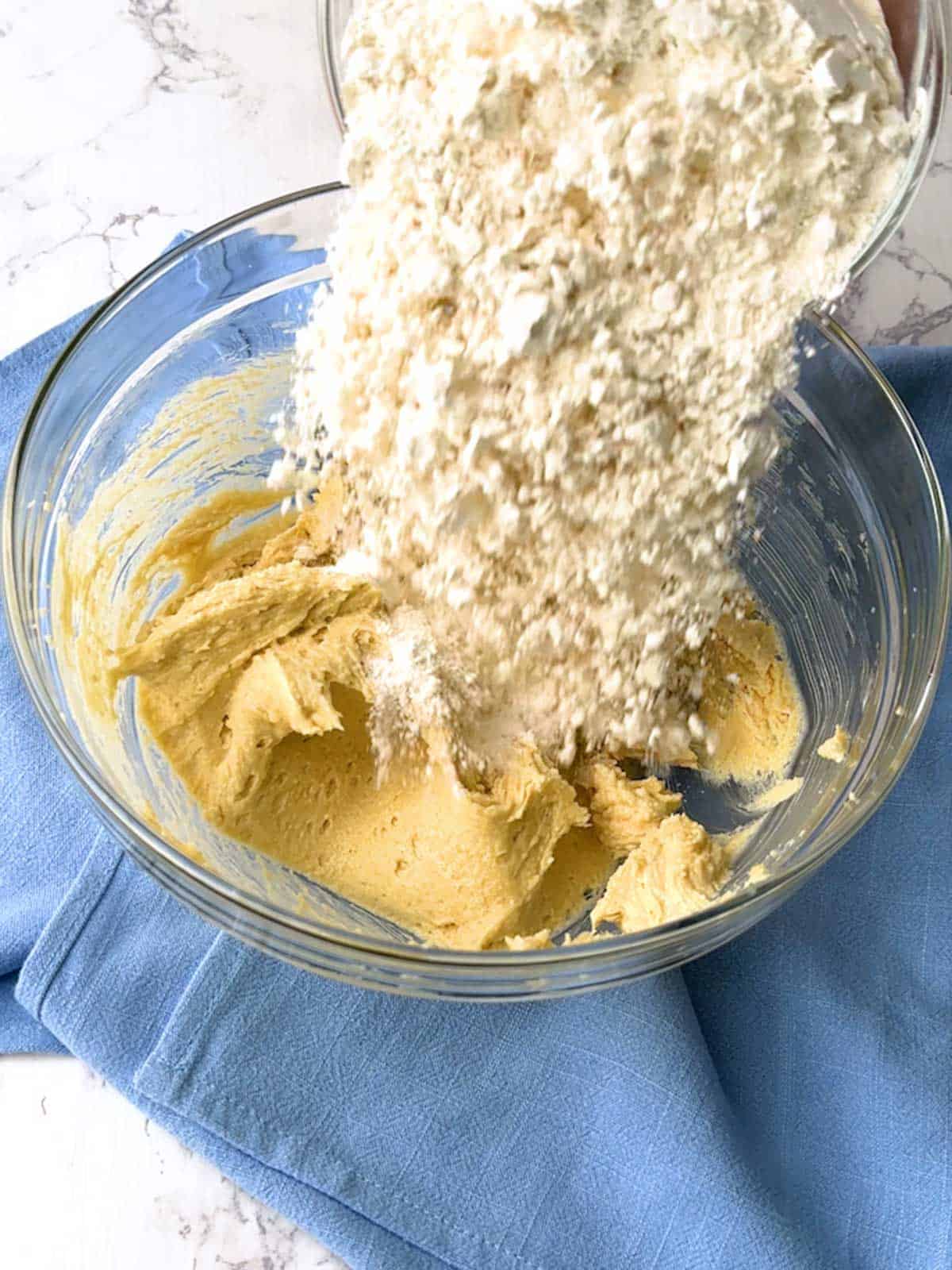 Then, I folded the toasted pecans into the crumbly dough.
Finally, I transferred the dough to a gallon Ziploc bag and placed the bag on a flat surface. Leaving the top open, I rolled the dough into a ¼-inch thick rectangle that completely filled the bag.
I sealed the bag and placed it in the freezer for around 2 hours. This allowed the cookie dough to firm up, making it easy to finish the recipe.
Finishing the Brown Sugar Pecan Shortbread
Once the shortbread dough had hardened in the freezer, it was time to bake these tasty morsels.
I removed the dough from the freezer. I cut away and disposed of the Ziploc bag.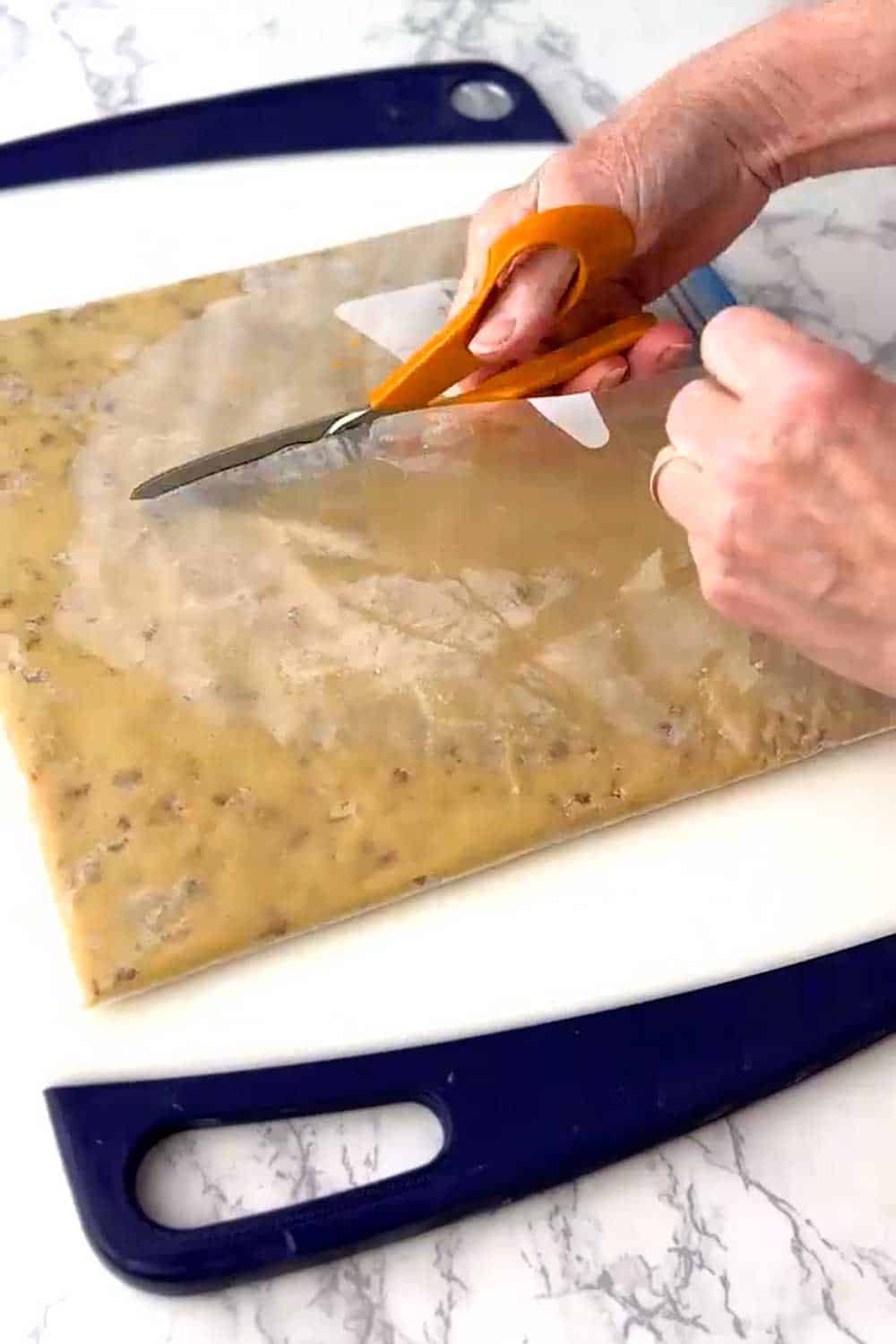 Then, I cut the dough into individual pieces that were approximately 1 ½ inches by 1 ½ inches using a pastry wheel cutter. I could have also used a pizza cutter or a sharp knife.
I placed the cookies on a parchment-lined baking sheet and pierced or docked each cookie several times with a fork.
I baked the cookies in a preheated 325°F oven for around 25 minutes until they were golden brown.
After 25 minutes, I removed the shortbread from the oven and transferred them to a wire rack to cool completely.
I ended up with three dozen amazing shortbread cookies that were full of buttery goodness, subtle caramel undertones, and crunchy toasted pecans. Yum!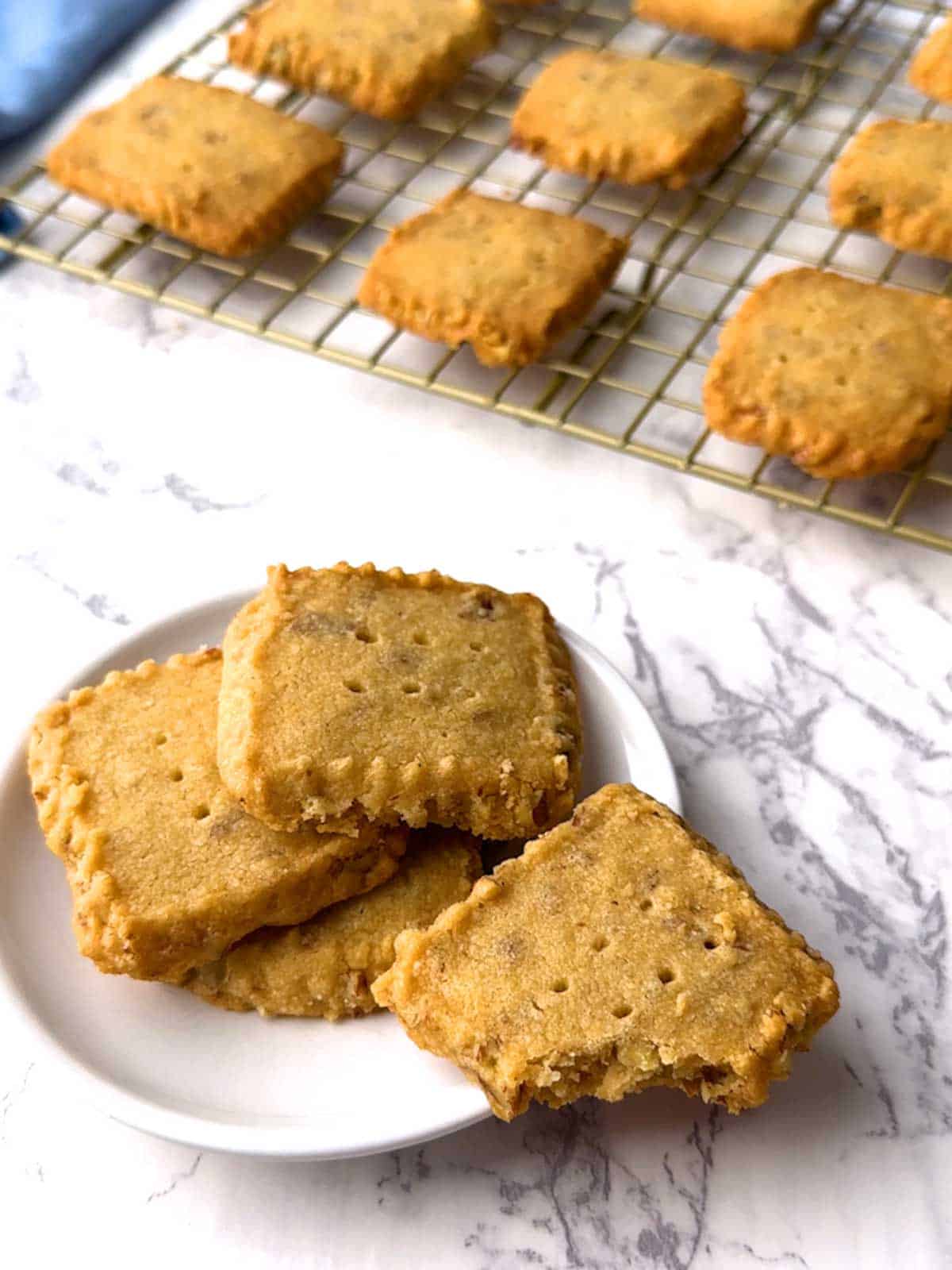 Frequently Asked Questions
What is the best way to store Brown Sugar Pecan Shortbread?
Store the shortbread in an airtight container for up to three days.
Are these cookies baked in a conventional oven or a convection oven?
My oven is conventional, so the temperature and timings are based on a conventional oven.
Is this shortbread's texture the same as that made with granulated sugar or confectioners' sugar?
The texture of this shortbread is not quite as crumbly as shortbread made with granulated sugar or confectioners' sugar. The brown sugar adds caramel overtones and results in a slightly chewier cookie.
Is it really necessary to toast the pecans in this recipe?
I always toast pecans before adding them to recipes. This recipe is no exception. Toasting pecans greatly enhances their natural sweetness and nutty flavor.


What is the best way to toast pecans?
I generally toast pecans in a single layer on a baking sheet in a preheated 350°F oven for 8 to 10 minutes. It's important to watch the pecans carefully to ensure that they do not over-toast.
Recipe Tips and Tricks
Weigh your ingredients: To ensure consistent results with this recipe and other recipes on PudgeFactor, it's important to weigh your ingredients. The reason is that different ways of measuring ingredients can result in different quantities. I include weights in the recipe below.
Use a kitchen scale: If you don't already have a kitchen scale, do yourself a favor and purchase one. They are inexpensive and easy to use. For example, my kitchen scale was less than $10. It's one of my most used kitchen accessories. In fact, I use it on a daily basis.
An added benefit of using a kitchen scale: Using a kitchen scale helps to ensure consistent results in your recipes. It also helps minimize the different dishes that are normally used in making a recipe. For example, I often place the bowl I'm using to mix the ingredients on the kitchen scale and add them directly to the bowl based on their weight.
Store pecans in the freezer: Over time, the natural oil in pecans can become rancid. To minimize this and prolong the life of pecans, store them in the freezer.
Other Shortbread Cookie Recipes
If you're a fan of shortbread cookies, you should try these other delicious recipes.
I hope you liked this Brown Sugar Pecan Shortbread recipe as much as I do. If so, please consider rating it and leaving a comment. Also, if you'd like to receive notifications of new posts by email, enter your email address in the Subscribe box.
Thank you so much for visiting Pudge Factor. I hope you'll come back!
Recipe
Brown Sugar Pecan Shortbread
Brown Sugar Pecan Shortbread is a delicious blend of subtle sweetness and nutty crunch that is certain to become a family favorite. 
Ingredients
8

ounces

(2 sticks, 225g) unsalted butter, room temperature

⅔

cup

(5 ounces, 140g) light brown sugar, packed

½

teaspoon

vanilla extract

¼

teaspoon

fine sea salt (See Tip 1)

2

cups

(10 ounces, 283g) all-purpose flour

1

cup

(4 ounces, 114 g) lightly toasted pecans, coarsely chopped (See Tip 2)
Instructions
Place butter, brown sugar, vanilla, and salt in a large bowl. Beat together on medium speed until the mixture is very smooth, about 1 minute. Do not beat until light and fluffy. (See Tip 3)

Add the flour and mix on low speed only until the flour disappears into the dough, about 1 minute. Don't work the dough much once the flour is incorporated. (See Tip 3)

Fold in the toasted pecans with a wooden spoon or sturdy rubber spatula.

Transfer the dough to a gallon-size Ziploc bag. Put the bag on a flat surface. Leaving the top open, roll the dough into a ¼-inch thick rectangle that completely fills the bag. As you roll, turn the bag occasionally and lift the plastic from the dough so that it doesn't cause creases. Seal the bag, and place it in the refrigerator or freezer for at least 2 hours or for up to 2 days. (See Tip 4)

Preheat the oven to 325° F. Line a baking sheet with parchment paper or silicone mats.

Put the Ziploc bag on a cutting board and slit it open. Disc discard the bag and turn the firm dough onto a parchment-lined board or counter. Using a ruler as a guide and a pastry cutter, pizza cutter, or sharp knife, cut the dough into 1-½ inch squares. Transfer the squares to the baking sheets and carefully prick each one twice with a fork, gently pushing the tines through the cookies until they hit the baking sheet. Refrigerate for 20 minutes. (See Tip 5)

Bake at 325° F for 20 to 25 minutes or until golden brown. Remove from the oven and transfer the cookies to a rack to cool completely.

Yield: 3 dozen cookies. (See Tip 6)
Notes
Can substitute regular table salt for fine sea salt. Also, if using salted butter, omit the salt.
Spread pecan pieces in a single layer on a baking sheet. Bake in preheated 350°F oven for 8 to 10 minutes. Cool completely.
You don't want to beat the butter until light and fluffy because you want to minimize the incorporation of air into the dough. Air will make the shortbread puff up during cooking and then sink when cooled. Also, overbeating the dough results in gluten formation, which can make the shortbread tough.
I generally put the prepared dough in the freezer primarily because I have more room in the freezer. You want the butter to become hard, whichever method you use.
Pricking the cookies with a fork is termed docking. Docking allows the steam to escape while the cookies are baking. This prevents the cookies from puffing up during cooking.
Store the pecan shortbread in an airtight container for up to 5 days. Also, the cookies can be frozen for up to 2 months.
Nutrition
Calories:
107
kcal
Carbohydrates:
10
g
Protein:
1
g
Fat:
7
g
Saturated Fat:
3
g
Polyunsaturated Fat:
1
g
Monounsaturated Fat:
3
g
Trans Fat:
0.2
g
Cholesterol:
14
mg
Sodium:
18
mg
Potassium:
27
mg
Fiber:
0.5
g
Sugar:
4
g
Vitamin A:
159
IU
Vitamin C:
0.03
mg
Calcium:
8
mg
Iron:
0.4
mg