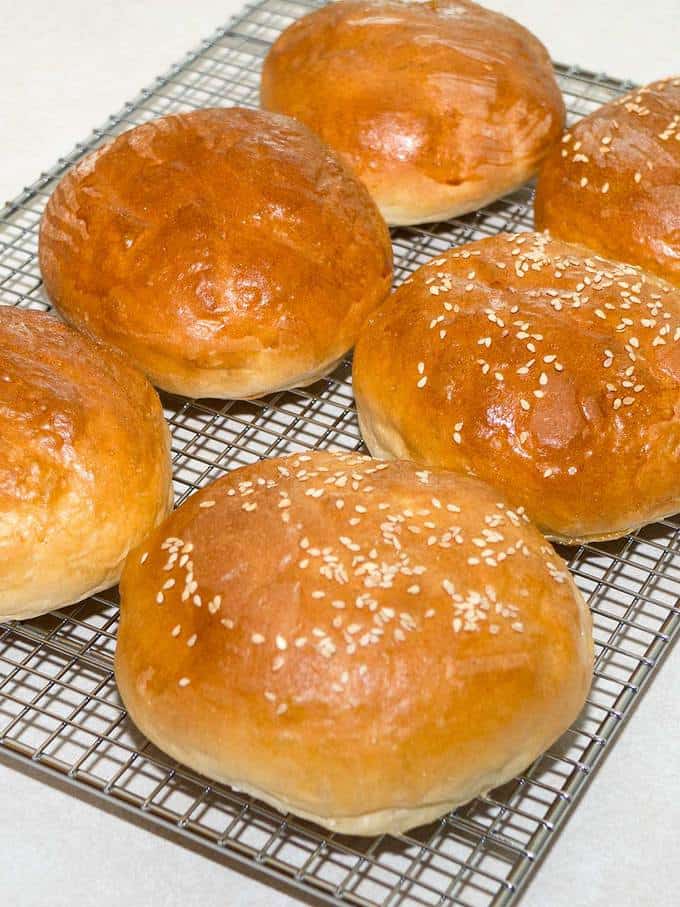 If you're looking for the ultimate hamburger bun, look no further. These Homemade Hamburger Buns are not only quick and easy to make, but also light and fluffy. Topped with sesame seeds or plain, they're beautiful to look at and perfect for any occasion.  
The ingredients include milk, water, unsalted butter, egg, granulated sugar, salt, all purpose flour, and yeast.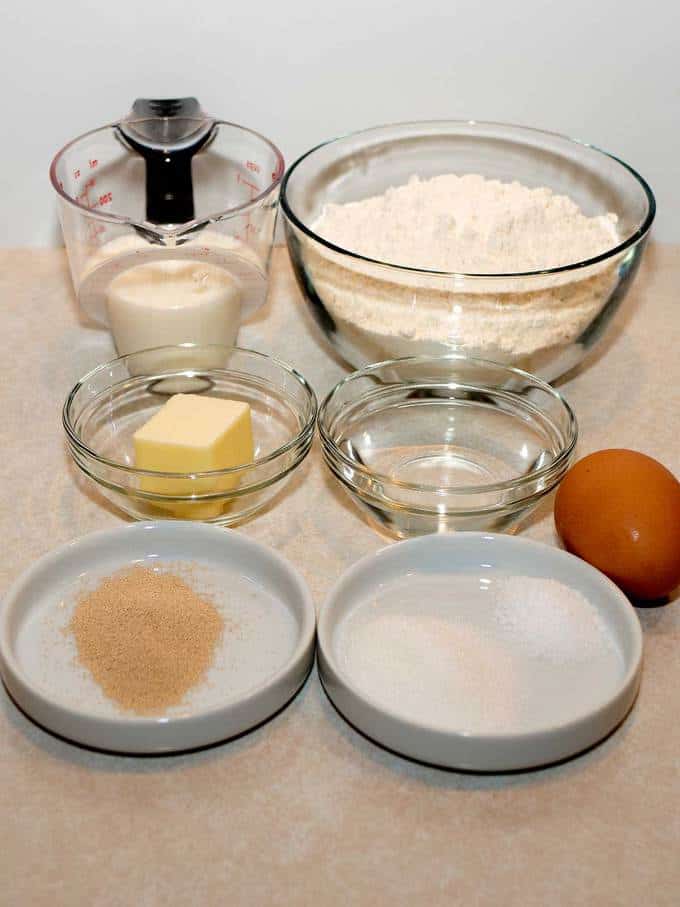 These hamburger buns are a snap to make in your bread machine. Basically, you add the wet ingredients, followed by the salt, sugar, and flour to the pan of the bread machine. The last ingredient to go in is the yeast. Set the bread machine on the dough cycle, and walk away!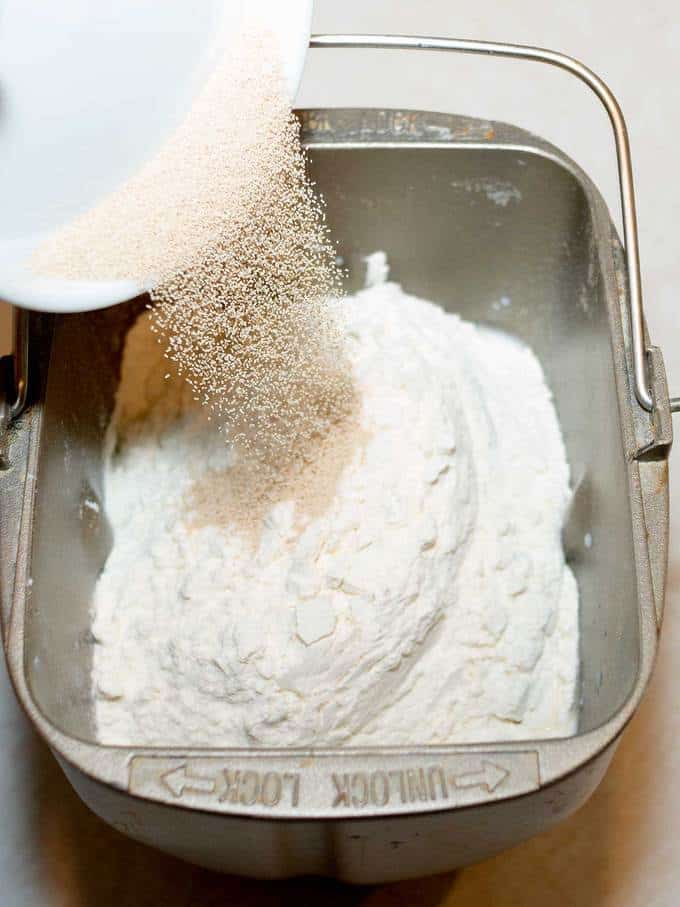 When the dough cycle ended, I dumped the dough onto a floured piece of wax paper, and cut the dough into six pieces. This recipe makes either 6 large (whopper-size) buns, or 8 regular-size buns. I decided to make the large ones, so I weighed the dough and divided the weight by six. Each bun took 3.4 ounces or 97 grams of dough. Yes, I know – I'm a foodie nerd. I weigh almost everything! After I partitioned the dough into six pieces, I rolled each piece into a ball, and placed it on a parchment lined baking sheet. I knew that the rolls would rise quite a bit, so I left a lot of room between them. I flattened each piece with my fingertips, covered the pan, and placed it into my electric oven that I had heated for 1 minute and 45 seconds (a trick I learned from Julia Child).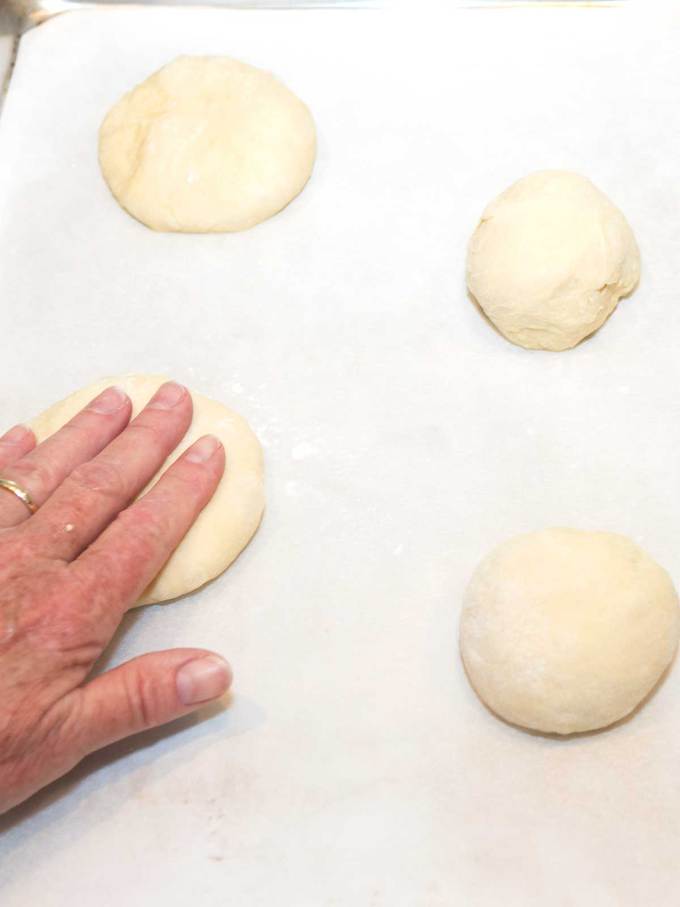 After about 35 minutes, the buns had risen nicely and were almost ready to cook. I brushed each one with egg white, and sprinkled sesame seeds on three of the buns. The Master Taste Tester doesn't like sesame seeds on his buns, so I left some plain!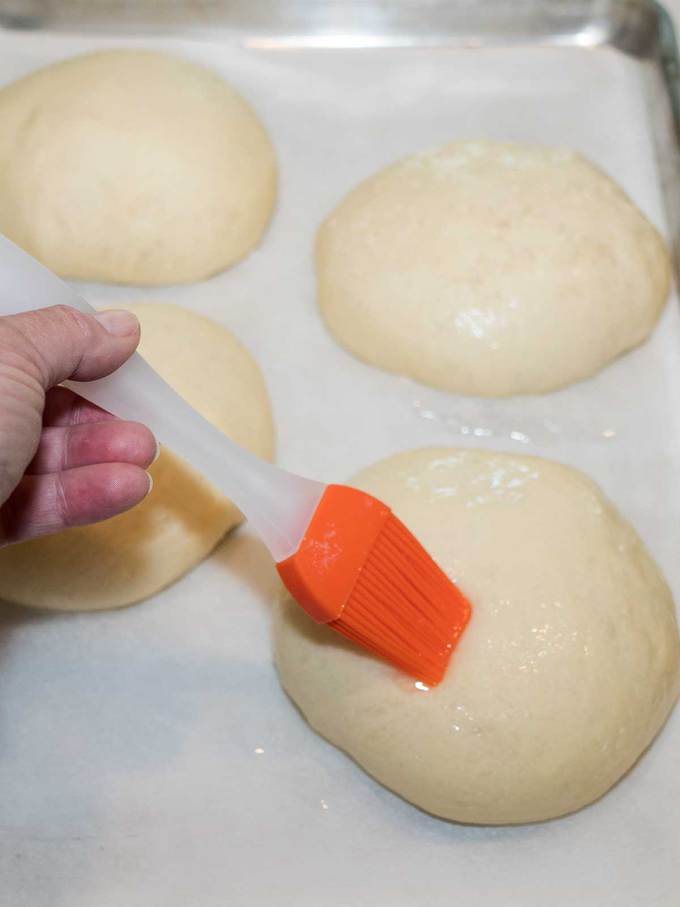 Into a preheated 400°F oven the buns went for about 12 minutes, until they were golden brown.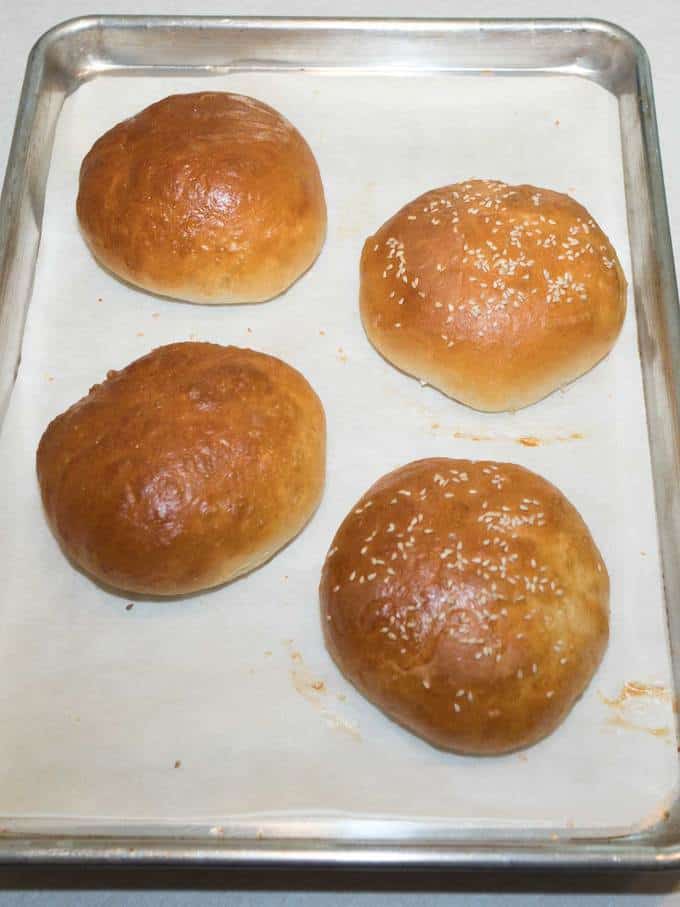 I ended up with six large and perfectly delicious hamburger buns. I don't think that I'll ever use store-bought buns again. Yum!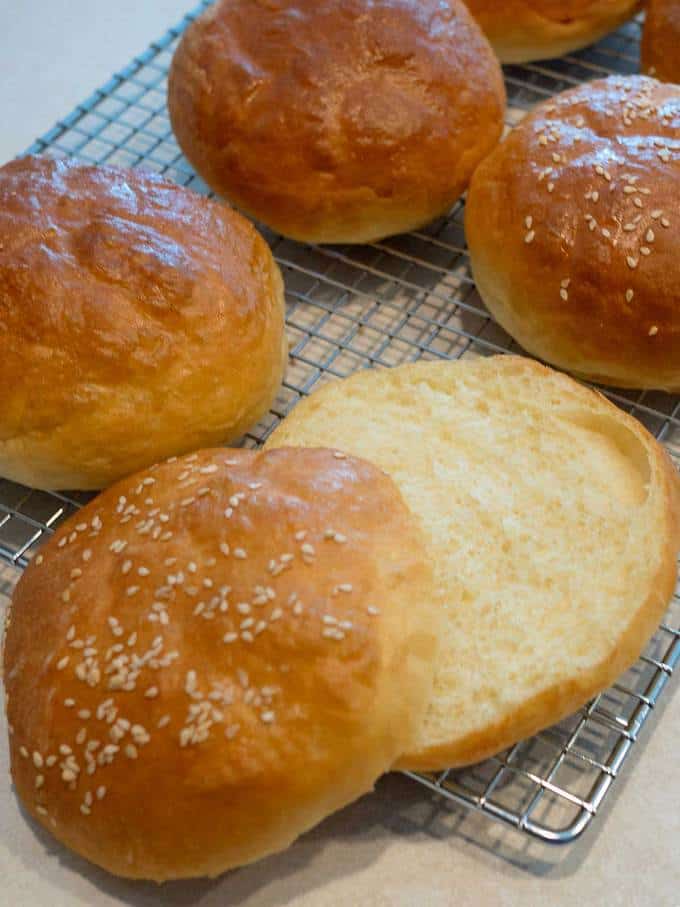 Homemade Hamburger Buns (Bread Machine)
Ingredients
1 large egg
1/2 cup milk
1/4 cup water (enough such that the total of the milk, egg and water is 8 ounces)
2 Tablespoons unsalted butter, room temperature
1 Tablespoon white sugar
3/4 teaspoon salt
2-1/2 cups (12-ounces, 340 grams) all-purpose flour
1-1/8 teaspoon bread machine yeast
Instructions
Add all ingredients pan of bread machine in the order listed. Program the machine for the dough cycle, and press start. When the dough cycle has finished, transfer the dough to a floured surface. Using either a pizza cutter or a dough scrapper, cut the dough into 6 (3.44 ounces, 97 grams) or 8 (2.5 ounces, 71 grams). Form each piece into a ball and place on parchment lined baking sheet. Using floured fingertips, flatten each piece until it is about ½-inch thick. Cover; allow to rise in a warm place* until doubled in size, about 30 to 35 minutes.
Preheat oven to 400°F. Bake 10 to 12 minutes, or until golden brown.
Remove from oven; transfer to wire rack to cool.
Yield: 6 large or 8 regular-sized hamburger buns.
*To create the perfect environment for rising, turn on electric oven for exactly 1 minute and 45 seconds.
7.6.7
38
https://pudgefactor.com/homemade-hamburger-buns-bread-machine/