Lemon Curd Star Bread – the name says it all. It's a stunning recipe that is surprisingly easy to make. Lemon Curd Star Bread is sure to impress anyone who is lucky enough to have a piece. This show-stopping star bread features luscious lemon curd nestled between layers of easy to make sweet dough fashioned in the shape of a star.
While Susan and I were in Paris, we took a Bread-making class where we learned how to make a chocolate filled Snowflake Bread. The bread was topped with pearl sugar.
Susan and I thought that it would be fun to do a variation using lemon curd as the filling instead of chocolate and topping it with pearl sugar and a lemon glaze. The result was amazing!
Making the Sweet Dough
For the sweet dough, I used all-purpose flour as opposed to bread flour. I included granulated sugar to not only provide the sweetness, but also help feed the yeast.
For richness, I added sour cream, butter and an agg.
The sweet dough is a snap to make in your bread machine. Basically, I added the wet ingredients, followed by the salt, sugar, and flour to the pan of the bread machine. The last ingredient that I added was the yeast. I set the bread machine on the dough cycle, and walked away!
Ingredients For Lemon Curd Star Bread
While the bread machine was doing its magic, I made the lemon curd from my tried and true Classic English Lemon Curd recipe.
This provided the two basic ingredients – sweet dough made in the bread machine and lemon curd! I divided the dough into four equal parts.
Making The Lemon Curd Star Bread
To make the Lemon Curd Star Bread, I started by rolling each of the pieces of dough into roughly a 12-inch circle. The dough had a tendency to spring back when I rolled it, so I would roll it a little bit, let it rest and then roll it more.
Then, I transferred one of the dough circles to an inverted baking sheet that was lined with a silicone mat (Photo 1). I spread the circle of dough with ⅓ of the lemon curd (Photo 2).
After that, I repeated this twice, and placed the final piece of dough on top on top (Photo 3).
Once the star bread was assembled, I trimmed it to 10-inches using an inverted cake pan (Photo 4).
I placed a small bowl in the center of the top dough layer and made 4 equal cuts starting at about ½-inch from the edge of the bowl. Then, I cut each of the four pieces in half, again starting about ½-inch from the edge of the bowl. Finally, I cut each of the 8 wedges in half.
I ended up total of sixteen cuts. At this point, I removed the bowl from the top of the dough.
To turn the dough into a stars, I carefully picked up two pieces of adjacent dough (Photo 5) and twisted them twice away from each other (Photo 6). Then, I pressed the outer edges of the two pieces together (Photo 7). I made sure that the edges were well sealed (Photo 8).
I repeated this with the remaining seven pairs of dough wedges. Voila, Lemon Curd Star Bread!
For the finishing touch, I brushed the bread with egg wash and sprinkled on some pearl sugar.
I popped the lemon curd star bread into a preheated 350°F oven for 23 minutes. After 23 minutes, the bread was golden brown and perfectly cooked.
Making The Lemon Glaze
While the bread was cooking, I made the lemon glaze, which consisted of confectioners' sugar and fresh lemon juice.
I added the sugar and lemon juice to a bowl. Then, I beat the mixture on high with my electric mixer until the icing was smooth and of a perfect consistency.
Finishing The Lemon Curd Star Bread
After I removed the bread from the oven, I carefully transferred it to a wire cooling rack. Then I drizzled the icing over the still warm bread.
Once the lemon curd star bread had cooled, I pulled a piece off for the first taste. Oh my – the combination of the tart lemon curd and sweet bread with icing was amazing.
I served the Lemon Curd Star Bread with additional lemon glaze on the side. To say that the bread was amazing is definitely an understatement. It was show-stopping beautiful. The pull-apart pieces had the perfect amount of sweet and tart and were amazingly delicious. Yum!
For another amazing star bread recipe, check out my Cinnamon Snowflake Bread.
I hope you liked this recipe for Lemon Curd Star Bread as much as I do. If so, please consider rating it and leaving a comment. Also, if you'd like to receive notifications of new posts by email, ever your email address in the Subscribe box.
Thank you so much for visiting Pudge Factor. I hope you'll come back!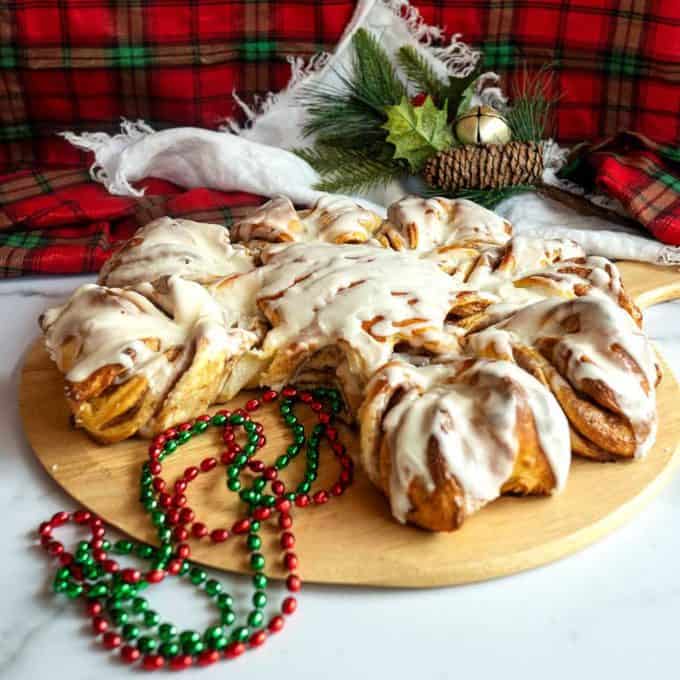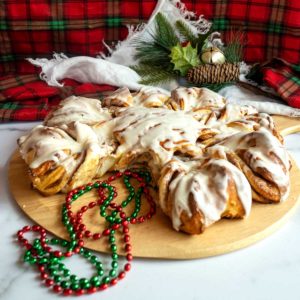 Cinnamon Snowflake Bread
Cinnamon Snowflake Bread is the perfect breakfast for Christmas Day. While sugar plums are dancing in the heads of your family, make this amazing bread for a memorable start of Christmas Day.
Print
Pin
Rate
Ingredients
Dough
1

large egg, lightly beaten

¼

cup

water (the egg plus the water should weigh 4 ounces, 114 grams)

½

teaspoon

salt

2

Tablespoons

(1 ounce, 29 grams) unsalted butter, room temperature

1

cup

(8 ounces, 227 grams) sour cream (See Tip 1)

3 ½

Tablespoons

(1.75 ounces, 50 grams) granulated sugar

3 ½

cups

(17.5 ounces, 496 grams) all-purpose flour

2 ½

teaspoons

(.37 ounces, 11 grams) bread machine yeast

egg wash
Cinnamon/Sugar Filling
½

cup

(3.5 ounces, 99 grams) granulated sugar

2

teaspoons

ground cinnamon

5

Tablespoons

(2.5 ounces, 71 grams) unsalted butter, melted
Cinnamon/Sugar Filling
2

cups

(8 ounces, 227 grams) confectioners' sugar

 

2

Tablespoons

(1 ounce, 29 grams) unsalted butter, melted

2

teaspoons

vanilla extract

¼

cup

(2 ounces, 58 grams) milk
Instructions
Dough
Add the dough ingredients to the bread machine in the order listed. Select the dough cycle and start the machine. Check the dough after five minutes of mixing and add 1 to 2 more Tablespoons of water or flour if the dough is too dry or wet. (See Tip 2)
Cinnamon/Sugar Filling
Mix ½ cup granulated sugar, 2 teaspoons cinnamon and 5 Tablespoons melted butter until combined. Set aside.
Icing
Beat confectioners' sugar, vanilla, melted butter and milk until smooth. If necessary, add more milk or confectioners' sugar to achieve desired consistency.
Cinnamon/Snowflake Bread
Preheat oven to 350°F. Invert a large baking sheet; line with silicone mat. Set aside.

When the dough cycle is finished, remove the dough and form into 4 balls, roughly 8 ounces each. On a lightly floured surface, roll one of the balls into a circle roughly 12-inches in diameter.  Place on silicone lined baking sheet. Center 10-inch cake pan on dough and press down slightly to form a 10-inch circle on the dough. (See Tips 3 and 4)

Spread ⅓ of the cinnamon/sugar filling inside the circle. Repeat with two more balls of dough and remaining cinnamon/sugar filling.

Roll final ball of dough into a 12-inch circle and place on top of third cinnamon/sugar layer.

Place a small cup in center of dough. Starting about 1-inch from the edge of the cup, cut 4 equal slits in the dough. Then cut each of the wedges in half, resulting in 8 cuts. Starting about 1-inch from the cup or cookie cutter, cut each of the 8 wedges in half, resulting in 16 cuts.

Being very careful, pick two of the adjacent pieces, and twist them twice away from each other. Press to seal the edges. Repeat with the remaining 14 wedges.

Remove the cup from the center. Brush with egg wash.

Bake in a preheated 350°F oven for 20 to 25 minutes or until golden brown. (See Tip 5)

Remove bread from oven; transfer to wire rack. Drizzle icing over warm cinnamon snowflake bread. Serve warm if possible.
Chula's Expert Tips
I always use low-fat sour cream when making the dough.
If you make the dough the night before, coat a large bowl with oil. Place the dough in the bowl and cover with plastic wrap. The next morning, remove the dough about an hour before you want to make the snowflake bread to give it a chance to come to room temperature.
The dough tends to be a bit springy with it's being rolled out. Therefore, I'll roll it out into about a 6-inch circle and let it rest for about 5 minutes. Then, I'll roll it again into about an 8-inch circle and let it rest again before the final rolling.
Because the dough will be trimmed once the Cinnamon Snowflake Bread is assembled, the circles don't need to be perfect.
Once the bread is assembled, there is no need to let it rise. Just go ahead and pop it into the oven, the same way that you would a pizza.
Nutrition
Calories:
369
kcal
|
Carbohydrates:
62
g
|
Protein:
5
g
|
Fat:
11
g
|
Saturated Fat:
7
g
|
Trans Fat:
1
g
|
Cholesterol:
43
mg
|
Sodium:
120
mg
|
Potassium:
97
mg
|
Fiber:
1
g
|
Sugar:
32
g
|
Vitamin A:
354
IU
|
Vitamin C:
1
mg
|
Calcium:
47
mg
|
Iron:
2
mg
Tried this recipe?
Please leave a comment below and/or give this recipe a rating. On Instagram? Take a picture and tag @pudgefactor or #pudgefactor.