Dressing or Stuffing – which one is it? Well, in the South, it's generally Dressing whether it goes into the turkey or not. However, because this is replicating what the Master Taste Tester remembered from growing up in England, we'll call it Stuffing, even though it doesn't go into the turkey!
Over the years, Master Taste Tester often commented about how much he liked his mother's Sage and Onion Stuffing. Unfortunately, he didn't get the recipe, so through the years, I've experimented with trying to recreate his mother's recipe. With Thanksgiving approaching, I decided to try one more time. This time – a success!
The ingredients include butter, vegetable oil, onion, dried bread pieces, fresh sage, chicken broth, salt, and freshly ground black pepper. The Master Taste Tester said that the bread pieces should be small, but not so small as to be called crumbs. After I cut the bread, I put the pieces in the oven at 325° F for about 10 minutes to dry them out.
I heated the butter and oil in a 12-inch skillet over medium heat until the butter melted, added the onion, and cooked the onion for about 10 minutes, until it softened. I made sure that the onion didn't brown.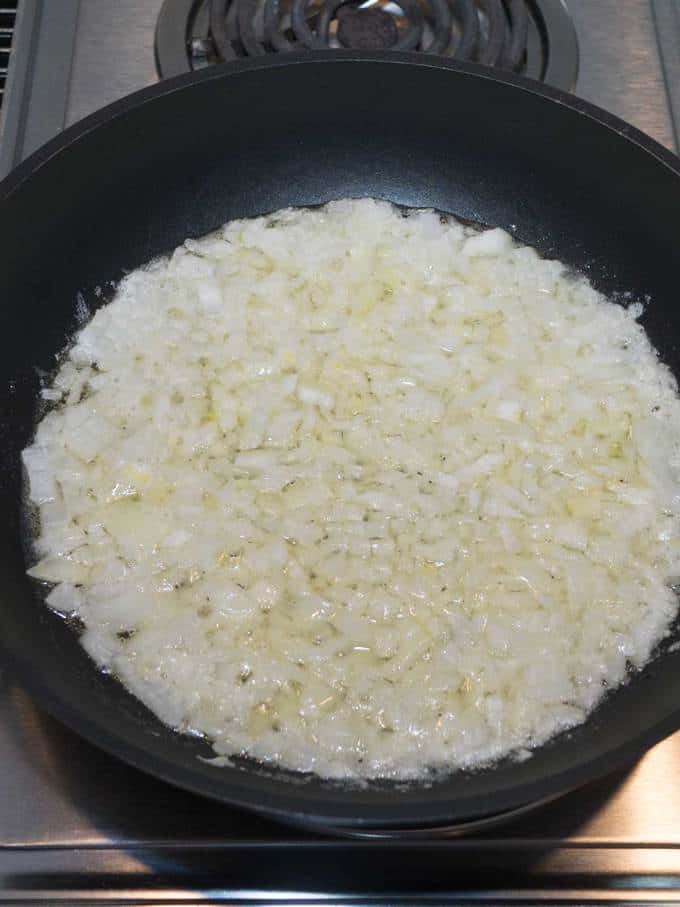 Then, I added the bread pieces and sage, stirred to combine everything, and gave the Master Taste Tester a taste.
He said that it needed some salt and pepper, and that it shouldn't be totally loose, so I added salt, pepper, and some chicken broth. After another taste, the Master Taste Tester said that it needed some more binding, so I added another bit of chicken broth. His conclusion was that it was "close"! He said that his mother put the Sage and Onion Stuffing in a large enough container such that it was no more than 1-inch deep, so that's what I did.
Into a 350° F oven it went for 45 minutes. He said that his mother would periodically take the stuffing out of the oven and give it a stir to crisp up the bread, so I did that after 15 minutes, and after another 15 minutes.
The Sage and Onion Stuffing was delicious, with buttery bread pieces, and yummy onions highlighted by the taste of sage. Yum!
Sage and Onion Stuffing
Ingredients
4

cups

day old bread

cut into small pieces and dried in oven

1

large onion

chopped

1/4

cup

1/2 stick unsalted butter

1

Tablespoon

vegetable oil

1-1/2

Tablespoons

minced fresh sage

1/2

cup

chicken broth

1/4

teaspoon

salt

1/8

teaspoon

freshly ground black pepper
Instructions
Preheat oven to 350° F.

Heat butter and oil in large skillet over medium heat. Add onions; cook, stirring occasionally to prevent browning until softened, about 10 minutes.

Transfer to baking dish.

Bake 45 minutes, stirring every 15 minutes.

Yield: 4 servings.