From ghoulies and ghosties, and long-leggedy beasties, and things that go bump in the night, young and old alike will be delighted with these 33 Utterly Bewitching Halloween Recipes.
Halloween is celebrated in much of the Western world on the October 31. Today's Halloween themes tend to be spooky or scary involving death, black magic, and mythical characters such as ghosts, witches, goblins, and zombies. The American tradition of "trick-or-treating" probably dates back to the early All Souls' Day parades in England, where beggars were given pastries called "soul cakes" in return for their promise to pray for dead relatives. On Halloween, it was believed that ghosts came back to the Earthly world. Because people thought that they would encounter ghosts if they left their homes, they wore masks when they left their homes after dark so that the ghosts would mistake them for fellow spirits. On Halloween, to keep ghosts away from their houses, people would place bowls of food outside their homes to appease the ghosts and prevent them from attempting to enter.
Are you looking for Halloween food recipes or treat ideas to serve at a Halloween party? Well, you are in the right place. Easy Halloween Jalapeño Mummies are a cute, spooktacular treat that is easy to prepare and will have your family and friends marveling at how creative you are.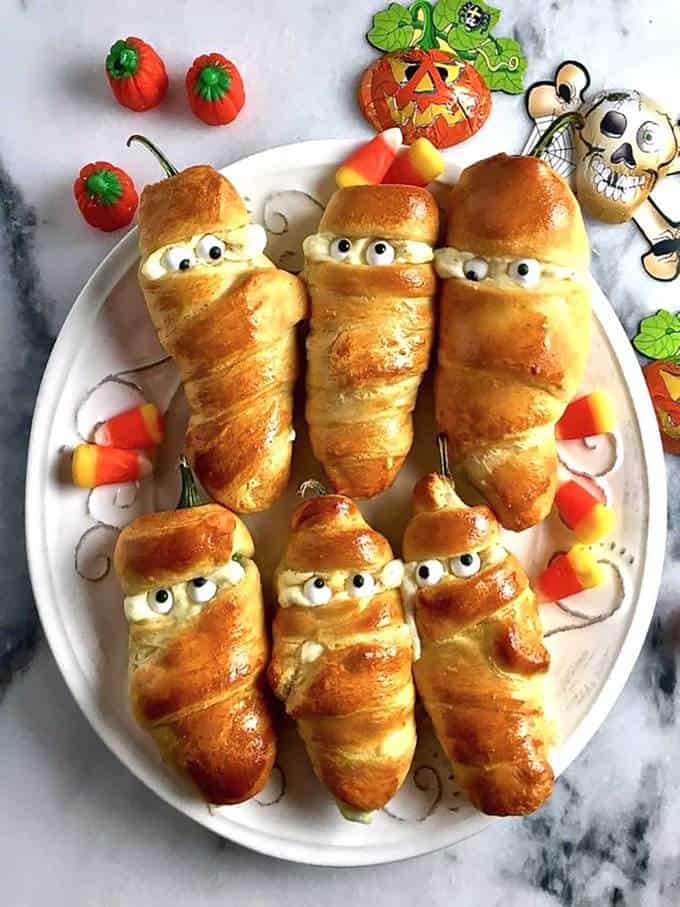 Graveyard Candy Apples – Gourmet Halloween Treat: A spooktacular and delicious Halloween treat that's easy and fun to make. These can be made 2 days in advance and this recipe makes 12.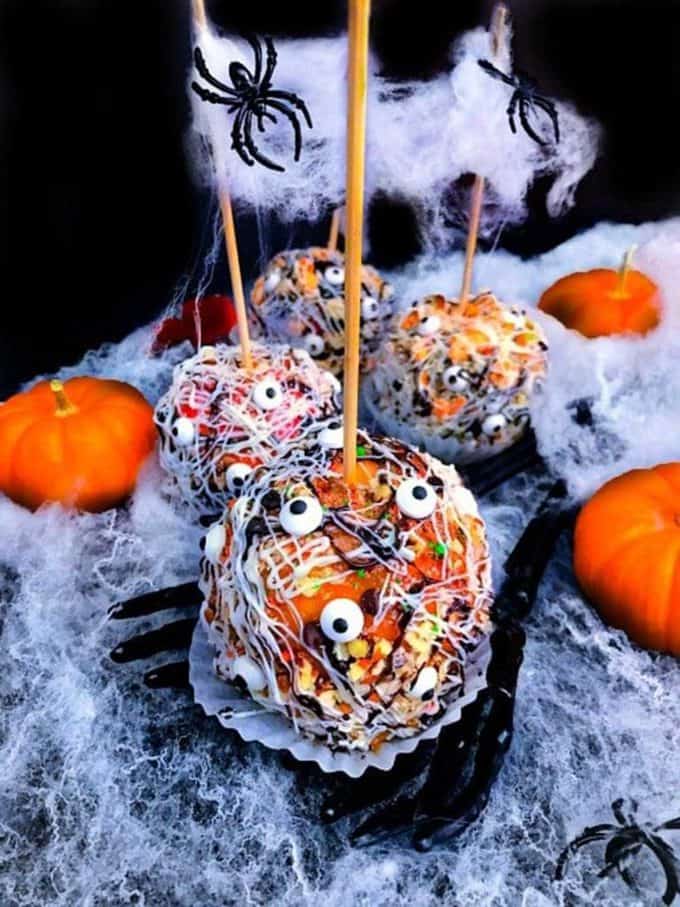 How cute is this? With only four ingredients, these adorable Pumpkin Patch Cookie Cups are super simple to make, and taste delicious – the perfect Halloween treat!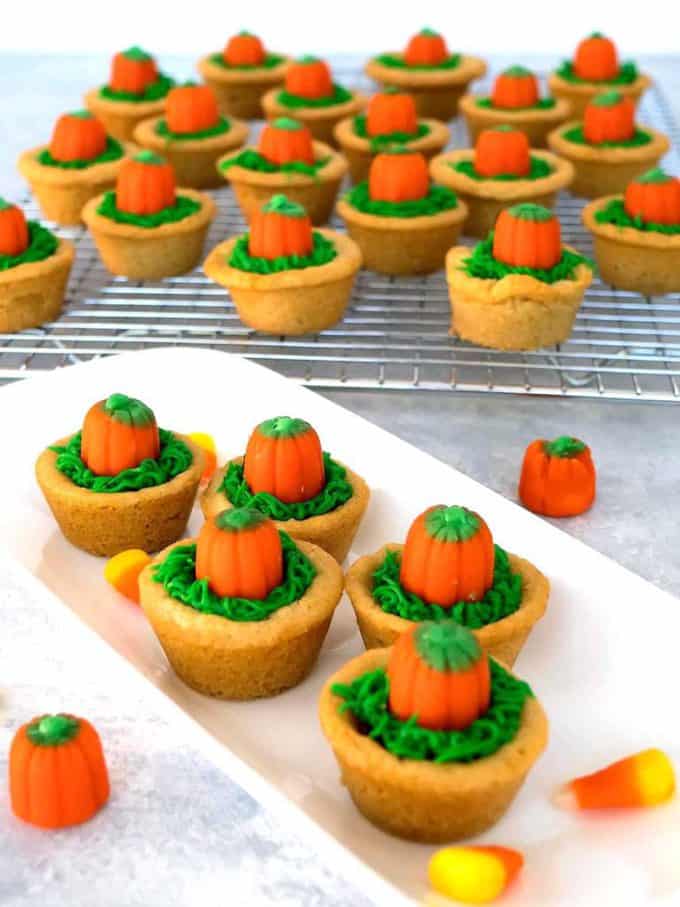 Asparagus Mushroom Scramble Pepper Jacks – a fun, fast and flavorful Halloween breakfast – or breakfast for dinner – stuffed into some Silly Spooky Pepper Jacks.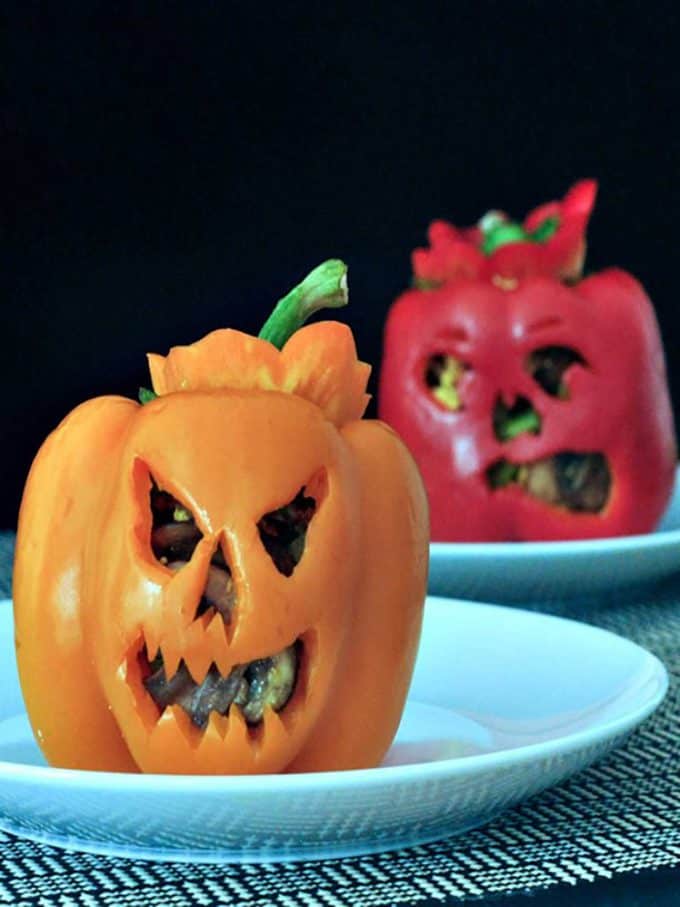 These Terrifying Teacakes are spooktacular – simply take a chocolate digestive, a blob of jam and pillowy marshmallow to create these fantastic marshmallow ghosts.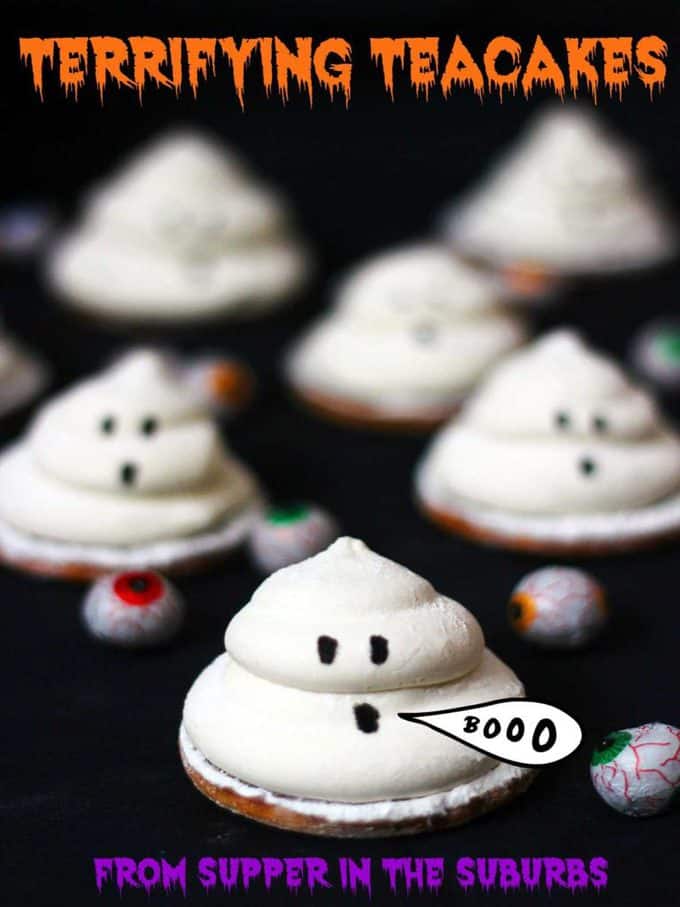 Halloween parties aren't just for kids! Celebrate the season with your friends by serving a festive Halloween cocktail. This delicious and easy "Hallowine" Sangria is the perfect addition to any grown-up gathering this season!
Chocolate Pear Ghosts are the perfect fun activity to do with kids of all ages as they aren't too difficult. Team work really is called for when holding the pears upright whilst the dark chocolate is setting and the other person carries on dipping the pears!
These festive cookies are the perfect sweet treat to help you celebrate Halloween!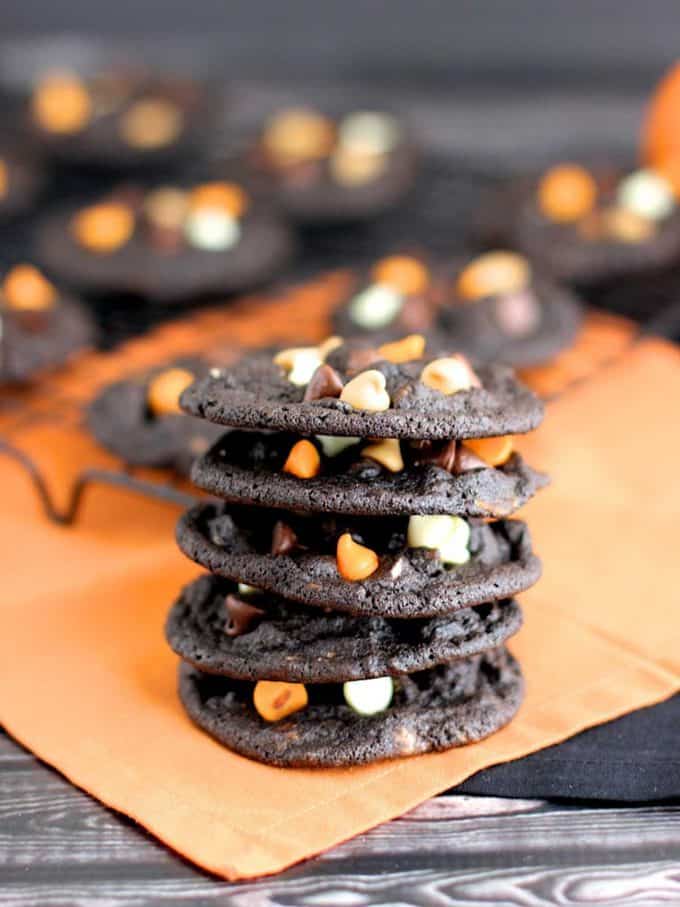 There is enough icing on and under these witches cauldron cup cakes to induce diabetes, and enough food coloring to have your child climbing the walls. Don't say I didn't warn you. But hey, they're a sometimes food, go for it, live dangerously.
For a quick bite during the hectic Halloween season, grab a delicious Jack O'Lantern Ham and Swiss Hand Pie. They are way easier to make than carving a pumpkin, and taste as good as they look!
These fun and spooky Spider Cookies are delicious Halloween treats all your little ghosts and goblins will enjoy. Easy to make, these Spider Cookies will be a big hit at your next Halloween party, packed in a school lunchbox, or as an afternoon treat.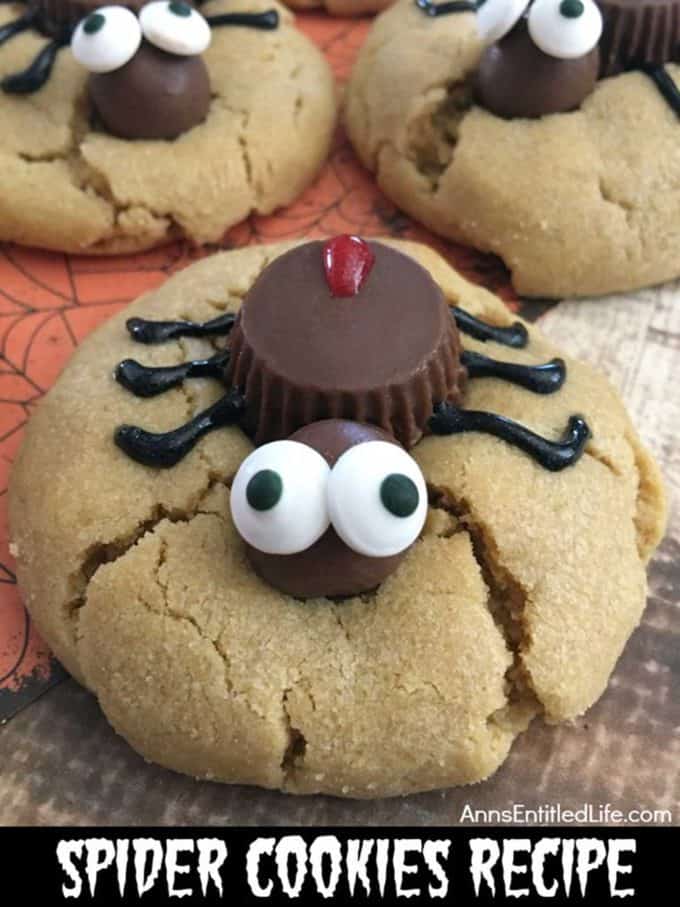 Chocolaty, single-serving-sized, made-from-scratch Ghosts in the Graveyard Treats.
Easy Halloween carved pumpkins with wholesome wild rice stuffing. Serve these spooky kid-friendly stuffed pumpkins for a healthy holiday treat!
Bloody Cupcakes – the perfect Halloween Treat for a party! Vanilla cupcakes with vanilla buttercream filled with strawberry coulis. Decadent and original!
15. Easy Halloween Pizza Party: The Dinner-Mom
Halloween is fun…and hectic. Dinner doesn't have to be chaotic too. We've partnered with Home Run Inn Pizza to bring you an Easy Halloween Pizza Party plan that will delight the goblins at your house and fuel everyone for a night of trick or treating!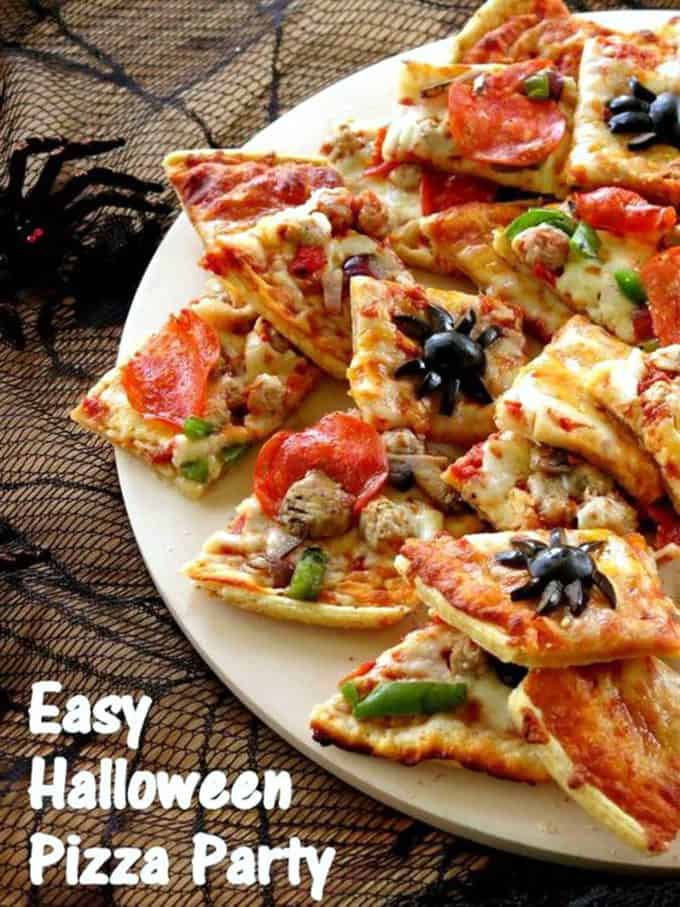 These Monster Lollipops are so cute and such a fun project for small children to do. Perfect for Halloween and an easily adaptable idea for other festive occasions.
Need a fun snack for Halloween parties? Make these simple Halloween Sopapilla Crescents® with Creamy Caramel Dip! Loads of fun for the kids to help prepare.
18. Halloween Jack O'Lantern Fruit Cups: Yummy Mummy Kitchen
You'll love these cute spooky jack-o-lantern and ghost fruit cups. They are incredibly simple and filled with vitamins. I topped ours with a little fresh whipped cream.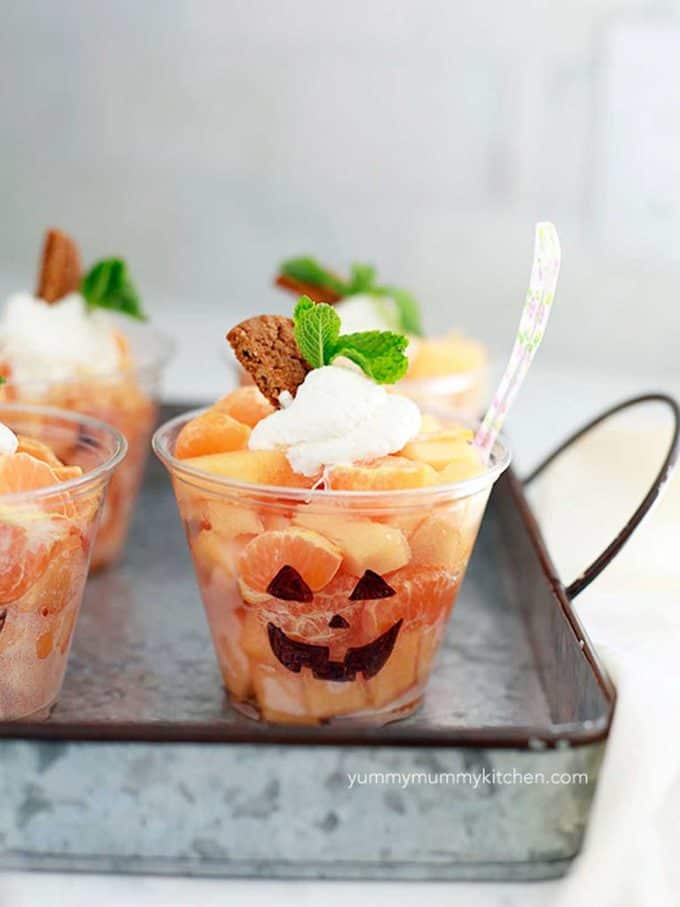 Are you looking for a fun, healthy after-school snack for the kids or a spooky side dish or appetizer to serve for a Halloween party or dinner? Would you like step-by-step instructions to make the cutest and easiest Halloween Spooky Spider Deviled Eggs you have ever seen? Well, you are in the right place.
Wow your friends with this adorable and easy to prepare Halloween treat for kids and adults alike! These little cornucopias can be filled with all sorts of munchies.
These Super moist eggless Chocolate Cupcakes are simply to die for! So Chocolate-y, delicious and super moist. Buttercream frosting on top adds a lovely flavor and complements the chocolate really well. A no-fail, dairy-free and butter-free recipe!!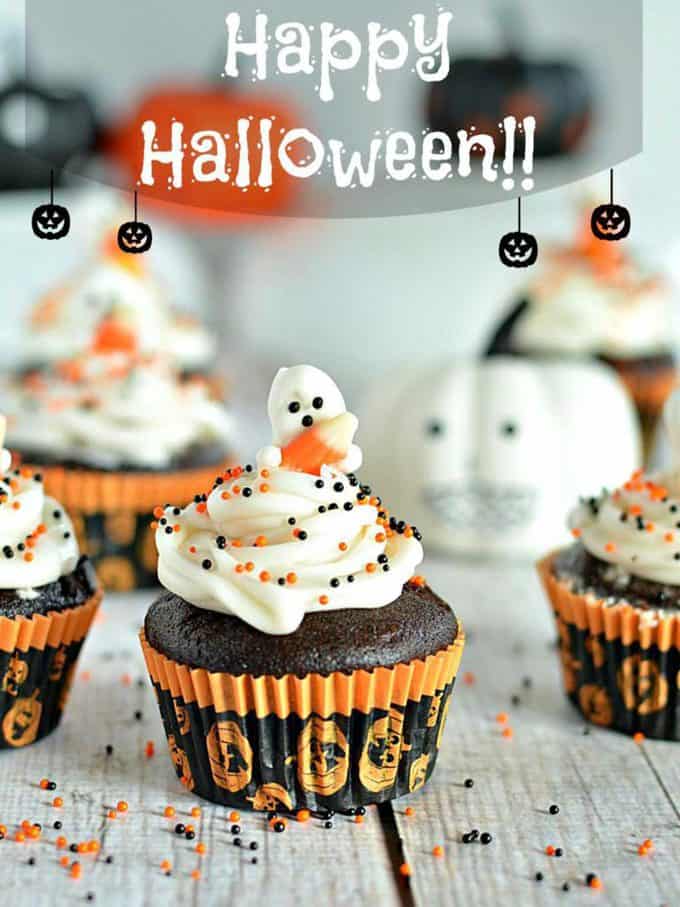 How about a fun & dangerous Halloween Cocktail?
Trick or treat!  Today I'm sharing these Halloween Candy Bites; not only are they super easy to make but they are also really tasty with chocolate, dates, pepitas ,and almonds.  The perfect snack for your little goblins that they can even help with.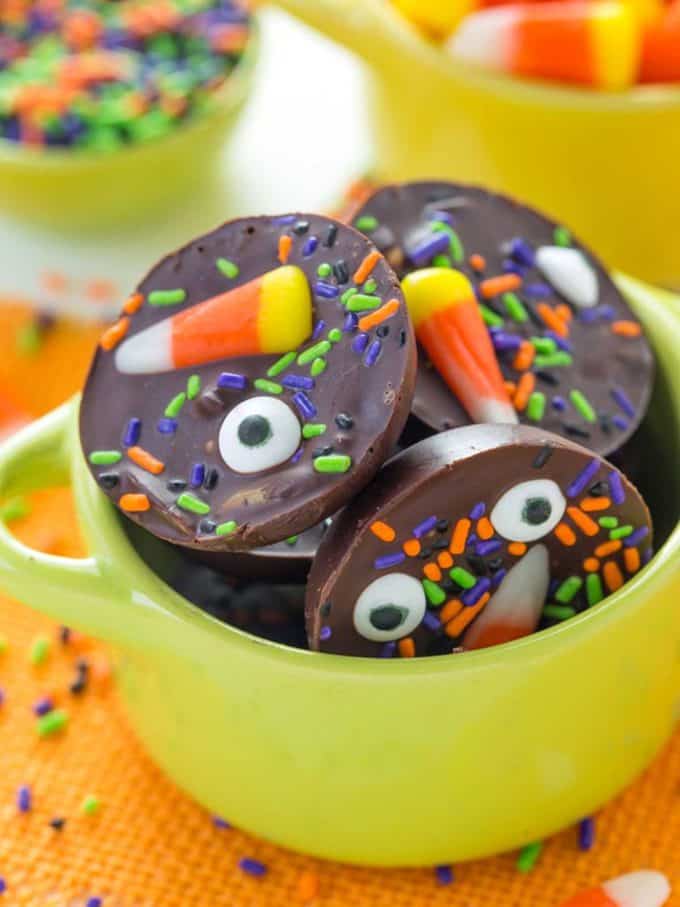 Best Egg Free Fudgy Brownies – Delicious, fudgy, chewy homemade brownies made completely from scratch that just so happen to be egg-free!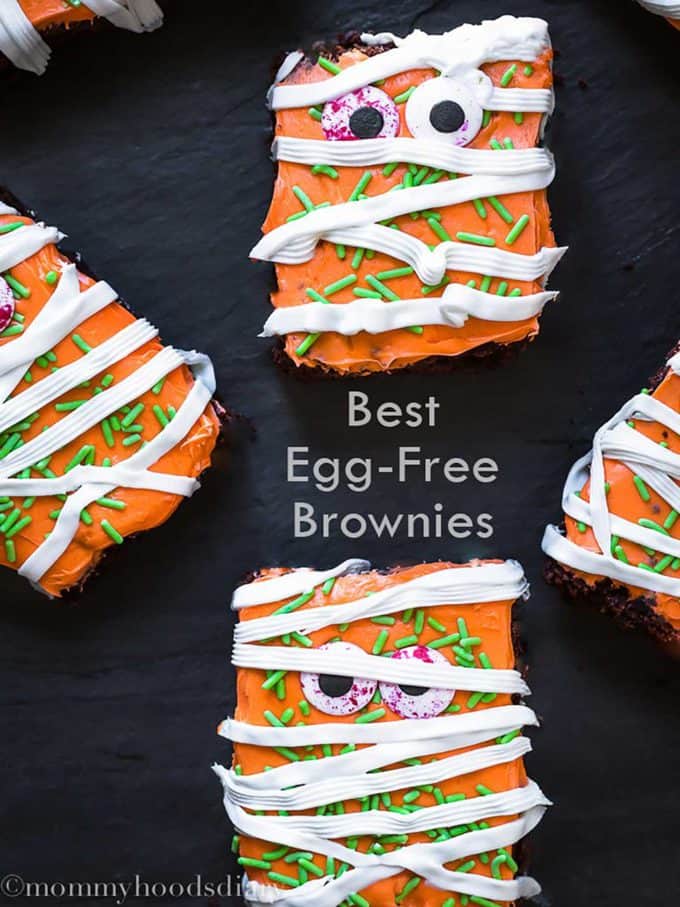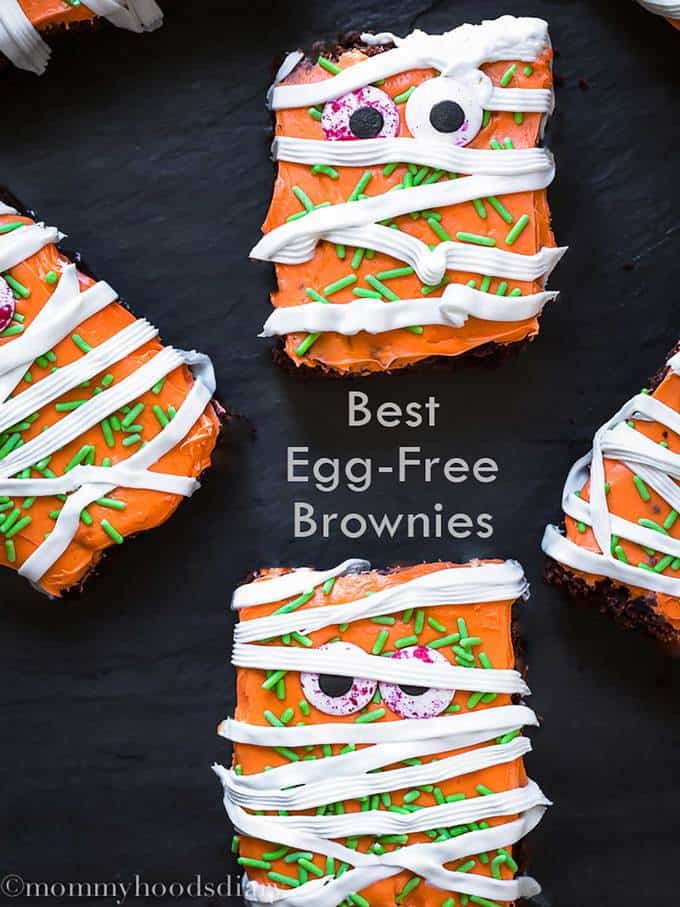 Spooky realistic wicked witch finger cookies!
No-Bake Mini Chocolate Ganache Spiderweb Tarts make for an elegant yet spooky Halloween dessert.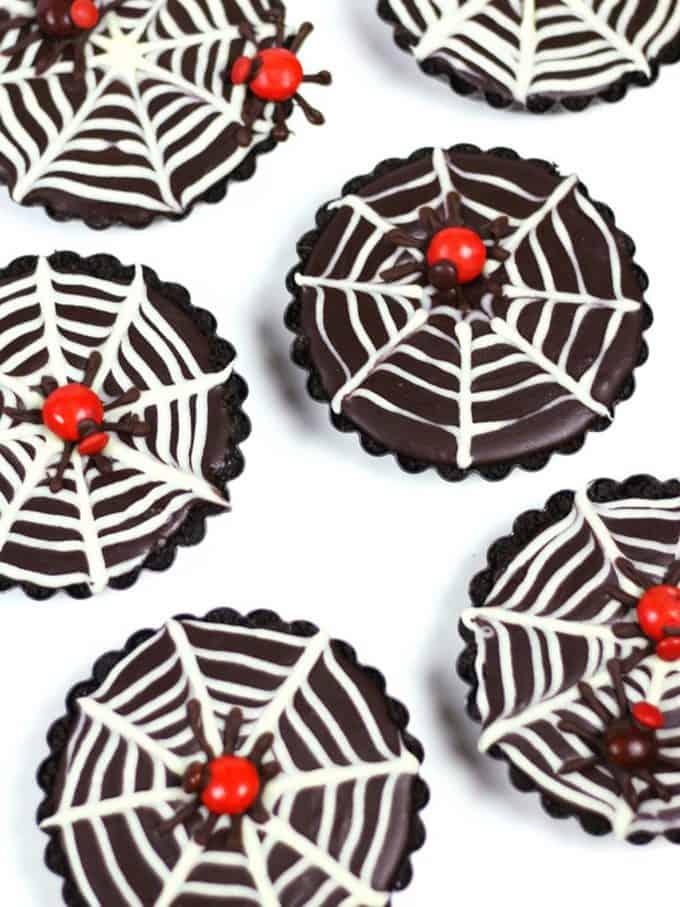 These adorable little Monster Cupcakes are the perfect treat for a class party or some other Halloween gathering. Not too scary so they are good for the little ones too. The best part is that it can be a family affair when it comes to decorating. 
Spicy Pumpkin Black Bean Soup takes a seasonal soup over the top.  Lots of texture and taste with ingredients layered one after the other for a flavor complexity that you'll want year after year.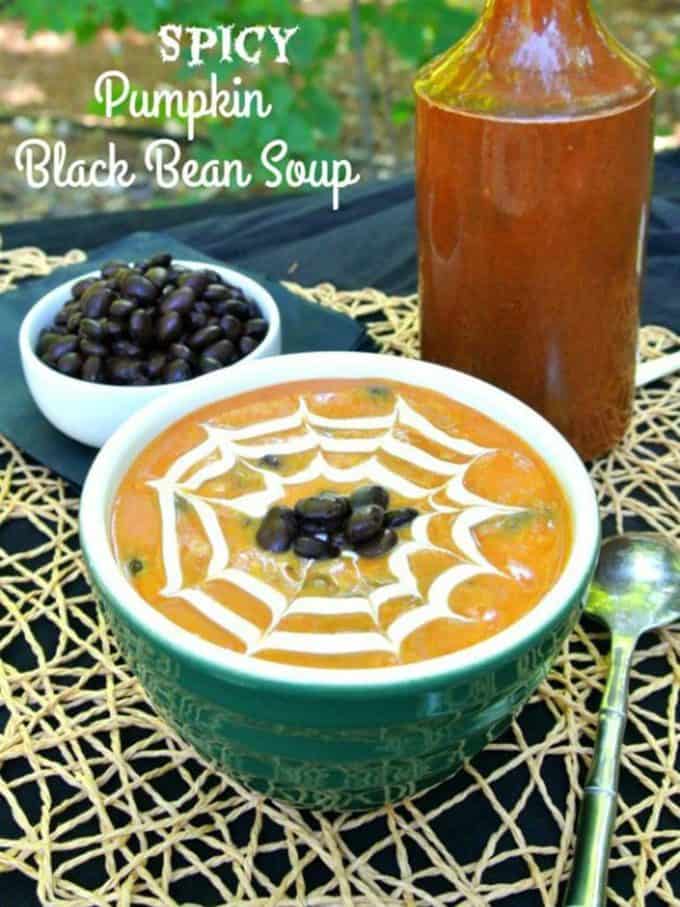 These super cute meringue ghost lollies are the perfect Halloween treat for your little monsters!
Are you looking for an easy, fun appetizer recipe to serve at a Halloween party or just to surprise your kids when they get home from school? How about one that doesn't require any cooking and you can have on the table in less than 15 minutes? Interested? Grits and Pinecones shows you how to make this delicious and spooky Halloween Graveyard Chocolate Cheesecake Dip.
Egad! I've created a monster! *terrified shriek*, *flash of lightening* A mint chocolate flavoured sort of monster! Mwuahahahaha! *evil cackle*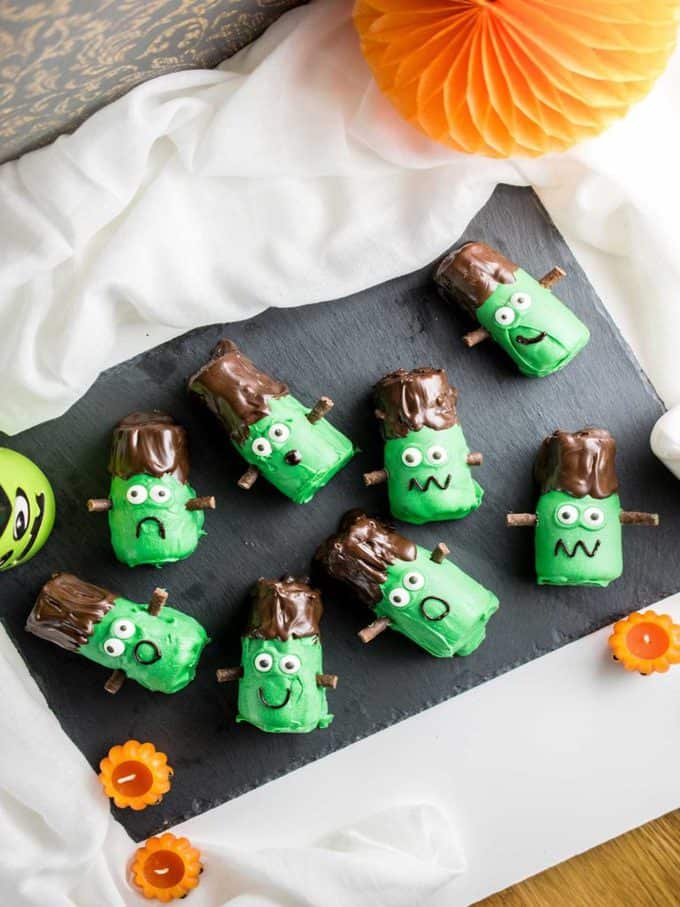 Worms for dinner?  Any takers? Ewe!!!! And YUM!!! These Halloween Hotdog Worms are creepy, gross-looking fun. Kids absolutely love them.  Adults gobble them up too! These worms are way cooler than regular hotdogs. Be sure to make these Halloween Hotdog Worms at your next Halloween Party.
This Halloween Chex Mix Muddy Buddies (aka Puppy Chow) recipe is chock-full of October delight – a little salty, a lotta sweet, with crunchy and chewy textures in each handful thanks to the addition of pretzels, candy corn, chopped Oreos, and Reese's Pieces.  The only thing frightening about it is how fast it will disappear!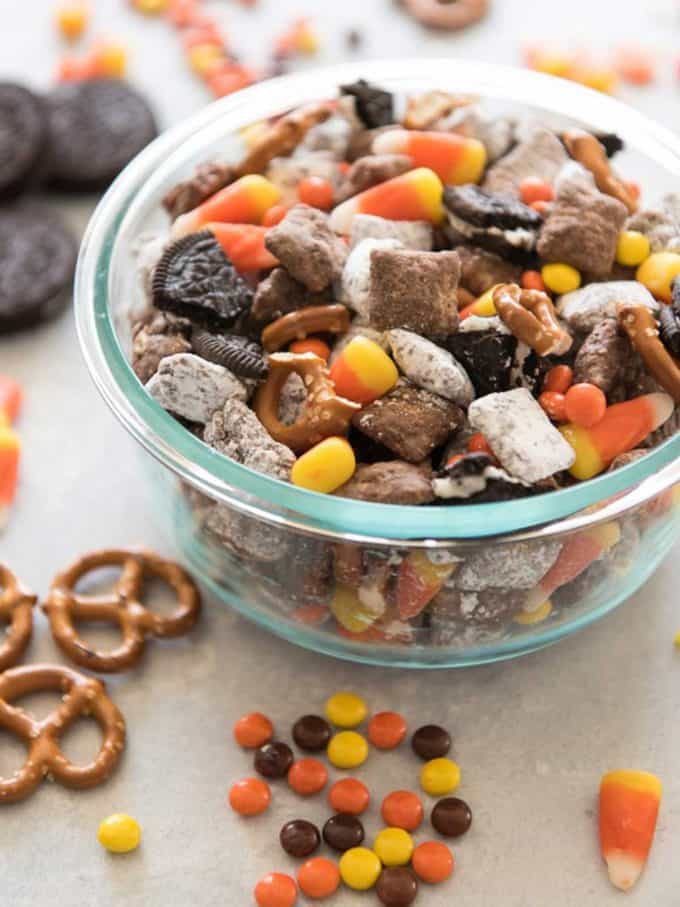 Are you drooling yet? Isn't this an amazing array of spooktacular recipes for your Halloween celebration?
Leave me a comment and let me know which one of these recipes is your favorite or which one you plan to try first. Even better, leave me a link to your favorite Halloween recipe!
SaveSave
SaveSave
SaveSave
SaveSave
SaveSave
SaveSave
SaveSave
SaveSave
SaveSaveSaveSave
SaveSave
SaveSave
SaveSave
SaveSave
SaveSave
SaveSave
SaveSave
SaveSave