Instant Pot Mexican Smashed Pinto Beans are a perfect way to celebrate Cinco de Mayo or any occasion where you want an easy and delicious side dish. For Cinco de Mayo I thought that the best way to celebrate the countdown was to focus on some of my favorite Mexican recipes. My Smashed Pinto Beans made in my Instant Pot are at the top of my list!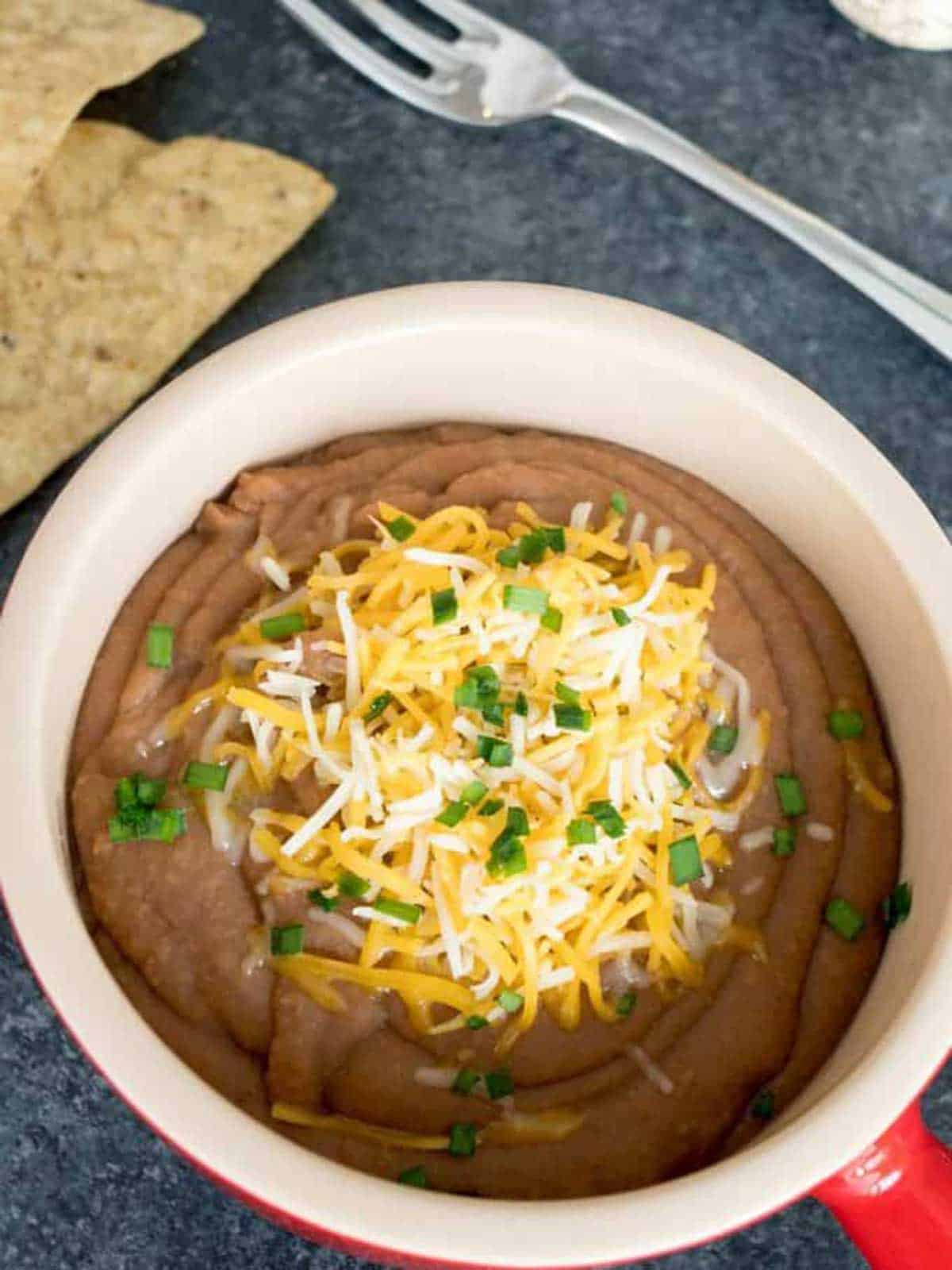 The combination of the Instant Pot and dried Pinto Beans is a match made in heaven!
I've found that the Instant Pot perfectly cooks the unsoaked dried beans in 30 minutes. I end up with smashed pinto beans that are absolutely delicious!
Jump to:
Why You Should Make This Recipe
Easy to Make: This recipe is easy to make with minimal preparation.
Economical: The ingredients that go into making this recipe are inexpensive.
Versatile: Once made, these Smashed Pinto Beans can be used in a variety of other dishes. For example, try them in a quesadilla or as a dip with chips.
Ingredients – Here's What You'll Need
This awesome recipe produces a delicious combination of flavors.
Pinto Beans: The key ingredient in this recipe was dried pinto beans. The dried beans cook in no time at all with the Instant Pot.
Vegetables: To add flavor to this amazing recipe, I used an onion, fresh jalapeño pepper, and fresh garlic.
Seasonings: The seasonings were simple – Kosher salt, dried cumin, and freshly ground black pepper.
Liquids: For the liquids, I used chicken broth and water.
Preparing the Ingredients
This recipe required minimal preparation.
First, I rinsed the pinto beans and let them drain.
Next, I removed the spine and seeds from the jalapeño pepper and chopped it.
Then, I peeled the onion and cut it into fourths.
Finally, I peeled and minced the garlic.
Cooking the Pinto Beans in the Instant Pot
I added all of the prepared ingredients to the pan of the Instant Pot, along with the salt, cumin, pepper, chicken broth, and water.
Then, I put the lid on and made sure that the steam valve was shut. Next, I selected the Bean/Chili function and walked away! This function was pre-programmed to normal pressure cooking for 30 minutes.
After 30 minutes, I let the Instant Pot depressurize naturally. This took about 15 minutes. I removed the top and could see that the beans were perfectly cooked!
Finishing the Smashed Pinto Beans
I knew from experience that there was initially too much liquid to produce the desired consistency of the smashed beans. The reason that I use more liquid than I ultimately need, however, is that the beans need to stay submerged as they expand.
I also knew from experience that I needed to remove about a cup of the liquid before I started smashing the beans. The reason was that once I started smashing the beans, I couldn't remove any more liquid, but I could always add some back!
Also, I knew from experience that once the beans start to cool, they thicken considerably.
I used my immersion blender to smash the beans. It worked perfectly!
I ended up with amazingly delicious Mexican Smashed Pinto Beans.
They're awesome by themselves. They are also incredible with melted cheese on top, in quesadillas, or scooped up with tortilla chips. Yum!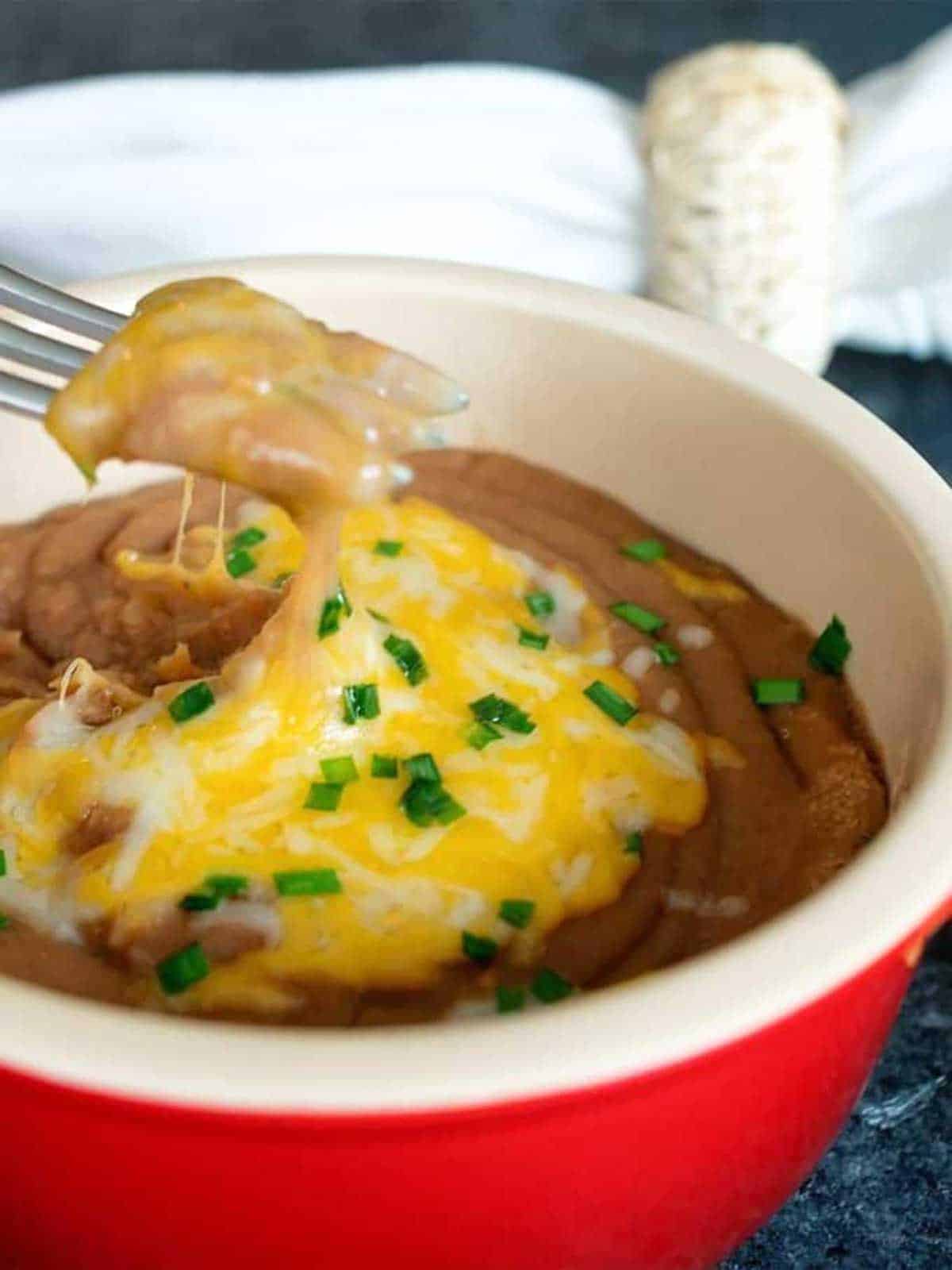 Frequently Asked Questions
What size Instant Pot was used in this recipe?
My Instant Pot is the DUO60 6-Quart Pot.
What is the difference between smashed pinto beans and regular pinto beans?
The main difference between smashed pinto beans and regular pinto beans is the consistency. Smashed pinto beans are mashed and creamy, while regular pinto beans have a firmer texture.
What is the best way to serve smashed pinto beans?
Smashed pinto beans can be served as a side dish, as a dip with chips or veggies, as a topping for tacos or burritos, as a filling for quesadillas, or as a spread for sandwiches or wraps.
Recipe Tips and Tricks
Why dried pinto beans: I've consistently used dried pinto beans in this recipe. Dried pinto beans that have been cooked from scratch will result in a better flavor and texture compared to using canned beans.
Cooled smashed pinto beans thicken: I've consistently found that the Smashed Pinto Beans thicken considerably as they cool. As the beans cool, the starches in the beans begin to gel and bind together, which makes the consistency of the mashed beans thicker. Therefore, even though I remove liquid before smashing the beans, I end up adding most or all of the liquid back once the beans cool.
No soaking required: I've tried this recipe using pinto beans that I've soaked overnight and have found that the soaking really isn't necessary when the beans are cooked in the Instant Pot.
Vegetarian version: You can easily make this recipe vegetarian by substituting vegetable broth or water for the chicken broth.
If you'd like other Cinco de Mayo Recipes, you should check out my Cinco de Mayo Recipe Roundup, where you'll find 39 of my and Grits and Pinecones incredible recipes.
If you liked the recipe for Instant Pot Mexican Smashed Pinto Beans, please consider rating it and leaving a comment. Also, if you'd like to receive notifications of new posts by email, enter your email address in the Subscribe box.
Thank you so much for visiting Pudge Factor. I hope you'll come back!
Recipe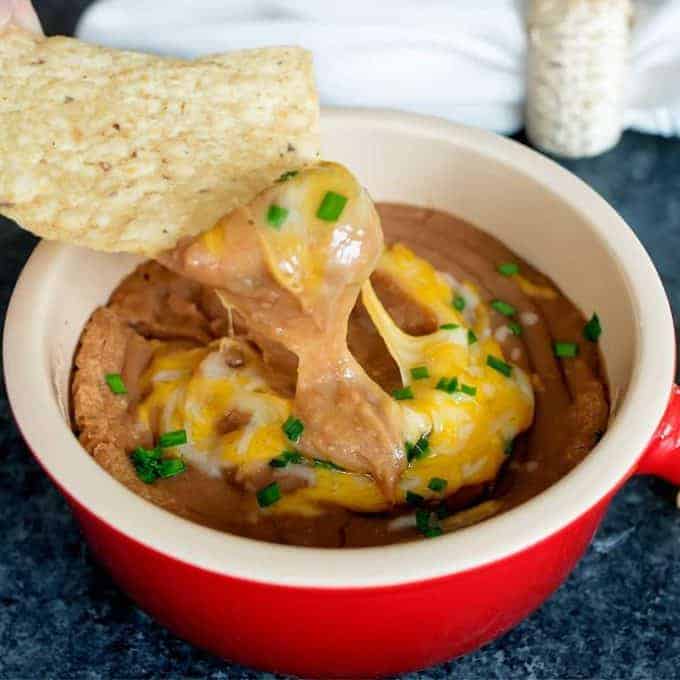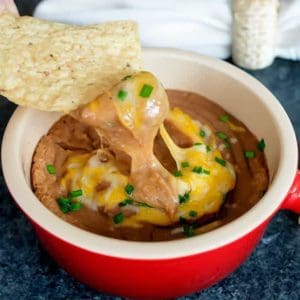 Instant Pot Mexican Smashed Pinto Beans
Instant Pot Smashed Pinto Beans are simple to make and economical. They are a favorite addition to your Cinco de Mayo festivities.
Ingredients
2

cups

(16 ounces) dried pinto beans, rinsed and picked over

1

medium onion, peeled and cut into quarters

pee

1

jalapeño pepper, spine and seeds removed and chopped

4

cloves

garlic, minced

1 ¼

teaspoon

Kosher salt

1

teaspoon

dried cumin

½

teaspoon

freshly ground black pepper

4

cups

low sodium chicken broth (See Tip 1)

1

cup

water
Instructions
Place all ingredients in Instant Pot. Cover, making sure that the steam vent is closed. Select Bean/Chili. This setting is for 30 minutes on normal pressure.

At end of cooking cycle, allow Instant Pot to depressurize normally. Remove lid. Stir to combine ingredients.

Remove about 1 cup of liquid; set aside.

Process beans with immersion blender, until smooth. If necessary add reserved liquid to desired consistency. Correct seasonings. (See Tip 2)

Yield: 6 servings (See Tip 3)
Notes
To make this vegetarian, substitute water or vegetable broth for the chicken broth.
As the smashed beans cool, they thicken considerably. Therefore, hold on to the reserved liquid. You'll probably need some of it to thin out the mixture.
As you can probably tell from the picture, I love to put shredded cheese on top of the hot Smashed Pinto Beans and use tortilla chips to scoop it up!
Nutrition
Calories:
263
kcal
Carbohydrates:
45
g
Protein:
17
g
Fat:
1
g
Sodium:
543
mg
Potassium:
1100
mg
Fiber:
10
g
Sugar:
2
g
Vitamin A:
75
IU
Vitamin C:
21.9
mg
Calcium:
89
mg
Iron:
3.7
mg