Shepherd's Pie is a traditional staple of Irish cooking. It's easy to make, and incredibly tasty. Shepherd's Pie can be made ahead and frozen for an anytime meal. In fact, I typically have several in the freezer for those evenings when I don't feel like spending a lot of time in the kitchen.
Invariably, shepherd's pie is at the top of the Master Taste Tester's list for those evenings where we just reheat something! Technically, shepherd's pie is made with ground lamb. Since I don't care for lamb, I always use ground turkey.
Ingredients for Make Ahead Shepherd's Pie:
I used the following ingredients for the filling in this delicious classic: low sodium chicken broth, Bisto, Worcestershire sauce, tomato paste, Dijon mustard, ground turkey, olive oil, onion, carrots, frozen green peas, salt, and freshly ground black pepper.
Making the Filling for Make Ahead Shepherd's Pie:
As a starting point, I whisked the Bisto, Worcestershire sauce, tomato paste, and Dijon mustard with the chicken broth and set it aside.
Next, I browned the ground turkey in a non-stick 12-inch skillet over medium heat. I made sure that I broke the turkey up into small pieces. When all of the pink was gone, I transferred the turkey to a wire mesh strainer. I ran it under hot water to remove as much of the fat as possible, and further broke it up with my fingers.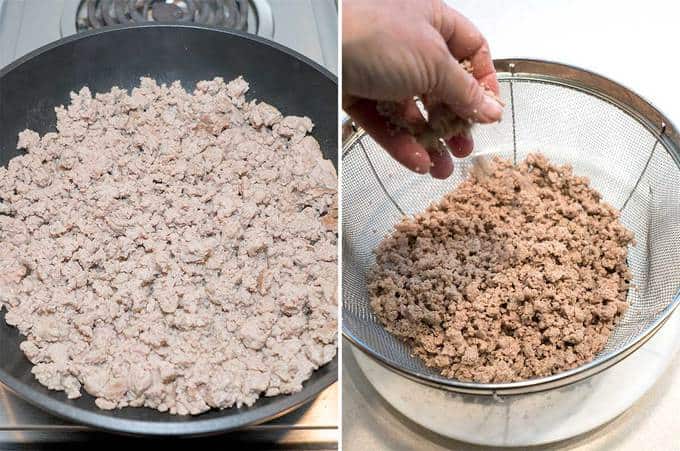 While the turkey was draining, I wiped out the skillet with a paper towel. I set it over medium heat, and added some olive oil. When the oil was hot, I added the chopped onions and diced carrots. I sautéed them for about 5 minutes until they started to become tender.
Next, I returned the ground turkey to the skillet with the onions and carrots. After stirring to combine everything, I added the chicken broth mixture. I brought the turkey mixture to a boil over medium heat, covered the pan, lowered the heat to low. I cooked the mixture for about 40 minutes until the carrots and onions had lost all crunch.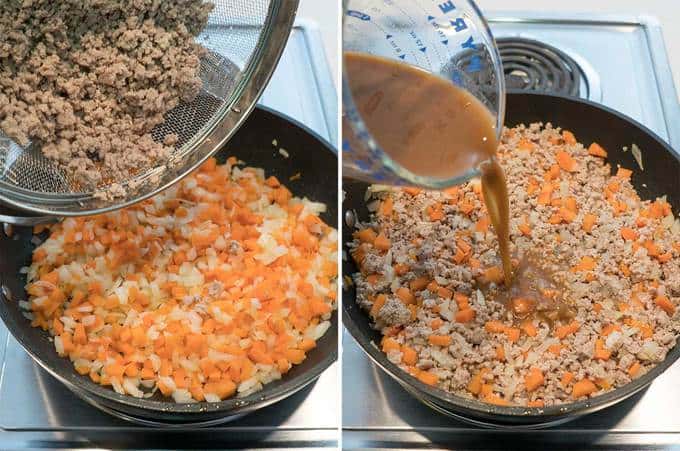 After the 40 minutes, I uncovered the turkey mixture, removed it from the heat, and added the frozen green peas. I divided the turkey mixture among three Pyrex dishes, with approximately 17 ounces going into each of the dishes. Yes, I'm a foodie nerd – I weigh everything!
Making the Mashed Potatoes:
With the filling done, I turned my attention to the mashed potatoes. I used the following ingredients: Russet potatoes, salt, shredded cheddar cheese, unsalted butter, milk, and freshly ground black pepper. I cooked the potatoes in salted water for about 20 minutes until they were quite tender. Then, I drained them in a wire mesh strainer. When all of the water had drained off, I returned the potatoes to the pan I cooked them in, and added the cheddar cheese, butter, milk and pepper. I beat the potato mixture on high with my electric mi until all of the lumps were gone. From a trick that I learned from Susan, I used a large ice cream scoop to fill the piping bag fitted with a 1M star tip for piping the mashed potatoes.
Finally, I basically just piped large stars and finished it off by filling in any place that I could still see the turkey mixture.
I ended up with three delicious dinners! I covered and froze two of them for a later date, and baked the third one in preheated 375° F oven for about 30 minutes. Invariably, the Master Taste Tester suggests Shepherd's Pie on those evenings when we just pull something from the freezer!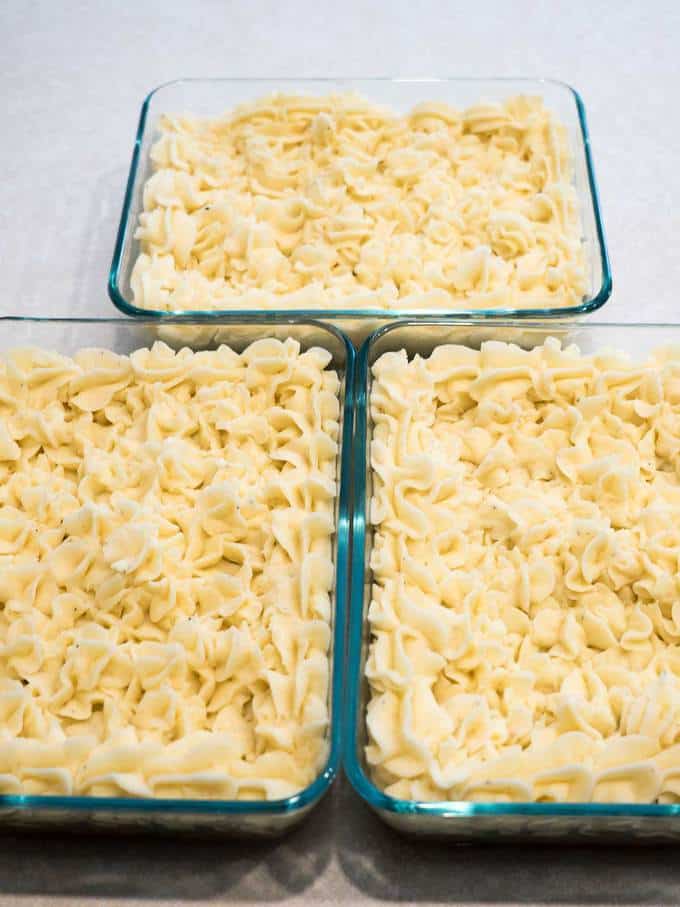 After 30 minutes, the mixture was bubbly and the mashed potatoes slightly browned. I served the Make Ahead Shepherd's Pie with steamed fresh Brussels Sprouts, and a freshly made baguette. Yum!
Make Ahead Shepherd's Pie
Ingredients
Filling

1-1/2 cups low sodium chicken broth
4 teaspoons Bisto
1 Tablespoon Worcestershire sauce
2 teaspoons tomato paste
1 teaspoon Dijon mustard
1-1/4 pounds lean (93%) ground turkey
1 Tablespoon olive oil or unsalted butter
1 large onion, chopped (about 2 cups)
2 cups diced carrots, (about 3 large carrots)
2 cups frozen green peas
1/4 teaspoon salt
Freshly ground pepper to taste

Mashed potatoes

3 pounds russet potatoes, peeled and sliced
1 Tablespoon Kosher salt
3/4 cup (3 ounces) shredded Cheddar cheese
6 Tablespoons (3/4 stick) unsalted butter
1/2 cup milk
Freshly ground black pepper
Instructions
In a small bowl, combine chicken broth, Bisto, Worcestershire sauce, tomato paste and Dijon mustard; stir with whisk until well blended. Set aside.
Brown ground turkey in a large non-stick skillet. Drain in a colander and rinse well with hot water to remove as much fat as possible. Wipe skillet with paper towel and place over medium heat.
Heat olive oil or butter in skillet over medium heat. Add onion and carrot; cook until tender, about 5 minutes. Add ground turkey and chicken broth mixture; cook over medium high heat until bubbly and thickened. Cover and continue cooking over medium low heat 40 minutes or until the meat is tender and the carrots are cooked. Correct the seasonings.
Mashed Potatoes: Cook potatoes in salted water over medium heat until potatoes are fork tender, about 20 minutes. Drain well. Return to pan; add cheese, butter, milk, and pepper. Beat with electric mixer on high until smooth. Correct the seasonings.
Spoon turkey mixture into large casserole dish, or divide among smaller casserole dishes. Top with piped mashed potatoes. May be prepared in advance up to this point and refrigerated or frozen.
Bake at 375° F for 25 to 30 minutes, or until potatoes are lightly browned and mixture is bubbly.
Yield: 10 to 12 servings.
7.6.7
184
https://pudgefactor.com/make-ahead-shepherds-pie/