Mushroom Stroganoff is a quick and easy meal for meatless Mondays. It's not quite vegetarian since I used chicken broth. However, I could have used vegetable broth instead for a delicious and savory vegetarian meal! I use leftovers for an amazing mushroom sauce.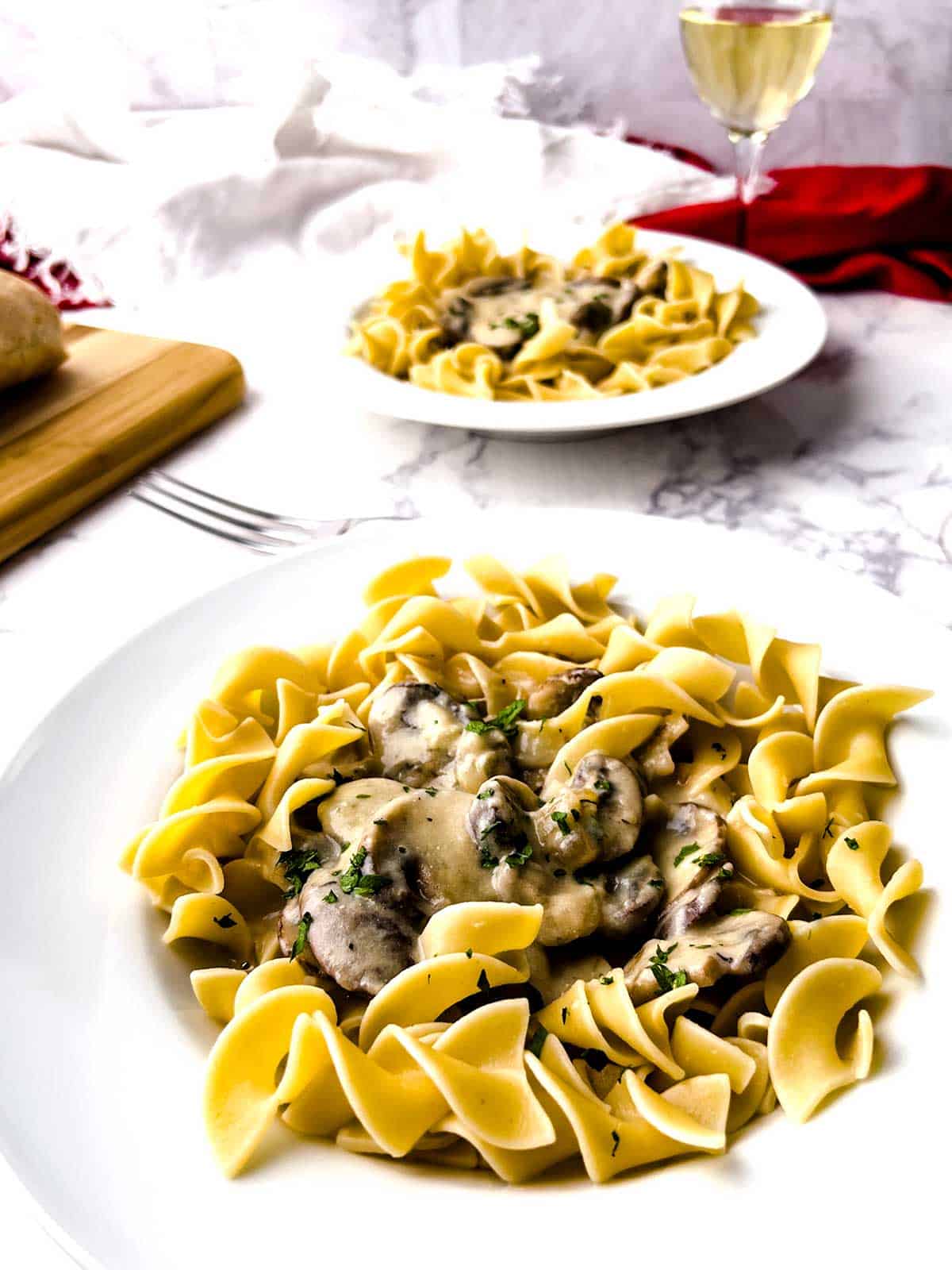 About Stroganoff
For some reason I used to think that Stroganoff was German or Hungarian! However, its origins are actually Russian, with the dish named after one of the members of the influential mid-19th century Stroganoff family.
Typically, Stroganoff is made with strips of beef cooked with mushrooms and onions in a sour cream-based sauce.
After the collapse of the Tsarist regime, the popularity of Beef Stroganoff spread to China. Both Russian and Chinese immigrants, as well as US servicemen stationed in pre-Communist China brought the dish to the United States.
Variations and Substitutions
Throughout the world, Stroganoff remains a very popular dish with numerous variations. For example, chicken can replace beef, as in my Chicken Stroganoff recipe. Pork can also replace traditional beef. The dish is delicious with no meat at all, as in this awesome Mushroom Stroganoff!
Stroganoff is most often served over egg noodles or rice. It can also be served over different pastas and mashed potatoes.
However it's served, Stroganoff is a popular and easy-to-prepare dish.
Why You'll Love This Recipe
This recipe is incredibly simple to make and can be on the table in about 30 minutes.
Mushroom Stroganoff is perfect for your Meatless Mondays. Also, by substituting vegetable broth for chicken broth, you can have a yummy vegetarian meal.
Leftover Mushroom Stroganoff makes an awesome sauce to serve over different dishes such as rice, different types of pasta, meat patties, etc.
Ingredients That I Used In This Recipe
I experimented a lot before arriving at what I think is the perfect Mushroom Stroganoff.
The Mushrooms: The mushrooms of choice in this dish are Cremini mushrooms, also known as baby bella mushrooms.
Other Vegetables: I also used onions and garlic for flavor.
The Sauce: The four main ingredients for the sauce are chicken broth, Dijon mustard, sour cream, and fresh Parmesan cheese. In fact, sour cream is a signature ingredient for stroganoffs.
The Seasonings: The seasonings in this recipe are pretty minimal: Kosher salt, dried thyme, and black pepper.
The Rest of the Ingredients: I used unsalted butter to cook both the onions and the mushrooms. In addition, I used all-purpose flour to help thicken the sauce.
Here's How I Made The Mushroom Stroganoff
I started by whisking together 1 ¾ cups of chicken broth and Dijon mustard. Then, I whisked together the remaining ¼ cup of chicken broth with the sour cream.
Over time, I've found that sour cream is much easier to incorporate into the dish when it has been mixed with a liquid. Also, it is less likely to curdle when added to hot liquid.
Next, I heated the butter in a large skillet over medium heat. Then, I added the onions and cooked them until they were tender. This took about 10 minutes with occasional stirring.
After 10 minutes, I added the mushrooms to the skillet with the onions. Then, I turned the heat up to medium-high and cooked the mushrooms until the liquid had evaporated. This took around 5 minutes.
Next, I reduced the heat to medium and added the garlic, salt, thyme, and pepper. I stirred the mixture and let it cook for about 30 seconds until the garlic was fragrant.
Once the vegetables were ready, I added the flour. I stirred everything together and allowed the flour to brown a bit. This took several minutes.
Next, I added chicken broth/Dijon mustard mixture to the mushrooms. I stirred the mushroom mixture and cooked it for about 4 minutes until it had thickened and was bubbly.
After that, I added the sour cream/chicken broth mixture. I stirred everything together and let it sit for about a minute until it was heated through.
Here's How I Finished This Recipe
At this point, I removed the skillet from the heat and added the freshly grated Parmesan cheese. I stirred the Mushroom Stroganoff until the cheese was melted.
I tasted the dish to see if it needed additional salt. It was perfect as is! After garnishing the Mushroom Stroganoff with minced fresh parsley, I served it over egg noodles.
To say that the Mushroom Stroganoff was delicious is a definite understatement. I thought that it was amazing! The meaty mushrooms were perfectly complimented by the sauce. Yum!
Frequently Asked Questions
Does this recipe produce good leftovers?
The leftover Mushroom Stroganoff is delicious. I like to use the leftovers for an awesome sauce for such things as my Turkey Burgers and Salisbury Steak.
Can white button mushrooms be substituted for the Cremini mushrooms?
White button mushrooms can be substituted for Cremini mushrooms. The taste of the Mushroom Stroganoff will be slightly altered but will still be delicious with the white button mushrooms.
Is there a substitute for sour cream?
You can easily substitute Greek Yogurt for sour cream in this recipe.
Is stroganoff the same as goulash?
While the two dishes are somewhat similar, stroganoff and goulash are different. Stroganoff is more of a sauce, while goulash is more of a stew.
If you're a fan of stroganoff, check out my delicious Slow Cooker Chicken Stroganoff.
If you liked the recipe for Mushroom Stroganoff, please consider rating it and leaving a comment. Also, if you'd like to receive notifications of new posts by email, enter your email address in the Subscribe box.
Thank you so much for visiting Pudge Factor. I hope you'll come back!
Recipe
Mushroom Stroganoff
Mushroom Stroganoff is a quick and easy meal for Meatless Mondays. Use vegetable broth in place of chicken broth for a delicious vegetarian meal. Any leftovers make an amazing mushroom sauce for all sorts of things.
Ingredients
2

cups

(16-ounces) low sodium chicken broth, divided

¾

cup

(6-ounces) sour cream (See Tip 1)

1 ½

teaspoons

Dijon mustard

3

Tablespoons

unsalted butter

1

cup

chopped onion (1 medium)

1

pound

Cremini mushrooms, sliced (See Tip 2)

3

cloves

garlic, minced

¾

teaspoon

Kosher salt

½

teaspoon

dried thyme

¼

teaspoon

freshly ground black pepper

3

Tablespoons

all-purpose flour

½

cup

(2-ounces) freshly grated Parmesan cheese

Fresh minced parsley for garnish (optional)

Egg noodles prepared according to package directions
Instructions
Whisk together 1 ¾ cups of chicken broth and Dijon mustard. Set aside. Whisk together the sour cream and remaining ¼ cup of chicken broth. Set aside. (See Tip 3)

Heat butter over medium heat in a large skillet. Add onions; cook stirring occasionally until onions become tender, about 10 minutes. Do not brown.

Add mushrooms. Increase the heat to medium high; cook stirring occasionally until all of the liquid has evaporated and the mushrooms have browned, about 4 to 5 minutes. Reduce the heat to medium and add the garlic, salt, thyme and pepper; cook for 30 seconds or until fragrant.

Add flour; stir to combine. Cook for a minute or two until the flour has browned.

Add chicken broth/Dijon mustard mixture. Cook, stirring constantly until mixture thickens and is bubbly, about 4 minutes.

Add sour cream/chicken broth mixture to mushroom mixture. Cook, stirring constantly until mixture well combined.

Remove from heat; add Parmesan cheese. Stir until cheese is melted. Correct the seasonings. Garnish with minced fresh parsley if desired.

Serve over egg noodles or the pasta of your choice. Yield: 6 servings.
Notes
I used low fat sour cream in this recipe.
You could also use white button mushrooms instead of the Cremini mushrooms, or a mixture of the two types of mushrooms.
Sour cream has a tendency to curdle when added to hot liquids. To minimize the curdling problem, I mix the sour cream with about ¼ cup of liquid before adding it to the hot liquid. You could also "temper" the sour cream by mixing it with about ¼ cup of the hot liquid before adding it to the dish.
Nutrition
Calories:
180
kcal
Carbohydrates:
13
g
Protein:
8
g
Fat:
12
g
Saturated Fat:
7
g
Cholesterol:
31
mg
Sodium:
489
mg
Potassium:
520
mg
Fiber:
1
g
Sugar:
3
g
Vitamin A:
334
IU
Vitamin C:
3
mg
Calcium:
166
mg
Iron:
1
mg