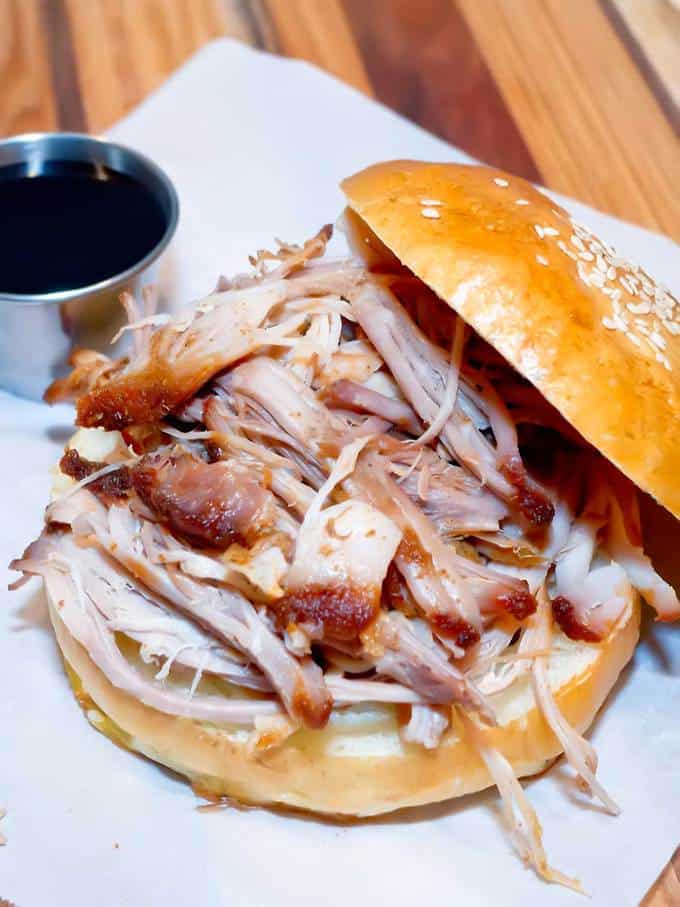 This incredible pulled pork is brined for 24 hours, dry-rubbed, and slow roasted for hours until it's fall-apart tender and melts in your mouth. It's delicious on its own, but even better when paired with my balsamic barbecue sauce and homemade hamburger buns.  While the pulled pork takes some time to make, it actually involves very little effort.
This pulled pork was inspired by Kevin and Amanda's Perfect Pulled Pork. The ingredients for the pulled pork include the following for the dry rub: Brown sugar, cumin, chili powder, onion powder, cayenne pepper, garlic powder, paprika, Kosher salt, and freshly ground black pepper.
Basically, all of these ingredients were mixed together in an airtight mason jar. The ingredients for the brining included the pork, water, brown sugar, Kosher salt, some of the dry rub mixture, and bay leaves.
I mixed together the water, brown sugar, dry rub, and bay leaves in a large bowl, poured the brining liquid on the pork which had been placed in a large plastic container, and refrigerated it for 24 hours. You could also use a 2 gallon ziploc bag to hold the pork and the brining liquid.
After 24 hours, I removed the pork from the brining liquid, rinsed it well, and patted it dry with paper towels.
I placed the pork in a large disposable aluminum pan, and generously rubbed it all over with the dry rub.
I inserted a temperature probe into the middle of the pork, making sure that I didn't hit the bone, and placed the pork into a 225°F oven for 7-1/2 hours, until the temperature registered 200°F. The smell was incredible. I turned off the oven and left the pork in the oven for another half hour or so. I could have left it for longer, but I needed the oven to make Betsy's Potatoes that I served with the pulled pork.
I let the pork cool a bit, and then proceeded to shred it with two forks after discarding the remaining fat. I couldn't help having a little taste here and there.  Oh my, was it good!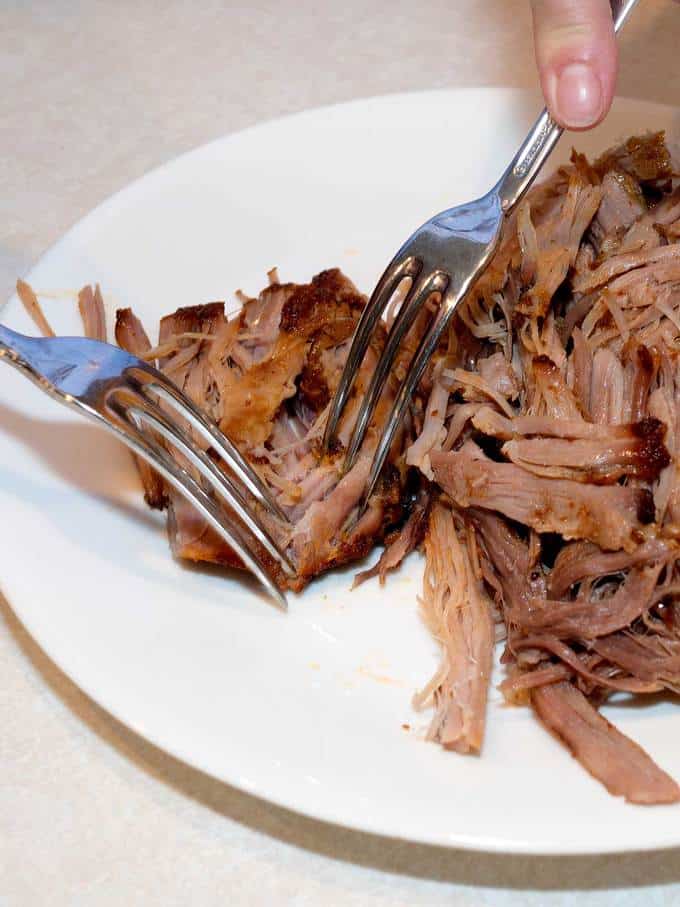 As I said before, the pulled pork was delicious on its own. However, served it with my balsamic barbecue sauce on homemade hamburger buns. It was incredible. Yum!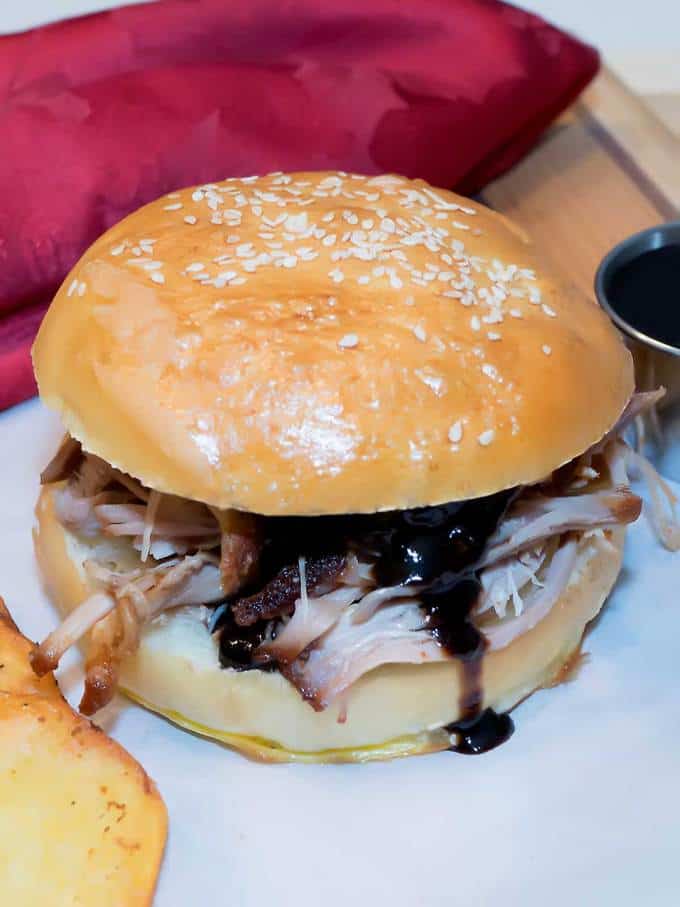 Ingredients
1 (4 to 7 pound) bone-in Boston Butt or pork shoulder
1 cup brown sugar, divided
1Tablespoon ground cumin
1 Tablespoon chili powder
1 Tablespoon garlic powder
1 Tablespoon cayenne pepper
1 Tablespoon onion powder
1 Tablespoon Kosher salt
1 Tablespoon freshly ground black pepper
1 quart water
1/2 cup Kosher salt
2 dried bay leaves
Instructions
For the dry rub, mix together 1/2 cup brown sugar, cumin, chili powder, garlic powder, cayenne pepper, onion powder, Kosher salt, and pepper. Store in airtight container.
For the brine, mix together water, 1/2 cup brown sugar, 1/2 cup kosher salt, and 3 Tablespoons dry rub. Pour over pork in a plastic container or 2 gallon ziploc bag, making sure that pork is completely covered. Add 2 bay leaves. Refrigerate for at least 8 hours, but up to 24 to 36 hours.
Preheat oven to 225°F.
Remove pork from brine; rinse well. Pat dry with paper towels.
Place pork in disposable aluminum pan. Sprinkle on dry rub, and massage it into the pork, making sure that the pork is covered on all sides. Insert meat thermometer into the thickest part of the pork, ensuring that you don't hit the bone.
Place in oven; roast until thermometer reaches 200°F. This will take between 1-1/2 and 2 hours per pound of pork.
When temperature of 200°F is reached, turn off oven. Leave pork in oven for at least 30 minutes, but up to 2 hours. If it looks like the pork is drying out, cover it with aluminum foil.
Remove from oven. Discard any remaining fat. Pull apart with two forks.
Yield: 6 to 8 servings.
7.6.7
46
https://pudgefactor.com/pulled-pork/